How to Save a Fillable PDF Effortlessly
A post-graduate candidate was trying to fill the PDFs for a job interview. The job application was in PDF format and requested the candidate's information in detail. After entering the relevant data in the right field, he could not save the changes in PDF. 
If you want to save the fillable PDFs flawlessly, you need an excellent tool to handle this issue. When you look at the apps on the market, you will encounter surplus programs to work with PDFs. Choosing the appropriate program is a challenging task.
This article eases your search process and provides you with the perfect PDF tools for efficient use. Now, you must learn how to save a fillable PDF using a reliable program.  
How to Save a Fillable PDF in Adobe Acrobat
The Acrobat is a reputed product from the giant software developer Adobe. It's usually considered an efficient program that works exclusively for PDF files. You can make necessary changes to your PDFs using this incredible program. Besides that, if you need to convert the fillable files into other formats, such as DOC, XLS, and PPT, this software can help you easily convert the PDFs to other documents without losing quality.
Features:
Edit the interactive forms in PDF and save them quickly
Rotate, merge, or split PDF easily
Share the PDFs to any desired destination
Sign the official documents with an e-signature
Here, you will learn how to save a fillable PDF using the Adobe Acrobat tool. It is a simple tool, and you can use it conveniently to carry out the desired tasks. 
Step 1. Install the tool and launch it. 
Step 2. Open PDF with the interactive form and fill in the required details. 
Step 3. Finally, press the "Save" icon to store the changes made on the PDFs.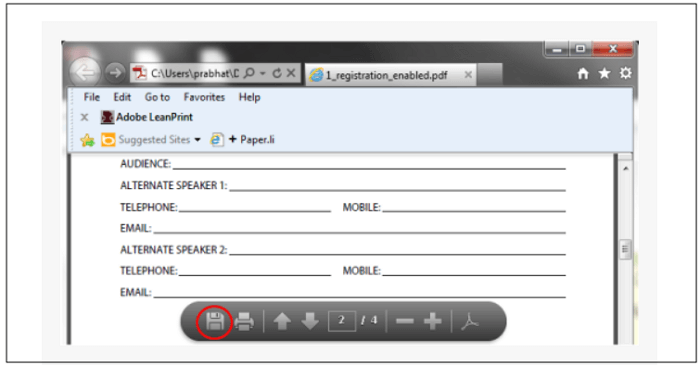 How to Save a Fillable PDF with EaseUS PDF Editor
Another effective PDF editor that works professionally on the Windows platform is the EaseUS PDF Editor. It is a reliable tool and handles large-sized PDFs optimally. You can go to this program without any hesitation. It brings you ease and comforts to align the data on the PDFs effectively. 
There are immense collections of functionalities available in this optimum tool. The beginners and experts can both work effectively with this reliable software. You can compress the PDFs to reduce the file size and make it more convenient to email them. There are options to protect your PDFs with a password and enhance security terms for your file. It prevents anonymous access, and you can share it with your team without hesitation. 
Key Features:
Quick conversion to PDFs without data loss
Make an existing PDF fillable
Add headers and footers to PDFs
A PDF editor with a user-friendly interface is of great importance for users who are not professional at editing PDF files. If you want to find a PDF editor like this, don't miss EaseUS PDF Editor. You can click on the button below to download it now.
Here is the stepwise process to save fillable PDFs on your Windows PC.
Step 1. Install EaseUS PDF Editor on your Windows PC.
Step 2. Launch the software and open the fillable PDFs by tapping the "Open Files..." option on the home screen.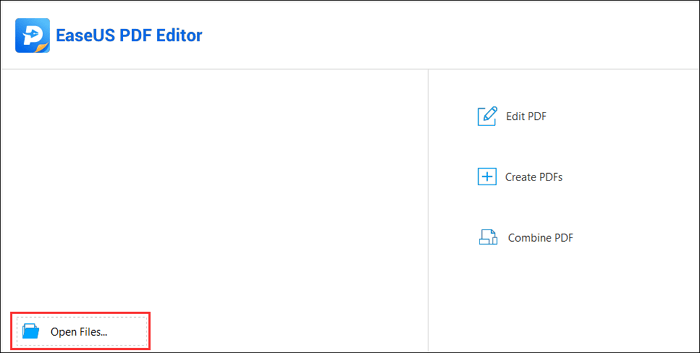 Step 3. Make the changes in PDF and save them in the desired storage space. You can press the "File" > "Save" option to save the edited fillable PDF.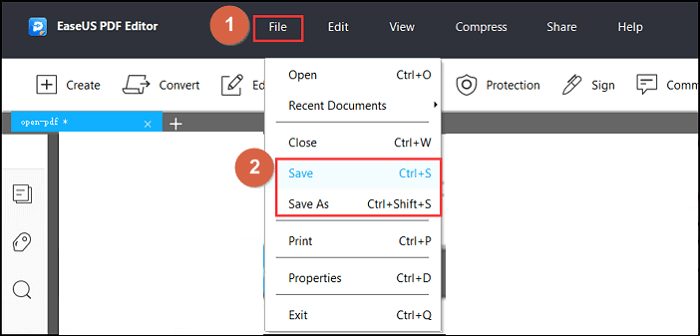 How to Save a Fillable PDF on Google Chrome
In addition to those ways mentioned above, you can also save the fillable PDFs on Google Chrome with few clicks. It is a simple method and does not require any download.
In this method, you will store the edited PDFs using the "Print Screen" option. You don't need any special program to work with PDFs and save the interactive forms in your local storage. Google Chrome is enough to carry out the tasks as it stores all the changes precisely without any data loss.
Follow those steps, and you can save the fillable PDF directly with Google Chrome.
Step 1. Open the PDF by tapping "Open with" > "Google Chrome". 
Step 2. Fill in the PDF and hit the three vertical dots at the right top of the screen. Choose "Print" from dropdown items. 
Step 3. In the "Print" screen, press the "Change" button, then select the "Save as PDF" option. 
Step 4. Finally, save the file at the desired location on your device.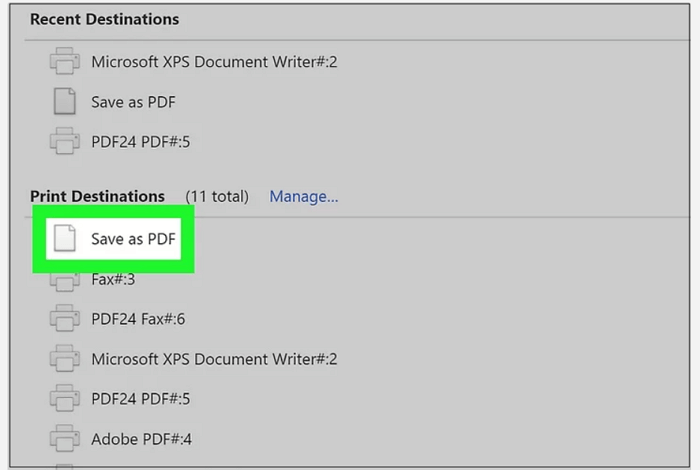 Conclusion
There are three methods of saving a fillable PDF on your device. You can choose any Adobe Acrobat, EaseUS PDF Editor, or Google Chrome to save the PDF with fillable forms.
However, among all those PDF editors, EaseUS PDF Editor is the most easy-to-use one. It is a reliable program, and you can work with it comfortably. If you want to fill out the PDF forms with ease, don't be hesitate to download this software now.
About the Author
Melissa is a sophisticated editor for EaseUS in tech blog writing. She is proficient in writing articles related to screen recording, video editing, and PDF file converting.