[2022] How to Measure Distance in PDF Documents
When you adding diagrams or form fields in a PDF, it's necessary to calculate certain areas between two figures. PDF editor that provides a measurement tool helps you check the size of objects. You can also use them to create forms, which helps you align fields or check margins before sending a document to a professional printer. This post here looks at how to measure distance in PDF with different tools.
How to Measure Distances in PDF Documents on EaseUS PDF Editor
EaseUS PDF Editor is a versatile PDF editor with a built-in ruler to measure distances in PDF documents. This comes in handy when you have objects like diagrams or objects in PDF scaled to actual distance. The precise ruler is available on the vertical and horizontal sides and allows you to change the unit in various forms to calculate the actual measurement.
Meanwhile, you have the choice to clean all rulers for the next measurement. This function is very helpful when you want to measure something in PDFs. Along with this, this Windows PDF editor also offers editing tools to edit text, images, and so on. When it is in editing mode, you have the option to add an image or edit an existing image. It is one of the finest and easy-to-use PDF editors that offers users great ease of access.
Key Features:
Multiple editing tools
Change font in PDFs
Change margin in PDFs
Two ways to create ruler guides in this tool:
Drag down from the horizontal ruler to create a horizontal guide or from the vertical ruler to create a vertical one.
Double-click a location on the horizontal or vertical rulers to create the horizontal or vertical guide.
Steps to measure distances in a PDF:
Step 1. Once have EaseUS PDF Editor on your computer. Click "Open Files" button at the bottom left to upload your file.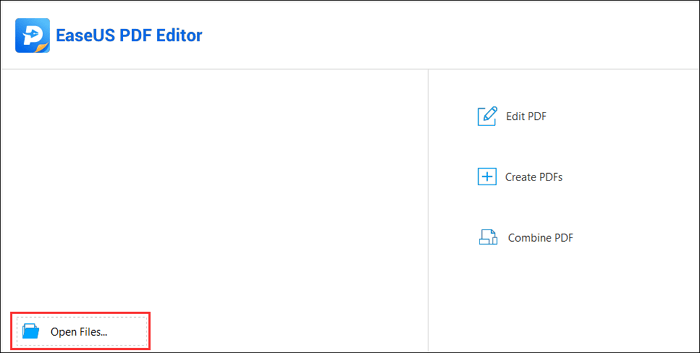 Anothe way is clicking on the "File" button and select "Open" on the drop down menu.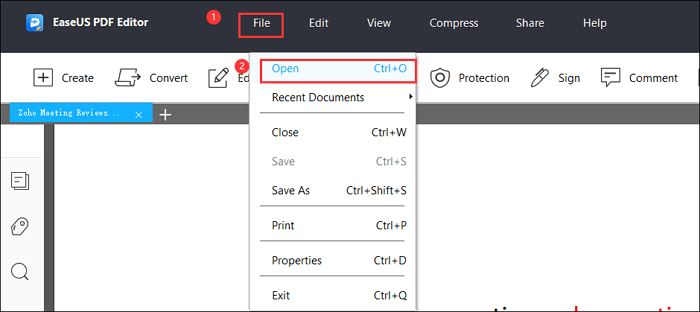 Step 2.  Right-click on the PDF file and choose "Ruler" to show to tool.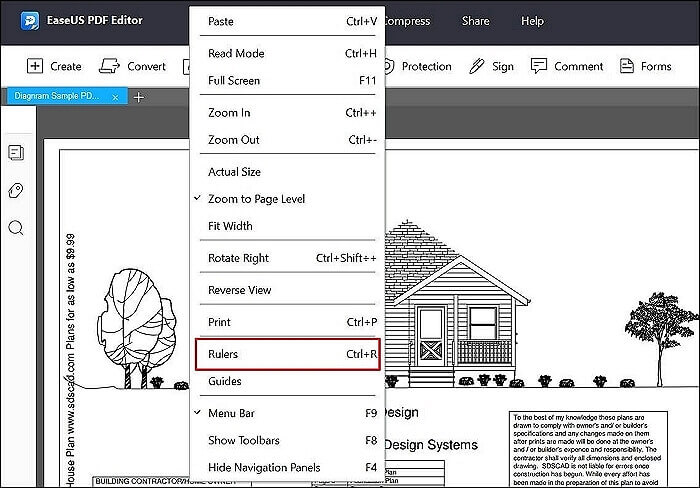 Step 3. Once you enable the ruler, click on the horizontal ruler, and drag it to the point in the PDF file. Repeat same with the vertical ruler. Drag to points so that you can figure out the distance. Or you can also double-click at any point to achieve the same effects.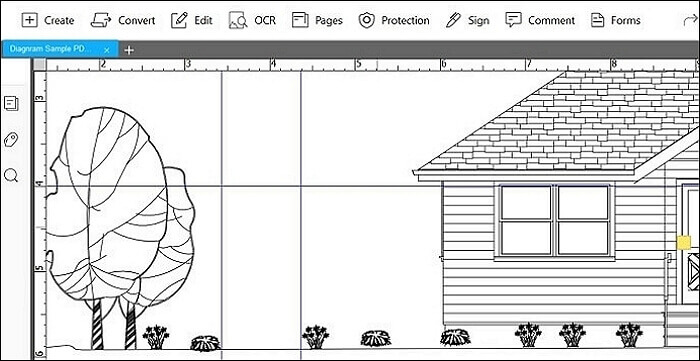 Step 4. To match the measurement with the scale used for the PDF file, you can right-click on the ruler and change the measurement. You have choice to change the unit, show guides or clear guides.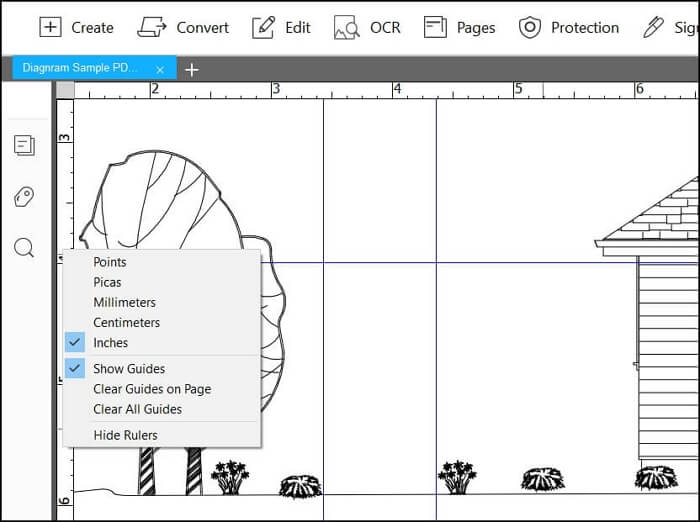 How to Measure Distances in PDF Documents on Preview
The Preview is a default viewer in macOS, which includes the option to measure distance using the "Inspector". It can help measure the distance of the selected area in any of the chosen units. If you are using a different unit, you can change between cm and inches. Make sure to form a line when measuring distance using the selection tool, and note the width.
Apart from this, the Preview also allows you to add and select text in the PDF file. Once the PDF is opened, draw a box to select a text or use the textbox to write in it. This is helpful when you need to add additional text to the PDF file.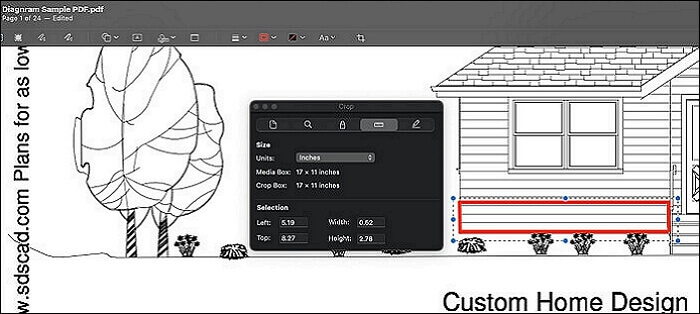 Steps to measure distances in a PDF:
Step 1. Open the PDF File in the Preview by double-clicking it. Once done, click on "Tools", and choose "Inspector".
Step 2. Depending on the structure or content of the PDF file. You are allowed to choose the unit. Select the "Unit" in inches, points, centimeters, and so on.
Step 3. Now switch to the select "Tool" and drag around the place where you want to measure. The "Inspector" tool will display the width and height between the two selected points.
How to Measure Distances in PDF Documents on Nitro PDF Pro
It is another all-in-one PDF editor which offers a measurement tool. You can calculate the distance between two points, area, and perimeter of shapes. You can further use the calibration tool to change units. Make sure to pinpoint or select the area carefully for an accurate result.
Apart from this, Nitro PDF Pro can help you add, delete, and modify text and images in multiple windows at the same time. And you can also copy or paste the text into other office files.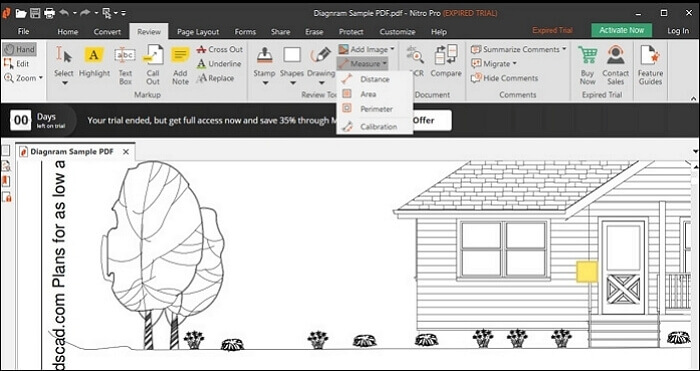 Steps to measure distances in a PDF:
Step 1. Open the PDF file, and then switch to the "Review" section.
Step 2. Click on "Measure" under the "Review" tools and then select "Distance".
Step 3. Select two points that you want to measure, and you should be able to know the actual distance between them.
Conclusion
Distance measurement is an important part of a PDF. It's a very good tool within the PDF for measure items. There might be many objects or diagrams shared on PDF, and the end-user needs to know the distance so they can compare it with real-world measurements. This post offers you various tools to help with that. We would highly recommend using EaseUS PDF Editor as it is not only easy to use but also offers the precise ruler to measure the distance or size of the object. 
About the Author

Crystal Chen is very interested in technology products. Experiencing many technological applications like video editors, screen recorders, and PDF editors, She is willing to solve users' issues through writing tech-related articles. Through her words, you can find various solutions to solve one problem.