How to Write on PDF for Free Easily and Quickly
The PDF format is ideal for sharing, thanks to its non-editable nature. But there are many times when you find yourself needing to insert annotations or add text to PDF documents, and it can be challenging. The one thing that will probably come to your mind in such scenarios is to convert the document to an editable format such as Word and then convert it back into PDF. Indeed, it's complicated.
To save yourself from this hassle, all you need to do is get your hands on reliable free PDF writer software. This guide will walk you through how to write on a PDF on Windows 10/Mac using great PDF writers out there.
Part 1. How to Write on a PDF on Windows 10
For Windows 10 users, EaseUS PDF Editor is a fantastic solution to write on PDF with ease. It unlocks all aspects of the PDF document so that you can edit. With its help, you can do so many things beyond your expectations, from editing text and pictures to merging and splitting PDF documents. Additionality, it can convert PDF to PNG or into other formats. This amazing PDF editor is a very well-designed tool for all levels of users, whether experienced or inexperienced.
Key Features:
Find and replace specific text in PDF document easily
Sign PDF files with e-signature or digital ID
Built-in OCR features make scanned PDFs to editable text 
View PDFs with flexible reading options
Insert image or text to the PDF pages as watermark flexibly
Change the background color of the PDF or set an image as the background
Step 1. Download and launch the software on your Windows PC and then tap on "File" > "Open". Here, upload your target PDF file on which you want to write or type.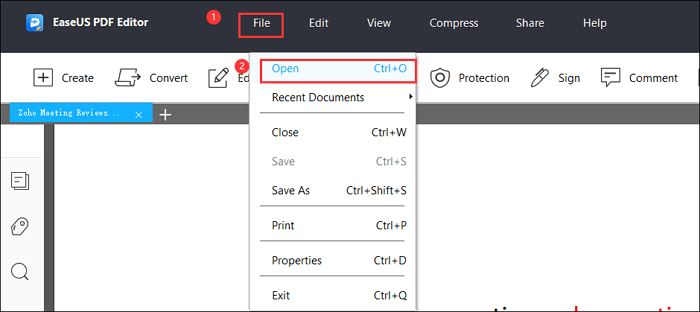 Step 2. Now, tap the "Edit" button from the top menu and then tap on "Add Text" from the drop-down list. You can even select the "Edit Text & Images" option to edit the existing text.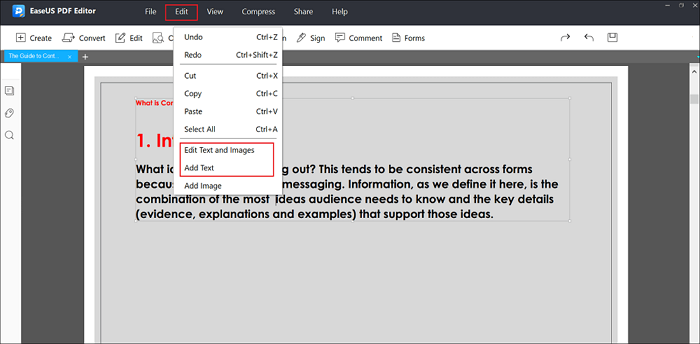 Step 3. You can now make the necessary changes and additions to the PDF file. Once the changes get completed, click "File" > "Save" button to save the PDF file.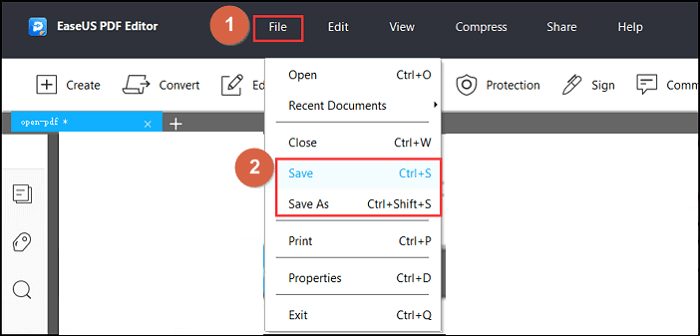 Part 2. How to Write on a PDF File on Mac
When it comes to typing on a PDF document on Mac, there are two ways to get the job done, either using Preview or Adobe Acrobat DC. Let's have a look at how both methods can help you write on PDF.
1. Preview For Mac
To write on a PDF for free on Mac, you can use its in-built Preview app. This tool possesses multiple options to help you view and edit PDF files. On top of all, it can seamlessly enable you to write on a PDF and edit the existing content of the PDF.

To learn how to write on a PDF file using Preview for Mac, you need to follow the steps involved.
Step 1. Go to Preview on your Mac and open the PDF file you wish to write.
Step 2. To write on a PDF file in Preview, tap the "Text" icon from the markup toolbar or select "Tools" > "Annotate" > "Text".
Step 3. A text box along with the word "Text" will appear in the mid of the file. Type the texts you would like to add, and then tap on and drag the text to place it where you like it on the file.
Step 4. You can also use the "A" icon to adjust the font, size, and color of the text, and then finally, click on the "File" > "Save" to save your document.
2. Adobe Acrobat Pro DC
Adobe Acrobat is the first name that clicks in everyone's mind when it comes to PDFs! Adobe Acrobat Pro DC is an excellent tool that helps you meet all your PDF-related requirements. Whether you want to add text in a PDF or want to add a signature, Adobe will consistently deliver you excellent results. It's easy to get your hands on Adobe to write on a PDF file. Have a look!
Step 1. Open the target document with Adobe Acrobat. Now, in the right pane, tap on "Edit PDF" to edit the PDF file.
Step 2. You can now choose the specific tool to add text, edit existing text, or update the font of the text. For instance, click on the "Add Text" button to type on your PDDF. You can type any text you like anywhere.
Step 3. After completing all the writing and editing work, name your edited file and hit the "Save" button.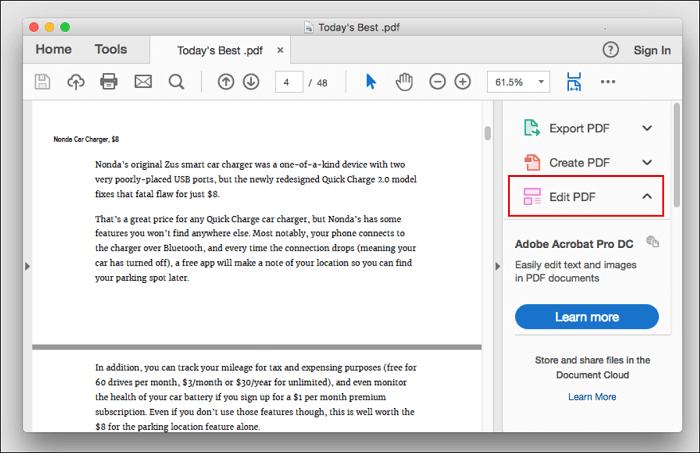 Part 3. How to Write on PDF Document Online for Free
Thanks to various online free PDF editors out there, writing on PDFs has become a very straightforward process. But the only challenging thing is to determine which online solution is reliable to use.  Well, you don't have to worry about that. Following are the great online solutions you can count on to type on PDFs with ease.
1. Sejda
Sejda is a free online PDF editing tool that offers direct links to open the PDF file with the PDF Editor. You can use this amazing free PDF Editor tool to write on PDF files, and you can even fill and sign PDF by using this tool. Sejda is one of the most recommend alternatives for Adobe Acrobat to write on a PDF because it's free to use and works flawlessly without any issue. 
Step 1. Go to Sejda PDF Editor and click on the "Upload" button to directly upload the PDF file from your local computer. You can drag and drop the file also to write on it.
Step 2. Now, click on the "Text" tool and tap anywhere on the PDF file to add text.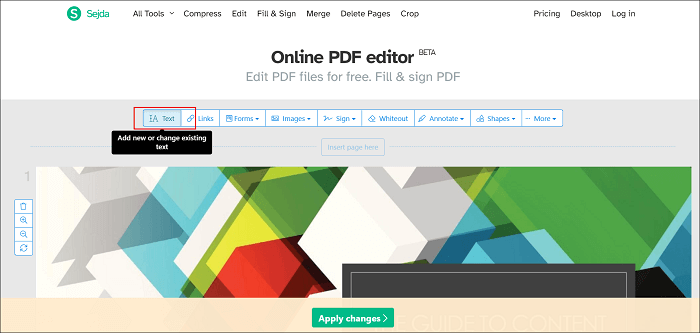 Step 3. You can even click on the existing text to change it. Select the "Text" tool in the top toolbar and make existing text bold, italics, etc.
Step 4. To add new images to PDF, click on the "Images" menu and choose "New Image". Now, select an image from your local computer and add it to the PDF.
Step 5. After making all the changes as required, tap the "Apply Changes" button and finally hit the "Download" button to download the edited PDF file.
2. Smallpdf
Smallpdf is another online free PDF Editor tool that allows you to write on a PDF file effortlessly. It is an amazing tool that offers users multiple options to edit PDF files. These options include compress, edit, convert, split and merge PDF online. The tool requires no additional software installation or sign-up to use it.
Step 1. Go to Smallpdf Editor on your PC. Now there, you will get an option to upload your PDF file. So, simply "Upload your file" and click on "Add Text" to start writing.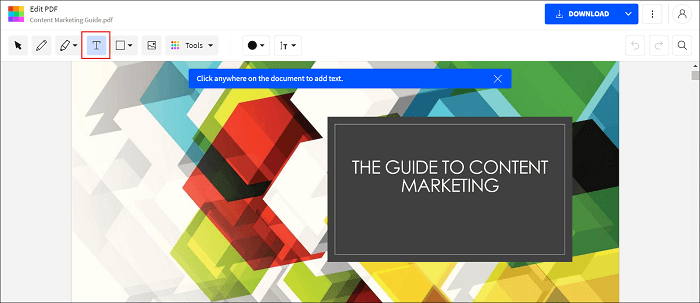 Step 2. Via the "Top Menu," you can easily adjust the size, font, and color of the text. You can even add images and shapes on PDF files if needed. 
Step 3. After writing on the PDF file, tap the "Apply" button to save all the changes and finally download the file.
The Bottom Line
That's all on how to write on a PDF on Windows 10/Mac. This guide has covered all the reliable ways. If you would like to edit PDFs professionally on Windows 10, you can rely on the EaseUS Windows PDF editor. If you like doing things directly from a browser, you can use any of the online tools mentioned above.
About the Author

Crystal Chen is very interested in technology products. Experiencing many technological applications like video editors, screen recorders, and PDF editors, She is willing to solve users' issues through writing tech-related articles. Through her words, you can find various solutions to solve one problem.