16 PDF Highlighters for Online/Windows/Mac Users [2022]
It's indisputable that PDF is the most used format by businesses today to share important information. There are times when one needs highlighting in PDF to emphasize the content so that other readers can note it quickly.
In cases like this, a PDF highlighter comes in handy! Yes, with the use of a document highlighter, highlighting specific information in a PDF file will be as easy as plucking low-hanging fruit.
Unfortunately, not all PDF highlighting tools can perfectly perform their tasks without compromising the file quality, and many users don't know how to pick up a suitable one. For this reason, this post will offer you a list of the best PDF highlighters for PC. Thus, read further to find out the one that's best for you.
1. EaseUS PDF Editor 
Compatibility: Windows 11/10/8.1/8/7
The first one on this list is EaseUS PDF Editor. This top-leading PDF highlighter for PC lets users highlight important content in a PDF document without much effort. Plus, it supports a vast array of basic and advanced features, ranging from PDF editing and converting to PDF protecting.
Hence, whether you want to highlight PDFs, annotate PDF documents, add bates numbers and signatures to PDFs, merge, encrypt, or split PDF files, etc., this tool can be just perfect for you to get the job done efficiently.
EaseUS PDF Editor has a highly intuitive interface, making it easy to navigate. Everyone can use this program for reading and highlighting PDF files effortlessly, and it's easy to use for even beginners. Don't miss it if you are finding a program to highlight PDF.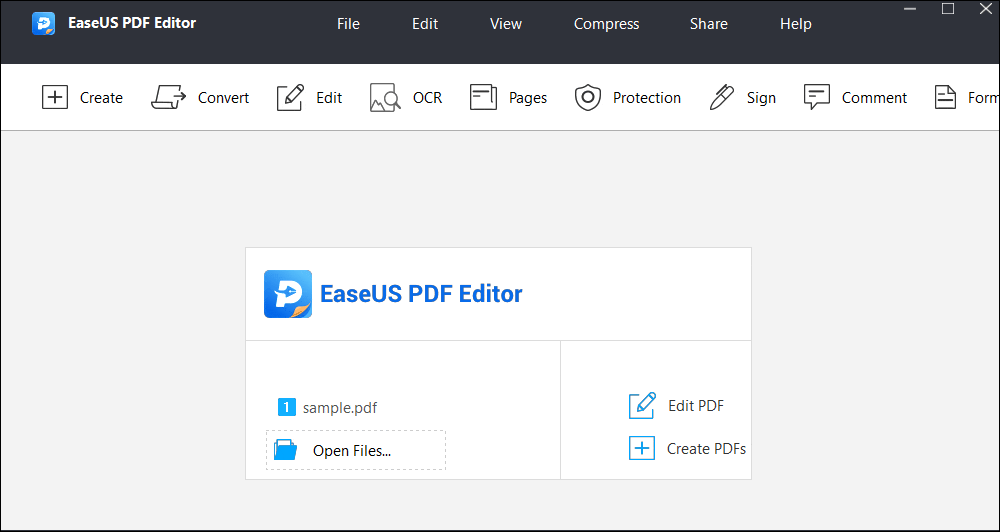 Key Features:
PDF OCR free for easy editing of scanned PDF documents
Efficiently highlight PDF without compromising its quality
Annotate, sign, and encrypt PDF documents easily
Remove watermark from PDF or add it to PDF
Click on the button below to download EaseUS PDF Editor and follow the steps below to highlight a PDF.
Step 1. Launch EaseUS PDF Editor and load your PDF file by click "Open Files..." on the main interface.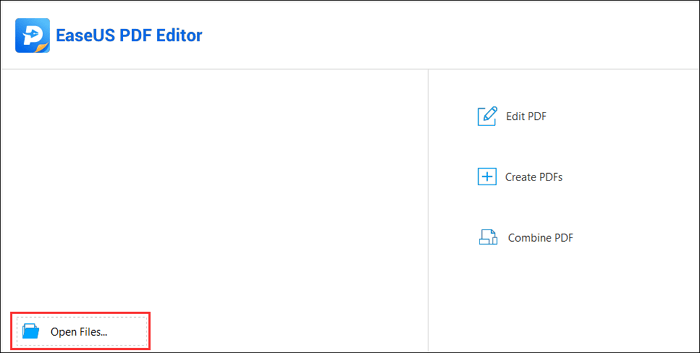 Step 2. Click on "Comment" on the top toolbar, and choose "Annotations" next.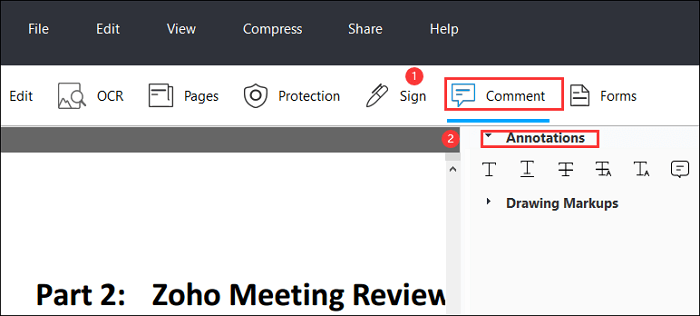 Step 3. Select the first option in the "Annotation" menu. Find the text you want to highlight and drag the tool over it.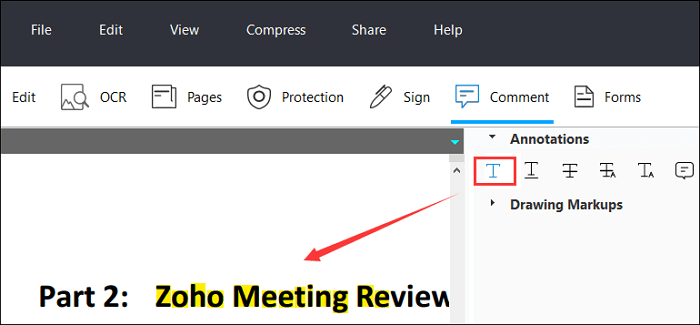 Step 4. When you finish, you can click "File" > "Save" to export the highlighted PDF files.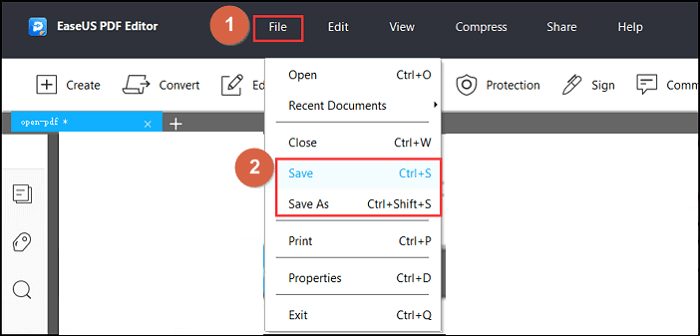 2. Adobe Acrobat Pro DC 
Compatibility: Windows, Mac, iOS, Android
Another popular PDF highlighter for PC and portable devices is Adobe Acrobat Pro DC. This tool supports lots of features, helps ease the process of handling your PDF document, and even comes in handy when you're looking to process a complex document.
By virtue of its flexibility in editing multiple pages and editing text in scanned PDF, Adobe Acrobat Pro DC makes it possible to process PDF files in batches, even scanned ones. Plus, this tool has a clean and concise interface, making it easy to use for all people.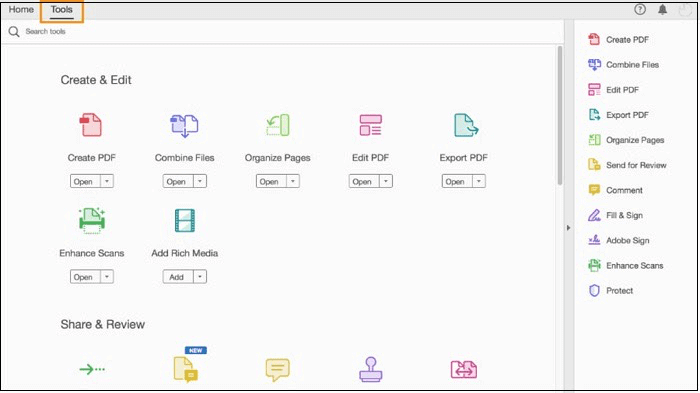 Pros:
Comment and share a PDF through the cloud
Compress and reduce PDF size
Offer quick searching through text indexing
Cons:
It can be a little expensive
Lags sometimes
3. PDF Annotator 
Compatibility: Windows
PDF Annotator is another tool that enables users to create, edit, and save PDF files anytime. It also offers the PDF sharing function to its users. All the basic features of any PDF editor tool can be found in this program.
It has an excellent user interface, making it very wanted by students, teachers, or other professionals. As you can understand its functions by its name, PDF Annotator is good at highlighting PDFs and adding various marks to PDF effortlessly.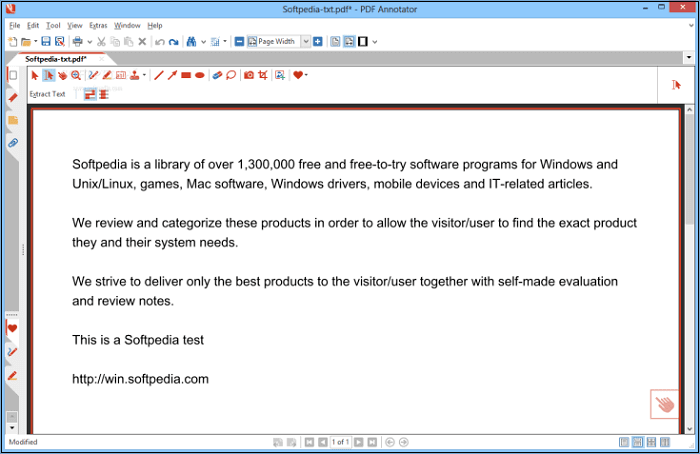 Pros:
Annotations can be edited easily
Simple interface
Cons:
4. Nitro Reader 
Compatibility: Windows, Mac
Nitro Reader ranks high among the Adobe Acrobat alternatives, and millions of consumers have used it. What you get by using Nitro Reader is a complete set of PDF editing tools so that you can regard it as one of the best PDF readers that allows highlighting and notes.
You can easily share all the files as well as sign them or fill forms. For critical documents that need extra protection, this PDF editor supports encrypting your files with a password.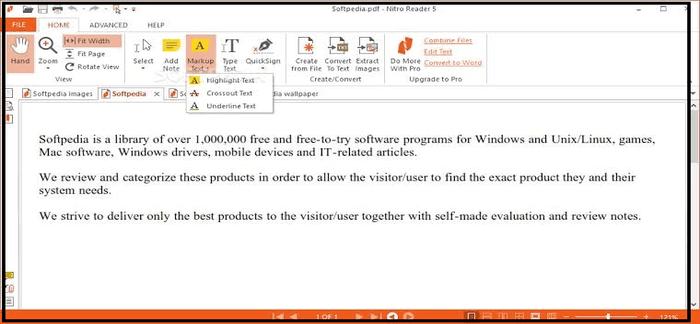 Pros:
A PDF reader with highlighter
It makes collaboration easy through the Nitro Cloud
User-friendly interface
Cons:
No mobile app
Relatively expensive
5. PDF Xchange 
Compatibility: Windows
PDF Xchange is yet another editing tool with all the basic capabilities of a competent PDF editor app. It also allows users to sign their files and supports scanning, image editing, PDF highlighting, and more.
It is a well-supported software that provides embedded fonts, images and makes going through different documents easier. You get all the features it offers by downloading PDF XChange editor and PDF XChange viewer, which are 2 different products.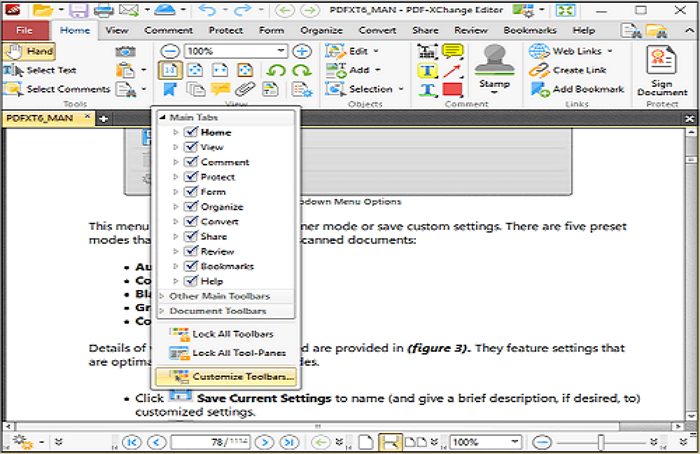 Pros:
Intuitive interface
Sign documents digitally
Immediate OCR scanning
Cons:
Need to pay for upgrades
Support is not always stable
6. Sejda PDF Desktop Pro 
Compatibility: Windows, Mac, Linux
Sejda PDF Desktop Pro offers PDF editing tools that will make your life a little bit easier. It provides a wide range of services, including merging, splitting, converting, compressing PDF files, and highlighting PDF.
The best part is that you can profit from all it offers in both the online browser version, although with some limitations, and on the desktop version. With its slick interface, it makes the experience of editing pretty easy.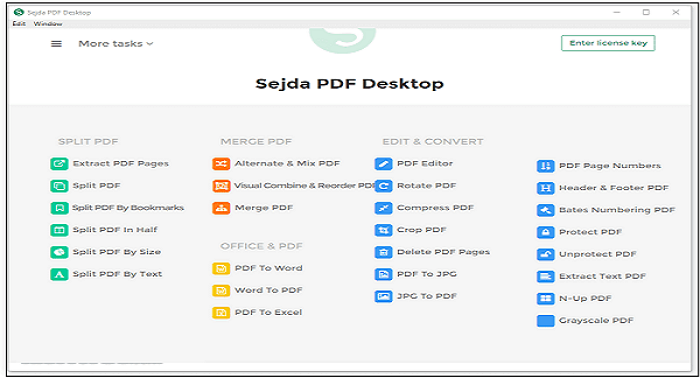 Pros: 
Support highlighting in PDF easily
Split, rotate and merge multiple PDF
Edit PDFs without lag
Smooth interface
Cons:
Its capabilities of editing are limited
7. PDFPen 
Compatibility: Mac & iOS
PDFPen is well known among Mac users when it comes to PDF editing services. It stands out, especially for its great OCR scanning feature. It can help you highlight PDF on Mac, and recognize and differentiate scanned documents from the already editable text, even for larger files.
It has other features, including all basic editing capabilities such as creating, editing, and highlighting on PDF easily. Now, let's have a look at its pros and cons below.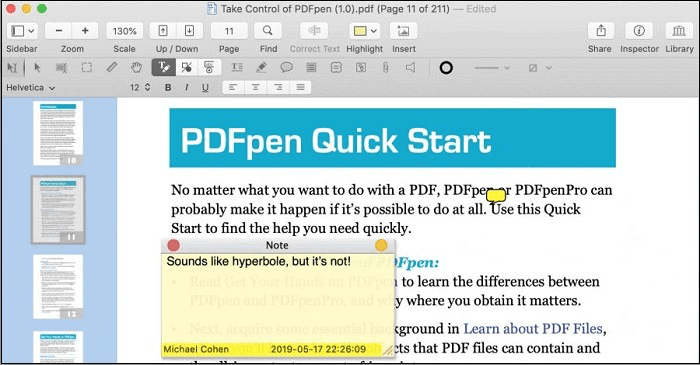 Pros:
Excellent OCR function
Offer a wide range of editing tools
Process even larger documents
Cons:
Text from the OCR is not always clean
Available only for Mac & iOS
8. Foxit Reader 
Compatibility: Windows, Mac
Foxit Reader is another PDF tool that, from its name, enables you to read PDF files and create PDF files. There are also several other features, but it mainly focuses on doing the only several tasks, which Foxit Reader does best.
In this case, something worth mentioning is that Foxit Reader is much smaller than Adobe Acrobat, and you can use it for free. This is a powerful PDF reader with highlighter that you cannot miss.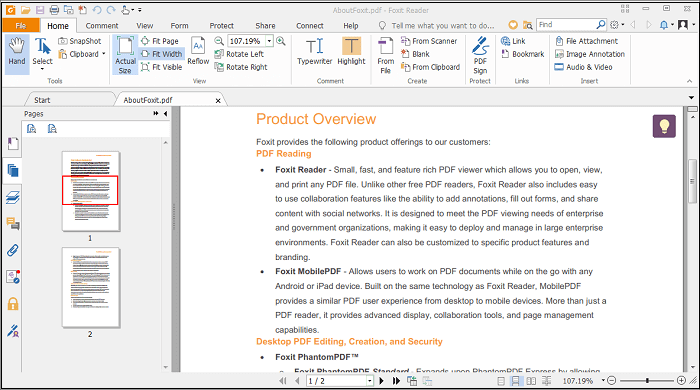 Pros: 
A PDF reader that allows highlighting and notes
Very lightweight and fast
Includes a PDF printer
Cons:
It's not made to support advanced PDF features
9. PDF Bob 
Compatibility: Online
This online PDF editor offers you a complete set of tools to add, modify, and annotate PDF files. Don't miss this PDF highlighter tool that you can directly use in your Internet browser if you want to make the PDF text well-marked.
After uploading the PDF file, you will see many optional tools on the left side. And you only need to choose "Highlight text" from the toolbar, and then the selected text in the PDF will be highlighted. Moreover, this online PDF highlighting tool allows you to change highlight color in PDF so that you can annotate the PDF per your needs.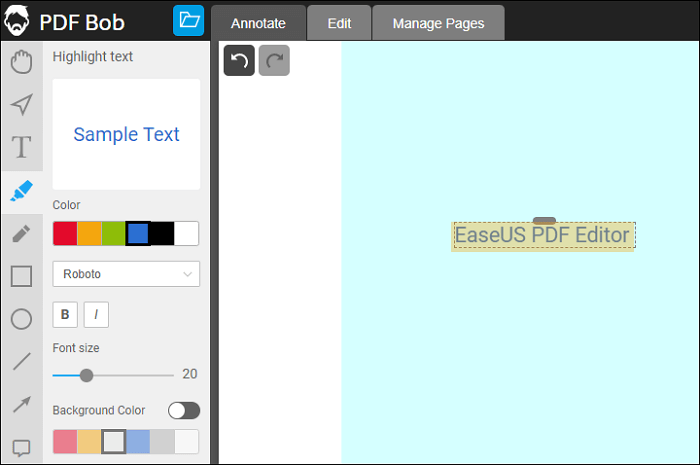 Pros:
Offer users many PDF editing tools
Support exporting PDF to Google Drive and Dropbox
Support exporting edited files in PDF, JPG, and PNG format
Cons:
It doesn't provide users with advanced functions, like PDF OCR
10. Smallpdf 
Compatibility: Online
Compared with online tools, the desktop software introduced above is powerful and versatile. Users who need more advanced features may regard desktop software as the best choice, but that is not true for everyone. To save storage space and avoid the speed-down of computers, some people prefer highlighting PDFs online. More importantly, most online PDF highlighters are free to use, such as Smallpdf.
Smallpdf can be considered as an online PDF reader with a highlighter tool that enables you to open a PDF file and annotate it with ease. It offers you two highlight modes, i.e., "Freehand highlighter" and "Text Highlighter." The previous one works as a PDF drawing tool, while the latter can only highlight text in the PDF.

Pros:
Free PDF highlighter online
Two types of highlighter are available
Support adding shapes, lines, and arrows to PDF
Insert images into PDF easily
Cons:
Lack of some advanced tools
11. Xodo 
Compatibility: iOS, Android, Chrome Extension
With Xodo, besides the usual editing capabilities that any other editor provides, you also profit from its outstanding feature of intelligent integrations. Once you connect it with Dropbox, Google Drive, or One Drive.
Not only can you share them on the cloud, but it automatically updates all the changes that are being made into the document in real-time. Of course, you can easily create, edit, share PDF files and export them in different formats.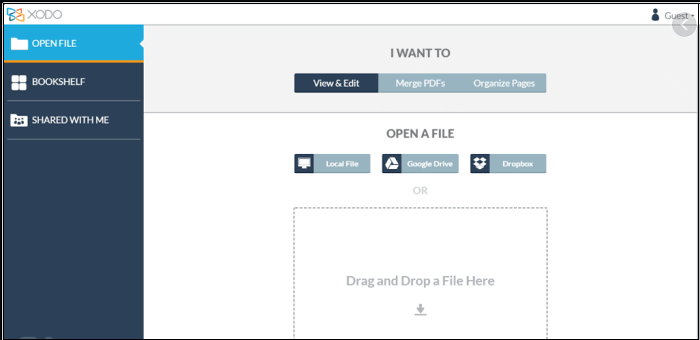 Pros:
Real-time synchronization with the cloud
Smooth interface
Fast service
Cons:
The reading version is not as good as the editing version
12. PDF2GO 
Compatibility: Online
This is also an online PDF editor with PDF highlighting tool. Unlike other online tools that allow you to highlight the PDF freely, this tool only lets you highlight rectangular areas. But what the PDF annotator offers you are very diversified. Besides those frequently-used ones, like rectangle, ellipse, arrows, and lines, it also supports adding dashed lines and polygons to PDF. 
After editing, this online tool allows you to upload the output file to the cloud directly or download it to your device. If the file size is too large, you can download the output PDF as a ZIP file.

Pros:
free PDF highlighter online
Support converting output PDF to ZIP file
Support splitting and merging output PDFs
Insert text and images into PDF easily
Cons:
Limited file size
Limited files per conversion
13. DocFly 
Compatibility: Online, Chrome extension
DocFly is also an online editor that is integrated with a PDF highlighter tool. Like some other online PDF highlighters, this tool also allows you to change the color of the highlighting area, but its working principle is different.
Using this highlighter, you should make a rectangle object to cover the text you want to highlight. That is convenient when you need to highlight a whole paragraph of text as you can create a big rectangle to do that easily. But things will be challenging to edit the existing text in your PDF as you should blackout them and add new words.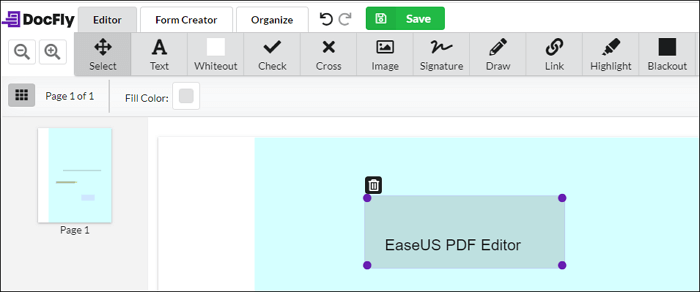 Pros:
Highlight a paragraph with simple clicks
Whiteout or blackout the content and modify it
Support adding signatures to PDF
Cons:
It's not easy to edit existing words
You can only download 3 files from it
14. Weava 
Compatibility: Online, Chrome extension
Weava is a powerful Chrome PDF highlighter, and you can install this add-on to your Chrome with one click. After installing, there will be convenient access from Chrome to this PDF editor, but you want to log in to use it.
Compared with other online tools that can only markup a PDF, this tool helps you highlight PDF in Chrome as well as create new documents and export them as Word documents. This feature makes it a multifunctional tool for business and office use.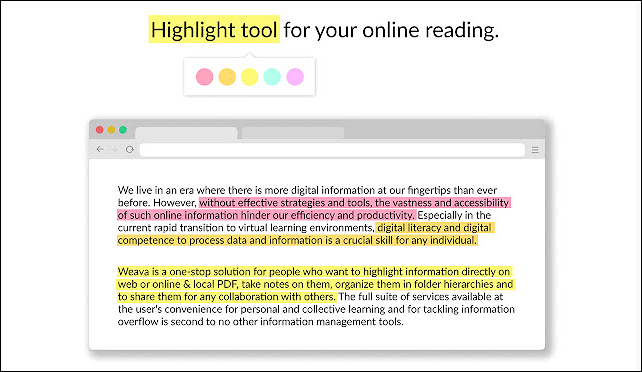 Pros:
Easy to access
Support creating documents
Save the edited file in its folder
Cons:
You have to log in to use it
The storage limit is only 100 MB
15. Hypothes 
Compatibility: Online, Chrome extension
How to highlight a PDF in Chrome? A helpful highlight PDF in Chrome is what you need. Hypothes is a powerful Chroma extension that enables you to annotate both your PDFs and the web pages.
Sometimes you may want to add note in PDF, and this tool allows you to directly add notes to them instead of finding a pen and a notebook. That is convenient. However, its interface is much more complex than many other tools, and you have to spend some time learning how to use it.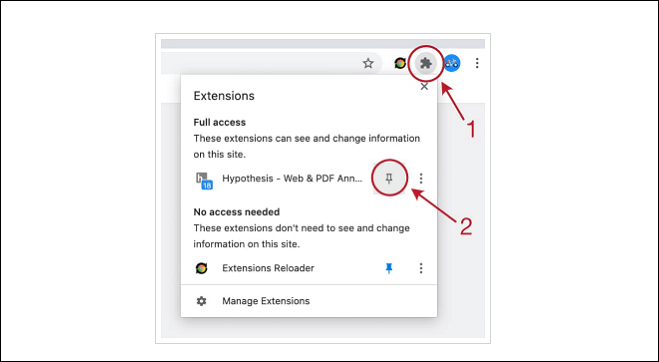 Pros:
Work on both PDF and web page
Help you highlight PDF in Chrome
Add notes to PDFs with ease
Cons:
The interface is not easy to understand
The process of creating an account is annoying
16. Kami 
Kami is a versatile PDF highlighter Chrome extension that provides nearly all the tools you need to process a PDF file. All those tools are classified into different categories so that you will find any tool you need within a few seconds. For instance, when you want to highlight PDF in Chrome, you only need to click on the "Markup" button and choose a suitable tool.
Kami offers you two types of PDF highlighting methods, including an ordinary "Text Highlighter" and a "Free Hand Highlighter." The former helps you select specific words and highlight them, while the latter enables you to freely add highlight areas to the PDF.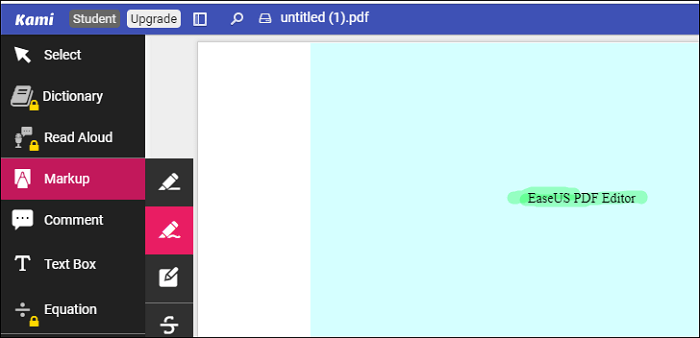 Pros:
Annotate PDF or add/delete text
Add comments to your PDF files
Support splitting and merging PDFs
Cons:
Many tools are behind the paid wall
Some tools may be confusing for beginners
Conclusion
A powerful PDF editor that helps you edit the PDF content and highlight important information is necessary in today's world. We suggest EaseUS PDF Editor as the best PDF highlighter for PC since it is user-friendly and comes in an all-in-one package among all the above options. If you need a tool for highlighting in PDF, don't miss this one. Click on this button for a free download. 
FAQs About PDF Highlighter for PC
Perhaps you still have many questions about highlighting a PDF on your Windows PC or Mac. Don't worry. Those FAQs can solve some of your questions.
1. How do you highlight a PDF on a PC?
First of all, you need an excellent highlighter for PDF, such as EaseUS PDF Editor. There is a tutorial for highlighting a PDF with this software, and you can follow it to edit your PDF files.
How to Highlight PDFs Step by Step:
Step 1. Launch EaseUS PDF Editor. Then, click on the "Open Files..." button to import the PDF you want to highlight.
Step 2. Navigate to the "Comment" tab in the top toolbar, and choose the "Annotations" option.
Step 3. The first tool under "Annotation" is PDF highlighting tool. Click it and select the text you want to highlight. 
Step 4. If you want to save the highlighted PDF file, click on "File" > "Save" to do that. 
2. Which is the best PDF highlighter for PC free download?
There are many optional apps for highlighting PDFs on Windows/Mac/online, and you can select a suitable one from the list of the top 12 highlighters for PDF.
Best Highlighter for PDF: 
EaseUS PDF Editor
Adobe Acrobat Pro DC
PDF Annotator
Nitro Reader
PDF Xchange
Sejda PDF Desktop Pro
PDFPen
Foxit Reader
Soda PDF
Smallpdf
Xodo
PDF2GO
3. How to remove highlights in a PDF?
To delete the highlighted text in your PDF, you will need a powerful PDF Editor for Windows - EaseUS PDF Editor. Download it and follow the steps below to remove highlight in a PDF.
Step 1. Launch EaseUS PDF Editor and import the PDF you want to edit by clicking the "Open Files..." button.
Step 2. Click on the "Comment" button from the top toolbar and click on the first button under "Annotations".
Step 3. Select the highlighted text you want to remove highlighting. Left-click the highlight until it turns purple.
Step 4. Press "Delete" on your keyboard, and the unwanted highlight will be removed. Then, click "File" > "Save" or "Save As" to save the edited PDF to your computer.
About the Author
Melissa is a sophisticated editor for EaseUS in tech blog writing. She is proficient in writing articles related to screen recording, video editing, and PDF file converting.