[2022] Top 7 Best PDF Optimizer for Free
Nowadays, it's common to reduce PDF size. However, you may worry about the quality when compressing your files. The PDF editors provide functionality for optimizing the PDF files that can solve that problem. With PDF optimizers, you can reduce image resolution while keeping document fidelity. Meanwhile, batch advanced settings allow you to edit more parts. 
Top 7 Best PDF Optimizer:
1. EaseUS PDF Editor
Compatibility: Windows 7/8/8.1/10
EaseUS PDF Editor is one of the best and reliable PDF editors that provide the most useful editing functions such as optimizing and compressing PDF documents in high performance. With this tool, you can optimize the given document using the optimizer settings. The optimizer is an optional compress utility class that can be used to optimize PDF documents by reducing the file size, removing redundant information, compressing images without losing quality, and so on.
Key Features:
Manage tons of PDF files with ease
Add digital signatures to PDF files
Protect the PDF with a password
Use the advanced options in the free PDF optimizer dialog box to reduce the size of files.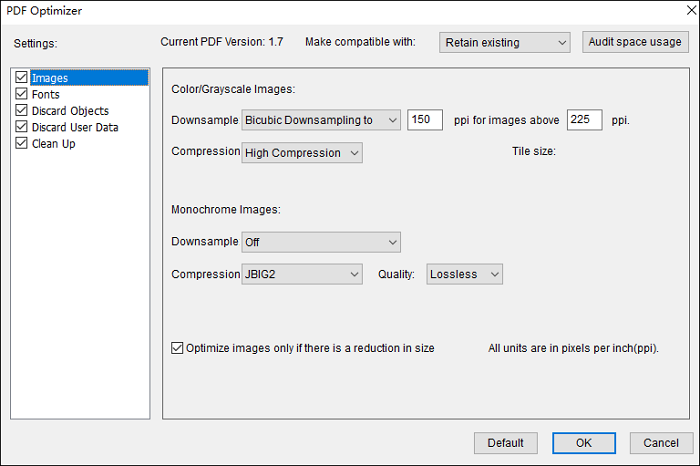 Options for EaseUS PDF Editor:
Its optimizer allows the following operations to help you deal with a PDF.
1. Images Panel
Reduce image resolution while maintaining fidelity. The images panel provides options for monochrome image compression, image downsampling, and so on.
2. Fonts Panel
Make fonts embedded and unembed. For example, to ensure an exact match to the source document, it's advisable to embed all fonts used in the document.
3. Discard Objects Panel
Let you specify objects to remove from the PDF. You can discard objects created in this editor. For example, you can discard all form submissions, import and reset actions, flatten form fields, and so on.
4. Discard User Data Panel
Remove any personal information that could be shared with others. It helps in discarding all comments, private data, document information, and file attachments.
5. Clean Up Panel
Allow you to remove useless items from the documents. Select elements that are obsolete or unnecessary for your file. For example, discard invalid links, bookmarks, and so on.
The optimizer gives you complete control over the elements of your compressed PDF file. Based on how you intend to compress the files, you can set different options. Let's look at how to optimize your PDFs.
Steps to guide you on optimizing:
Step 1. Launch EaseUS PDF Editor and open the PDF to which you want to add the drop-down list.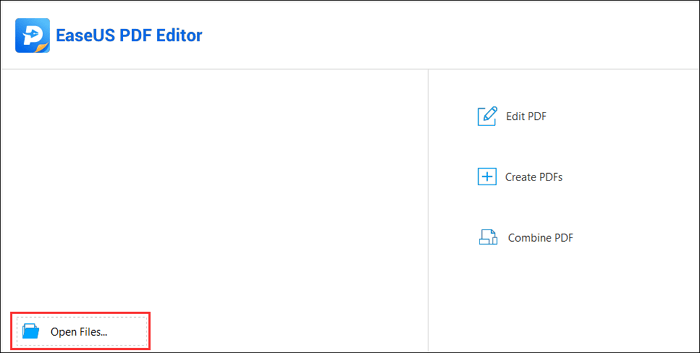 Step 2. Click "Optimize current document" from "Compress" button. Then, you see the Optimizer dialog box.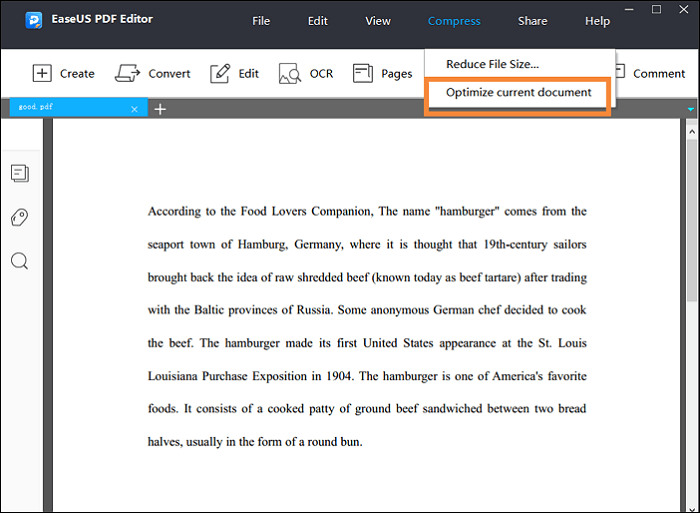 Step 3. Select the check box next to a panel such as Images, Fonts, or Clean Up. Then, set the advanced option from the panels in this dialog box. When you finished selecting options, click "OK".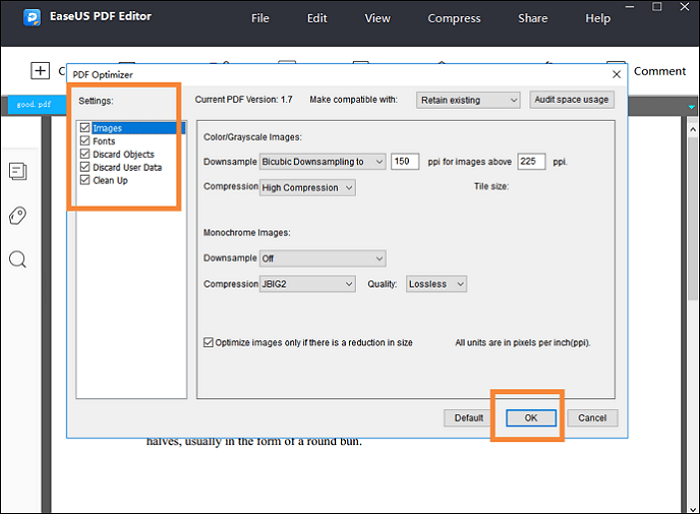 2. Adobe Acrobat DC Pro
Compatibility: Windows and Mac
Adobe originally creates PDF format, which makes your work much more convenient. Adobe's PDF optimizer function is very helpful as it provides many advanced settings for reducing the size of files. Choose from default or custom settings, users can efficiently optimize their files based on their needs.
The only problem is the purchase price is not cheap. If you want advanced features, then Adobe will be your choice as it has detailed control over the documents.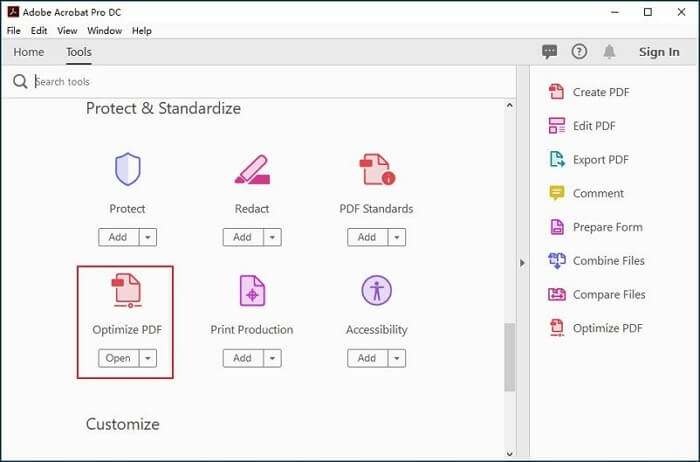 Pros:
High customer satisfaction
Accurately convert PDF files
Easily create, fill, and sign PDFs
Cons:
Expensive purchase price
Some functions are complex
3. Nitro PDF
Compatibility: Windows
Nitro Pro can help you reduce the size of files effectively. It includes powerful options for optimizing PDFs by discarding useless objects, removing invalid links, and compressing images. Simply click on the "Optimize", and you can freely use custom settings to compress your files. Meanwhile, batch processing capabilities make it easy to share with others.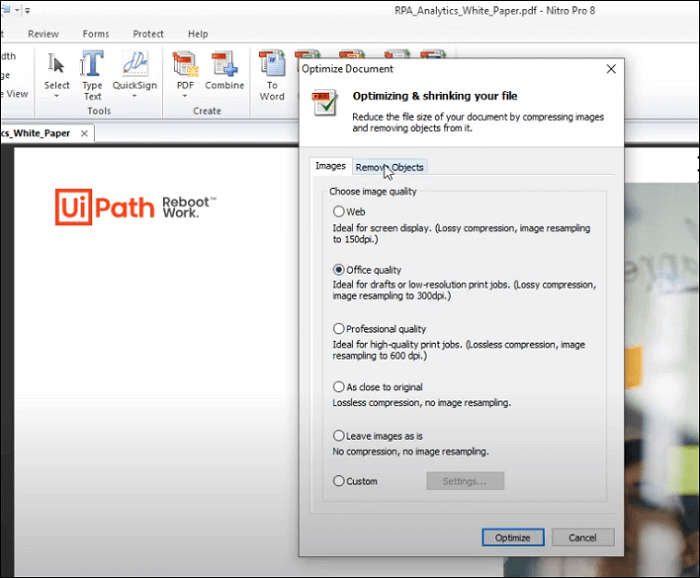 Pros:
Add, delete, and modify text and images
Create fillable form scratch
Create sharing links for PDFs
Cons:
Full capabilities in a paid version
4. PDF Online
Compatibility: Online
Without any installation, this online tool provides you with advanced settings in compressing. The online optimizer helps reduces file size while maintaining target quality as it involves images, font, and structure settings. Just drag or drop your files into the program, you can optimize your documents fastly. Also, you can use the online extract text tool to help you extract items in PDFs such as text, images, bookmarks, annotations, and so on.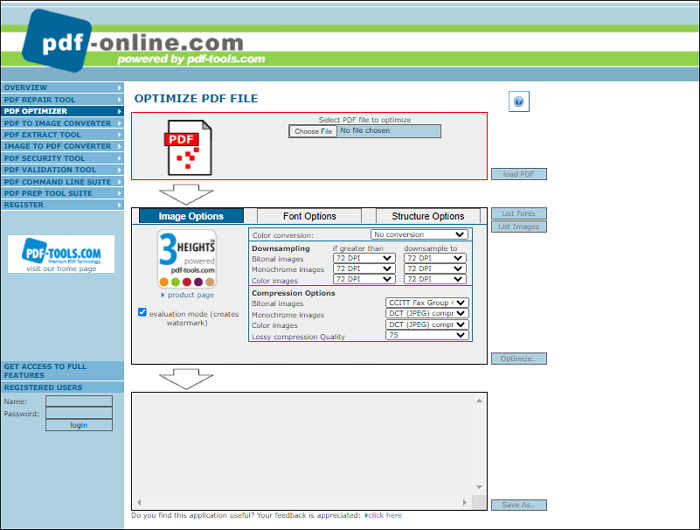 Pros:
Encrypt PDF documents
Batch conversions
View and redact PDF in browser
Cons:
Must pay to access all features
Need registration for this service
5. PDF2Go
Compatibility: Online
PDF2Go is a free online editor that lets you optimize a PDF on the web. Simply drop files into this tool, and you can optimize your PDF files for web sharing, streaming, and showing using fast web view.
Meanwhile, with the help of this tool, you can edit a lot on your PDF. You can add or delete text, mark sentences, and do a lot of other editing features.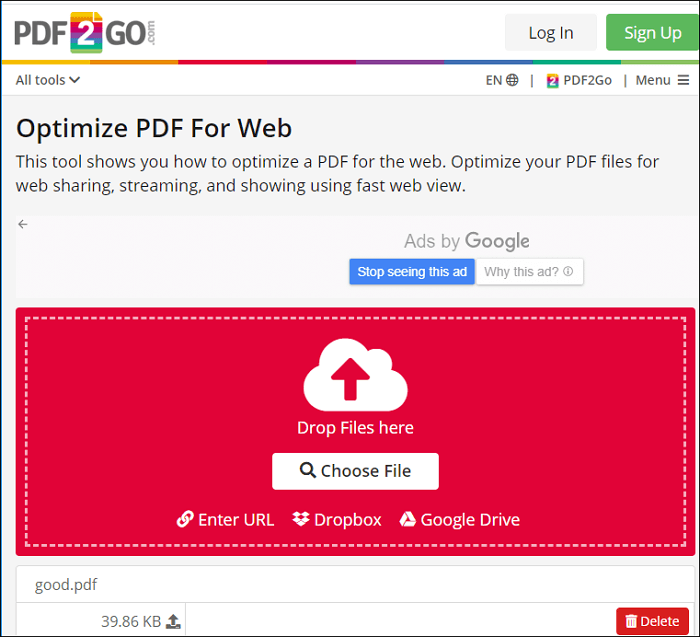 Pros:
Change PDF page size
Edit, merge, split, and rotate PDFs
Protect and unlock PDFs
Cons:
No additional settings on optimizing function
Unlimited access to all tools in the paid version
6. AvePDF
Compatibility: Online
This editor allows you to optimize a PDF for faster web display. Simply drop or upload your file to the website, and the online optimizer will automatically optimize your files. You can then download the web-optimized PDF file to your computer or save it to a cloud storage service.
Additionally, not only optimizing, but this tool also supports converting, editing, protecting, and other functions in your PDFs.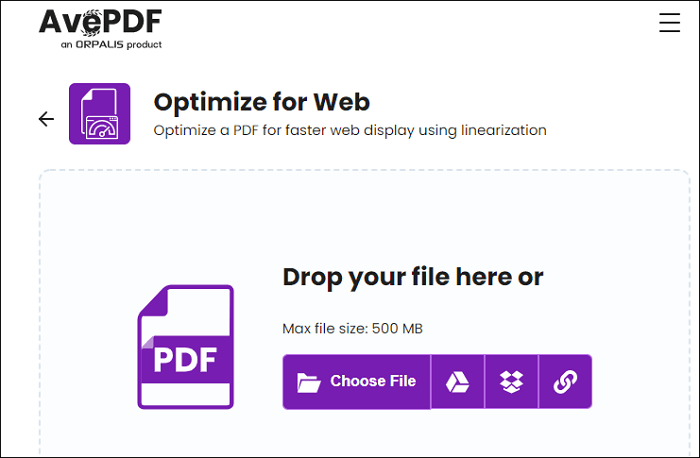 Pros:
Rich features, and affordable price
High customer satisfaction
Cons:
Some features are complex
Limit in setting options
7.PDF Resizer
Compatibility: Online
This tool allows you to optimize and compress PDFs to reduce file size, for example, you want to share your files that fit the file size limit of share attachments. With guaranteed quality, you can use this online PDF optimizer to upload and optimize up to 50 files at the same time.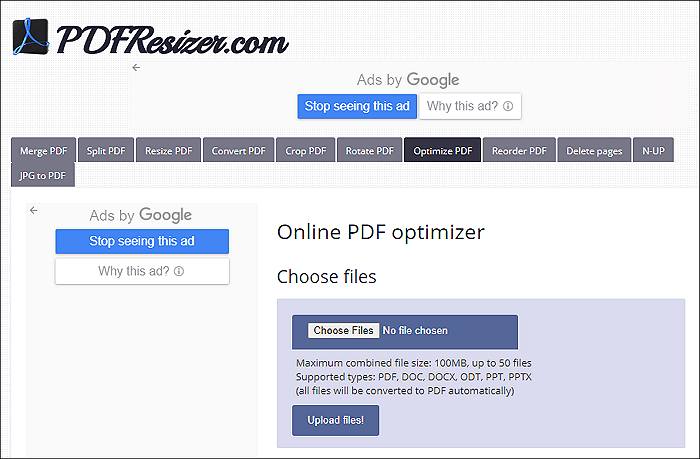 Pros:
Without installation
PDF rotator tool
Merge, split, and resize PDFs
Cons:
The maximum combined file size is just 60MB
A limit to the number of settings
PDF Optimizer FAQs
Check the frequently asked questions related to this topic below.
1. What is PDF Optimizer?
PDF Optimizer is a scriptable server tool that can simplify the PDF file size reduction process to facilitate PDF file sharing downloading. It will optimize your PDF files and preserve the fidelity of the original document at the same time.
2. How do I Optimise a PDF?
You need to go to Adobe Acrobat Pro and follow the operations below to optimize a PDF file.
Choose "File", "Save As Other", and "Optimized PDF".
Or you can go to "Tools" and "Optimize PDF", and then click "Advanced Optimization" to optimize your PDF.
3. What happens when you optimize a PDF?
If you use EaseUS PDF Editor, the PDF file will be reduced in size but the formatting and quality will remain the same.
Conclusion
The optimizing function in PDF editors can help you effectively reduce the file size. With advanced settings in the optimizer, you can compress files to any extent you want. Among them, EaseUS PDF Editor is recommended as a representative of an efficient PDF editor to help you optimize PDFs. It's an all-in-one editing software to edit your PDFs with good effect.
About the Author

Crystal Chen is very interested in technology products. Experiencing many technological applications like video editors, screen recorders, and PDF editors, She is willing to solve users' issues through writing tech-related articles. Through her words, you can find various solutions to solve one problem.