Top 6 Free PDF Splitter to Separate Your PDF Pages
A PDF splitter is software that helps people to separate pages from a PDF file as per need. The PDF file is an important part of our everyday life for both professional and personal needs. So creating a PDF file, editing, or adding/separating pages from them is a common thing done by a lot of people. The confusing thing is, out of a whole lot number of PDF separator software, which one will be best for you? Which tool can help you separate pages from a PDF file easily without any hassle?
No need to worry if you are here. We have got the solution for you. In this article, we have provided the best 6 free PDF splitter software available on the market. You can know about them and decide which one suits best for you.
Top 6 Free PDF Splitter:
Top 1. EaseUS PDF Editor
Compatibility: Windows 10/8.1/8/7
To be precise, we have put EaseUS PDF Editor at the top of our list because it has the potential and features that can unconditionally prove it to be one of the best PDF separators available right now.
This amazing PDF splitter tool is an all-in-one PDF file creator, PDF reader, editor, and converter. It has the power to give you full control over your PDF files, and you can do almost anything with them. Not only it helps you to create a PDF from scratch, but also helps you to read, edit and convert PDF files from word, excel, image, and PowerPoint file format and vice versa.
EaseUS PDF Splitter
Merge PDF files or split PDF files into separate pages
Allow you to OCR scanned image/PDF file and makes them editable
Convert PDF to Word, Excel, images, or vice versa without any hassle
Help you sign, encrypt, decrypt or add watermark to PDF files easily
Top 2. Adobe Acrobat DC
Compatibility: Mac, Windows, iOS, and Android
Adobe Acrobat DC is the best PDF reader and PDF splitting software used by many you around the world. It's a trusted and renowned brand among you because of all the advanced features and premium user experience.
It is an incredible and easy tool that can help you to split PDF files into multiple parts by separating its pages. It also allows you to split PDF files by file size, by the number of pages, or by the top-level bookmarks.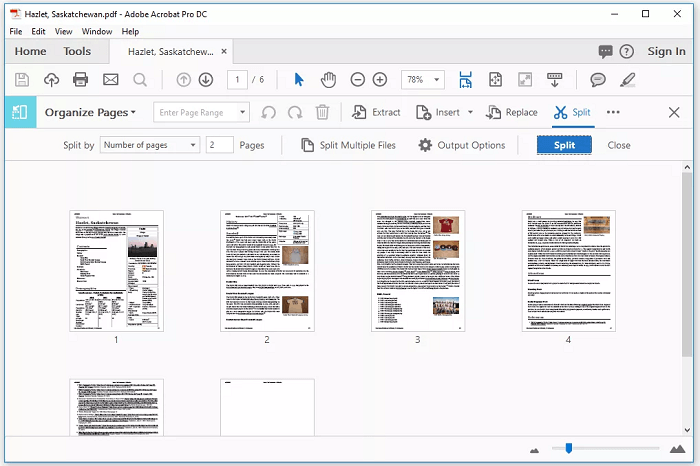 Features:
Help you create and edit PDF files easily
Convert PDF files from various supported file formats and vice versa
Allow you to share PDF files among other people for teamwork purpose
Protect & unlock PDF files with ease
Top 3. Nitro Pro
Compatibility: Windows
Nitro Pro is another excellent PDF splitter you can use to split PDF files. It has a very simple & attractive user interface that allows you to easily create and edit PDF files. You can easily and quickly edit PDF files by modifying, adding, or removing text from PDF without any problem. It can also help you convert PDF docs to Word, Excel, or images and vice versa.
Features:
Use OCR technology to scan images and PDF files
Offer an easy way to verify digital signatures in a PDF file
Allow merging PDF or other file types into a single PDF
Top 4. Foxit PhantomPDF
Compatibility: Mac and Windows
Foxit PhantomPDF is a nice PDF page splitter that can help you to create and manage PDF files. It allows you to edit and separate PDF file pages without any problem. Apart from various PDF editing and other wonderful features, it can help you manage your PDF files even after publishing them. You can use this tool to share PDF files and integrate them with ECMs and cloud storage.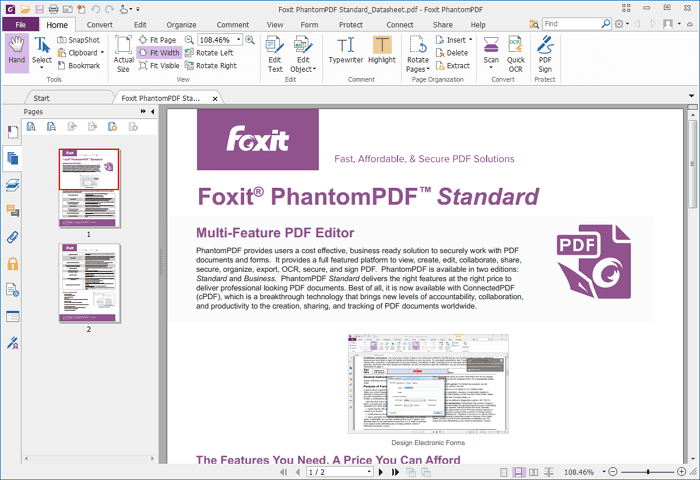 Features:
Help you to create and edit PDF files & fillable forms
Sort pages inside PDF files and add headers, footers, watermarks, etc.
Import and export PDF files without any hassle
Powerful OCR function allows converting paper or images into editable PDF file
Top 5. ILovePDF
Compatibility: Windows, Mac, and Linux
iLovePDF online PDF separator is one of the easiest ways to split or edit a PDF file online. You can easily use this tool to separate PDF files, and you can either split the PDF file by page ranges or extract all the pages from the PDF file.
Besides, it allows you to upload a PDF file from their computer or their Dropbox or Google Drive account directly into the interface of the website. The process is very easy because of the drag and drop option.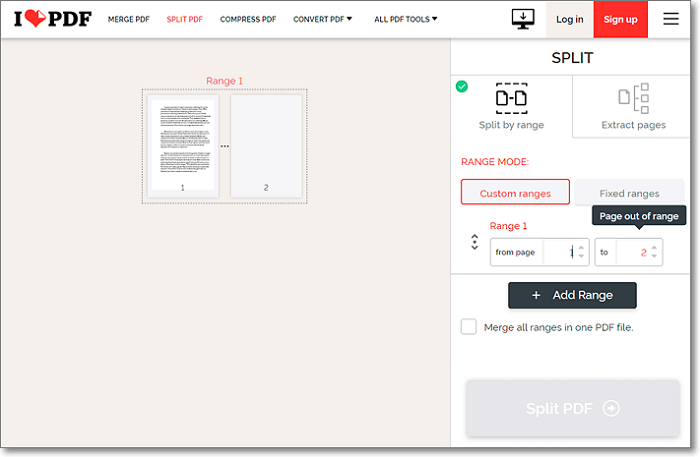 Features:
It can connect with Google Drive and Dropbox cloud storage
Special drag & drop system to easily manage/edit PDF files
It has a fast conversion or processing speed that helps to work on larger PDF files easily
Unlock, split and compress PDF files in the shortest time possible
Top 6. SmallPDF
Compatibility: Windows, Mac, and Linux
SmallPDF is another awesome, easy, and free PDF splitter available online. It has all kinds of options that will help you edit, manage, and split PDF documents without breaking a sweat. You can view the PDF file, and in the meantime, you can edit the PDF file by adding and highlighting other contents, texts, images, shapes, annotations, etc.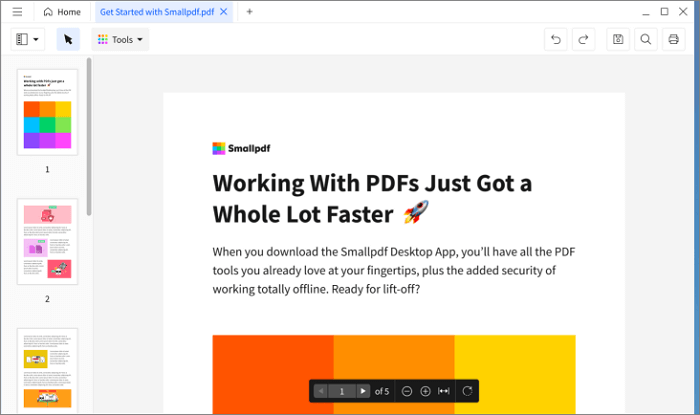 Features:
Various tools are available to edit, compress, split, merge and convert PDF files
It's integrated with Google Drive and Dropbox cloud storage
The eSignature option allows you to sign documents with ease
Unlimited document size available
PDF Splitter FAQs
Check the frequently asked questions related to this topic below.
1. How do I split a PDF into multiple PDFs?
You may try Adobe Acrobat to split a PDF into multiple ones. Just follow the steps below.
1. Open the PDF you want to split in Acrobat. Choose "Organize Pages" and click "Split".
2. Choose the way you want to split a single file or multiple files.
3. Click "Output Options" to decide where to save and name the PDF.
4. Click "OK" and then "Split" to start splitting.
2. Is there a free PDF splitter?
Yes, PDF2Go is a free PDF splitter that allows you to split pages of a PDF document into multiple smaller ones.
3. What is the best PDF Splitter?
EaseUS PDF Editor is the PDF splitter you can never miss. With this tool, you can split and merge PDF files in the way you like. The operation is quite simple. Just give it a try!
Conclusion
To reach into the final verdict, we have thoroughly tested all kinds of PDF page splitter and PDF editors. All the top 6 PDF splitter software available in this article are top class without any doubt, but you need to determine which one is best suitable for your needs.
If you want our recommendation, then we would definitely suggest you start using EaseUS PDF Editor. It has all the advanced features and useful tools that you need to work on a PDF file. From creating to editing and doing almost anything with a PDF file, this program stands at the top of this market without any doubt.
About the Author
Melissa is a sophisticated editor for EaseUS in tech blog writing. She is proficient in writing articles related to screen recording, video editing, and PDF file converting.