Top 7 PDF Reader Free Download for All Platform in 2022
There are all kinds of formats when it comes to online documents, but PDF remains one of the most loved formats for reading documents online. From eBooks on kindle to online contracts, you will find them mainly in the form of PDF.
However, having them as PDF means that we will need to open them using software supporting PDF. Some of those software costs hundreds of dollars. For this reason, we've decided to share with you some free download PDF reader that won't cost you any penny. Let's take a look together!
PAGE CONTENT:
1. EaseUS PDF Editor
Compatibility: Windows
Reading PDF using EaseUS PDF Editor gives plenty of choices for users to choose. Users can change the PDF style clockwise or counterclockwise for a more comfortable reading position. Besides, this software can also change the display; whether it's a single page or not, it's up to the user. Display-wise, users can have all sorts of page positions for a more comfortable reading position.
What's more, with the help of this Windows PDF editor, you can also jump from one page to other. The feature is thanks to the software's Page Navigation system. Does the page you jump have a tiny font? No worries, because you can zoom the pages to any percentage you need for easier reading. Reading can be done quickly without hassle using this program.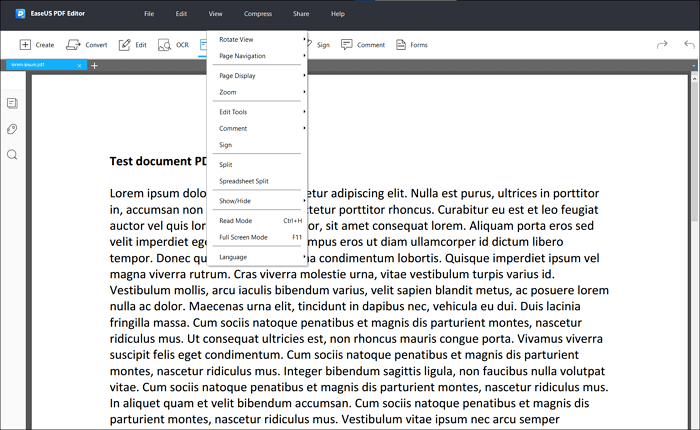 More Stunning Features:
Allow users to add their signature on the PDF
Password protect PDF with ease
Scan images and capture the text on the image
Give space for users to comment on the file
Split the spreadsheet into four columns
2. Adobe Acrobat Reader DC
Compatibility: Windows, Mac
Do you need a free download PDF voice reader that allows you to tweak the PDF in an advanced manner? Then Adobe Acrobat Reader DC is the one for you. From rotating the pages to zooming in to the smaller letter, anything can be done by this software
An impressive feature of the software is its accessibility features; the features allow easier access to documents for people with disabilities. The accessibility features have options that differ from regular features. An example of such an option is the different preferences in Accessibility Setup Assistant. OF course, there are other editing features that make reading PDF easier for everybody, no matter who they are.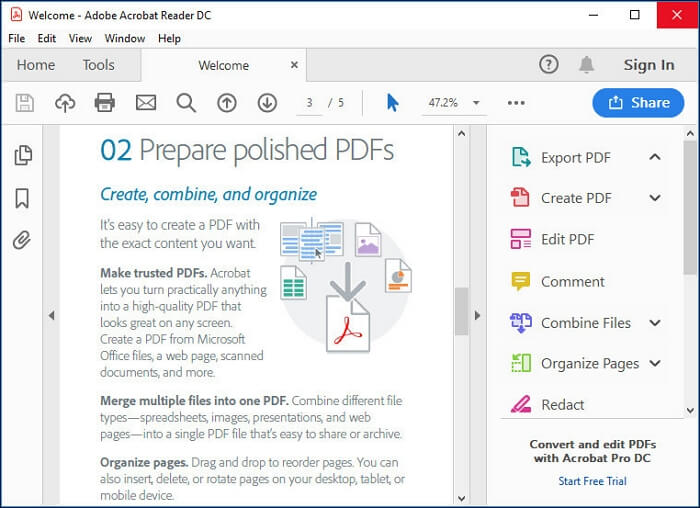 Features
Offer a systematic cloud-sharing system.
Can read PDF text
Replace document colors
3. Foxit Reader
Compatibility: Windows, Mac
Foxit Reader is another free download PDF reader that has full features for its PDF reading. Users can view PDF files and portfolios easily thanks to its full screen and auto-scroll. There is also the reflow view that adjusts the display for easier reading. Do you need to position objects and view them easily on the document? No worries! Rules, grids, guides, and rulers are available to help you.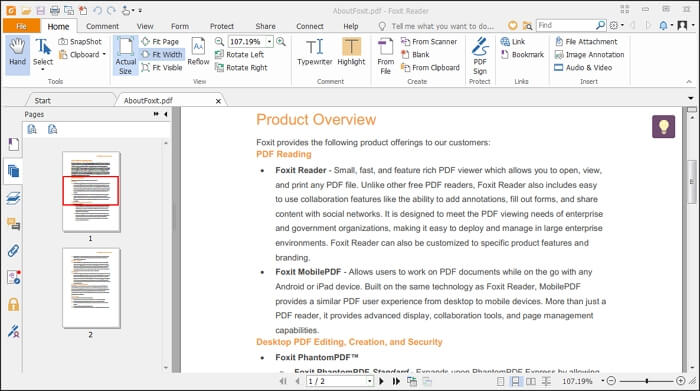 Features
Give word count
Show Product Representation Compact (PRC) of 3D documents
Offer add-ons for Windows and Mac
4. Google Drive
Compatibility: Windows, Mac
When they say that you can read PDF on Google Drive straightforwardly, they literally mean it. All you need to do is upload the PDF file on your Google Drive and open it. Within seconds, you will be able to see the entire page on your screen. Besides reading PDF files, readers can also add comments and find specific keywords they need on the PDF file.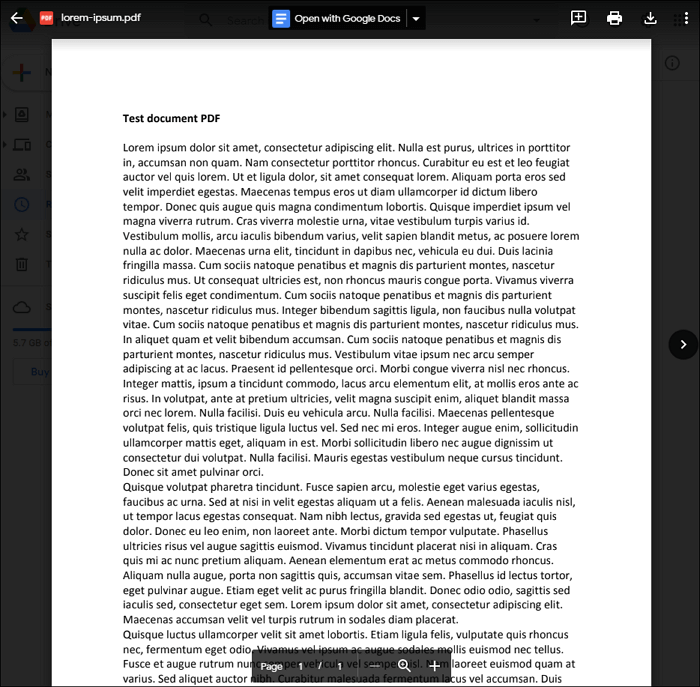 Features
Quickly upload of PDF files
Offer information details of the document (such as type, size, location, etc.)
Offer the star option for easier find
5. Javelin PDF Reader
Compatibility: Windows, Mac
Those who prefer a clean and simple PDF reader with all the necessities can opt for Javelin PDF Reader. Javelin PDF Readers boasts its clean layout that makes mastering the software easy and can be done in a matter of minutes. Users can easily switch the reading option from full screen, side-by-side, continuous, and many more. Those who need to stop reading the PDF can easily bookmark the section they left off.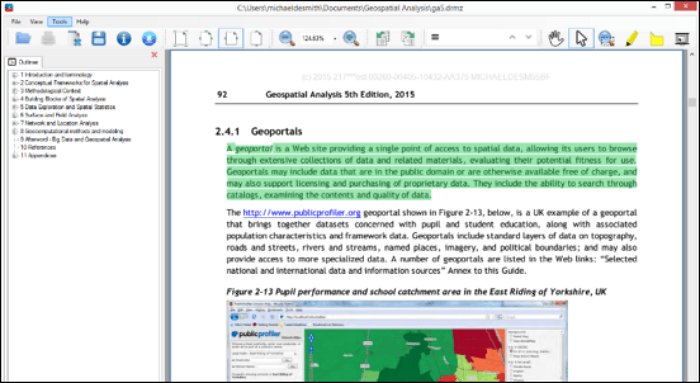 Features
Has a small download size (2 Mb)
Give complete features for essential PDF reading
Can open DRM-protected files
6. PDF Reader Premium
Compatibility: Mac
PDF Reader Premium is here to save the day for those who prefer Mac-exclusive free download PDF reader. The software boasts plenty of features for editings, such as multiple tabs and sticky notes. Users can also tweak their documents by adding images, adding signatures, fill forms, and organize the files uploaded using tags.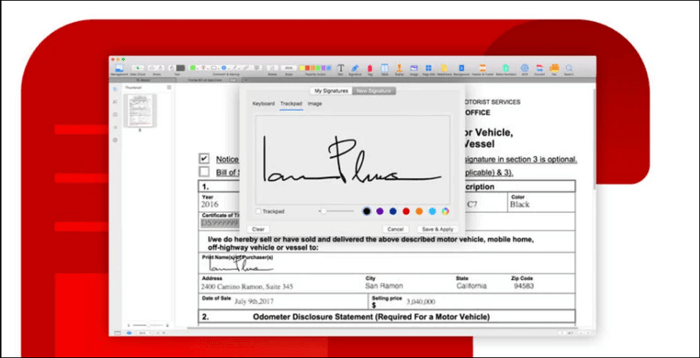 Features
Able to export PDF files to other formats
Conversion is done in a snap
Offer constant updates for improvements
7. Sumatra PDF
Compatibility: Windows
For those who prefer Windows-only PDF reader free download, Sumatra PDF is available to use. The software's appearance might be lacking compared to other software. Still, they boast a quick system that allows users to load PDF fields quickly. The open-source software automatically remembers the last page where you left off, so there's no need to worry about missing a page if you stop reading midway.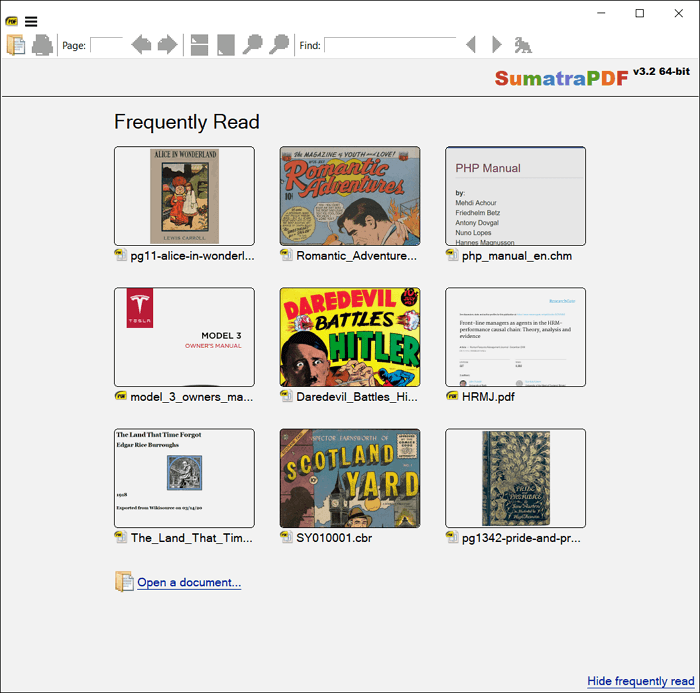 Features
Give the essential PDF reading experience
Simple and quick
Has features that users can understand quickly
Conclusion
Many free download PDF readers are available for us, giving us access to PDFs and scanning them. There are, however, some software that allows us to read PDF while giving us the freedom to edit it, like EaseUS PDF Editor. So if you would like to get a PDF reader that does it all, then EaseUS PDF Editor is the right choice for you.
About the Author
Melissa is a sophisticated editor for EaseUS in tech blog writing. She is proficient in writing articles related to screen recording, video editing, and PDF file converting.