Best Free PDF OCR Solutions for Windows and Mac in 2022
Sometimes, we need to extract the content from the scanned PDF files to text, and that's when PDF to text OCR functionality comes in very handy. OCR acronym for Optical Character Recognition. Many PDF programs come with the OCR feature, which makes scanned PDF documents searchable and editable.
If it's your very first time looking for the best free PDF OCR solution out there, we can understand how challenging it can be. But no worries!! This post will introduce the top free PDF OCR tools and how to OCR a PDF on Windows and Mac. 
Best Free PDF OCR Software for Windows and Mac  
There is abundant third-party software on Windows and Mac. Come and find the best tool for you to OCR a PDF.
EaseUS PDF Editor is an excellent PDF OCR software. This program can recognize and convert image-based PDF to an editable format and accurately detect and convert as many as 29 languages, such as English, French, German, Japanese, etc.
Moreover, it can be used to convert office files to PDF or vice versa. Image files can also be converted into PDF. If you want to make changes to your PDF file, you can also use it to add text, image, annotation, add or remove password from PDF.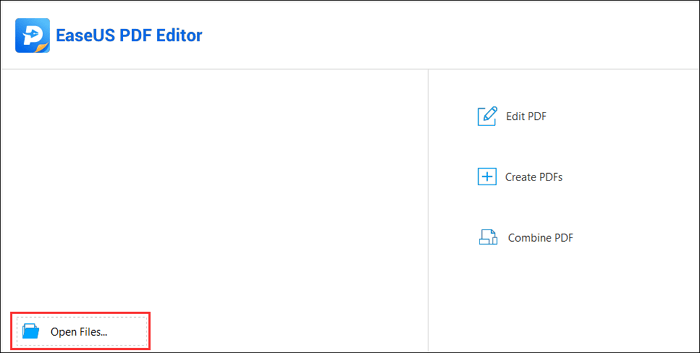 What's more, this Windows PDF editor enables you to edit and manage your PDF files like below:
Insert, delete, reorder, extract, crop, or rotate PDF pages with ease
Add comment, lines, or highlight PDF documents
Add or remove password from PDF 
Sign your PDF effortlessly
Want to explore more information? Just click the below button to get it. And there is a tutorial that guides you to OCR a PDF using this tool, and you can follow it to use the OCR feature easily.
Step 1. Download PDF Editor and Import File
Download and install EaseUS PDF Editor. To OCR a PDF file, click "File" > "Open" on the top left corner to start the process.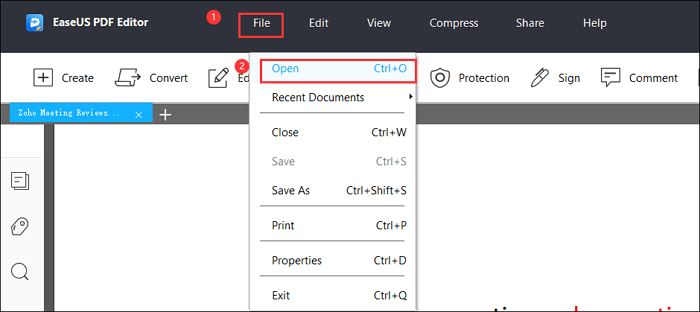 Step 2. Choose OCR from the Toolbar
You need to find and click OCR on the top toolbar. Then, select the language and choose the page range. Then click "OK".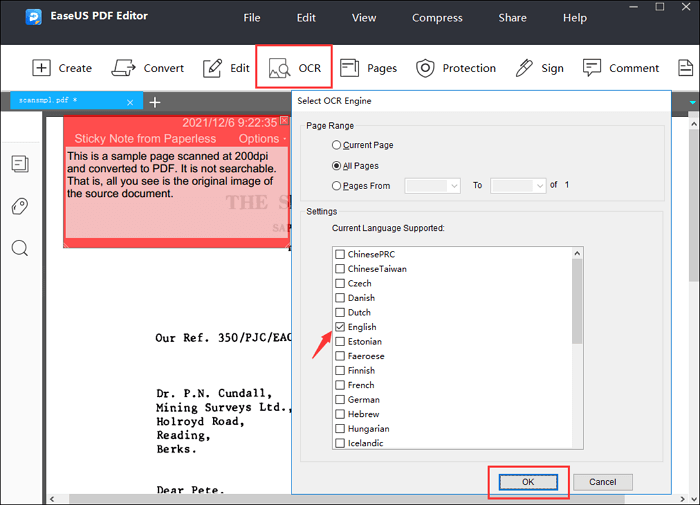 Step 3. Edit your PDF
You can crop, rotate, combine, etc., according to your needs. All functions can enrich your PDF files.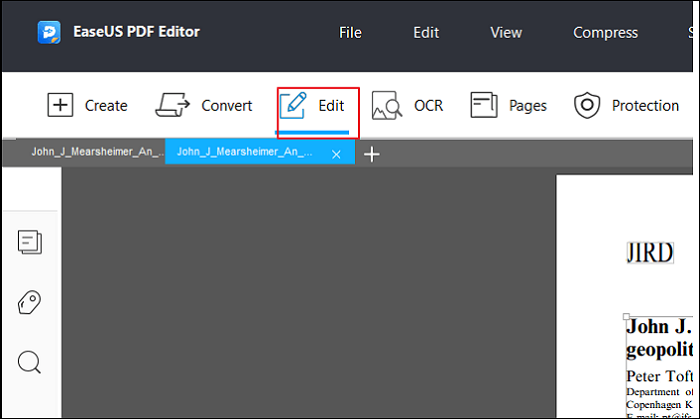 Step 4. Click Save As 
When you are finished with editing, click save to keep the changes. You can also click save as and type a new file name if you want to keep the old version unchanged.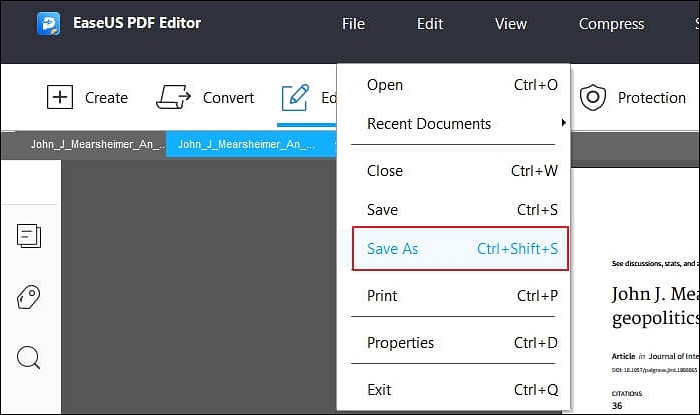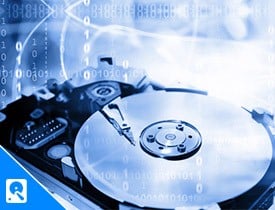 Adobe Acrobat DC
With its OCR functionality, you can easily convert your scanned PDFs or images into editable and searchable documents. It can perform OCR on PDFs that contain vector art, images, hidden text, or a blend of these elements.
Above all, the OCR tool in Adobe Acrobat DC offers many editing features, including text recognition, combining files, adding comments, and more.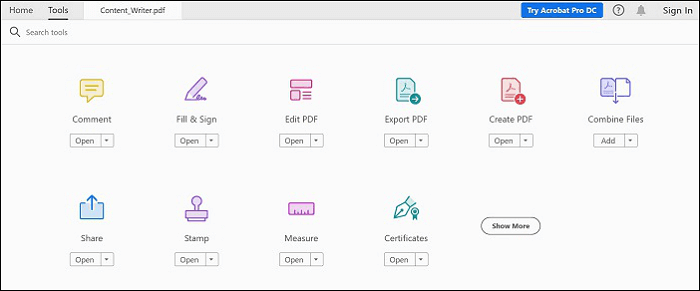 Pros:
Support cutting and pasting the text into other apps
Work with many languages
Accurately match fonts 
A free trial is available
Cons:
Lots of features can overwhelm beginners
URL: https://acrobat.adobe.com/us/en/acrobat/how-to/ocr-software-convert-pdf-to-text.html
PDF OCR X
You can also count on PDF OCR X to help you convert scanned PDF documents into searchable PDFs or text documents with ease. It comes with advanced OCR functionality to extract the text from PDFs, even if it is in an image.
Above all, this PDF OCR-free solution is exclusively designed to handle PDFs created using a scan-to-PDF tool.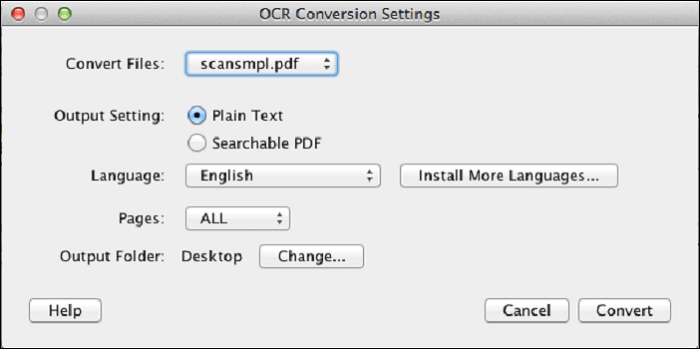 Pros:
Drag and drop functionality to upload documents
Able to convert PDFs to both text or searchable PDFs
Support JPEG, PNG, BMP, and more image formats
Support more than 60 languages
Cons:
URL: https://solutions.weblite.ca/pdfocrx/index.php
Readiris
When looking for a PDF to Word OCR solution, Readris serves the purpose best. Supporting both Windows and Mac, the tool can convert PDFs, texts, and images in a scanned document to modify in the format of your preference, including Word.
Its new added features such as a new recognition engine, new user interface, and faster document management make it even more remarkable as a PDF OCR solution or even more.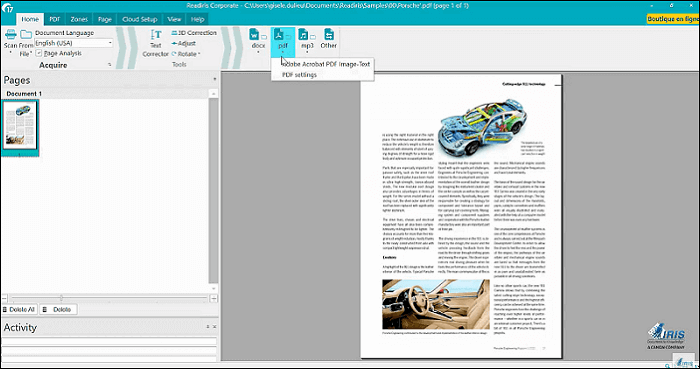 Pros:
Various editing features are available
User-friendly interface
Open files faster
Cons:
Lack a forever-free version
URL: https://www.irislink.com/zh-Hans-chn/c1810/IRIS---The-World-leader-in-OCR--PDF-and-Portable-scanner.aspx?
PDFMate PDF Converter
PDFMate PDF Converter entails advanced OCR technology that can help you convert PDFs to editable documents without any hassle. You can extract images and text from image-based PDFs and convert them into selectable and editable text or work files.
Besides the OCR functionality, the software has so much to offer, such as merging and creating PDF, encrypted converted files, customizing layout, and more.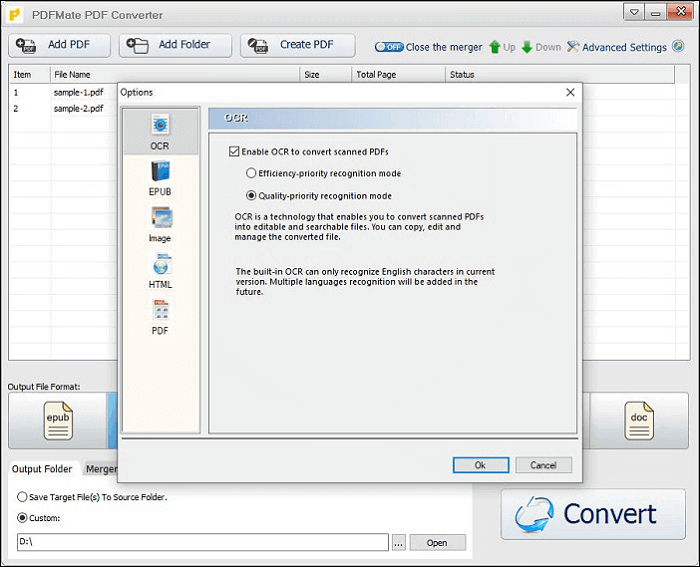 Pros:
Convert scanned documents to editable ones with OCR
Support converting PDF to TXT, DOC, and other formats
Add permission password to documents
Simple and easy to use
Cons:
Some crash problems during conversion processes
URL: https://www.pdfmate.com/pdf-converter-free.html
Best 3 Free PDF OCR Online Tools 
For those who aren't willing to download software on the computer, the online OCR tools in this section may be the best choices.
OnlineOCR.net
Suppose you don't want to install any program on your system for PDF to word OCR, no worries. With OnlineOCR.net, you can get the job done without installing any tool on your computer. It can recognize characters and text from scanned PDF and convert them into the editable doc format.
It is a completely free PDF OCR online service that even comes with a guest mode, which implies there is no need to register to use it.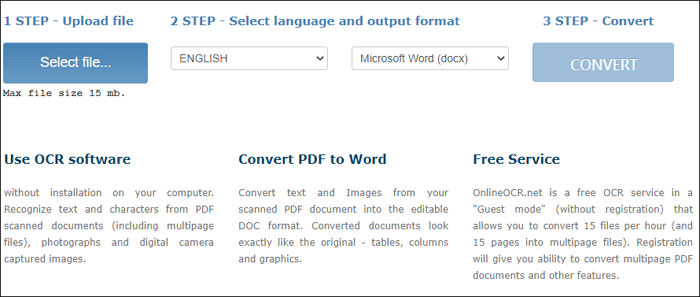 Pros:
Support converting scanned PDFs to editable DOC format
Work even without registration
Convert PDF to Word, text, or excel format
Support many languages
Cons:
Support file size maximum up to 15 MB
URL: https://www.onlineocr.net/
ABBYY FineReader Online
ABBYY FineReader Online is another online OCR tool designed to help scan and convert PDF documents into Word and many other editable formats. It even supports import and export documents to cloud storage services such as OneDrive, Google Drive, and Dropbox.
The tool will keep converted files in the cloud for around 14 days, giving you enough time to download and share your files during the period.
Pros:
Support many input and output file formats
Export a converted document to popular cloud storage services
Easy to use
Able to convert scanned PDF to text OCR
Cons:
URL: https://finereaderonline.com/en-us/Tasks/Create
PDF2Go
PDF2Go is also an amazing PDF OCR online tool you can use to convert scanned files to text so that you can edit with ease. You can drag and drop your file or upload it from cloud storage. With PDF2Go, you don't have to copy the text manually, as this PDF OCR free tool will handle this job for you.
Above all, it works with all web browsers out there.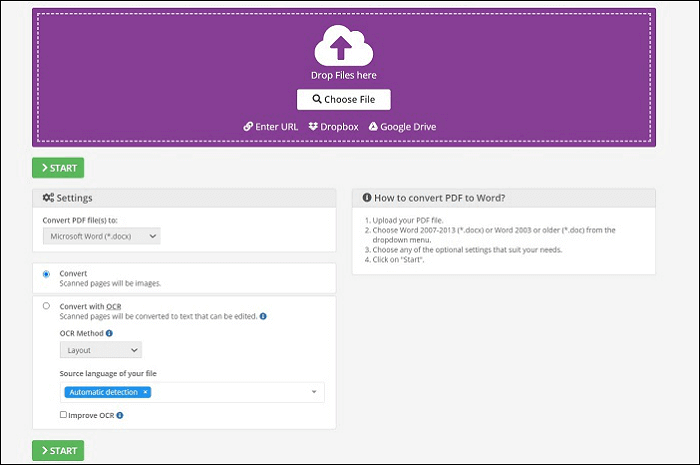 Pros:
Convert scanned documents to word with OCR
Support both DOC & DOCX and text format
Work on a smartphone as well 
No registration is required
Cons:
Lack support for uploading a file from the OneDrive service
URL: https://www.pdf2go.com/pdf-to-word
How to OCR a PDF? 
As mentioned above, we'll help you learn how to OCR a PDF on Windows and Mac, and it's time. We will use Adobe Acrobat DC to walk you through how to OCR a scanned PDF to have an editable copy of your document. 
Step 1. In Adobe Acrobat for PC or Mac, open your scanned PDF file. 
Step 2. Tap "Edit PDF" in the right place. The Adobe Acrobat will automatically perform OCR to your file and make it editable.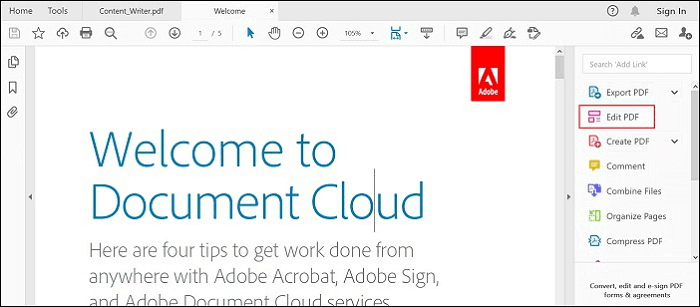 Step 3. Tap the text element you would like to edit and begin typing. 
Step 4. Finally, select "File" > "Save As" and enter a new name for your editable file.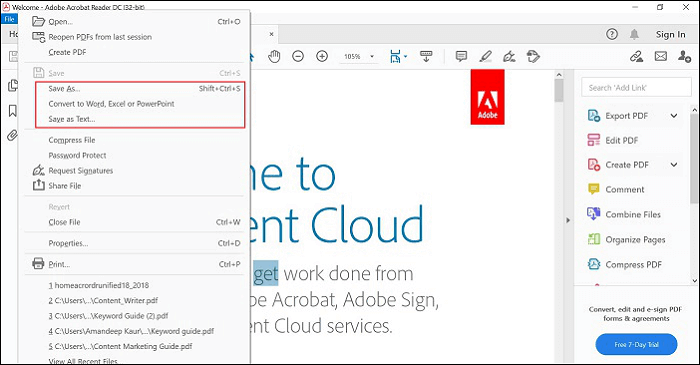 Conclusion
That's all on PDF OCR free tools. We have covered tools that really help to OCR a PDF to word or text on Windows and Mac with ease.
It's time for you to make a selection. Our advice is to pick EaseUS PDF Editor to get the job done. 
Free PDF OCR Solutions FAQs 
If you still have problems with the PDF OCR feature, those FAQs may help you.
1. How to OCR my PDF to word?
For PDF to word OCR, all you need to do is upload your scanned PDF document and choose the output file format as Word/DOC/DOCX while using any PDF OCR tool. 
2. How to OCR my PDF to editable text?
Like PDF to word OCR, you need to select an output file format as .txt while using any PDF OCR tool to PDF to text OCR. 
3. How to OCR my PDF to Excel?
The best way to OCR your PDF to excel is to use an online OCR service like ABBYY FineReader Online. It will provide you with an option to choose ".xlsx" as your output format. 
About the Author
Melissa is a sophisticated editor for EaseUS in tech blog writing. She is proficient in writing articles related to screen recording, video editing, and PDF file converting.