2 Ways | How to Clear PDF Forms Data in 2022
The use of the right PDF editor can play an important role in clearing PDF form data. Besides that, a good PDF editor supports adding various PDF forms to PDF files as well as improving the editing of the PDF files. Many PDF editors are available in the market, both free and priced, and it is advisable to check them and make the decision accordingly. 
Two PDF editors stand out from their competitors through many tests, and they are Adobe Acrobat and EaseUS PDF Editor. To clear the PDF form and fill it out renewedly, don't hesitate to try those two programs. This post gives essential information and offers step-by-step tutorials for resetting PDF form data using those two applications.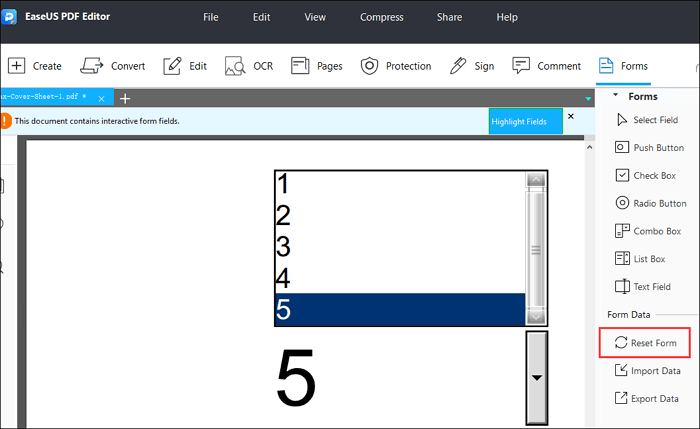 Here is a quick solution to clear PDF form:
Step 1. Install EaseUS PDF Editor. Import PDF with the form to clear. 
Step 2. Select the "Forms" option from the top side. To remove the form from this PDF page, click the "Reset Form" option from "Form Data".
Step 3. Then, save the edited PDF file by clicking the ... More details
You can free try this software to clear data in PDF form! No registration is needed. 
Now, choose one of the below methods. 
How to Clear PDF Form with EaseUS PDF Editor
EaseUS PDF Editor is one of the most convenient PDF editors that can be used to create and make changes to PDF forms. It comes with advanced options for creating PDF forms, ranging from Push Buttons, Radio Buttons to Combo Boxes. This software not only enables you to customize the properties of those forms, but you can also fill out PDF form, like fill out 4506-TF Form.
With its help, you can make a fillable PDF file and send it to people from who you want to collect the information. When you get the PDFs back, all you need to do is export and process the PDF form data. In addition to that, it also allows you to uncheck a box in PDF form if needed.
Key Features:
All its advanced but easy-to-use functions make it a great choice for users of any level. If it's helpful for you, click on the button to download it now.
How to Clear the PDF Form Data Using EaseUS PDF Editor:
Step 1. Open the PDF with the form you want to clear. Click on "File" > "Open" to do that. Or you can create a new PDF on which you can add various PDF forms.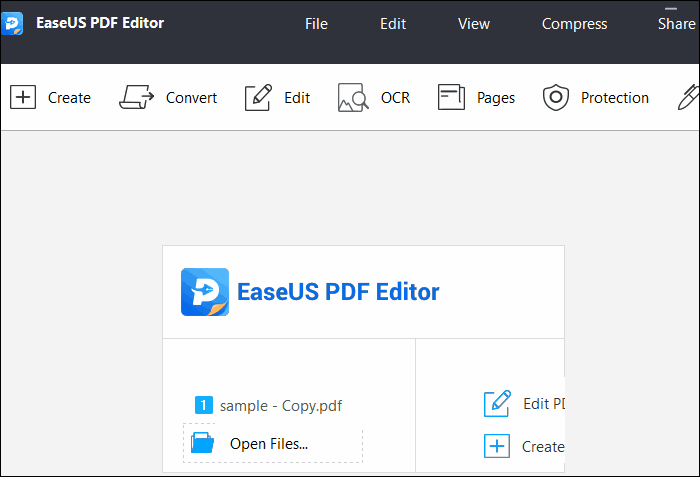 Step 2. Select the "Forms" option on the top, and there will be some types of forms in the right sidebar. If you want to add any of them to the PDF, you only need to select it and click on the PDF. Then, save the edited PDF file and open it renewedly. The fillable PDF form will appear on the PDF.
Step 3. You can fill out the PDF forms easily, including "Check Box", "List Box", "Text Field", etc. When you want to clear PDF form, there is a "Reset Form" button in the "Form Data" section, then click on it to clear the unnecessary form data.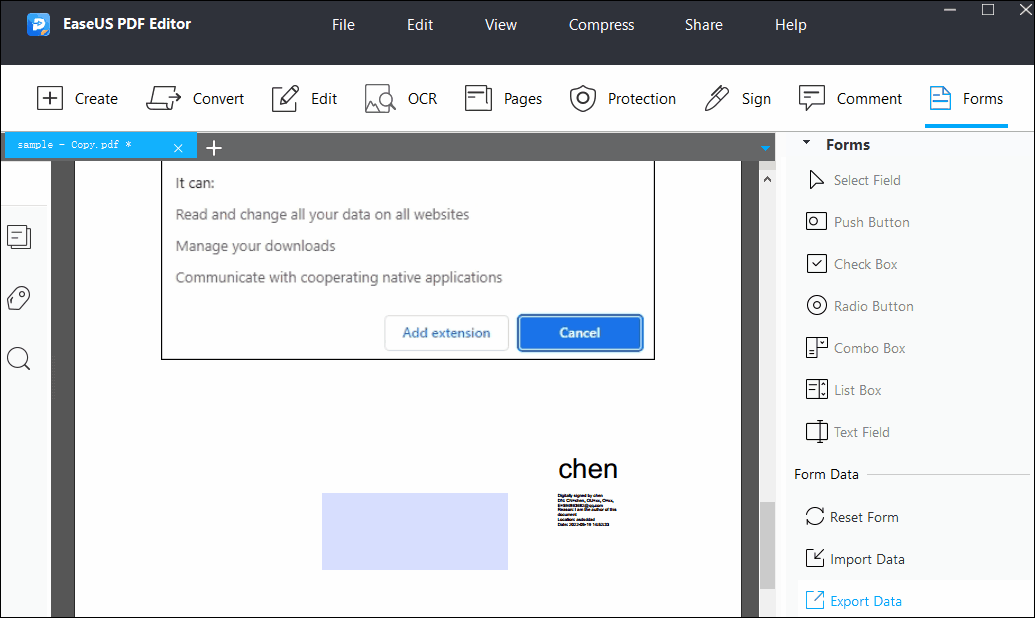 Step 4. Now, you can fill in new data to the form. Or you can directly save the PDF by clicking on "File" > "Save"/"Save As".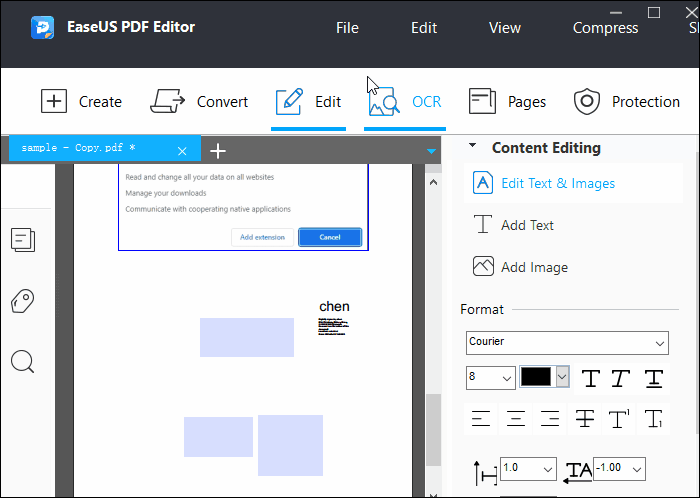 Related Article>> Fill out a PDF form that is not fillable
How to Clear PDF Form Data with Adobe Acrobat
Adobe Acrobat is indeed one of the full-service PDF editing applications. No matter what type of modification you need to make to the form, Adobe Acrobat can do it without hassle. It has extensive tools that will quickly scan the data and make it available for editing. You can easily clear the PDF form with several clicks, and it also supports adding a button that allows people to reset PDF forms directly.
Adobe Acrobat is very simple to use and is available for both Windows PC and Mac. Even a beginner will face no problem while working with Adobe Acrobat. Unlike other PDF editors, Adobe Acrobat does not have a trial feature. Hence, you will need to proceed with the premium plan itself, which is expensive. The annual subscription to Adobe Acrobat costs around $180. But, since Adobe is one of the most secure platforms that allows easy conversion of data, it's worth trying despite the high price. 
What followed are the features of Adobe Acrobat that make it one of the greatest PDF editors.
Features:
High-functioning OCR
Better annotation and editing function
Editing data in scanned tables
Compatible with many kinds of devices
Steps to Reset PDF Form Data Using Adobe Acrobat:
Step 1. Launch the Adobe Acrobat software, click on "File", and select the PDF form you want to clear.
Step 2. Once the form opens, go to "Tools" and then select "Prepare Form".
Step 3. Click on "More" in the right-hand pane and select "Clear Form".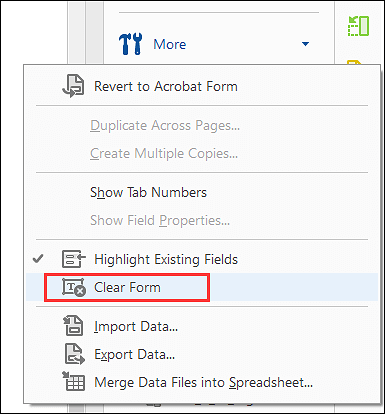 Step 4. Then, the PDF form data will be erased. 
Those steps above are straightforward even for beginners. However, there's an easier way too to clear data. You only need to type "Clear" in the search field given in the "Tools" window, then select the data to be cleared and click on the confirmation dialogue box. 
The Bottom Line
Although many PDF editing tools support adding or removing PDF forms, only powerful ones can process PDF form data without effort. Among all the capable PDF editors, EaseUS PDF Editor and Adobe Acrobat are the most feature-packed ones. However, the complex user interface and the high price of Acrobat make it unsuitable for some novices. If you want to process the PDF form data with an easy-to-use and cost-efficient program, EaseUS PDF Editor is the best choice.
About the Author

Crystal Chen is very interested in technology products. Experiencing many technological applications like video editors, screen recorders, and PDF editors, She is willing to solve users' issues through writing tech-related articles. Through her words, you can find various solutions to solve one problem.