Free Download | Top 7 PDF Form Creator for 2022
One of the biggest drawbacks of an online form is that they don't work offline. That is where PDF forms come into the picture. It allows end-users to fill in data in the text box and save it into a PDF file. Once saved, the PDF file along with the form data can be sent to anybody.
However, if you need to create a PDF form, the standard PDF reader doesn't offer any such feature. This post will introduce various software and online tools that allow you to create forms quickly.
Top 7 PDF Form Creator:
Make sure to check the features and make your selection.
1. EaseUS PDF Editor 
Compatibility: 10/8.1/8/7
It is a powerful PDF editor for Windows that offers quick and easy PDF form creation. This form creator can add different controls such as "Push Button", "Check Box", "Radio Button", "List Box", "Combo Box", "Text Filed", and more. Takes the "Text Field" as an example. If you add it to a PDF and send the PDF to others, they can easily type in text in the form and then send the file with data back to you.
If you received many PDF files with data, it's better to merge them into one PDF so that you can manage the documents and data without much effort. And this PDF editing software also offers you the tool to combine PDFs. Some other tools are also available. You can compress PDF and reduce PDF size to save the storage space of your PC. 
Key Features:
Create interactive forms
Add, delete, and black out text in PDF
View PDFs with flexible reading options, like rotating, zooming, and more
Insert an image to the PDF pages as a watermark
Create bookmarks in PDF to manage the file easily
Those features can nearly meet your requirements in all respects. If you want to try this excellent PDF editor, you can click on the button below to download it.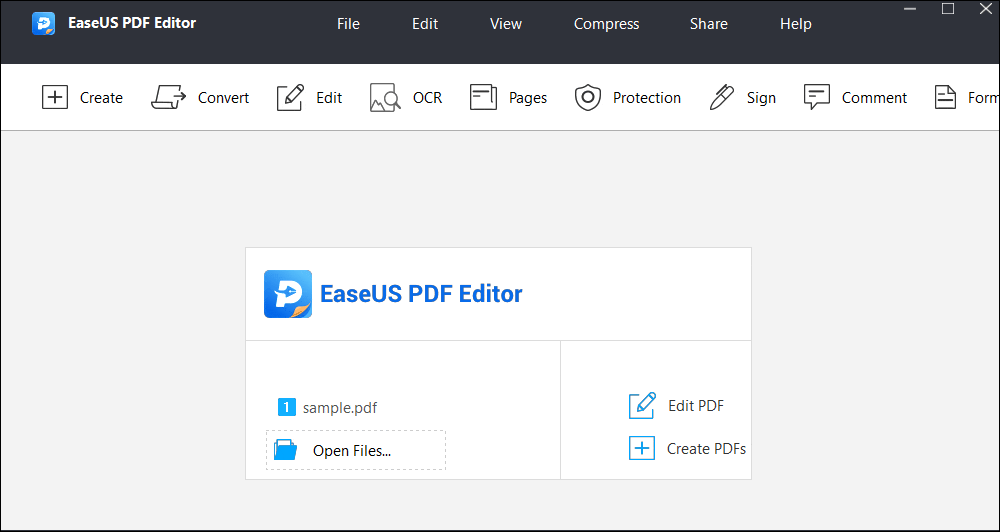 Now let's take a look at the detailed steps to add forms to PDF.

This post will guide you through adding a form, such as the "Text Field", to PDF files. Three step-by-step tutorials are offered for you.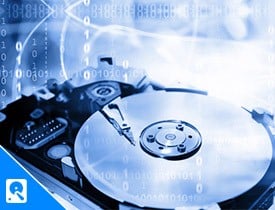 2. Adobe Acrobat DC 
Compatibility: Windows/Mac/Online
Adobe Acrobat is one of the popular PDF editors and readers. It offers form-creating tools that can be made either by scanning a document or converting from other documents such as Word, Excel, etc.
It also offers signature fields which are one of the popular fields in a PDF file. It offers all sorts of objects which help you create fillable forms. All the data filled in are automatically saved into the form itself, which can be exported out later.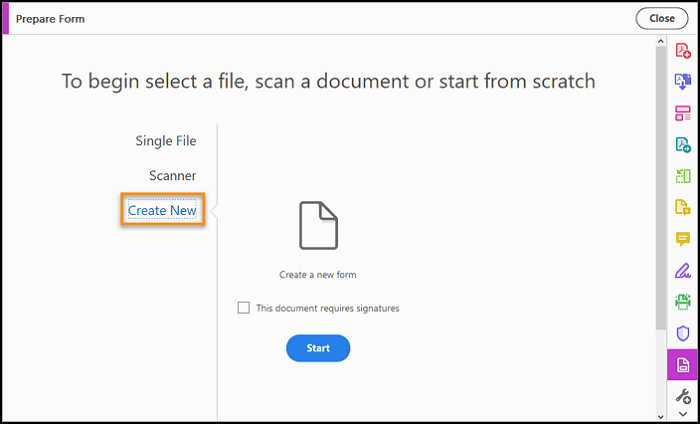 Pros:
Automatically recognize static form fields
Dynamic PDF form creation
View the status of replies and send reminders
Cons:
Expensive because of a monthly subscription
3. JotForm 
Compatibility: Online
JotForm is an online form creator and PDF convertor for those who do not want to install any software. The tool allows you to create customized PDF forms that users can easily fill out and submit from their digital devices. That means you can create and collect all the data online and download it later.
The tool allows one to add fillable form fields of various types. You only need to drag and drop to add the PDF you want to easily edit and add forms to the PDF file.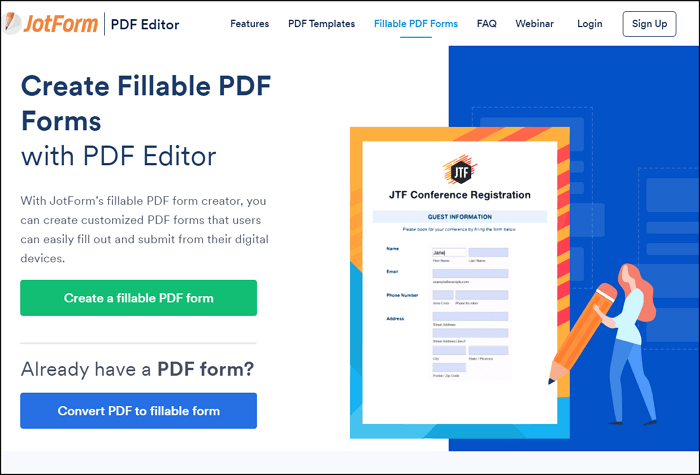 Pros:
Support signature fields
Downloaded forms work with Adobe
Offer PDF form templates
PDF form designer
Cons:
Forms are limited to five in number in the free version
4. PDFescape 
Compatibility: Windows, Online
This tool is available both online and on the desktop. You can use it to create a new form and publish it online. It works similarly when you create the PDF file, but to create the form, you can select "Form Filed" and then use the tool to select the type of fillable form and add it.
Apart from this, you can also create PDFs from scratch, add a textbox, image, and link to make the PDF more suitable for your needs. 
Pros:
Quickly add form fields and duplicate them
Work both as PDF editor and form creator
Data is available in the saved PDF file or share link
Cons:
Outdated form editor
It isn't easy to configure each field
5. Sejda 
Compatibility: Online
If you need to make an existing document fillable, this is the tool for you. It's both a form creator and a tool to make any PDF document into a form. When you create one PDF, you can add a text field, text area, radio, checkbox, and dropdown objects.
You can also drag and drop the fields into an existing PDF, and when you send the PDF file to anyone, they can fill it easily.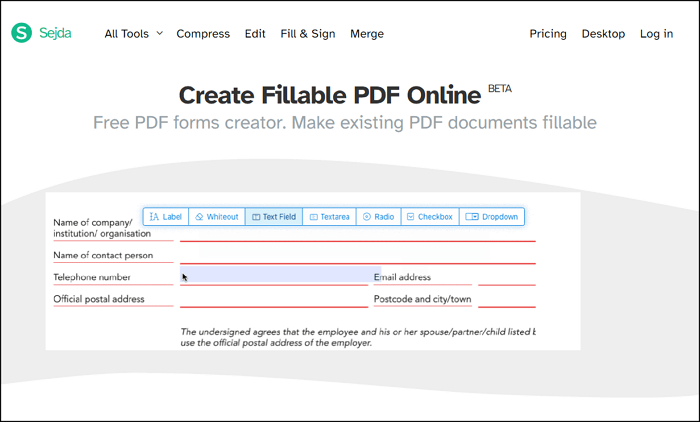 Pros:
Work with existing PDF documents
Intuitive form-making process
Clear user-interface
PDF form designer
Cons:
Limited to 200 pages or 50 MB
Maximum of 3 tasks per hour
6. Icecream PDF Editor 
Compatibility: Windows
Icecream PDF Editor is an alternative for Adobe Acrobat. The PDF form designer has different kinds of features for managing and editing PDF. Its four main elements ‒ editing, annotating, filling in forms, and managing pages ‒ will help users perfect their PDFs. The tool categorization of this software allows users to easily understand the features, making it perfect for those who want to use PDF editors without any hassle.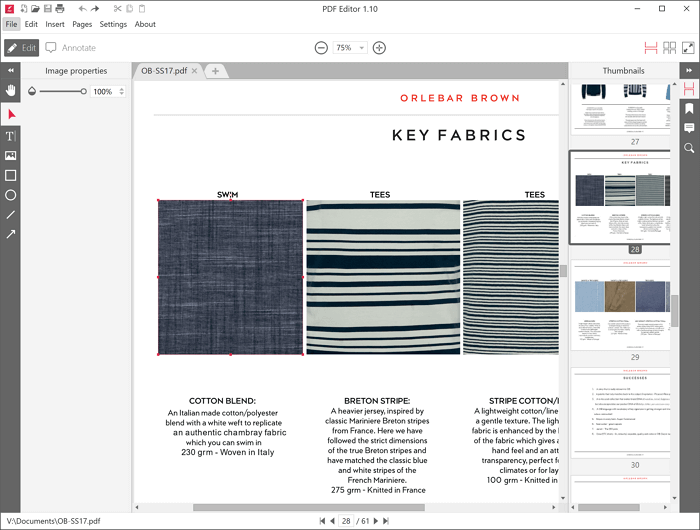 Pros:
Protect and unlock PDF files
Change file's format easily
Make a PDF from scratch
Cons:
The interface might be hard to master
More formats are needed
7. PDFpenPro for Mac 
Compatibility: Mac
Apple's "Preview" allows its users to do simple activities on PDF, but PDFpenPro for Mac offers you more features. Merging documents, rearranging or splitting the pages ‒ these are only a few of the many things you can do with the software. The software has plenty of features to make it even better, giving users many ways to tweak their PDF files. With this software, editing PDFs easily on Mac is no longer a dream!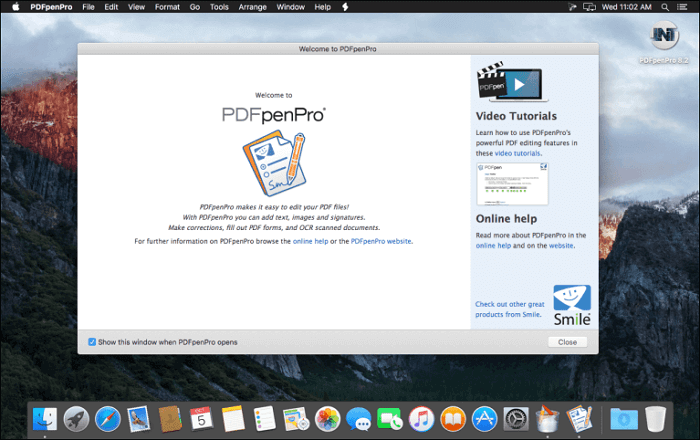 Pros:
Lots of hidden features
The software is quick and responsive
It can handle large files quickly
Cons:
The software has too many updates
Conclusion
PDF form creation is easy, and you can get that done both online and offline. You can use any of these tools to create fillable forms shared with anyone, and data can be stored and shared. However, using software like EaseUS PDF Editor to create a form is rather easy. You can also use other features of this PDF editor to manage the PDF files without a hassle.
PDF Form Creator FAQs
1. How do I create a fillable PDF form?
To create a fillable PDF form, you first need to find a great PDF form creator, like EaseUS PDF Editor. 
Open this software, and import your PDF file.
Choose Form on the top menu. Next, click Text Field to add a new fillable text field.
At last, edit the properties of the text field by clicking on All Properties.
2. Can I create a PDF form for free?
Yes. You can create a PDF form for free, as there are some entirely free form creators you can choose from. Just enter the free PDF form creator keyword on Google, and you will find the right answer later.
3. Can you turn a PDF into a form?
Yes. Adobe Acrobat DC can help you turn a PDF into a form, and it is a desktop editor that can easily convert your existing PDF forms to fillable forms.
About the Author

Crystal Chen is very interested in technology products. Experiencing many technological applications like video editors, screen recorders, and PDF editors, She is willing to solve users' issues through writing tech-related articles. Through her words, you can find various solutions to solve one problem.