3 Ways | How to Print PDF Without Margins [2022]
"How do I get rid of margins in the PDF page?" "How to borderless printing PDF?"
When you are going to print out a PDF document, the margins may be cumbersome as they can affect the page layout of your PDF, and it may result in waste of the printing paper. That is why many people are looking for a solution to print PDFs without margins. However, some printers don't support printing out a borderless PDF directly. What could you do on this occasion? A helpful PDF editor is needed. Here, this post guides on how to print PDF without margins on Windows and Mac.
Print PDF With No Margins with EaseUS PDF Editor[Hot]
To print borderless PDF, two steps are indispensable. Firstly, edit the PDF pages and adjust the margins of the PDF until you totally remove the white margins. Secondly, use the best free PDF printer to print the edited PDF as a borderless one.
EaseUS PDF Editor is a versatile PDF editor on Windows which can manage PDF pages and edit PDF contents easily. You can design the PDF pages from many aspects. For instance, you can add a header and footer, add a background or remove background from PDF, and set a watermark for the PDF. Moreover, you can choose to print zoomed in PDF without any hassle.
Key Features:
Print double sided PDF with ease
Capable of printing the secured PDF
Reduce PDF size to save storage space
Make PDF searchable, printable, and editable
To print your PDF files perfectly, this software is suitable for you! Try it and No registration is required. 
How to print PDF without margins using EaseUS PDF Editor:
Step 1. Install EaseUS PDF Editor on your Windows PC and launch it. Then, click on the "Open Files..." button to import the PDF file you want to print.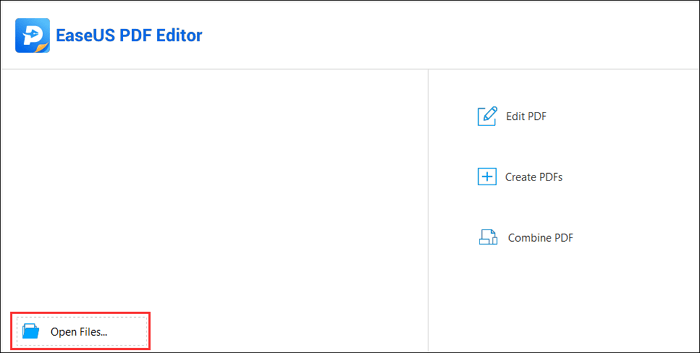 Step 2. Click on the "Page" button. Under the "Page Design," you can find the elements you can add to the PDF. Choose "Header & Footer" > "Add".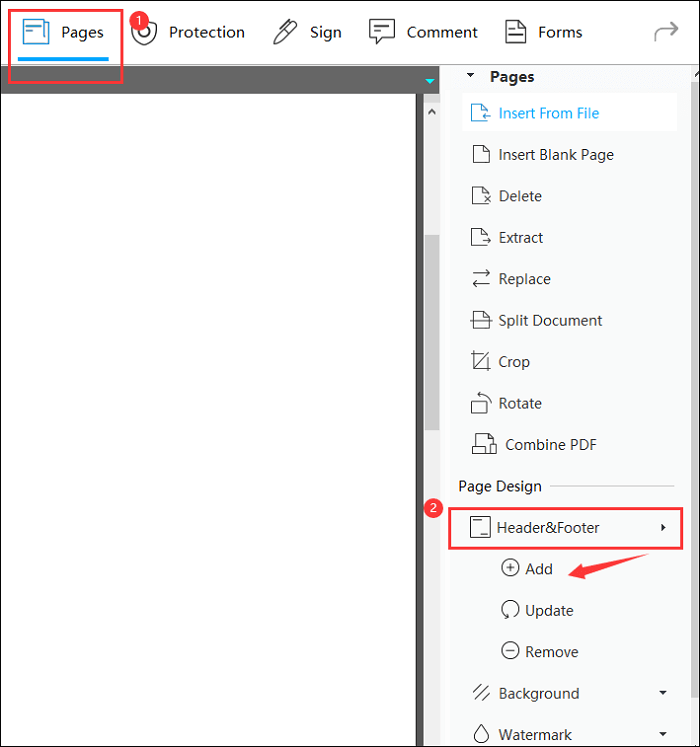 Step 3. When the "Add Headers and Footers" window pops up, you can see four input boxes to set the margins freely. You need to set all the margins as "0" to make the PDF borderless.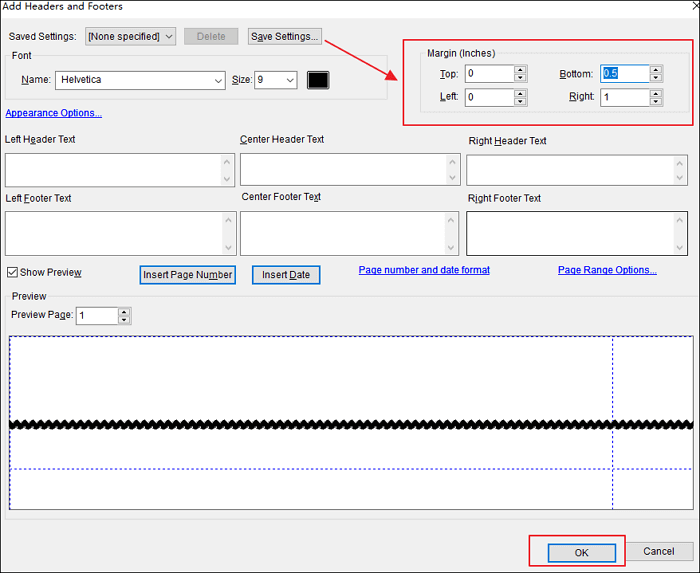 Step 4. Now, you can click on the "File" button and select the "Print" from the dropdown menu. Then, you can print the PDF without margins.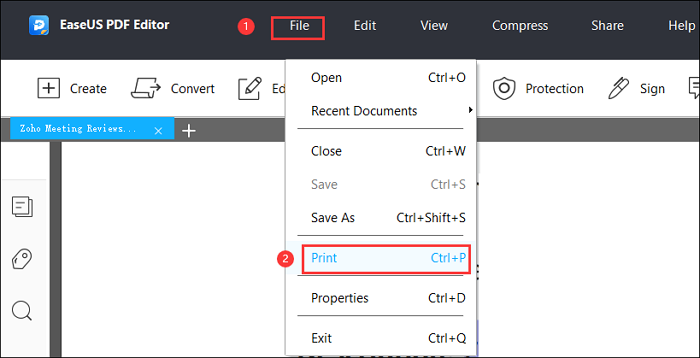 Print PDF Without Margins in Adobe Acrobat DC
To print borderless PDF, another powerful software can help, which is Adobe Acrobat DC.   
It is an all-in-one PDF editor, converter, and best free PDF printer. As it supports multiple formats, you can convert a Word or Excel document into PDF format using this tool and print it out. This method ensures that the layout of the source file will not be changed, while both the content and the formatting of a document may be distorted when you print it directly. 
Besides, Adobe provides you with many options to adjust the printer setup, and you can find some choices under "Print Production". There is an option for you to "Remove White Margins" which you need to print a borderless PDF. 
Features: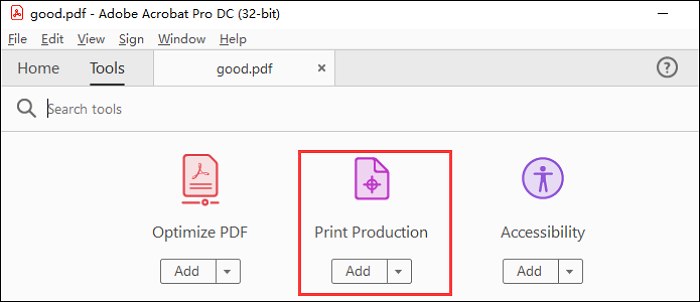 How to borderless printing PDF (without margins) via Adobe Acrobat DC:
Step 1. Launch Adobe Acrobat and open the PDF you want to print using this software. 
Step 2. Click  "File" > "Properties", and you can set the print option in the "Advanced" tab. In the tool menu under "Print Production", you can choose to eliminate the margins on specific PDFs.
Step 3. Navigate to "Set Page Boxes" and choose "Remove White Margins" under "Margin Controls". Finally, print the PDF.

What can do you when you have the PDF file with password? Here, this software supports printing secured PDF. To know more details, check it.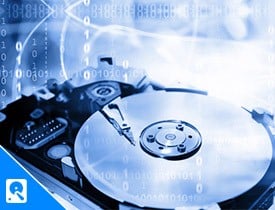 Print PDF Without Margins via Preview
For Mac users, Preview is the most easy-to-use program for processing PDFs since it comes along with the target system. This software helps in viewing and editing images and PDFs with simple steps. Since it can work as a great PD printer on Mac, and help you print PDF on Mac. Also, it's possible for you to print a PDF without margin or borders using Preview. 
There are many printing settings you can customize in Preview. For example, select the number of copies, the range of the pages to be printed, the page size, etc. If you want to change the PDF orientation, you need to select a suitable orientation, and the software will rotate the PDF and print the PDF according to your requirements.
Features:
Free-to-use PDF reader, editor, and printer on Mac
Annotate PDF in a few clicks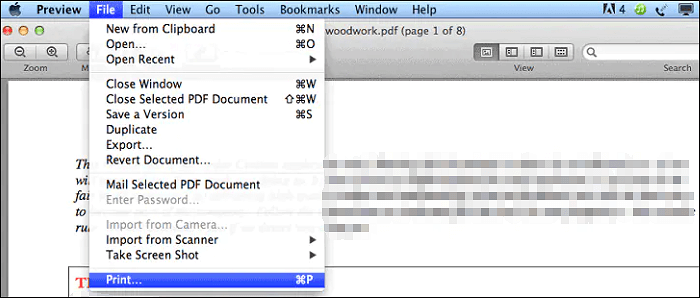 How to print PDF without margins with Preview on Mac:
Step 1. Open the PDF with Preview on Mac. Click "File" > "Print", and then choose "Show Details". 
Step 2. When the print window appears, select  "xxx (borderless)" from "Paper Size". And select "Borderless Printing" from the pop-up menu on the "Print Dialog". It removes margins from PDF. 
Step 3. You can adjust other settings, and move the slider for "Amount of Extension" to the right side. Then, click "Print" to start the printing mission. Finally, you can get a printed PDF page without margins. 
Related Article>> How to Print Multiple PDFs at Once
Conclusion
When you want to print a PDF document without margins, you can use various tools and methods. All of the 3 ways we mentioned in this post are available, and you can choose a suitable one for the operating system you are using. 
EaseUS PDF Editor is said to be the best PDF editor for users who are using Windows devices and are not familiar with printing PDFs. This intuitive and user-friendly software can help print the PDF the way you like.
FAQs About How to Print PDF Without Margins
Below are some related questions about printing PDF without margins gathered from the public. 
1. Can you print a PDF without margins?
Yes, you can. If you try some PDF printers with margin settings, it's easy to print pages without margins. For PDF borderless printing, you can try software like EaseUS PDF Editor. 
2. How do I print full page without margins?
If you want to print the full PDF page without margin, you need to use editors to set PDF margin borderless. Let's take EaseUS PDF Editor as an example to print all PDF pages with no border. 
1. Import the PDF page and click "Pages" > "Header & Footer".
2. To make the PDF borderless, you need to set all margins in "0". 
3. Finally, click "File" > "Print". You will get a PDF with no margin. 
About the Author

Crystal Chen is very interested in technology products. Experiencing many technological applications like video editors, screen recorders, and PDF editors, She is willing to solve users' issues through writing tech-related articles. Through her words, you can find various solutions to solve one problem.