[2022] How to OCR a PDF on Windows/Mac/Online
PDF is one of the most commonly used file formats in today's world. It is a format that is used by everyone in daily life, including work and study purposes. However, you need to extract text from a scanned PDF or to OCR to text to make it editable. So how to make a scanned PDF recognize texts becomes a problem. Don't worry, as you find the best solutions related to this issue.
To make a scanned PDF editable and searchable, you need to OCR a PDF. OCR is the abbreviation of Optical Character Recognition, and this feature helps you edit or recognize text in scanned PDF. Most of the PDF programs have the OCR feature, and in this article, you will find the free OCR software on Windows, Mac, and online.
How to OCR PDF on Windows - via EaseUS PDF Editor
With a user-friendly interface, EaseUS PDF Editor is suitable for both beginners and professionals. This multifunctional PDF editor makes the whole process of editing PDF easy. With the program's help, you can edit PDF files and create slick and professional PDFs with ease. If you want to OCR a PDF file to make it editable or recognized, this software is all you need.
Stunning Features:
Now, download this Windows editing software! No registration is needed. 
Here is a list of steps on how to OCR a PDF on Windows 10:
Step 1. Download PDF Editor and Import File
Download and install EaseUS PDF Editor. To OCR a PDF file, click "File" > "Open" on the top left corner to start the process.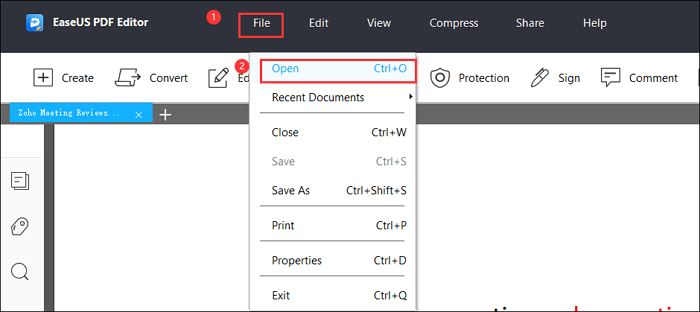 Step 2. Choose OCR from the Toolbar
You need to find and click OCR on the top toolbar. Then, select the language and choose the page range. Then click "OK".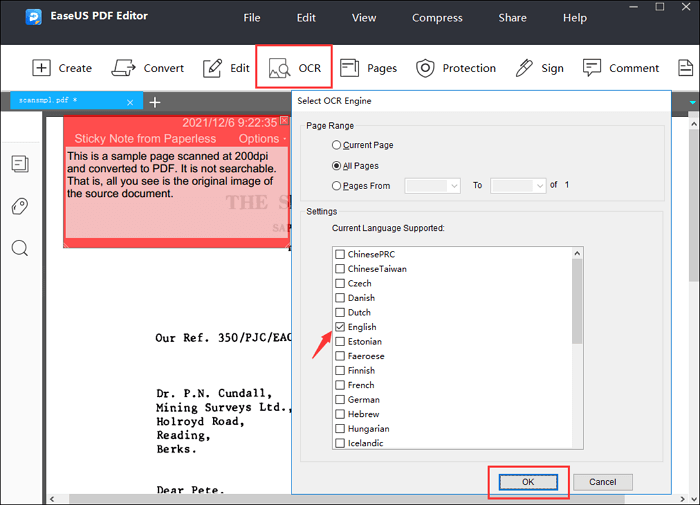 Step 3. Edit your PDF
You can crop, rotate, combine, etc., according to your needs. All functions can enrich your PDF files.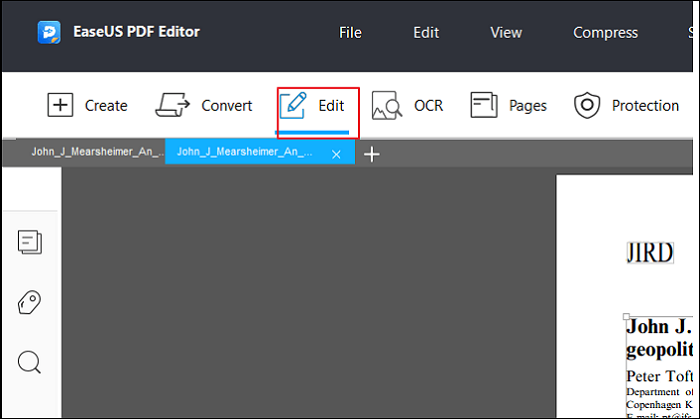 Step 4. Click Save As 
When you are finished with editing, click save to keep the changes. You can also click save as and type a new file name if you want to keep the old version unchanged.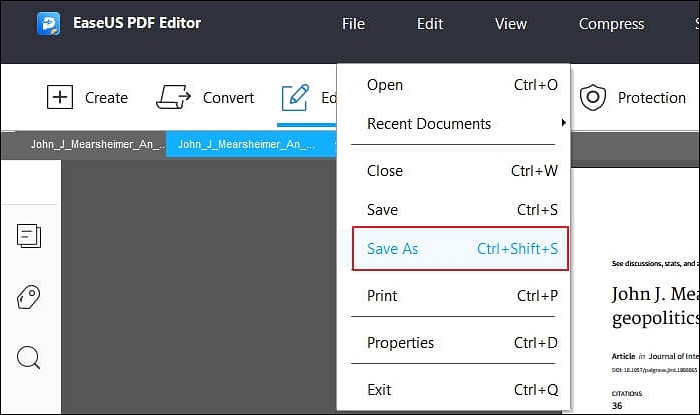 Top 8 OCR to Excel Converters [Free Download]
Image documents are widely usable files, but sometimes we need to convert them to other extensions to get the best out of them. For example, if you want to edit the tables of an image, you can convert it to an editable Excel file.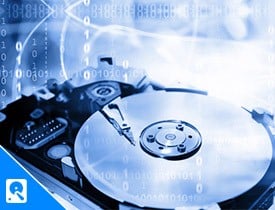 How to OCR a PDF on Mac for Free - with Adobe Acrobat
There are many programs out there to do the job for those who are currently using the Mac operating system. Among all those software available, Adobe Acrobat DC stands out. This is a famous PDF editing software that can OCR scanned PDF files. In this part, you are going to get a detailed step-by-step guide on how to use Adobe Acrobat DC to OCR a PDF on Mac.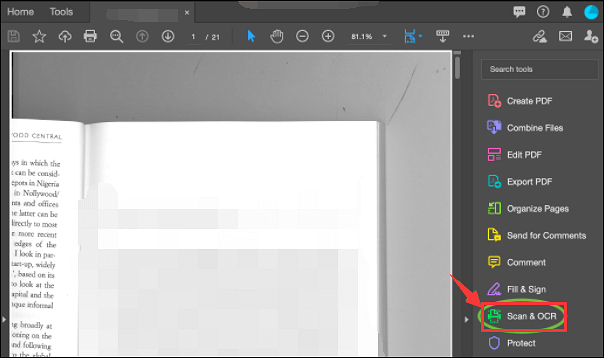 Here is a list of steps on applying the OCR function on Adobe on Mac:
Step 1. Open the scanned PDF on Adobe. After loading the PDF file, click on Pages. On the right menu, select "Add" below the "Header and Footer" section.
Step 2. Click the text you want to edit and start. New text matches the look of the original fonts in your scanned image.
Step 3. Click "File" > "Save As". After you made the changes, click Save As to keep the changes.
How to OCR PDFs with Online OCR Software
If you do not want to use any software to OCR a PDF, don't worry. There are many online tools that can help you out as well. In this part, you will learn the best online PDF editing tool. Here we suggest OnlineOCR.net for a free PDF OCR.
OCR a PDF online in three simple steps:
Step 1. Go to the online site and click "Select file" to upload your PDF.
Step 2. Select Language and output format for your file.
Step 3. Convert the PDF to word and start the OCR function.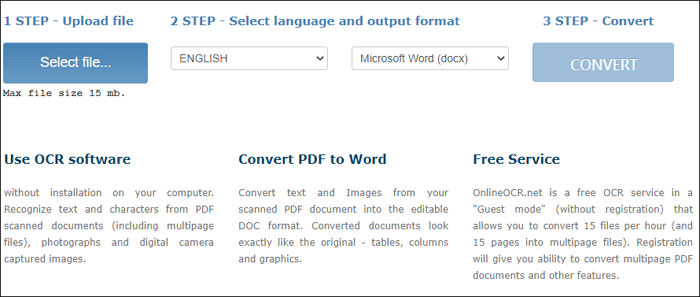 However, do not forget that you risk your data security every time you upload your file on any online site. 
The Bottom Line
In this article, you learned how to OCR PDF file on Windows, Mac, and online. The simple interface and toolbar of EaseUS PDF Editor with its multifunctionality make it the best choice for Windows users. If you are a Mac user, Adobe Acrobat DC is a good option. All of the solutions in this article allow you to get where you need to easily and effortlessly.
FAQs About How to OCR a PDF
Some of you may still have question marks on your mind. If you are one of them, we have compiled a couple of questions and answers for you below to clear up your confusion.
1. Can I OCR my PDF file to edit?
Yes, you can. All you need to do is to convert it to an editable file format like .txt .word etc. If you are a Windows user, try EaseUS PDF Editor. For Mac users, give Adobe Acrobat a try.
2. Are there any online tools to OCR a PDF?
Multiple online tools can do the job. OnlineOCR.net is one of them. Yet using online tools for this type of job is not recommended due to data security reasons.
3. Do I have to pay to OCR my PDF?
For Windows users, EaseUS PDF Editor can get the job done for free. Also, full version is available with many advantages. For Mac users, the Adobe Acrobat Pro version costs about 95 USD, but it has a free trial version as well.
About the Author

Crystal Chen is very interested in technology products. Experiencing many technological applications like video editors, screen recorders, and PDF editors, She is willing to solve users' issues through writing tech-related articles. Through her words, you can find various solutions to solve one problem.