How to Rotate Image in PDF Document Effortlessly
Are you struggling to rotate images in PDF documents? It a hard task to rotate an image in a PDF if you don't have a powerful PDF editor with the OCR feature. However, If you get suitable editing software, you could complete this task within the twinkle of an eye. 
Wondering how to get that done without hassle? This article is structured to help you discover how you can rotate the images in PDF documents effortlessly. So keep reading! 
Rotate Image in PDF with EaseUS PDF Editor
EaseUS PDF Editor is a versatile PDF editing software with multipurpose functionality as it allows you to rotate images in PDF documents freely and hassle-free.
The software lets you rotate images clockwise and anti-clockwise till it fits in the PDF file. It has a simple user interface that makes it easy for both novices and professionals to execute all tasks without requesting help from third parties easily.
Besides the rotation of images, EaseUS PDF Editor also enables you to delete characters or text from PDFs with zero quality loss. If you want to manage the PDF pages, there are tools for you to add page numbers to PDF on its header or footer so that you can find a certain page quickly. If you need to mark an important page, you can create bookmarks in PDF.
Key Features:
Add watermarks to PDF or remove watermark from PDF
Delete, copy or black out text in PDF
Compress PDF file size
Sign a PDF document with an e-signature
This full-featured tool can nearly solve most of your problems in PDF editing, and you can download it for free now. Click on this button to get the software and follow this tutorial below to rotate PDF images.
Stepwise Guide to Rotate Image in PDF with EaseUS PDF Editor:
To rotate images in a PDF file using EaseUS PDF Editor, check out the step-by-step guide given below.
Step 1. Import the PDF File
Download and install a suitable version of the software on your PC. Once installation is complete, launch the software. Now tap on the "Open Files" option at the lower-left corner of the software interface to import your desired PDF file from your local drive.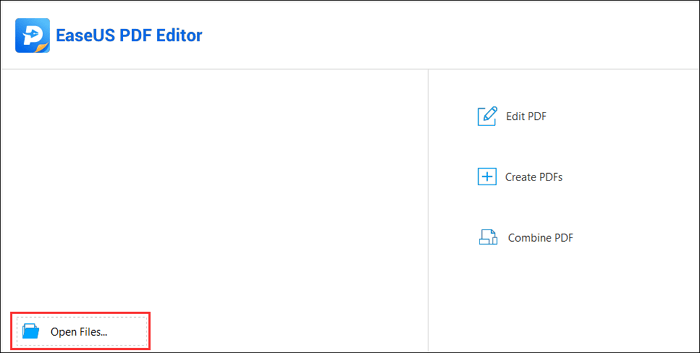 Step 2. Rotate the Image 
Find and hit the "Edit" icon at the top left corner of your screen. Hover your mouse on the picture you want to rotate and right-click on it, and then a drop-down menu will pop up as shown below: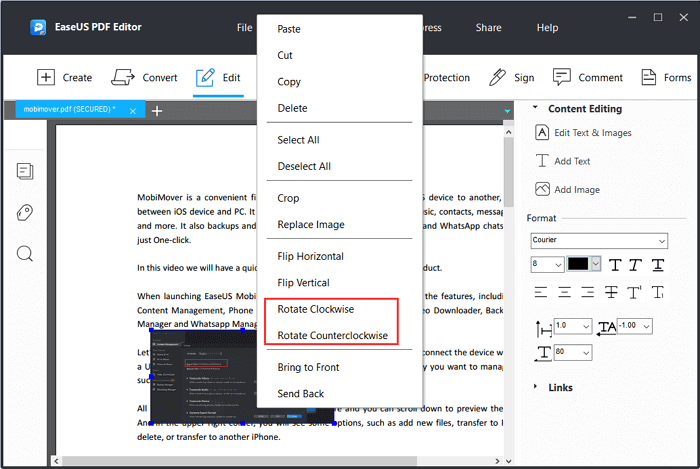 Select either of the options: "Rotate Counterclockwise" or "Rotate Clockwise".
Step 3. Export to your Drive
After completing the step above, preview the file to confirm that you've rotated the image to your satisfaction. After that, hit the "File" icon and then choose "Save" or "Save As" to export the edited file to your hard drive.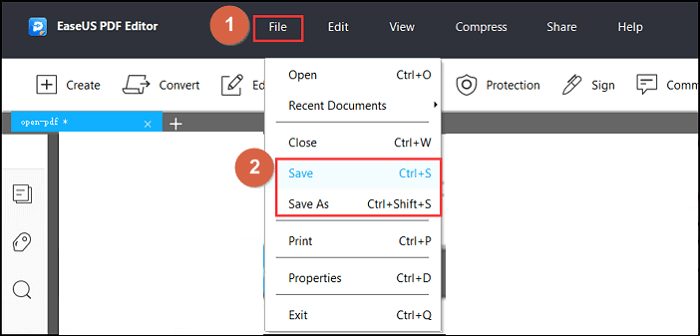 Rotate PDF Image with Adobe Acrobat
Adobe Acrobat is another powerful PDF editing toolkit that supports the rotation of images in PDF files. It allows you to flip the picture in PDF documents freely and quickly without compromising the quality.
Although Adobe Acrobat is a wonderful PDF editor, the toolkit isn't without its pitfall as only tech-literate can operate it. The reason for this demerit is due to the complexity of its user interface. However, it does work perfectly on both Mac and Windows OS. 
Features:
Read/view content saved in PDF formats 
Support adding text to PDF and removing text from PDF
Get rid of watermarks from PDF files 
Protect your PDF file by encrypting it with a password
How to Rotate Images in PDF Using Adobe Acrobat:
Download and install a suitable version of the software on your PC and then follow the stepwise guide below to rotate images in PDFs.
Step 1. Open the PDF document using Adobe Acrobat PDF editor.
Step 2. Next, find and click on "Tools" > "Edit PDF" > "Edit".
Step 3. Select the target image by clicking on it.
Step 4. On the right-hand panel of the software interface, find and click on the option "Objects" and then tap on one of the following tools: 

This will help you flip the image vertically on the horizontal axis 

Use this to flip the image horizontally on the vertical axis 

The tool lets you rotate the image counterclockwise 

Tap on this tool when you need to rotate the image clockwise
Choose a suitable tool to rotate your PDF image until it can meet your requirement.
Download: get.adobe.com/reader
Conclusion
Ultimately, to rotate pictures in PDF documents, you need a PDF editing toolkit. When you browse through the internet, you will find many tools you can use. However, not all are the perfect ones for the task. But with these PDF editors introduced above, you can easily rotate images in PDFs. 
And if you are a beginner who is not good at processing a PDF file, EaseUS PDF Editor is the best choice for you. As its user interface is concise and simple, you can find the tool you need and use them to edit the PDF file efficiently.
About the Author

Jane is an experienced editor for EaseUS focused on tech blog writing. Familiar with all kinds of video/PDF editing and screen recording software on the market, she specializes in composing posts about recording and editing videos. All the topics she chooses are aimed at providing more instructive information to users.