How to Increase PDF Size Easily
Usually, we will reduce PDF size so that the oversized PDF files will not get in the way when we need to send them away by Email. However, we sometimes need to do the contrary. For instance, if the sizes of some of the PDF pages are smaller than others, we need to increase their page sizes to make them coordinate with the others. However, some people are not aware of how to do so. Hence, in this article, we will show you how to do PDF size increase with the step-by-step tutorials.
PAGE CONTENT:
The Most Widely Used PDF Size
Before resizing your PDF files, you may need to know what the most popular PDF size is. The A4 size format is adopted almost worldwide, many people around the world are using this page size. However, there are many other sizes available out there. To fully make use of their advantages, people sometimes use a mix of different formats and many other variations.
However, if we put them all in a single PDF file, this may make printing even more difficult. Therefore, we need to use one size for all the pages in a PDF file. After knowing this, you may wonder how you can resize your PDF files, say resize PDF to A4. Don't worry, in this essay, we will give you a step-by-step tutorial to show you how to do PDF size increase.
How to Increase PDF Page Size
To increase the page size of a PDF file, you will need EaseUS PDF Editor. It is a capable all-in-one PDF editor for Windows that can edit PDF content easily. But it can do more than editing just the content, but the format and size of a PDF file. If some pages of your PDF file are smaller than the others, you may increase the size manually with EaseUS PDF Editor.
Moreover, it is designed with features like printing, signing, annotating, etc. You can also learn how to reduce pdf file size without losing quality with this tool. All these features can make your PDF better. Just take a look at its main features below, and you will see why we introduce this software to you.
Key Features:
Increase PDF page size with easy steps
Compress PDF file size without losing quality and format
Edit text in PDF files for free
Increase PDF file size by merging more than one PDF files
Change printing settings to print out PDF files properly
Now you may download EaseUS PDF Editor by clicking the button below. After that, follow the steps below to see how to increase PDF size or reduce PDF size.
Step 1. Launch EaseUS PDF Editor and import the PDF file you want to resize. Then click on the "Pages" button in the toolbar. It will reveal the list of tools you can use to edit the PDF pages, such as cropping, rotating, splitting, etc.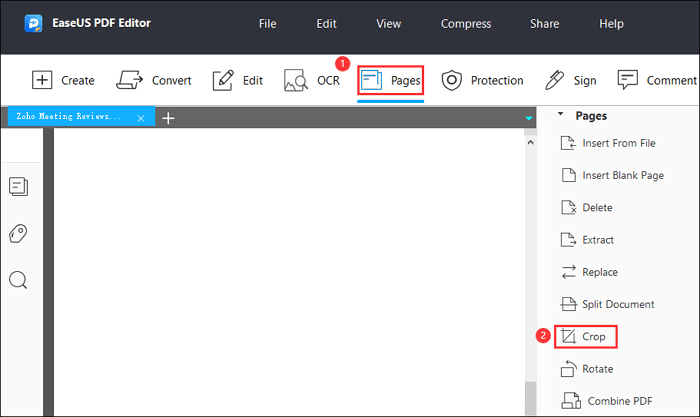 Step 2. Click on the "Crop" button and drag a rectangle on the page you want to resize. Once done, double-click the cropping area to open the "Crop Pages" dialog box. Here you can precisely set the area or page size you want to have. If you're going to crop in batch, you can set the page range, and the program will crop the selected pages according to your needs.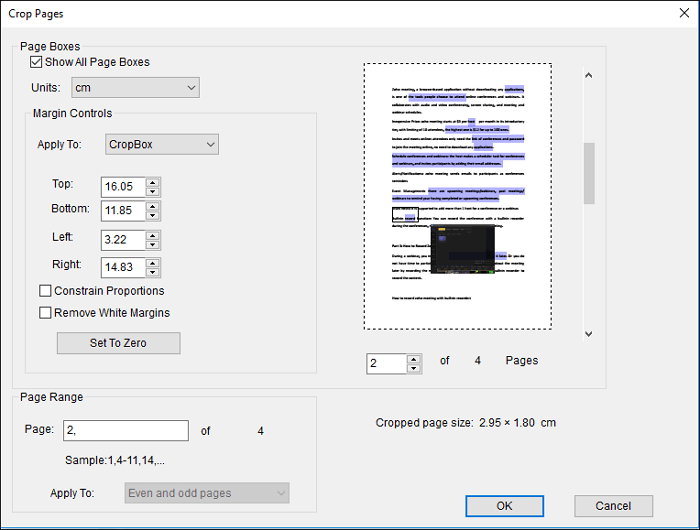 Step 3. Once done, you can click on the "OK" button to start the cropping, and all the pages or selected pages will be resized per the settings. And you can view the resized PDF pages and check if they are in the size you need.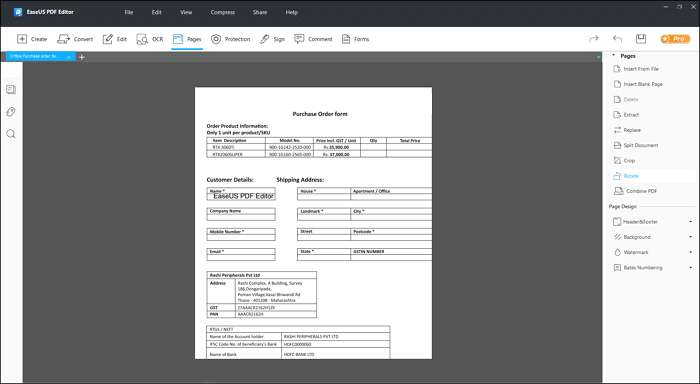 Step 4. If you want to enlarge the PDF, click on "File" > "Print" to set the scale. Then, click on the "Print" button below the window and select a suitable folder to save the enlarged PDF.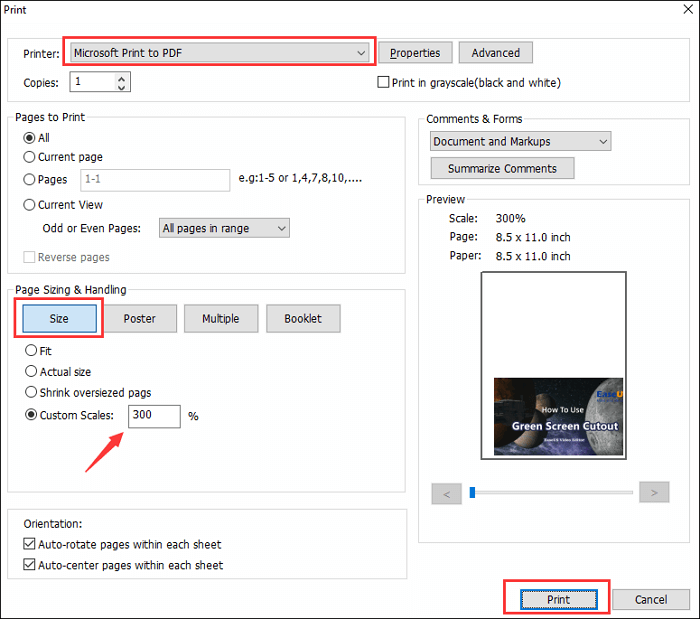 How to Reduce PDF File Size
When it comes to resizing a PDF file, we usually want to reduce the PDF file to make it easier for sending. In another word, we need to compress the PDF file. With EaseUS PDF Editor we introduced earlier, you can compress a PDF file size with just one click. Moreover, this tool can help you edit the content that existed, add more information, and extract text from PDF, etc. Now let's see how you can reduce PDF size with EaseUS PDF Editor.
Step 1. Launch EaseUS PDF Editor and click on the "Open Files..." button to import the PDF document.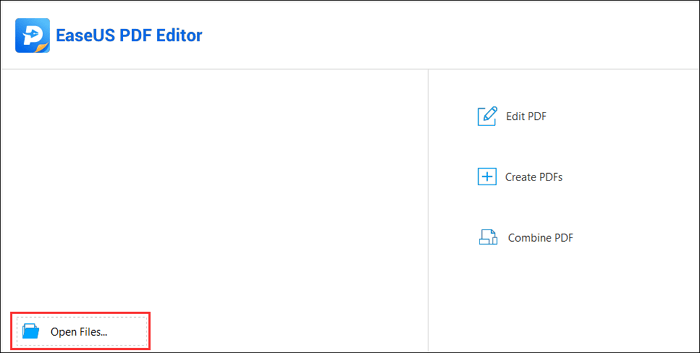 Step 2. Choose the "Compress" option in the top toolbar, then select "Reduce File Size..." from the drop-down menu.

Step 3. A window will pop up and ask you to set the output folder and file name for the compressed PDF. Then, click on the "Save" button to start the compressing process.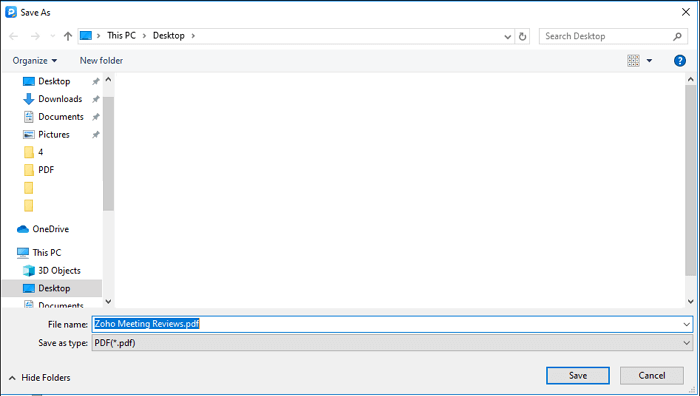 Change PDF Page Size with Adobe Acrobat DC
Adobe Acrobat DC is known as a good choice for people who want to edit their PDF documents, reduce PDF files size, increase PDF page size, etc. It is compatible with almost all major operating systems, so whether you are using a Windows computer or a Mac, you can download it to increase the PDF size. The operation is quite simple, all you need to do is to follow the steps below.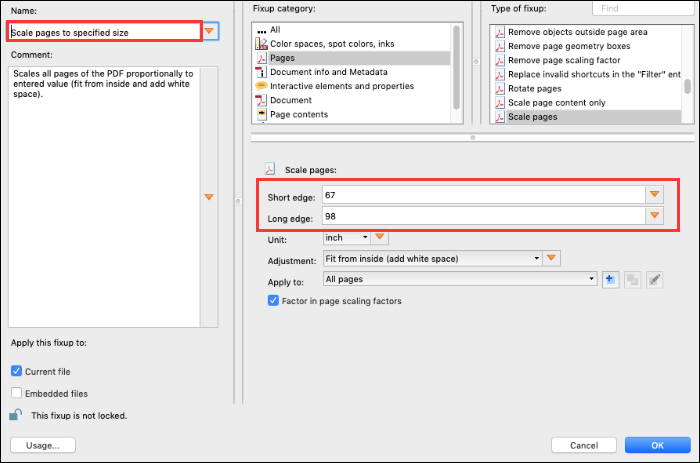 Step 1. Open the PDF file with Acrobat DC on Mac. Go to "Tools" > "Print Production".
Step 2. Select Preflight from the right pane. In the Preflight dialog box, click "Select single fixups".
Step 3. Now expand the heading that says "Pages".
Step 4. Under "Pages", go to "Scale pages to specified size", and then click on the "Edit" button after highlighting it.
Step 5. Now enter the page measurements in the "Scale pages section". "Short edge" means width, and "Long edge" means height.
Step 6. Now click on "OK" and click on "Save" to keep the modified file.
 Tip

If you don't want to download any software, you can have a look at the online PDF editor - EaseUS PDF Online. This online tool can convert the mainstream file formats to PDF and convert PDF files to these most widely used file formats. All in just seconds!
Conclusion
As we can see from the above, increasing the PDF size is just a piece of cake if you have found a proper PDF editor. Adobe is what we all know about, but some people find it difficult to use. Therefore, for most people, EaseUS PDF Editor is the best choice. It is quite user-friendly, you can handle it even if you are just a novice. To increase the PDF file size, just download it and start!
How to Increase PDF Size FAQs
1. How do I make a PDF size bigger?
It is pretty easy to make a PDF size bigger with Adobe Acrobat:
Open the PDF, and click File >Print.
Select Tile All Pages to expose the Tile Scale % option.
Type the percentage you want to magnify the PDF.
2. How do I resize a PDF to 1 MB?
EaseUS PDF Editor can help you resize a PDF to 1 MB. Open your PDF document, choose Compress and Reduce File Size, and click on the Save button. That's it!
3. How do you change PDF from KB to MB?
All you need is a powerful PDF compressor, and below are some recommendations:
EaseUS PDF Editor
Nice PDF Compressor
ORPALIS PDF Reducer
PDF Compressor
Cisdem PDF Compressor
About the Author
Melissa is a sophisticated editor for EaseUS in tech blog writing. She is proficient in writing articles related to screen recording, video editing, and PDF file converting.