Forgot PDF Password | How to Unlock PDF without Password
 Update:

Recently, Microsoft is making a change to its Microsoft Office branding. Microsoft Office is being renamed by Microsoft 365. After the official renaming, our article content will be updated accordingly.
PAGE CONTENT:
Portable Document Format or PDF is the leading global file format. With multiple documents being exchanged in PDFs, some critical situations may not be avoided while even working with utmost care. Forgetting your PDF password is one such situation that can cause issues in PDF usage. Hence, you only need a detailed solution for managing conditions like forgetting PDF passwords.
You may need to unlock PDF files without a password due to the following reasons:
You don't remember the password.
PDF is accidentally encrypted for password.
So today, we've prepared a detailed list of the top methods to unlock PDF without password. We've designed this list based on the features, easy-to-use, and effectiveness of these methods. In addition, these methods offer a secure option to professional or beginner users regarding getting rid of passwords.
Method 1. EaseUS PDF Converter
Ranking first in our list of the top methods to handle forgotten PDF password situations is the EaseUS PDF Converter. It is a reliable PDF converter that can unlock PDFs without passwords and convert them into ten different file formats. All PDF files can be quickly converted with a high conversion success rate, with converted files retaining original document formatting.
EaseUS PDF Converter prevents documents from altering and helps copy, search, and edit documents quickly. It can quickly convert PDF to Word, image, PPT, Excel, Text, etc., and can convert images or Microsoft Office to PDF. EaseUS PDF Converter can be quickly downloaded from its official website on different devices.
Features of EaseUS PDF Converter:
It can quickly convert PDF to Excel, Word, images, PPT, etc.
It can safely unlock PDFs without a password in quick steps only
It offers the dedicated batch conversion for professional users
It helps keep original formatting unchanged and prevents data loss
It can OCR a PDF and offer selectable, searchable, and editable file formats
Here are the steps to unlock PDF with EaseUS PDF Converter:
Step 1. Launch EaseUS PDF Converter, go to "Unlock PDF" and import files by clicking "Open Files". You can also drag and drop the files into the program.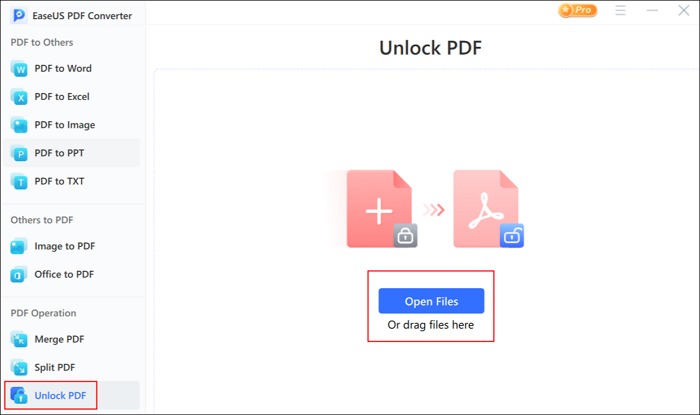 Step 2. When the file is imported, choose a save path for the file and click "Unlock" to continue.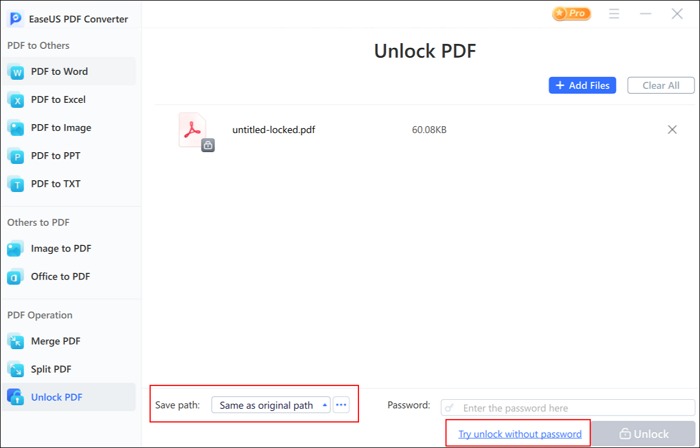 Step 3. Wait for a while, and you can view the unlocked PDF file. Or, you can see where it is saved on your computer by clicking the "File" button.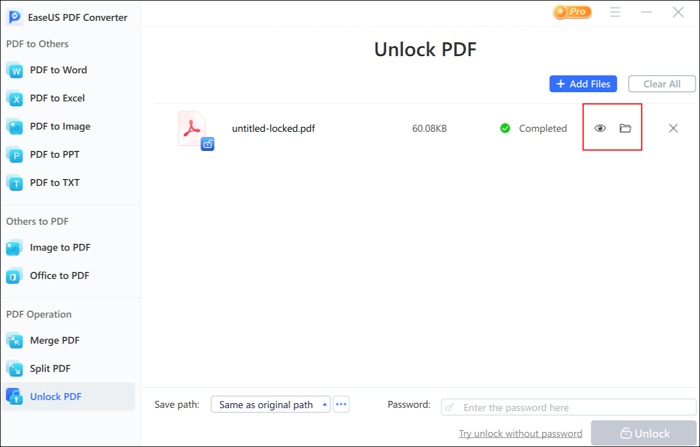 Method 2. Smallpdf
It is a leading PDF password remover online. It is used online and can instantly remove PDF passwords. Smallpdf can unlock the PDFs having an owner password. There is no need to worry about the security of the PDF, as all files are deleted within one hour after processing from the platform.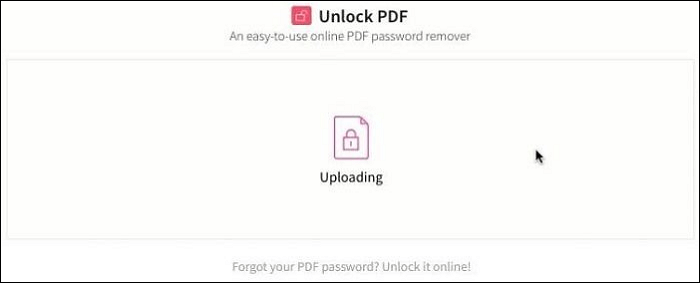 Pros:
It is a browser-based tool for unlocking PDFs without a password
It offers quick file transmission using a secure connection
It is an easy-to-use tool for beginners and professionals
Cons:
It lacks advanced features
Steps to use Smallpdf:
Step 1. Open Smallpdf on your browser.
Step 2. Upload the locked PDF with the drag-and-drop function.
Step 3. Check the box to confirm that you own the right to access the PDF.
Step 4. Go to "Unlock PDF" and complete the process by downloading the file.
Method 3. Cisdem PDF Password Remover
It is an easy-to-use PDF unlocker helping users to unlock password-protected PDFs. It can also remove restrictions on opening, printing, editing, and copying PDFs. Using Cisdem PDF Password Remover never causes an issue with quality. It helps unlock PDFs without passwords for users having an owner password and user password.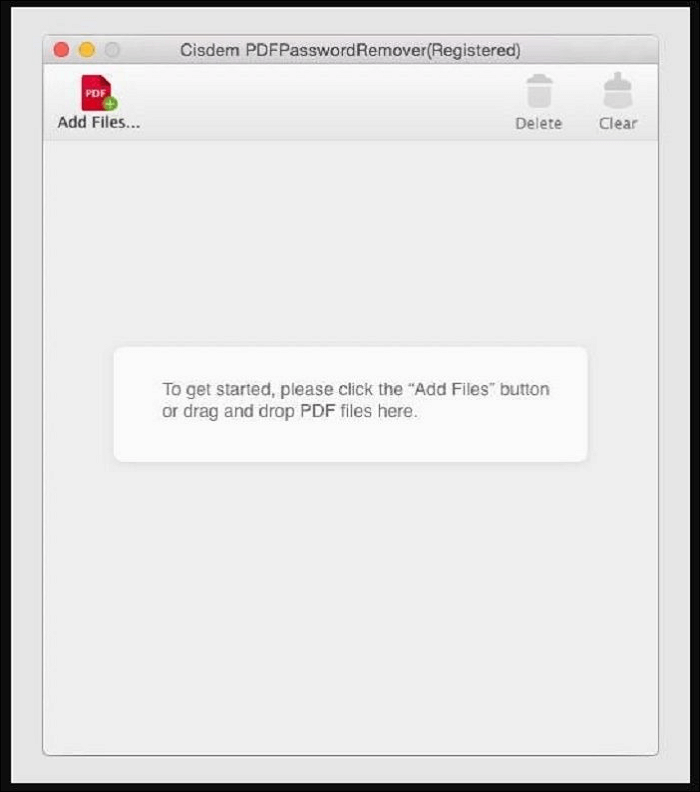 Pros:
It helps you to open password protected PDF easily
It offers quick batch processing for up to 200 files
It is compatible with different PDFs in multiple languages
Cons:
It is difficult to use for beginners
Steps to use Cisdem PDF Password Remover:
Step 1. Open Cisdem PDF Password Remover.
Step 2. Drag and drop PDF files on the system.
Step 3. You'll be prompted to add the user password. Once entered, you can click "Remove".
Method 4. Google Drive
It is a cloud-based storage service from Google. It syncs shared documents, photos, and other files on different devices. Google Drive can be quickly used to access the company's other services and systems. Users can go for Google Drive to unlock PDFs without passwords.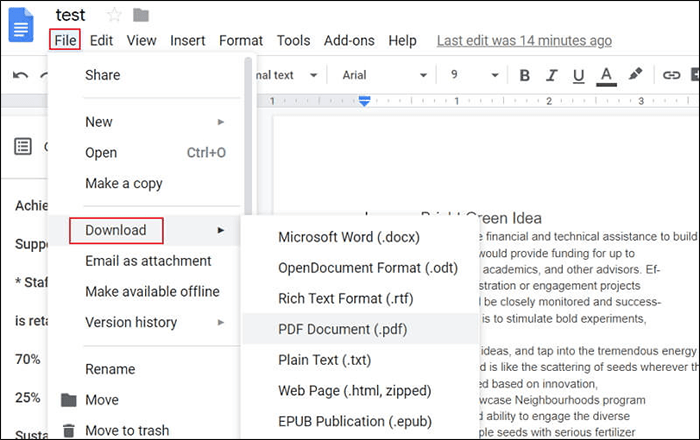 Pros:
It can be accessed online quickly
It can be used on different devices
It is an easy-to-use method to unlock PDF
Cons:
It lacks advanced features
Steps to use Google Drive:
Step 1. Open your Google Drive.
Step 2. Login using your Google account details.
Step 3. Click on the "+ New" icon and upload the password-protected PDF file.
Step 4. Double-click on the file to open it.
Step 5. Go to Google's document viewer. It will ask for the password for the PDF file.
Step 6. Go to the "print" option located in the top right corner of the screen. Click on the "download" button and download the file on your system. This downloaded file is free from any password protection.
Conclusion
Hope everything is clear to our readers about the forgot PDF password situation. The different methods offer the best solutions to unlock PDFs without scratching your head for passwords. These methods include using tools like EaseUS PDF Converter, Smallpdf, Cisdem PDF Password Remover, Google Drive, etc.
If asked for a quick, reliable, and easy solution to manage forgot PDF password situation, EaseUS PDF Converter is a perfect choice. It is a reliable PDF converter that converts PDF to more than ten file formats. Not to miss is its advanced OCR technology for performing different functions on PDF.
FAQ on Forgot PDF Password
After going through a detailed review of the different methods to solve the forgot PDF password situation, you may have some questions in mind. So, below is a quick list of the top and frequently asked questions related to the methods of unlocking PDFs without a password:
1. How can I recover my PDF file password?
It is easy to recover your PDF file password using different methods to unlock it without using a password. These methods are:
EaseUS PDF Converter
Smallpdf
Cisdem PDF Password Remover
Google Drive
2. Can you open a locked PDF?
It is easy to open a locked PDF with the different methods available in the market. However, using the EaseUS PDF Converter is the best solution. It helps quick decryption of PDFs with simple clicks only. It can not only open a locked PDF but can convert PDF to Excel, PPT, image, Word, and vice versa. Not to miss is quick file conversion using this tool.
3. How do I unlock my Adobe PDF if I forget my password?
The quick steps to unlock your Adobe PDF if you forgot your password are as follows:
Step 1. Open the PDF in Acrobat.
Step 2. Go to the "Unlock" tool.
Step 3. Open "Tools", "Protect", "Encrypt", and then "Remove Security".
Step 4. Remove security based on the options available.
About the Author

I'm glad you can find my post. I hope my article can help you a lot. If you have any questions, please feel free to contact me!