How to Compress A PDF Without Adobe Acrobat for Free
PDF is one of the most popular file formats widely used in working and studying, because it will always retain the original formatting no matter what devices you are using to view or edit. However, it has a big disadvantage: PDF file size is much bigger than other documents, like Word, and you can sharply feel it when you need to send PDF files. 
Usually, you use Adobe Acrobat to reduce the PDF size. But, Adobe is a little expensive for most people, and you might want to find some ways to reduce PDF size without Adobe. If you are one of them, you can find some workable methods on this page. Here, we are going to share with you some Adobe Acrobat alternatives, and walk you through how to compress a PDF file without Adobe.
How to Compress A PDF File Without Adobe on Windows
For Windows users, EaseUS PDF Editor is an excellent alternative to Adobe Acrobat. Coming with an intuitive user interface, it makes all operations easy for everyone, even for the novices. While speaking of compressing PDF files, all you need to do is to import your target document, and select the "Reduce File Size" option. That's it. One important thing is that the compressed PDF file will retain the original quality and formatting.
In addition to compressing PDFs, it provides you with a set of tools to manage your PDF documents. For instance, you can merge multiple PDF files into a single one, and then compress it for later sharing; or you are able to convert PDF to Word, Excel, and even images for better editing and viewing.
Key Features:
It merges viewing, editing, converting, and managing functions
Allow you to add watermark to PDF or password protect PDF
Offer a wide range of tools to create a fillable PDF form
Convert to or from PDF without losing formatting
Here's how to compress a PDF file on Windows without Adobe Acrobat:
Step 1. Launch EaseUS PDF Editor and click on the "Open Files..." button to import the PDF document.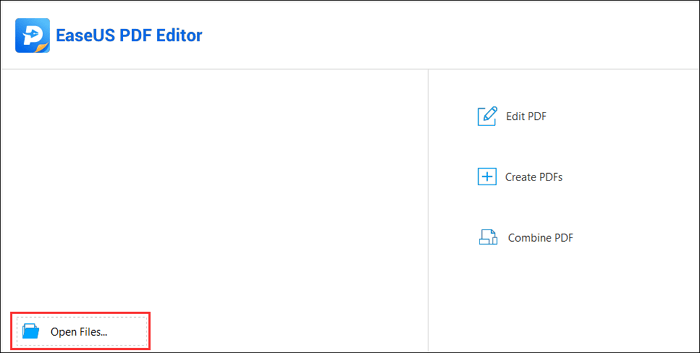 Step 2. Choose the "Compress" option in the top toolbar, then select "Reduce File Size..." from the drop-down menu.

Step 3. A window will pop up and ask you to set the output folder and file name for the compressed PDF. Then, click on the "Save" button to start the compressing process.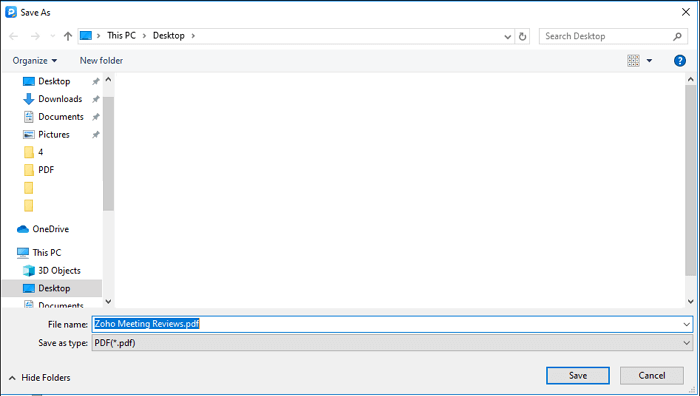 How to Reduce PDF File Size Without Adobe on Mac
If you are used to dealing with PDFs on Mac, there is an in-built PDF compressor called Preview, which will let you reduce PDF file size without Adobe Acrobat. This application helps you handle almost all the basic PDF needs, from PDF viewing to compressing. You just select the compression option and then get a smaller size PDF file without losing quality.
More than that, you are allowed to add notes or highlight PDF files while reading, or merge, rearrange, and convert PDFs according to your needs. All in all, if you just have primary PDF editing needs, Preview is enough for you.
Check out how to compress PDF files on Mac without Adobe:
Step 1. Open your PDF document with Preview.
Step 2. Click "File" > "Export". Then select the submenu next to Quart Filter and choose "Reduce File Size".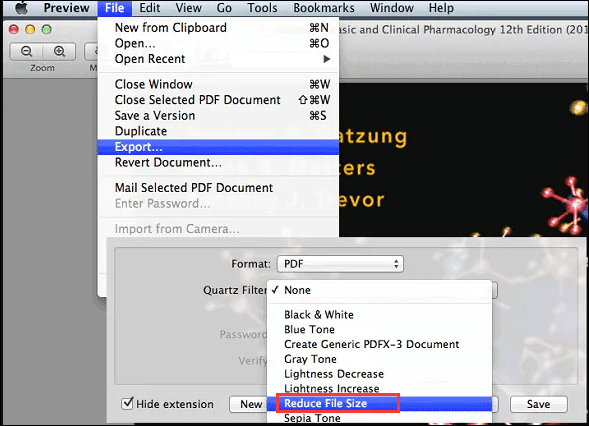 Step 3. Choose a folder to save your compressed PDF file. Finally, click on the "Save" button.
How to Compress PDF Files Online Without using Adobe Acrobat
Apart from Adobe Acrobat, there are lots of other online PDF compressors you can try on the Internet. So, if you are a one-time user who does not like to install any third-party software, check out the following solutions!
#SmallPDF
SmallPDF is a great online PDF compressor that is browser-based and works for all platforms, including Windows, macOS, and Linux. To compress PDF files, you just need to upload your file (from a local device, Dropbox, or Google Drive), and wait for the compression to complete and download your file. 
All the file compressing takes place in the cloud, and it will take a few seconds for the compression task. Last but not least, you don't need to worry about privacy, as all your files will be deleted from the service after one hour automatically and permanently.
Here's how to reduce PDF file size online for free:
Step 1. Move to its official webpage, and click "CHOOSE FILES" to upload your PDF document.

Step 2. The online service will automatically start to shrink your files. If needed, you can continue to modify the compressed PDF file.
Step 3. Once done, just hit "Download" to save the compressed PDF document.
#Soda PDF
Another online PDF compressor is Soda PDF. Like SmallPDF, this online service will make your PDF smaller with just a few clicks. It will reduce bits by identifying and eliminating statical redundancy, and no information is lost in the compression. What's more, Soda PDF also offers you a wide range of tools to merge, sign, split, edit, and even convert your PDF files.
Step by step guide to compress PDF without Adobe Acrobat online:
Step 1. Select and upload the PDF file that you want to compress.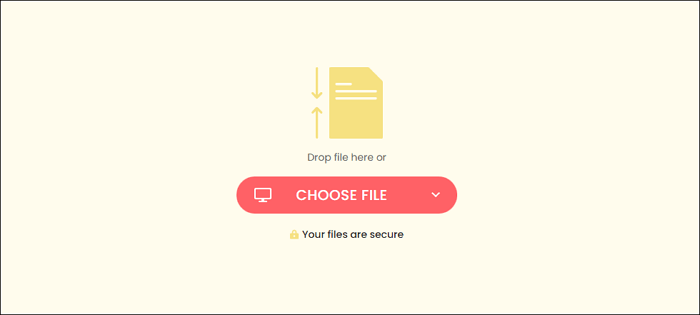 Step 2. Once it is uploaded, this online service will reduce the file size automatically without losing quality.
Step 3. When the file is ready, you can choose to download it to your computer or view it in the browser.
The Bottom Line
How to compress a PDF file without Adobe? This post shows you four easy ways to get the task done, and which one do you prefer? If you are a Windows users who often need to deal with PDF documents, you can opt for EaseUS PDF Editor, which combines PDF editing, converting, managing, and viewing features, and almost all your needs will be satisfied here.
About the Author

Jane is an experienced editor for EaseUS focused on tech blog writing. Familiar with all kinds of video/PDF editing and screen recording software on the market, she specializes in composing posts about recording and editing videos. All the topics she chooses are aimed at providing more instructive information to users.