Top 8 Best Free PDF Creator and Editor in 2022
As the world has gone digital, the need for creating and editing documents has increased. We've all been there before: you're writing a long document that needs to be shared between multiple parties, and it's just easy to share it as a PDF.
Many people see PDFs as the best way to share documents since it's not easy to change the contents in a PDF file. This post looks at various tools that allow you to create PDF files from scratch and offer converters.
Top 8 Best Free PDF Creator:
EaseUS PDF Editor 
Compatibility: Windows 10/8.1/8/7
To create a PDF on Windows, a powerful PDF converting tool is essential. Most PDF creators on the market only allow you to obtain a PDF file by converting files in other formats into PDF.
If you decide to use this type of tool, you have to edit the contents in Word or Excel and turn them into PDF. However, during the conversion process, the text style may be changed. That is why most users want to find a PDF creator that supports creating PDF from scratch, and EaseUS PDF Editor is exactly what you need to choose. 
This tool not only supports creating a blank PDF, but it's also a Windows PDF editor. If you want to edit the PDF contents or manage the PDF pages in the most convenient ways, don't miss this software.
EaseUS PDF Editor
Create a blank PDF or create PDF by converting
Split, rotate and crop a PDF
Add text, watermark, and bookmark to PDF
Compress PDF files to reduce PDF size
Remove password protection from PDF
PDFEscape 
Compatibility: Online
If you are not looking for any conversion but want to create a PDF from scratch, then PDFEscape is the best way to go ahead. This online tool offers both online and windows versions to create, edit an existing PDF file. While the online offers many tools, the desktop tool is even more powerful with the option to compress, convert, merge, and so on.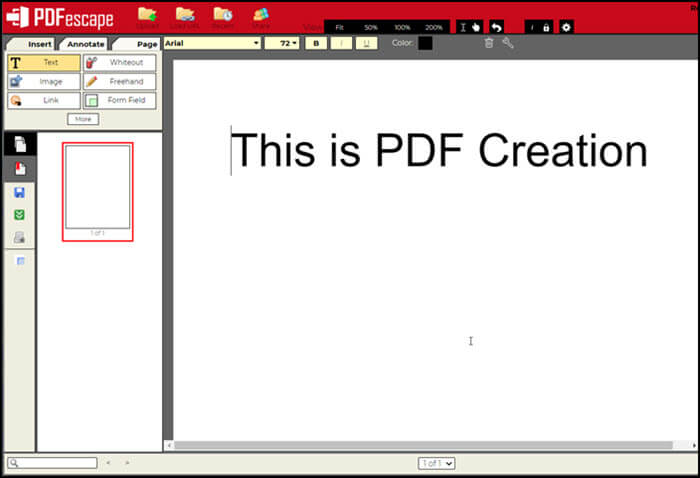 Pros:
Edit text and images
Annotate, fill out forms, and create forms
Add watermark and page numbers
Add password to PDF files
Cons:
The free version is limited to a size of 10MP and 100 pages
Advertisements appear in the free version
ILovePDF 
Compatibility: Online
ILovePDF PDF Creator is a free online tool that lets you create PDF files from virtually any type of file on your computer. It's easy to use, and you can create PDFs without downloading. The best part is that it works right via your web browser.
Even though it is an online tool, it offers many features that make it stand out. You can convert any document to PDF (Word, Excel, PowerPoint, JPG, HTML). If you want to change the PDF document you have received, you can use the Edit PDF feature to add, remove, and Sign the PDF.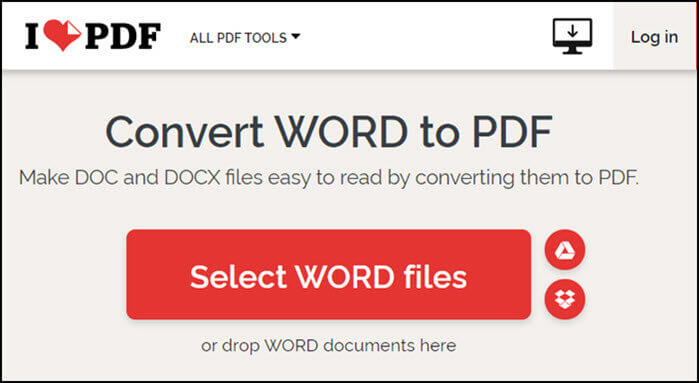 Pros:
Offer PDF Merge, Split PDF, Compress PDF tools
Convert PDF to Word, PowerPoint, Excel, JPG
Edit PDF, add page numbers, add watermark, rotate PDF
Cons:
No way to integrate with any of the software you are using
Privacy concerns
PDFForge 
Compatibility: Windows 10, Windows 8, Windows 7 SP1
For those who are interested in an open-source tool, PDFForge is the way to go. It's an advertisement-supported software that offers professional, terminal server, and server editions. Options such as Remote Desktop, License Server, Offline Activation, multi-threading, and group policies make it an excellent tool if one uses it for work.
They also offer Priority support if needed. Once you add the files to the software, you can then choose details such as color, compression, metadata, configure the printer, etc., before converting them to PDF.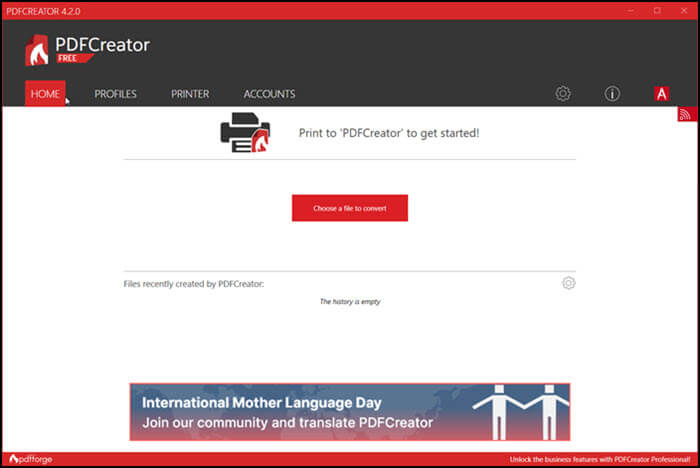 Pros:
Placeholders allow adding values like dates, username, etc.
Automatic Saving on the cloud with workflow support
Archive read with PDF/AQ standard
Create a secure PDF file with restrictions to modification, print, and any changes
Cons:
Too many versions can be confusing
Q-PDF Creator 
Compatibility: Windows
It is open-source software that registers itself as a printer that can save the output as a color or black and white PDF file. Second, it is also available as a convertor to drag and drop files and save them as a PDF file. Before conversion, you can configure document properties and basic PDF settings.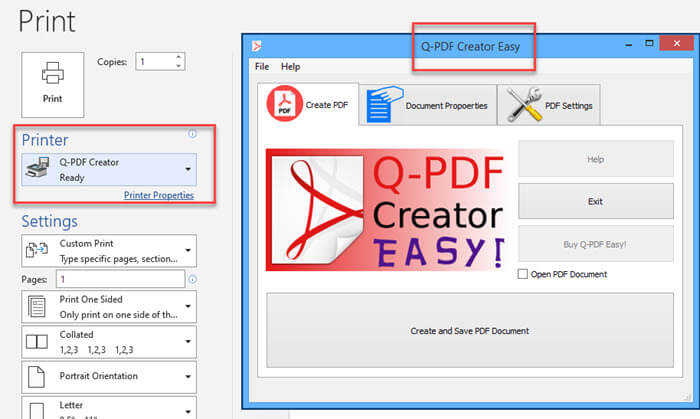 Pros:
Drag and drop conversion is useful for basic users
Support black and white and color printing
Best free PDF creator on Windows PC
Cons:
Limited configuration for printing
Q-PDF information in the Author and comments fields have to be changed each time
Claw PDF 
Compatibility: Windows
ClawPDF registers itself as a PDF printer and offers a plethora of configurations for document printing. You get two types of settings—Application setting and Profile Settings. Profile settings allow you to configure document property such as title, save settings, default save folder, autosave features, additional features define post-print actions, compression, and more.

Pros:
Compress, add a signature, and secure PDF post-printing
Add stamp text to all pages
Restrict users from copying from the PDF file after it is created
Cons:
No drag and drop option
It can be overwhelming for basic users
PDFwriter Mac 
Compatibility: macOS
Mac users will love this software as it offers an excellent PDF printer driver that will let you generate PDF files. The software is based on CUPS-PDF. It doesn't use Ghostscript to generate PDF files.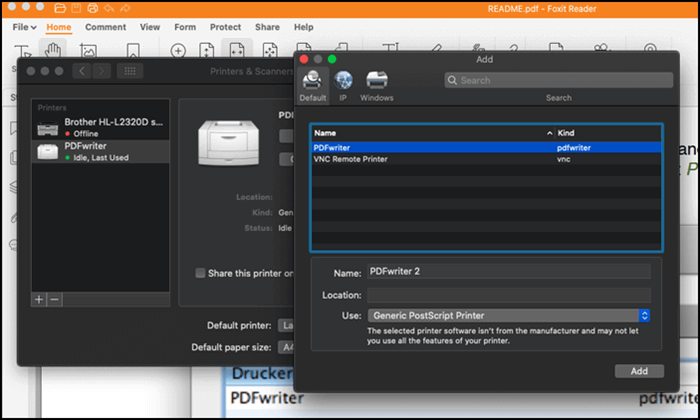 Pros:
Print any document
Best free PDF creator
Use native macOS printer drivers
Offer a decent number of settings while printing a document
Cons:
Almost zero user interface except for printing
The printer needs to be manually added and takes time to appear
VIPRiser 
Compatibility: Mac
If you want a macOS PDF Printer, then VIPRiser is worth a try. The tool offers integration with Automator, a macOS tool, which helps you automate your MacBook printing process.
Once installed, you will notice a new PDF printer available on the computer, and you can then choose to print to it. You can also access the printer from your iPhone and iPad devices connected to the same network.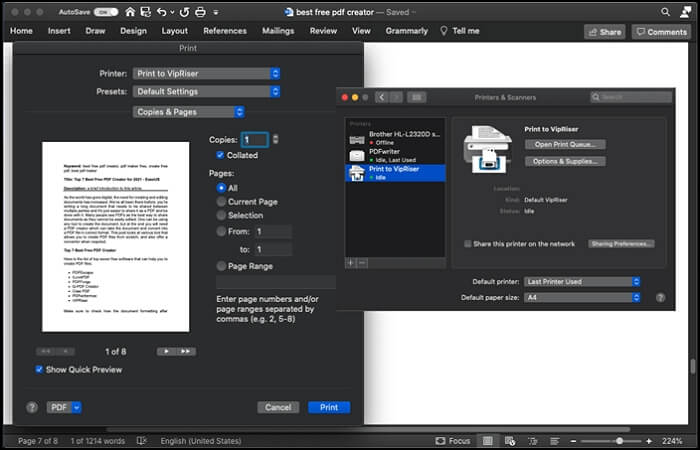 Pros:
Easy-to-use interface for every user
Save files directly to services such as Dropbox and Google Drive
Support for Automator
Raw postscript driver for advanced processing using Ghostscript
Cons:
Limited print options
Need an extra plugin to be installed for automation
Conclusion
Creating PDFs is easy. If all you need is to create a PDF from a document on your computer, all you need is to use a PDF editor. If that's tedious, you can use bulk converter software that can convert them into PDF files. Then certain applications allow you to create PDFs from scratch. However, it is only for those who need security and protection within the PDF file.
FAQs About Best PDF Creator
If you have more questions about PDF creators, those answers may help you.
1. What is the best free PDF creator?
Any online tool allows you to create a PDF file from a standard document or create one from scratch. You also need to look at other features, including editing, conversion, merge, split, etc.
2. How can I create a PDF file for free?
Tools such as ILovePDF and PDF Converter allows you to create PDFs for free. Windows also offer a built-in tool, i.e., a virtual printer. You can print directly to this printer and save it as a PDF file on the computer.
3. How do I create a PDF with images?
Images are just another document, and most of the online tools allow you to convert PDF files into images. You can also use software or a PDF printer to convert any document into PDF files.
About the Author

Crystal Chen is very interested in technology products. Experiencing many technological applications like video editors, screen recorders, and PDF editors, She is willing to solve users' issues through writing tech-related articles. Through her words, you can find various solutions to solve one problem.