2022 | Top 8 Best EPUB to PDF Converter Free Download
If you prefer reading books on your digital devices, you have likely come across EPUB files. This is the file extension that is mostly used for eBooks. While EPUB file works and opens on most devices out there, certain devices will not support this format. In these cases, you will need to convert your EPUB files to a more compatible format.
One of the common formats you can consider is PDF (EPUB vs. PDF). This one works across nearly all platforms and is easy to manage and keep. Luckily, there are many best EPUB to PDF converter software available and you can use these to get all your eBooks converted to a widely recognized format. So in this guide, we will share with you some best free EPUB to PDF converter software, including online and offline best PDF converter.
Best 8 Free EPUB to PDF Converter Software for Free Download
Top 1. EPUB to PDF Converter
Compatibility: Windows
If you are a Windows PC user, there are several EPUB to PDF converters for Windows you can use to convert EPUB to PDF. One of these apps is EPUB to PDF Converter. As the name suggests, the app allows you to convert all your eBooks into the popular PDF format in no time. The app claims to be fast and you can expect your large files to be converted in a matter of a couple of minutes.
Moreover, a good thing about this tool is that it is not cluttered with loads of options. Instead, what you have on the main screen is a file field that you need to fill with your source EPUB file. Once you do that, you can then click a button to start the EPUB to PDF conversion.
Pros
Totally decluttered user interface
Accurately convert your EPUB files to PDF
Extremely easy to use and should be a preferred tool for non-experienced users
Cons
There are not many other features to use
It only supports EPUB files up to the size of 100MB
Does not support batch conversion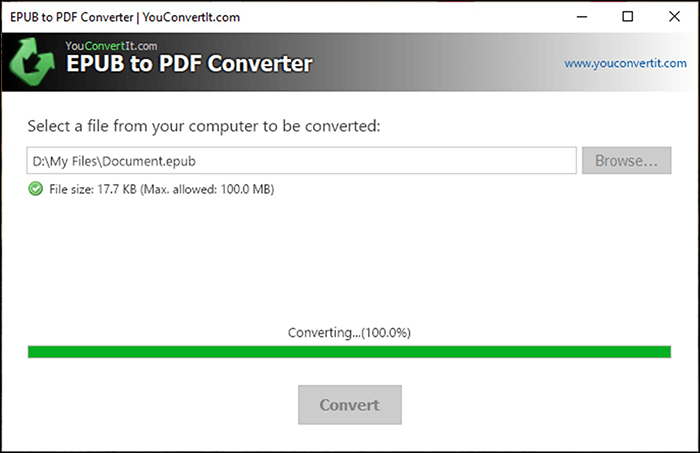 Learn how to quickly convert your EPUB book to PDF format very easily within seconds! We'll use both online and offline tools for the task! Read Now!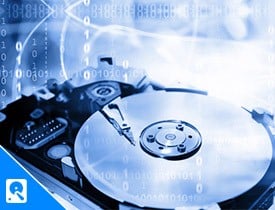 Top 2. Icecream PDF Converter
Compatibility: Windows XP/7/8/10
If you are looking for tons of features in the best free EPUB converter software, look no further than Icecream PDF Converter. Using this easy-to-use program, not only can you convert your files to PDF but you can do that with loads of customizations.
This Windows EPUB to PDF converter software has to offer numerous options that you can configure so your files are converted exactly the way you want. It supporting password protect PDF files and will not add any watermark to your converted files as well.
Pros
Convert your EPUB files to PDF in bulk
Select page ranges while converting your files
Merge several files into a single PDF file
Cons
You can only process up to 3 files per conversion in the free mode
There is no option to merge files in the free version of the program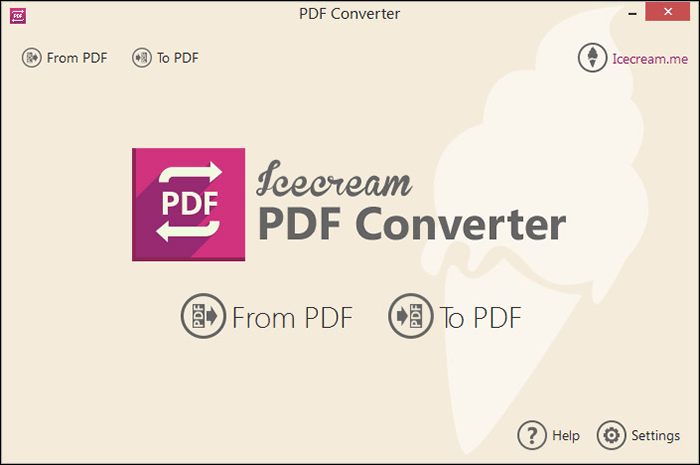 Top 3. Calibre
Compatibility: Windows/macOS/Linux/iOS/Android
If you are searching for a multi-compatible and open-source EPUB to PDF converter, you should give Calibre a chance. Originally, it is an EPUB reader that lets you read all your ebooks that are in this format. However, using one of the features of the app, you can actually convert your EPUB files to PDF format. This is fairly easy to do and requires no technical experience.
Except for that, one of the many good things about this tool is that it is available in the portable version as well. This means, if you are only looking to convert a few EPUB files and you do not wish to install an app, you can get your conversion done without ever officially installing this app on your system.
Pros
Quickly and easily convert all your EPUB files to PDF
Completely free and open-source application
Add and edit metadata while converting your files
Cons
The app does not offer many customizable options
The process to convert EPUB to PDF is not as easy as other similar apps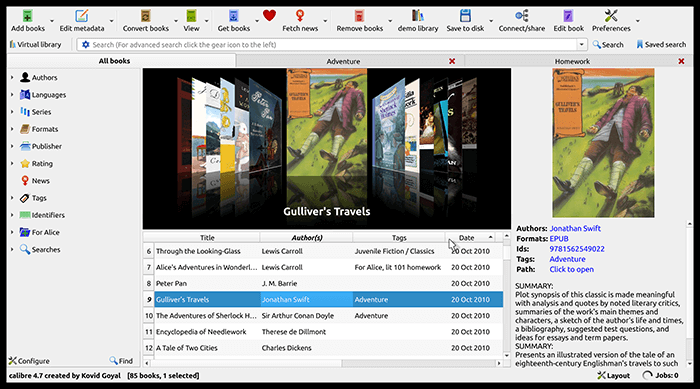 Top 4. The Ebook Converter
Compatibility: macOS 10.10 or later
One of the many nice little perks of being a Mac user is that you have an app to open pretty much any kind of file on your computer. While you can use the built-in iBooks app to view your EPUB files, you cannot change the EPUB into other file formats like PDF.
So if you need to convert the EPUB into PDF on your Mac, you will need an app like The Ebook Converter. This app works like a charm and helps you convert files from many source formats to various output formats. However, it will take more time to do the EPUB conversion than other similar ebook converters.
Pros
Extremely easy to use EPUB to PDF converter program
You can share your EPUB files from other apps with this app
Support for many input and output formats
Cons
Can't work without an active Internet connection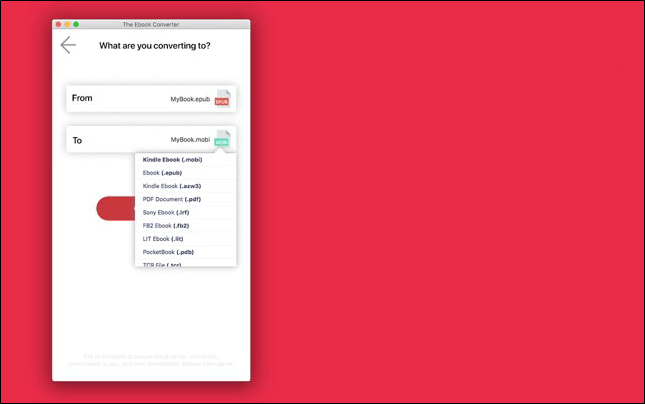 Top 5. GMaster Reader
Compatibility: macOS 10.9 or later
GMaster Reade‪r is actually an eBook reader for the Mac machines, but it still can work as a Mac EPUB to PDF converter when you need to convert EPUB to PDF format because there is a built-in converter.
With its help, you can convert your eBooks into other formats like PDF to make them available on many more platforms where EPUB is not supported. In addition, this EPIB to PDF app offers various features with regard to reading and managing your eBooks.
Pros
Manage EPUB as well as convert EPUB to PDF
Offer quick and efficient conversion process
Cons
You do not have any options to customize when converting EPUB to PDF
Bulk conversion of EPUB to PDF is not supported
Generate blank PDF files sometimes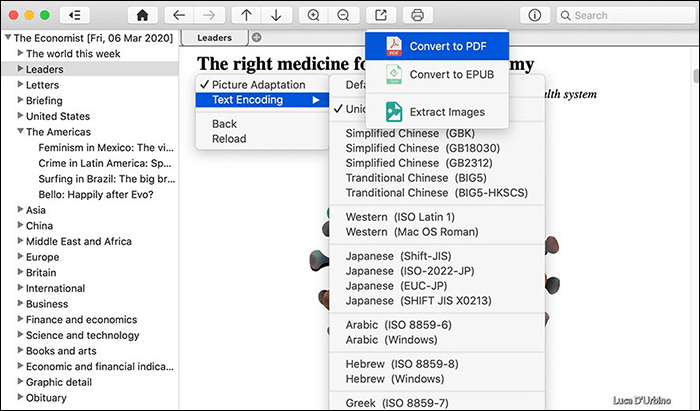 Top 6. CloudConvert
Compatibility: Online
If what you are looking to do is to convert only a handful of EPUB files to PDF, you should consider using an online EPUB to PDF converting software rather than an installable app.
One of the web-based tools you can use for your task is CloudConvert. This online EPUB converter allows you to convert any EPUB file that you throw at it to PDF format. It is entirely web-based which means you do not need to install anything on your computer to use the tool.
Pros
Upload EPUB files from multiple sources including cloud storages
Convert your files without losing their original quality
No need to install anything on your machine
Cons
Privacy concerns as your file are shared on the CloudConvert server
Convert only a limited number of files in the free version
The conversion process takes longer than other apps

Top 7. OnlineConvert
Compatibility: Online
OnlineConvert is another online tool allowing for EPUB to PDF conversion. Whether you are looking to convert your media files or you want to turn your EPUB files into PDF, you can do that all using this web-based tool.
You simply need to upload your source files and the tool converts them to your chosen output format. When your EPUB is converted to PDF, you can either download the file to your computer or upload the file to a cloud server.
Pros
Offer several file upload sources
Many options to customize your EPUB to PDF conversion
Download or upload your converted files
Cons
Uploading files sometimes takes too long than usual
In some cases, the original quality is not retained in the converted files
You cannot merge your files into a single PDF file

Top 8. Zamzar
Compatibility: Online
Zamzar is also one of the popular online EPUB converter tools and you can use this web app to convert all your EPUB files to the widely recognized PDF format.
You can add your source EPUB files by either dragging them to the site interface or entering the URL for your files. Then, you need to select the output format, which should be PDF, and you are good to go. The site offers email notifications for when your files are converted. This comes in handy when you cannot wait for your files to get converted on the site. 
Pros
Support for drag and drop for adding EPUB files
Convert your EPUB files to PDF and many other formats
Receive email updates for your file conversion tasks
Cons
You cannot add files from online cloud storage providers
The maximum file size allowed is only 50MB
You cannot convert unlimited files daily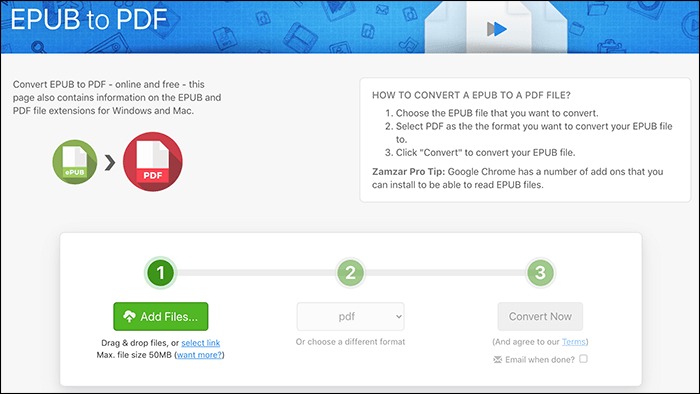 Best PDF Maker and Converter for Windows
Apart from converting your EPUB files to PDF, you sometimes need to create a PDF from images or other files or convert PDF documents to other file formats. Given that, we will introduce an excellent PDF converter to complete the task. That's EaseUS PDF Editor.
As its name indicates, it is a PDF editing software, which lets you modify your PDF files by cropping, rotating, adding, or removing items, etc. Actually, editing is just a small part of this program. It supports lots of common and popular file formats, which means you can easily change PDF to other formats or vice versa. Last but not least, this best PDF converter will keep the original fonts, formatting, and quality after the conversion.
PDF Reader and Converter for Windows
Convert PDF to Word, Excel, PPT, and images quickly
Create, compress, OCR, merge, annotate, and split PDF
Make and customize PDF forms painlessly
Offer OCR to make the scanned file editable
Allow adding watermark or password to protect your PDFs
Note: EaseUS PDF converting software does not support the EPUB format currently, so you can try the above solutions to do the task if you need to change EPUB to PDF.
Conclusion
If you ever get stuck with an EPUB file that will not open on your computer, use one of the best EPUB to  above to convert your EPUB files to PDF. Once the file is converted, you should be able to view the resulting PDF file without an additional tool on your Windows or Mac computer.
About the Author

Jane is an experienced editor for EaseUS focused on tech blog writing. Familiar with all kinds of video/PDF editing and screen recording software on the market, she specializes in composing posts about recording and editing videos. All the topics she chooses are aimed at providing more instructive information to users.