How to Remove Header and Footer from PDF in 3 Ways
PDF files are one of the most widely-used documents today but applying changes to them can be quite challenging. Perhaps you're planning to adjust the header and footer in a PDF to correct outdated information, or you feel a header and footer might interfere with the design on the first page. Whatever might be the case, removing headers and footers is pretty simple if you've got the right tools.
In this article, you'll learn how to easily remove the header and footer from a PDF with the right tools. These tools include EaseUS PDF Editor, Adobe Acrobat, and Soda PDF Editor. Without further ado, let's dive into these procedures.
How to Remove Header and Footer from PDF with EaseUS PDF Editor
Although new to the PDF editing world, EaseUS PDF Editor is a remarkable PDF editor for Windows with many editing features. With this software, users can easily convert PDF files to other formats and vice versa. It's also excellent for editing purposes, so if you're looking for how to remove the header and footer from your PDF, you should consider using this tool.
EaseUS PDF Editor also enables users to remove fillable files in PDF, divide whole set PDFs into individual one-pagers, or extract specific pages into independent PDF files. Its strong encryption function allows users to secure their documents from unauthorized access like copying or printing. And you can further deter document copying by stamping an image or text watermark over your PDF files.
Key Features:
Clean and easy-to-use interface
Remove password from PDF easily
An excellent pricing option for lifetime licensing
OCR technology extracts and converts written text into editable documents
Download EaseUS PDF Editor and follow the 3 steps to delete the header and footer
Step 1. Launch the EaseUS PDF Editor and click on "Edit PDF", then select the PDF you wish to edit.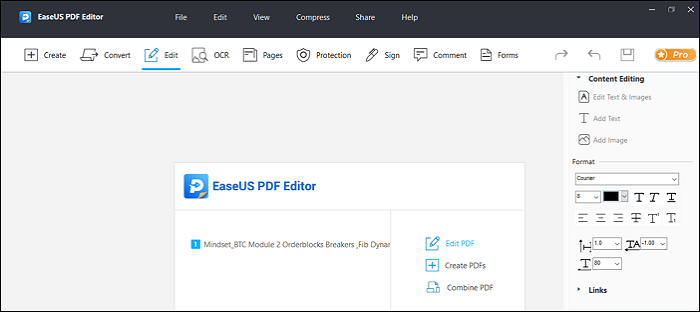 Step 2. Click on "Pages" at the top of the page, a column will appear on the right.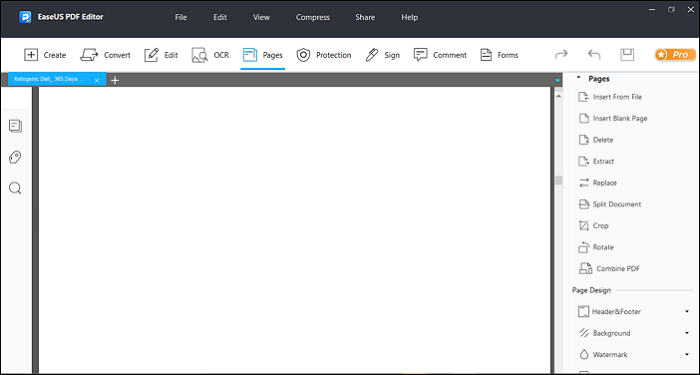 Step 3. Scroll down and click on "Header & Footer". A drop-down menu will appear, then select "Remove".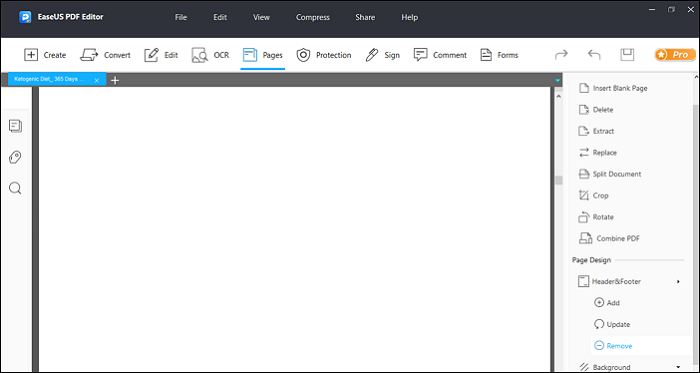 How to Delete a Header and a Footer Using Adobe Acrobat
Adobe Acrobat is another excellent tool that can help you cut out all the unwanted headers and footers from your PDF document. 
This program allows you to create your PDFs from scratch either by importing documents and image formats or even extracting the contents of your Windows clipboard. Moreso, if you're looking for how to remove a header, or how to remove the footer from your PDF document, you can try out the editing features of Adobe Acrobat.
Users who are members of a production team will appreciate this software because it enhances collaboration. Acrobat's Send for Review allows you to collect feedback fast from multiple reviewers. Then when it comes to securing your documents, you can encrypt your PDF files and protect sensitive information or copyrighted material with just a few clicks.
Key Features:
Action Wizard helps you automate repetitive commands to save time and keystrokes
Accessibility Check that analyses the accessibility status of your PDF
VoiceOver support reads PDFs aloud with a default voice or any of the voices installed on your computer
Mobile Link that grants you easy access to your recent PDFs across devices
4 Steps to Delete Header and Footer From PDF Using Adobe Acrobat
Step 1. Launch the Adobe Acrobat Software and select Tools.
Step 2. Under the Create & Edit section, select Edit PDF. Then choose the PDF file containing the headers and footers.
Step 3. Click on Header and Footer at the top of the Edit Panel, a drop-down menu will appear.
Step 4. Select Remove from the drop-down box.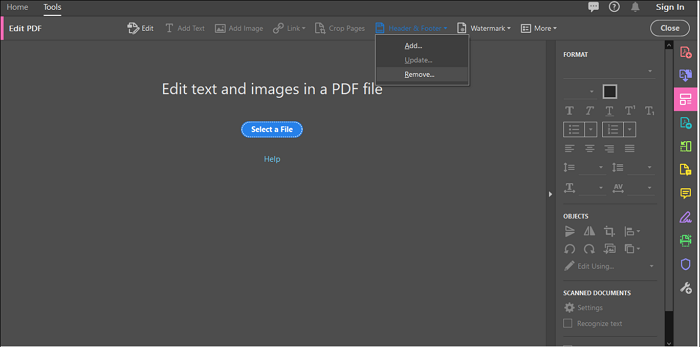 How to Remove Header and Footer with Soda PDF Editor
Soda PDF Editor also offers a great way to delete headers and footers from a PDF document. Besides this primary function, Soda PDF converts Excel, JPG, PPT, and TIFF files to PDF, and converts PDF files into these formats too.
If you need to merge PDFs or split them, you can also use this tool. Soda PDF Editor is also excellent for securing your files. It allows you to add password protection to your PDF to restrict editing or copying. Then you can attach your signatures to your file either by writing it out, drawing it, or uploading an image.
Key Features:
OCR technology allows users to transform scanned documents into editable PDFs
Permissions functionality restricts your readers' actions on a file you own
The forms option makes your PDF more interactive with multiple fields and buttons
Electronic bookmarks to speed up navigation through bulky documents
4 Steps to Delete Header And Footer From PDF Using Soda PDF
Step 1. Launch the Soda PDF program and click on the EDIT Module.
Step 2. Select the Remove Page Marks option on the right. You'll see a box containing several page options.
Step 3. Select the page(s) where you want to delete the header and footer.

Conclusion
Now you've figured out how to delete a header or a footer from your PDF. You may also find it interesting that these tools can help you further digitize your paper documents and create a paperless workflow. If that's your plan, you'll find the EaseUS PDF Editor most reliable as it features OCR technology (that scans your physical documents and digitizes them). More interestingly, its lifetime subscription access will save you more money in the long run.
About the Author
Melissa is a sophisticated editor for EaseUS in tech blog writing. She is proficient in writing articles related to screen recording, video editing, and PDF file converting.