How to Create Signable PDF for Free | 3 Ways
Nowadays, more and more documents are drafted in PDF format rather than in paper form to protect the environment and save time. PDF files make it easy to deal with official business in most situations, but there are some exceptions. For example, what could you do if you are supposed to sign a contract, but it's in PDF format? 
It might be an excellent option to make the PDF signable. But how to create a signable PDF? If you are facing difficulties in signing a PDF document, this post is for you. You will see three useful methods of creating signable PDFs with 2 different PDF editors. Follow the steps to create your own signable PDFs now.
How to Make PDF Signable with EaseUS PDF Editor
EaseUS PDF Editor is an all-in-one PDF editing software designed for individuals and businesses to create signable PDF files freely and quickly. It not only supports adding your own digital signature to the PDF, but it's also available to create a signable field where others can sign their names. It's worth noting that if you want to add your signature to the PDF, the "Sign" mode is what you need, and if you need to create signable PDFs for others, the "Form" option can help you.
In addition to that, this toolkit lets you edit, merge, split, compress, and convert PDFs without diminishing the quality. Moreover, you don't have to be tech-savvy to operate it since it's designed with an interactive user interface. Other PDF services offered by this software include the addition or removal of watermarks to PDF, rotation of images, importation of data to PDFs, deletion of texts, and many more.
Key Features:
Insert footer and header to PDF with ease
Make the PDF editable using OCR
Export PDF data to save it
Whether you want to make a signable PDF for yourself or others, this powerful PDF editor can help a lot. Click on this button below to get it now.
Steps to Create Signable PDF with EaseUS PDF Editor:
Check out the stepwise guide provided below to create signable PDF files.
Step 1. Install EaseUS PDF Editor on your PC and then double-click on its icon to launch it.
Step 2. Open the PDF on which you want to create a signable field. Click on "Open Files..." and import the PDF file from your device.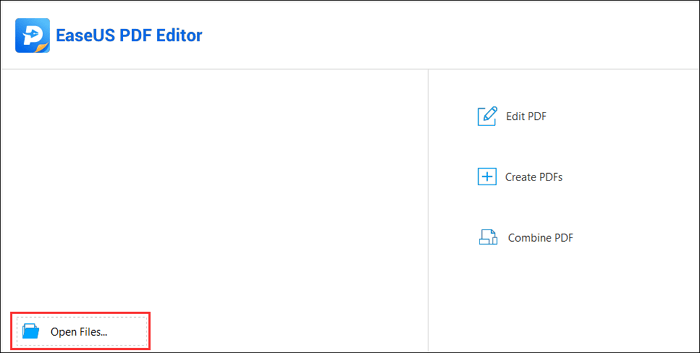 Step 3. Click on the "Form" option from the top toolbar. There will be many types of forms that you can add to your PDFs, select "Text Field," and you can click on the PDF and drag your mouse to select a suitable area for signing.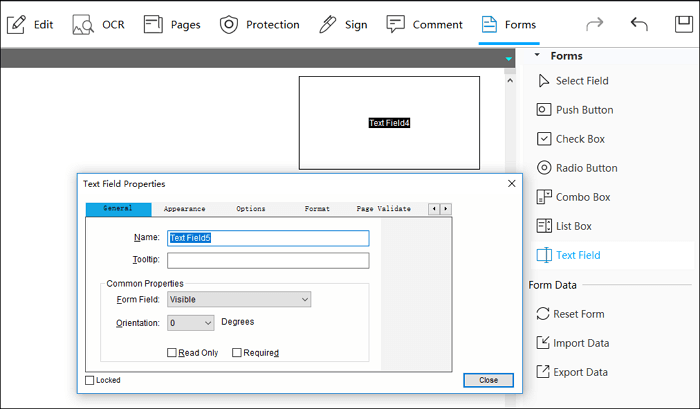 Step 4. Click on "Save" or "Save As" to export this signable PDF to your computer. Then, open the signable PDF again, and in the PDF editing mode, there will be a notification that tells you, "This document contains interactive form fields," you can choose to highlight the interactive fields. Then, type the words in the text field to sign it.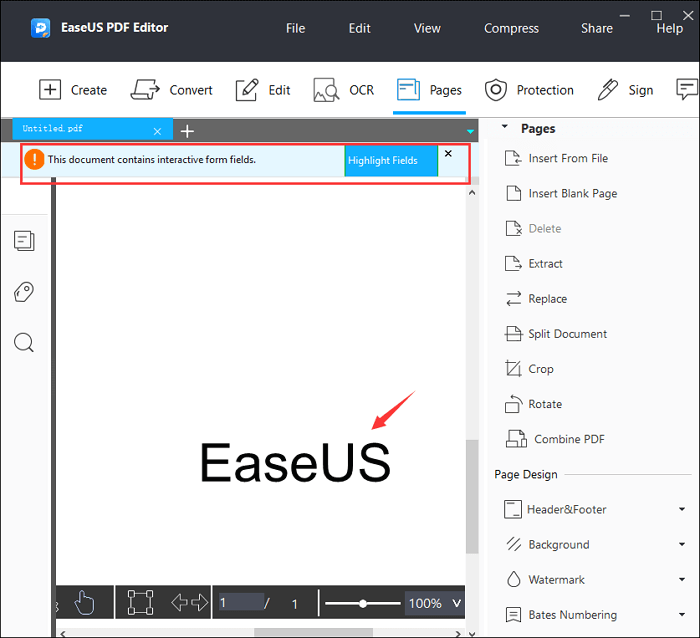 How to Create a Signable PDF with Adobe Acrobat
Adobe Acrobat is a popular PDF editing toolkit that allows you to create signable PDF documents without stress. This software offers you many powerful and advanced functions. You should pay attention to one thing: Adobe Acrobat has many versions that provide you with different tools, and it's important to use the specialized method to create signable PDF. 
For example, if you are using Adobe Acrobat Pro DC, you can add the digital signature to PDF with the "Digital Signature" or "Prepare Form" options in its tool list, and you can click on the "Form" option to insert a signature field when you are using Adobe Acrobat Pro.
Besides that, it allows you to perform editing, conversion, merging, and compression of PDFs. All those functions are beneficial when you want to make the PDF more suitable for your needs. 
Stepwise Guide to Create Signable PDF Files Using Adobe Acrobat:
This tutorial will take Adobe Acrobat Pro as an example to show you how to do that.
Step 1. Launch the software and open the PDF you want to edit. 
Step 2. Click on the "Form" button and select "Create". To add the signature to this PDF, you need to select "Existing" when a pop-up window appears. 
Step 3. Choose "Continue" to keep the operations going on. Next, you need to select "Add New Field" > "Digital Signature".
Step 4. Set the field name and adjust other settings. Then, you can save your PDF as a signable file.
Conclusion
Creating a signable PDF document was difficult, but now you have those tutorials that will walk through it easily. All you need to do is select a PDF editor in the article and then follow the stepwise guide given underneath.
Our top recommendation from the list is the EaseUS PDF Editor. It's the best software for most PDF editing services you might need, including creating signable PDF files and many others.
About the Author

Jane is an experienced editor for EaseUS focused on tech blog writing. Familiar with all kinds of video/PDF editing and screen recording software on the market, she specializes in composing posts about recording and editing videos. All the topics she chooses are aimed at providing more instructive information to users.