Never Miss: 7 Best E-book Reader Apps in 2022
In the past, people used to go to libraries to read and borrow their favorite books. But in today's technologically advanced world, there is no need to visit a library or a friend to borrow a book when you can download an eBook reader app on your smartphone, which is pretty convenient than carrying books. It lets you easily flip between different books and novels in a single click.
While eBook apps are quite convenient, finding the right one is still a hustle. However, this article will help you find the best eBook Reader App because we've reviewed seven of the finest eBook readers in 2022. Let's get into the details!
Top 7 E-book Reader Apps
Want to know about the best eBook app in 2022? You'll find it in this section! eBook apps have recently gained popularity because most people don't want to carry books from one place to another. To help you save time in finding the right one, we've listed the best eBook readers in 2022 down below:
1. EaseUS PDF Editor
The first one on our list is EaseUS PDF Editor. You can easily manipulate and modify PDFs with the help of EaseUS PDF Editor, a robust PDF editing software. In addition to PDFs and Office documents, several other file types may be used to produce and modify a PDF. If you want to add watermark to PDF, you can use the EaseUS PDF Editor to do it, and you'll have full control over the watermark's placement, size, transparency, and rotation. The watermark may be easily removed if you don't want it on your PDF.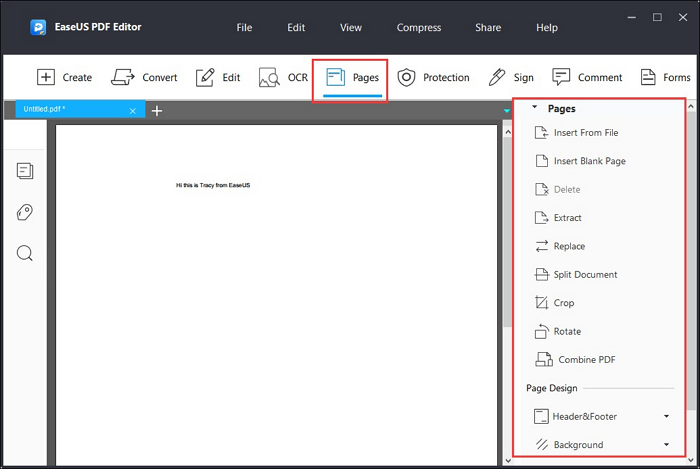 Key features:
The Add Image function lets you digitally add signature to PDF
It can swiftly reduce the size of PDFs without sacrificing quality
It allows you to merge multiple PDF into a single document that can be easily edited, shared, and searched
It enables you to assign unique bates numbers to a set of PDFs for quick and simple reference later
You can view PDFs with various customization tools, including rotating and zooming text and images
Pros:
Multiple Customization tools
Online collaboration
PDF customization
Cons:
Editing PDFs can be tricky
Here are the steps to use the software:
Step 1. Go to the official webpage to download EaseUS PDF Editor and install it on your Windows PC.
Step 2. Launch the PDF editing program by double-tap its icon. Tap the "File" button on the top toolbar, and select "Open".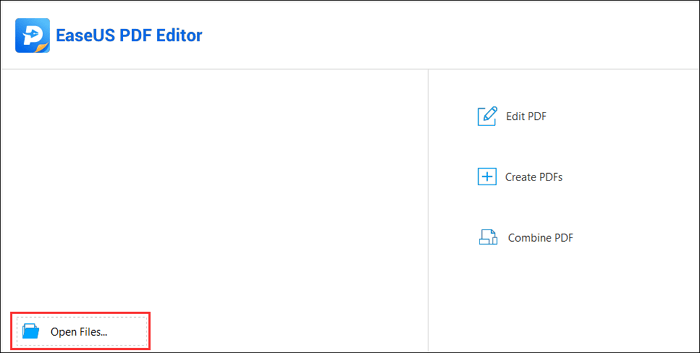 Step 3. Then, you can choose the files on your PC and click one of them to open it.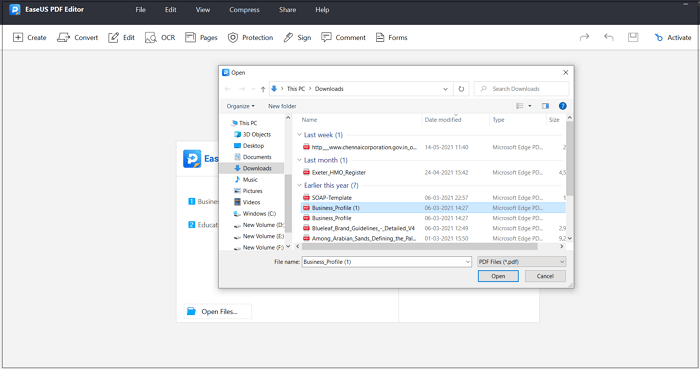 2. Amazon Kindle
Amazon Kindle, an eBook reader, developed by Amazon, is widely considered to be the finest free eBook app. eBooks of all types, from textbooks to comedies, are included in this app. Don't worry if you don't know the meaning of a word; its built-in dictionary is there to assist you. Furthermore, you can search for books, read them, purchase newspapers, etc., from inside the Amazon Kindle app.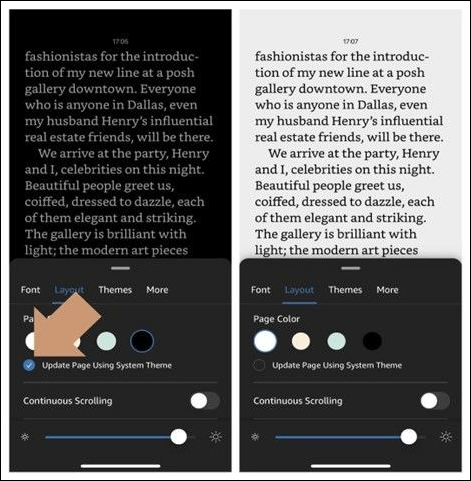 Key features:
It allows you to sync your books across many devices
There are journals and newspapers for old-age people to read
You can access eBooks in your area's libraries and send them straight to your Kindle app
It has more than a million eBooks, including bestsellers and free classics, available for preview
Pros:
More than a million books
Free to use
Dictionary feature
Cons: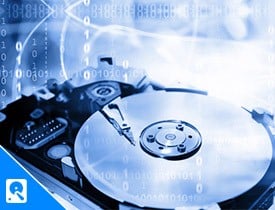 3. Calibre E-book Reader
Calibre is a cross-platform (Windows, Mac, and Linux) free and open-source eBook reader. Also, it is one of the greatest PDF to Kindle converters. Those using Windows may also use a portable version that can be accessed on any computer by inserting a removable disc. Its user interface was thoughtfully designed to make organizing your eBook collection a breeze. It is one of the few eBook reader applications that can read the AWZ format, among many others, and it supports various formats.
Key features:
It simplifies moving books between your desktop computer and any e-Readers you may have
You can convert PDF to Text, Word, PPT, etc.
All of the books in your Calibre library are searchable in full text
The Read-Aloud function uses the computer's built-in text-to-speech engine to play books for you
Pros:
AWZ format support
Portable version for Windows
Easy PDF editing
Cons:
No support for DRM-protected books
4. OverDrive
OverDrive, the reputable place to get free eBooks, is the best app to borrow books from the public library. It has a wider variety of titles than premium eBook subscriptions like Oyster and Scribd. Unlike Amazon Prime for Kindle subscribers, it doesn't restrict you to just one loan every month. On the downside, it lacks features offered by competing eBook reader applications.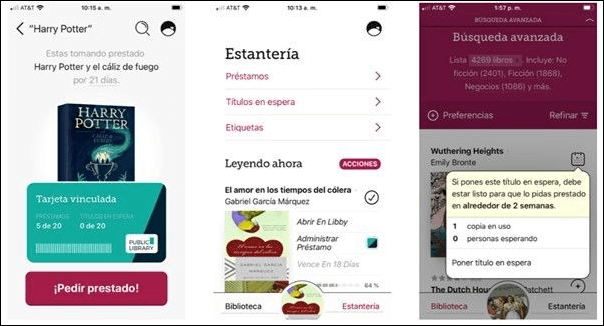 Key features:
It allows students to borrow books from public and school libraries
You can borrow things like audiobooks and online movies
You may look for a library in a certain area by entering a street address, city name, or ZIP code
OverDrive will notify you through email when the requested book becomes available
Pros:
Access to libraries
No loan restrictions
Cons:
Doesn't support PDF editing
5. Wattpad
If you're not tech-savvy, Wattpad could be your best eBook reader app. The finest part of this tool is the UI, which combines a good e-Reader with the social browsing features of Instagram. This eBook reader prioritizes simplicity, allowing users to explore literature via a built-in browser or scanning book codes.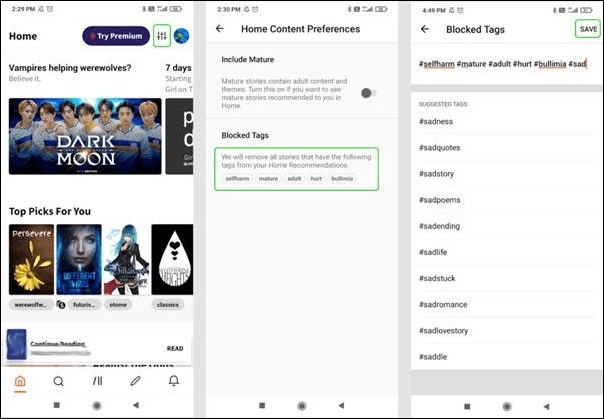 Key features:
Anyone can upload their tales, read those of others, and comment on them
It lets you alter the text and background colors to suit your tastes
It's a great way for writers to meet other people in their field and gain an audience
It allows you to find stories to read or add your own easily
Pros:
Vast book collection
Easy to use
Book codes scanning
Cons:
Cannot restrict people from commenting
6. Scribd
Scribd, which offers one of the biggest collections of books and audiobooks, is competitive with industry giants like Amazon regarding book quality. Books, periodicals, articles, papers, and more are all available on Scribd. It also collaborates with well-known publishing companies.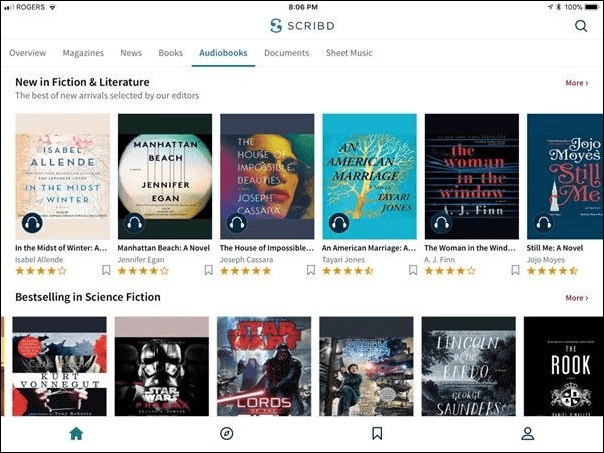 Key features:
In addition to books, you can also get music sheets and academic papers
Get instantaneous access to the biggest collection of documents ever assembled with this handy app
You may pick up from where you left off on a different gadget
You will get an uninterrupted and ad-free experience using this app
Pros:
Provides good recommendations
Synchronization with other devices
Cons:
Complicated to add highlights
7. Kobo Books
Kobo Books is another well-liked and highly-regarded e-reader app with a growing collection of books. Once you realize that you can read over 6 million books on your device with Kobo, you'll understand why it's the finest eBook reader in many people's eyes.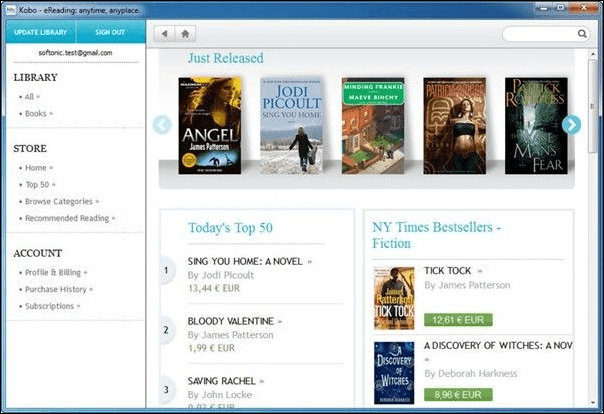 Key features:
It lets you play books while you work using this app
It allows you to customize your reading according to your needs
You can refine your search by rating, price, bestseller status, title, and more
You can avoid unnecessary touches by locking the screen
Pros:
Over 6 million books
Lets you play the books
Customized searching
Cons:
Bottom Line
Reading a book may seem dull initially, but once you experience its benefits, you won't want to return. However, since carrying books all the time is quite a hustle, the introduction of eBook readers has spared book lovers from it. We hope that you've found the Best eBook Reader App after reading this article. Moreover, if you wish to customize your books while reading, we recommend using EaseUS PDF Editor.
Best E-book Reader Apps FAQs
1. Is an E-reader Worth It?
Yes, E-reader is a good investment for people who like to read quite often. With an E-reader, you can find all the books in one place. Also, some books are only available in eBook format, which makes E-readers a good investment.
2. Why Use an E-reader Instead of a Tablet?
Reading on an E-reader is much more pleasurable and convenient than on a Tablet. There will be less strain on your eyes, and you'll be able to devote more time to reading.
3. Which App Is Best for EPUB Reader?
Calibre E-book Reader is the best app to use for an EPUB reader. It is an open-source tool that allows you to edit and convert your EPUB files to PDF.
About the Author

I'm glad you can find my post. I hope my article can help you a lot. If you have any questions, please feel free to contact me!