How to Fill Out a PDF Form that is Not Fillable
There are many forms available in PDF form that do not offer any textbox or form filling through the PDF reader, i.e., not fillable from the computer. Since the computers now allow you to type on anything, these forms can also be filled in using the right software. This makes it as good as taking a print-out, filling it manually, and then taking a scan of it.
This post will look at various software and solutions that will help you add text to these non-fillable forms.
Related Article: >> How to Draw Signature in Word
How to Add Text to Non-interactive Form on Windows
EaseUS PDF Editor is an inexpensive option that gives you more than just editing capabilities. It allows you to fill PDF forms, checkboxes, radio buttons, text fields, etc., with the data you specify. Even if the form is not fillable, this software will allow you to add text to PDF directly, and you can adjust the font size and color of the text you add. If you want to emphasize the contents you fill in the form, it's convenient to make the words bold or add an underline to them. 
This handy program lets you create PDF files out of any file, edit existing PDFs, and add watermark to PDF. Whether you want to change the page size or protect a PDF with a password, this handy tool has the tools you need. As a bonus, you can also merge PDFs and split PDFs in the tool.
Main Features:
Edit the text, form, and images in PDF
Make scanned PDF editable using OCR
Bates numbering function added
Extract image from PDF with ease
There is a tutorial on filling out a form that is not fillable. No registration is needed. 
Steps to Fill a Non-interactive PDF Form:
Step 1. Right-click on the PDF file and open it with EaseUS PDF Editor. Click on the "Edit" option on the top menu. It will reveal the sidebar to add text, image, or edit existing text and image.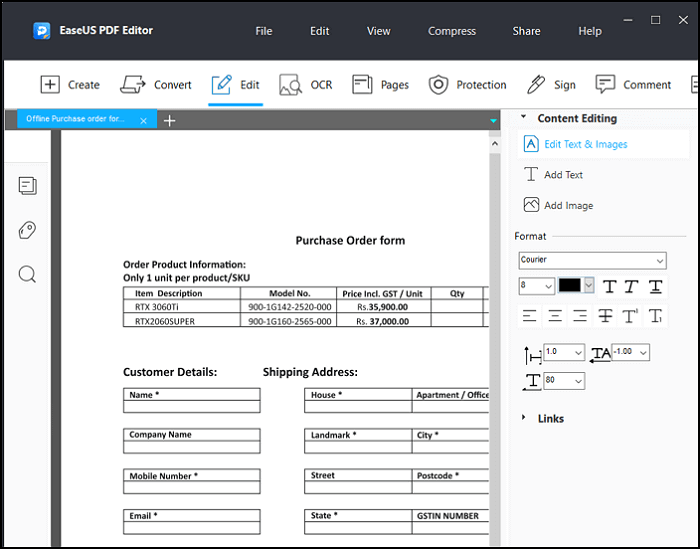 Step 2. Click on the "Add Text" option and select the area you need to fill or type the data. It will instantly create a text box where you can type in words and change the font style. If you need to move the text box to another place, hover the mouse until you see the drag icon, and then move it.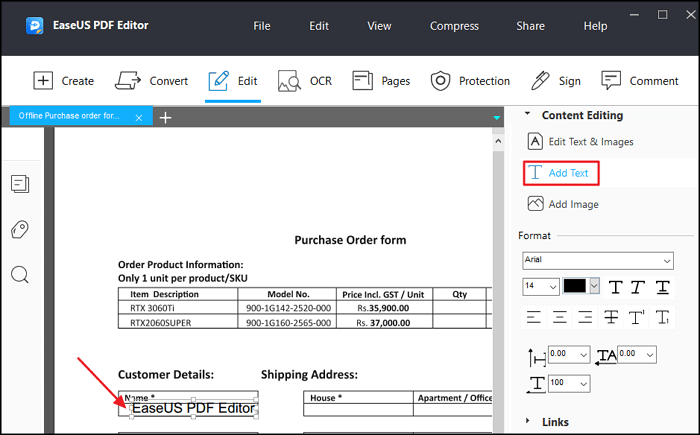 Step 3. Once you are done, you can either save the same file or save it as a new file. If you need to make a change, you can always reopen the PDF file in the editor and make the changes.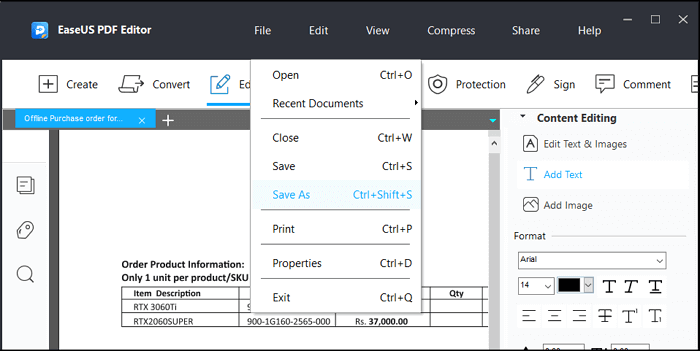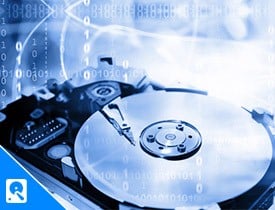 How to Fill out a PDF Form that is Not Fillable on Mac
Using the Preview app in macOS and iOS, you can view documents and images on full screen. You can make annotations, fill forms, merge multiple PDFs, export images into PDFs, and input text into PDF files using built-in features. 
It is easy to use, with its menu options and tools placed right at the users' fingertips. Users also can easily navigate between tools and options, making it easy to manipulate different images and PDFs. You can even create your own PDFs and customize them by adding information.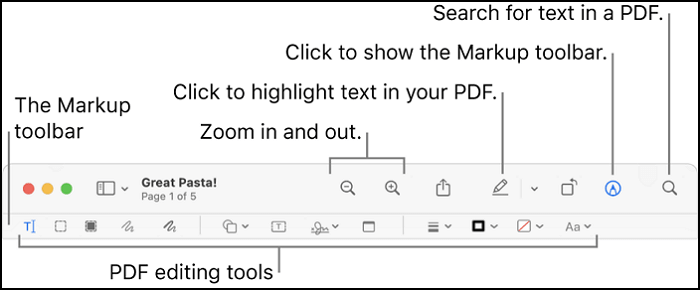 Features:
Change font and background
Add annotations to the PDF
Change font and color
Highlight words in the PDF file
Here is a list of steps to fill a non-interactive PDF form:
Step 1. Right-click on the PDF file and choose to open it with the Preview App. Next, click on the "Markup Toolbar" button ("A" with a circle around it) to reveal the text tool.
Step 2. Select the part of the PDF file where you want to add text.
Step 3. Once done, it will display the blinking cursor. You can type, change font, color, and so on. You can always change it, but it cannot be re-edited once you save the file. You can also change the position of the text box before saving the file.
How to Fill Out a Non-fillable PDF Form Online
PDFEscape is an online tool that allows you to create a new PDF file and edit an existing PDF file. It means that it is capable of filling fillable and non-fillable PDF forms using the built-in editor. The best part of using the tool is to create a PDF file from scratch without the need for an editor on the computer.
You can also add text, images, links, form field, freehand drawings, and white out of the PDF file.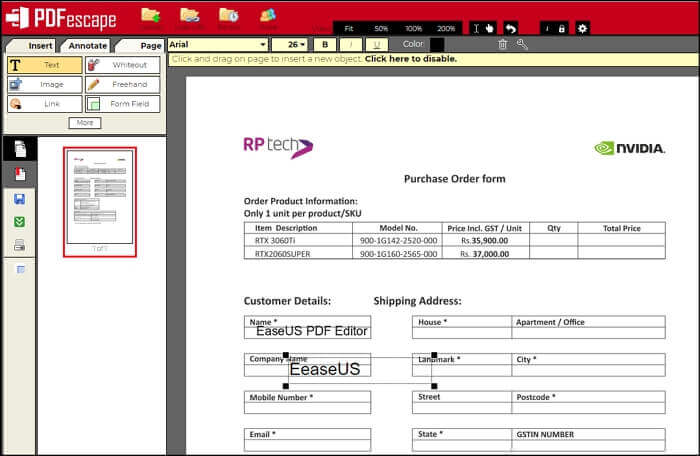 Features:
Fill the forms in PDF easily
Add annotations to PDF
Add a password to protect the PDF
Share PDF documents online
How to fill out a PDF form that is not fillable online:
Step 1. Open PDFEscape in your browser, and then choose to upload the file. Once the upload is complete, a full-blown editor will appear on the browser.
Step 2. Click on the "Text" button on the left-hand toolbar and select the place you want to add the text. Type whatever is required, and then match the font with the PDF. Once done, click on the next area and repeat until you are done.
Step 3. Finally, click on the save icon on the left toolbar. You can also click on "Save and Download" to download the PDF file instantly. You can always click on the filled text and change the text if needed.
Conclusion
While fillable form is easy to edit because most PDF readers offer this feature, you can type and then save the PDF and print it. However, when it comes to filling a non-fillable PDF file, you need a reader with a basic editing tool that allows you to add text, set size, and adjust font type. Using tools such as EaseUS PDF Editor, you can add text anywhere in the PDF file and save it. Click this button below to download the software for free now. 
FAQs About Fill Out a PDF Form that is Not Fillable
1. How do you convert a PDF to a fillable form?
It's easy to convert a PDF into a fillable form. If you use Adobe, just click Tools > Prepare Form to import your PDF file and adjust the layout. Once done, click Save to export the fillable form. If you want to know more solutions, go to convert PDF to fillable form.
2. Why can't I fill out a PDF form?
Maybe the creators forget to convert their PDFs to interactive forms, or they intentionally design a form you can only fill in by hand.
3. How do I fill in a PDF form without Adobe?
There are many PDF form fillers apart from Adobe. You can use EaseUS PDF Editor, Nitro PDF, Foxit PDF, etc., to fill in PDF forms.
About the Author

Crystal Chen is very interested in technology products. Experiencing many technological applications like video editors, screen recorders, and PDF editors, She is willing to solve users' issues through writing tech-related articles. Through her words, you can find various solutions to solve one problem.