Free | How to Create a PDF File on Windows and Mac
In any career field, PDF has become a valuable, reliable, and essential document format for sharing and creating digital files. It can be viewed in an identical fashion regardless of whether on Windows, Mac, Android, or other devices. So if you want to send or share something with your colleague or leader, the best document format is PDF. But you may wonder how to create a PDF file?
That's what we will talk about in this post. Actually, it is effortless only if you have the best free PDF creator. Here we will provide five ways to assist you in creating PDF files on both Windows and Mac computers.
Part 1. How to Create a PDF on Windows
For Windows users, no matter you want to create a blank PDF file or make PDFs from certain images or documents, you can get the job done with a powerful PDF editing software – EaseUS PDF Editor.
It is an all-in-one Windows PDF editor and converter, which can satisfy almost all your editing needs. This PDF maker allows you to edit, annotate, merge, create, compress, and even split PDF files with a few simple steps. What's more, you also can use it to convert your files into PDF or vice versa in seconds without losing quality and formats.
Stunning features:
Allow you to create and convert PDF file to 10+ file formats or vice versa
Enable you to add or remove watermark from PDF quickly
Provide multiple editing tools like merging, trimming, drawing, etc.
Support more than 15 OCR language
Next, we will show you two easy and reliable ways to create PDF files with EaseUS PDF maker, but first, download it now.
1. Create a Blank PDF File
Step 1. Open the free PDF maker and click "Create" at the top toolbar, then click on "Blank Document…".

Step 2. Adjust the PDF page settings according to your needs, like page size, width, height, etc. Once done, click on the "OK" option.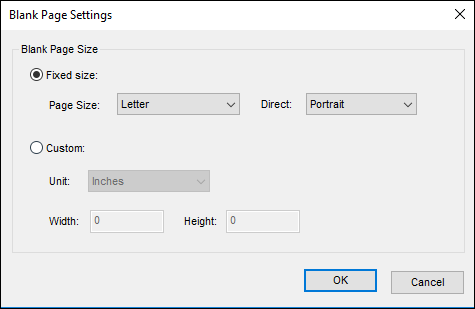 Step 3. Type what you want in the blank PDF document. When you are happy with the file, you can click "File" > "Save" to reserve your PDF file.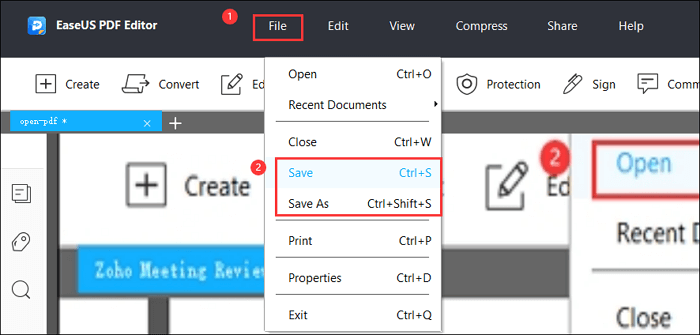 2. Create PDF Document with Images or Documents
Another way to make a PDF is to convert your existing documents, including images and files. Here you can learn how to make a PDF from images and documents in three simple steps.
Step 1. Open this PDF creator, and click "Create" > "From File…". Select the file that you want to turn into a PDF document. Here you can import Microsoft Word, Excel, and images.

Step 2. Select the file and click on the "Open" option, then the conversion begins immediately. Once done, you can click "File" > "Save" to store your PDF document on your computer.
Part 2. How to Create PDF Files on Mac
If you are working on a Mac computer, you still have plentiful methods to make a PDF document. Similarly, we will introduce you two different ways to complete the task.
1. Make a Blank PDF on Mac with Adobe
Adobe Acrobat is one of the best PDF creators all over the world. Built with lots of editing options, it makes it extremely easy to create and edit PDF files. Now have a look at how to make a blank PDF with Adobe on Mac:
Step 1. Download and launch Adobe Acrobat, then click "File" > "Create" > "Blank Page".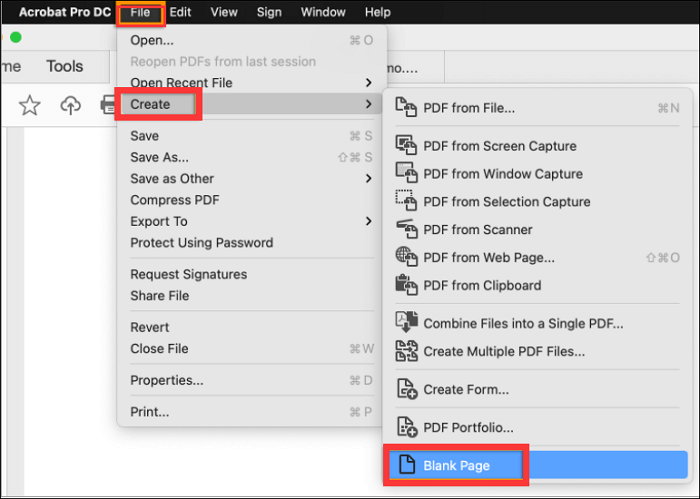 Step 2. Once done, you can edit your PDF document as your liking. When you finish the editing, you can quickly and easily export and save the PDF file on your Mac computer.
 Tip

Adobe Acrobat can also be used on Windows computers. If you work on a Windows PC and want to make a blank PDF page, you can still check the above tutorials.
2. Create a PDF File from Existing Documents
If you need to create PDF files with some images or documents, you can do the task with the Print menu. It is another trick to help create PDF from your existing files. And you can do it from any app that can print the document. Now let's take a look at how to make a PDF using a Print menu.
Step 1. Open a file that you want to make a PDF from.
Step 2. Click the "File" button on the top menu and choose the "Print" button. Or you can simply press Control + P to do it.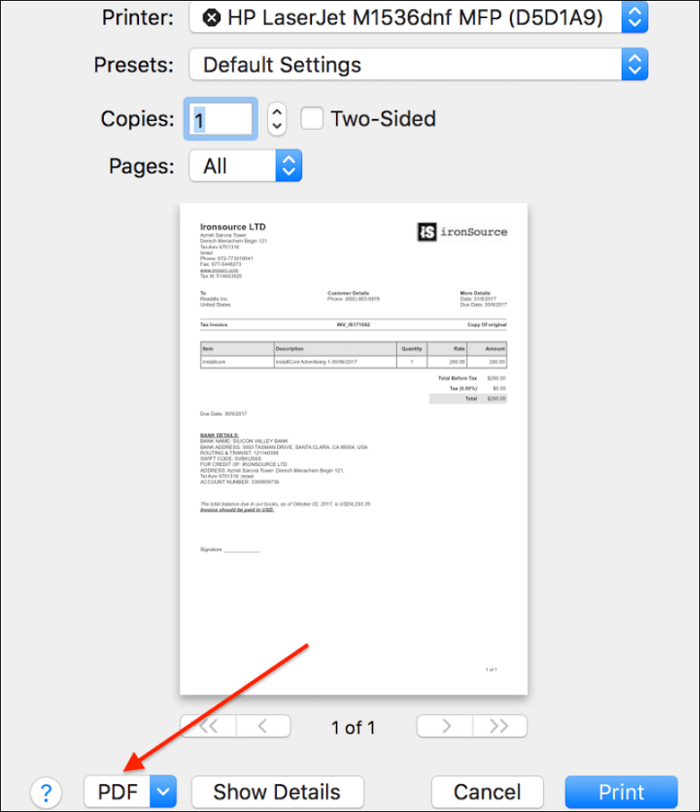 Step 3. Click on PDF at the bottom -left of the Print menu and select Save as PDF. Once done, set a name for your PDF file.
 Tip

Preview is another effective way for you to convert files into PDF. You can check more information from this website: https://support.apple.com/guide/mac-help/save-a-document-as-a-pdf-on-mac-mchlp1531/mac
Part 3. How to Make PDF Document Online
Apart from the offline PDF creators, there are many online PDF makers available on the market. For those who don't like to download any software, the online tool is a nice choice. In this part, we will show you two effective solutions to make PDFs online for free.
1. Create a Blank PDF Online with PDF2Go
PDF2Go is a versatile free PDF maker, which allows you to create and edit your PDF files fast and easily. Using this software, you can make a PDF document from images, ppt, or other files.
In addition to that, it also provides lots of editing options to modify your PDFs. You can rotate a PDF, split files, or even protect your PDF documents with a password in PDF2Go.
Step 1. Go to the official website, and click on "Start" to begin your creation.

Step 2. Choose a page size from the dropdown menu or specify a custom size. Next, edit the PDF with the provided editing tools. Here you can write, add shapes and lines.
Step 3. Click on "Save as" to download the PDF file to your computer
2. Convert Documents to PDF Online with Smallpdf
Smallpdf is one of the most popular online PDF makers. You don't need to register or install software, and it can work perfectly on all devices and popular browsers, including IE, Firefox, etc. You can use it to convert or create PDFs from all common files. Most importantly, only with an internet connection can you access the free PDF file creator anywhere, anytime.
Step 1. Choose a file and upload it to Smallpdf Creator.

Step 2. The tool will instantly upload and transform the file into a PDF. Then you can edit or modify the output file, if necessary.
Step 3. Once done, download the PDF to your device.
Final Words
On this page, we offered you detailed tutorials to create a PDF on different operating systems. Whether you want to make a blank PDF or create PDFs with images or other files, you can find your desired method here.
Above the PDF creator, we highly recommend EaseUS PDF Editor. It helps you make PDF files with or without documents easily. Moreover, the Windows PDF maker provides many other options for you to edit your PDF files. Download and try it now.
About the Author

Jane is an experienced editor for EaseUS focused on tech blog writing. Familiar with all kinds of video/PDF editing and screen recording software on the market, she specializes in composing posts about recording and editing videos. All the topics she chooses are aimed at providing more instructive information to users.