3 Ways | How to Remove Hyperlink in PDF Easily in 2022
Do you have encountered the situation like adding a wrong hyperlink while editing or the hyperlinks are not working while clicking on it?
If you are suffering from these problems, you need to try your best to find a solution to remove hyperlinks in PDF on the internet. However, there are lots of solutions that may confuse you. Given that, this post comes in handy. This page shares with you 3 effective methods to help remove hyperlink in PDF file. Let's dive right into it!
| Workable Solutions | Step-by-step Troubleshooting |
| --- | --- |
| 1. EaseUS PDF Editor | This software can remove or even add hyperlinks to PDFs. You just need to click "Edit" > "Links" > "Insert Rectangle Link"...Full steps |
| 2. Adobe Acrobat | As a functional and powerful PDF editing software, Adobe offers the ability to remove the hyperlinks in PDF...Full steps |
| 3. Sejda [Online] | Without installation, try Sejda to clear the hyperlinks...Full steps |
Part 1. Remove Hyperlink from PDF on Windows via EaseUS PDF Editor
To add a hyperlink to PDF or remove it, you can always count on an excellent Windows PDF editor – EaseUS PDF Editor.
This program is one of the best Adobe Acrobat alternative software, but it is cheaper than Adobe. So if you have a low budget, this PDF editing program is your best choice.
With its help, you can edit the hyperlinks in PDF, and fix hyperlink not working in PDF freely. Moreover, it can add text, comments, pictures, and shapes to enrich PDFs with simple clicks. Also, using it, you can manage PDF pages, such as merge, crop, split, rotate a PDF, etc. Also, if your PDF contains important data or information, you can password-protect PDFs for unauthorized viewing and copying.
Stunning Features:
Congratulations that you catch this free chance to download it for free. Start removing hyperlinks now! 
Step by step tutorial to remove hyperlink in PDF on Windows:
Step 1. Launch this PDF editing program, and click on the "Open Files" button to import your PDF document that contains hyperlinks.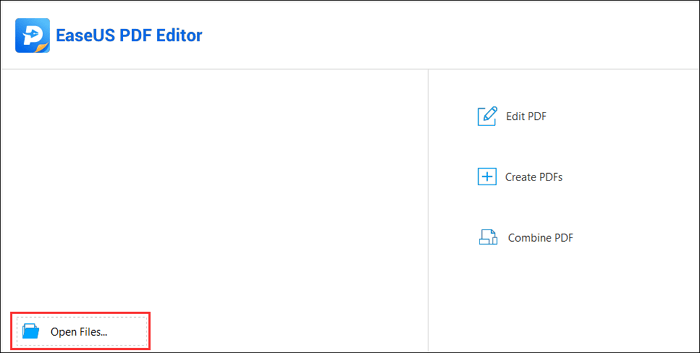 Step 2. In the top toolbar, click "Edit", then select on "Links" > "Insert Rectangle Link" button in the right sidebar.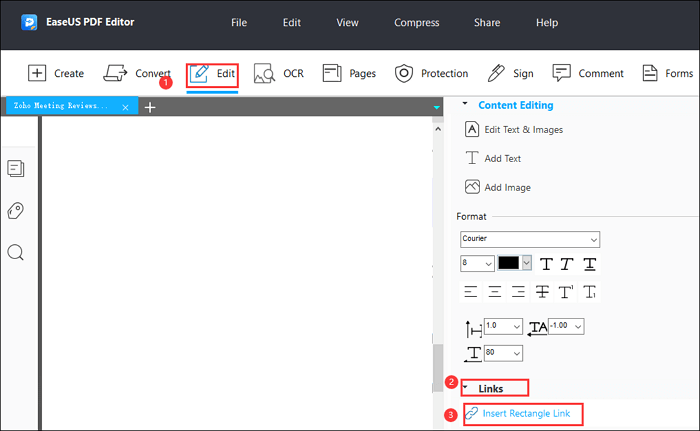 Step 3. Find the text attached with a hyperlink in your PDF file and left-click on it. Next, hit "Delete" on your keyboard to remove the link. At the same time, you can apply other editing functions as well.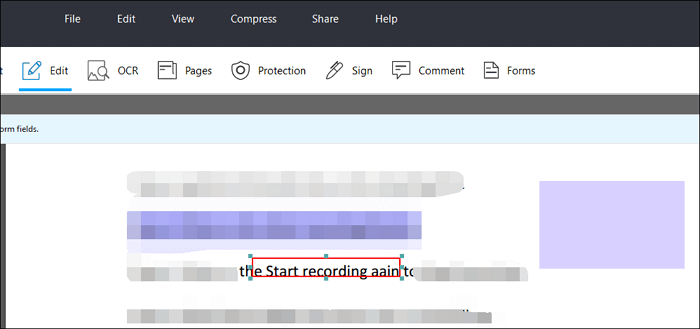 Step 4. If you need to remove more than 1 link, just repeat step 4. When you finish with editing, click "File" > "Save" to save it on your Windows computer.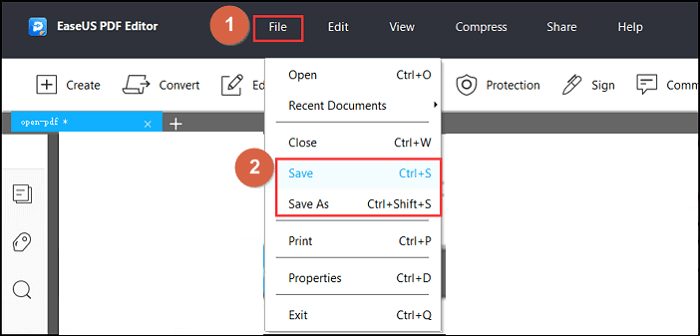 Part 2. Remove Hyperlink in PDF on Mac using Adobe Acrobat
Adobe Acrobat always comes into your mind first when it comes to editing PDF, like inserting or removing hyperlinks. As one of the most popular PDF editing programs, this software can satisfy all your needs, including adding items, converting formats, managing files, and many more. And removing hyperlinks is just a piece of cake for it.
Features:
Add, create, remove, and view links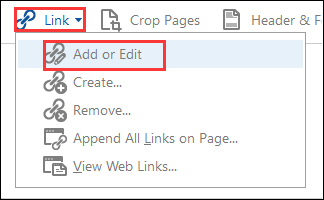 Check the following guide to know how to remove hyperlink in PDF via Adobe:
Step 1. Download and install Adobe Acrobat, then open your PDF file with it. Click "Tools" > "Edit" option in the top toolbar. After that, choose on "Link" > "Add or Edit" option in the new window.
Step 2. Choose the linked text and right-click on it, then click "Edit" > "Delete" in turn.
Step 3. At last, click "File" > "Save" to save the edited PDF document on your computer.
Part 3. Delete Hyperlink from PDF Online with Sejda
If you are someone who does not like to download and install any software, the online PDF editor is your best choice. And there are lots of online tools you can use, here we take Sejda as an example.
Sejda is a completely free online tool that lets you modify your PDF files flexibly. Speaking of hyperlinks, this program makes it easy to add or delete links to your file with 4 easy steps. What's more, it enables you to add text, form, annotations, shapes to your PDFs. Or you can use it to sign and white out your PDF document if needed.
Features:
Edit PDF file without installation
Able to add or delete links to the PDF file
Look at how to remove links from PDF online for free:
Step 1. Go to Sejda's official website. Click "Upload PDF File" to import the PDF that you want to remove the link from.

Step 2. After uploading, you need to choose the "Links" option in the top toolbar.
Step 3. Navigate your PDF document and find the hyperlinks that you want to delete. Next, left-click on it, and you will see the "Link properties" window.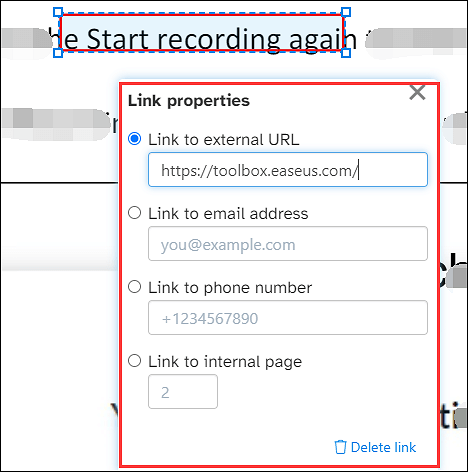 Step 4. Click on "Delete link" at the bottom right, and then the hyperlink on your PDF will be removed. Once done, click "Apply changes" > "Download" to save it on your computer.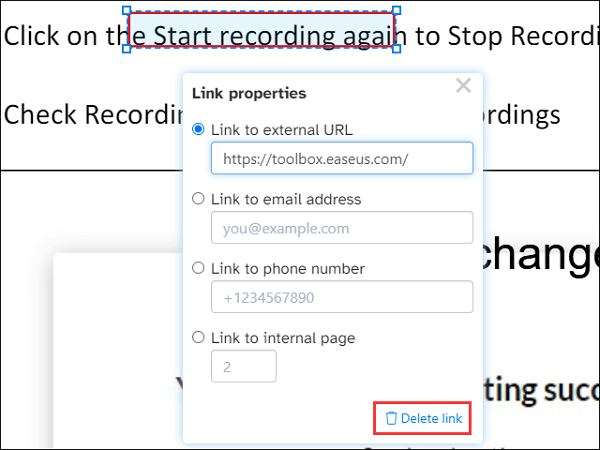 Editor's Final Words
In this post, 3 different methods to remove hyperlink in PDF are shown. If you have the budget to pay, Adobe Acrobat is a nice option. If you don't, try an online tool, but your file may have a risk. For those who have a low budget and want to achieve the same result, EaseUS PDF Editor is the right tool. It can meet all your editing needs without losing quality in PDFs.
About the Author

Crystal Chen is very interested in technology products. Experiencing many technological applications like video editors, screen recorders, and PDF editors, She is willing to solve users' issues through writing tech-related articles. Through her words, you can find various solutions to solve one problem.