How to Unlock PDF Without Password [Online and Offline]
PAGE CONTENT:
You can unlock PDF files for free with a PDF unlocker. All you need is just a little guidance to open the locked PDFs. Now that we have gotten you up to speed, you can unlock PDF files online and offline.
We have shared six practical methods to unlock PDFs without a password below:
Method 1. EaseUS PDF Converter
EaseUS PDF Converter is easy & fast, 100% safe, and suitable for anyone PDF software application that can unlock PDF files. EaseUS PDF Converter provides an extensive selection of PDF-accurate conversions.
If you want to unlock PDFs without passwords for rewriting, reviewing, or updating, EaseUS PDF Converter should be your pick to unlock PDFs without a password.
Just click here and you will have a great tool!
Features:
You can convert Docx to PDF
You can merge, split, and unlock PDFs
You can convert PDF into a Microsoft PowerPoint presentation
You can Convert PDF documents to Excel formats as well as text
You can convert PDF to PNG, JPG, BMP, or GIF
Here are the steps to unlock PDF with EaseUS PDF Converter:
Step 1. Launch EaseUS PDF Converter, go to "Unlock PDF" and import files by clicking "Open Files". You can also drag and drop the files into the program.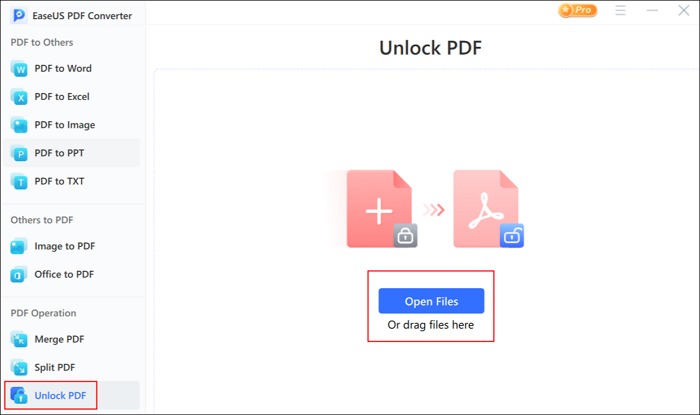 Step 2. When the file is imported, choose a save path for the file and click "Unlock" to continue.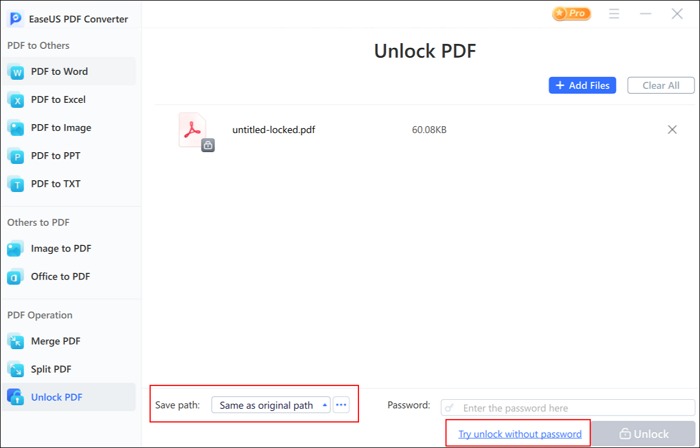 Step 3. Wait for a while, and you can view the unlocked PDF file. Or, you can see where it is saved on your computer by clicking the "File" button.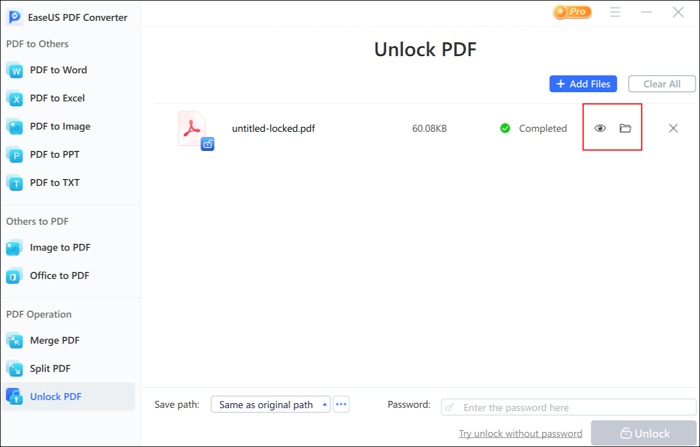 Method 2. Cisdem PDF Password Remover
Cisdem is a great program that is compatible with both Windows and Mac. It can help you open the permission passwords of the PDF files or unlock PDFs without a password. Therefore, you can easily open, edit, and print PDFs without any limitations. The following items are some of its features.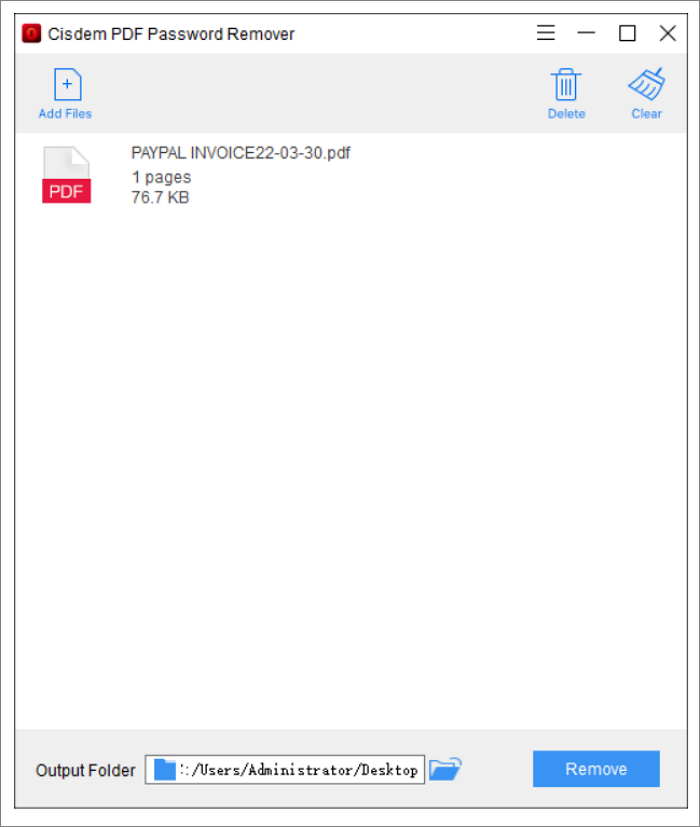 Features:
Convert PDF to Text, Word, PowerPoint, Pages, Keynote, HTML, or EPUB
Remove PDF editing restrictions and decrypt PDFs if forgot the password
Set user password to protect PDF files from unauthorized open
Batch converts PDF files into other formats at ultra-fast speed
Here are the steps to unlock PDF Mac without a password:
Step 1. Download and install Cisdem PDF Password Remover on Mac.
Step 2. Run the program, and choose the password-protected PDFs or you can drag and drop or click "Add Files".
Step 3. Select all locked PDFs and click "Remove" to unlock PDF without entering any password.
Step 4. Click on "Save".
Method 3. iSeePassword Dr.PDF
iSeePassword Dr.PDF is an excellent PDF tool to unlock PDFs without a password and remove PDF editing restrictions. Users can get certain permissions if they need to lock the printing, edit, and copy text from PDF. 
Moreover, whether you are a Windows user or a Mac user, it can help you remove your PDF permissions entirely, providing full access to the previously restricted PDF file.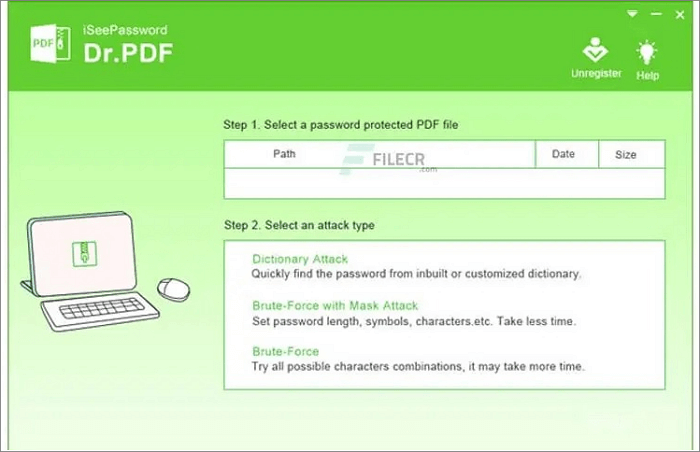 Features:
Instantly remove PDF restrictions
Recover PDF open passwords with configurable attacks like a brute-force attack
Works with PDF documents created in Adobe Acrobat
Support working on Windows 10, 8.1, 8, 7, Vista, XP
Stepwise guide to unlock PDF without password using iSeePassword Dr.PDF:
Step 1. Launch the program and choose an option on the home interface.
Step 2. Click "Add File" to import a locked PDF into the tool and select an attack type, such as Brute-Force with Mask Attack.
Step 3. Fill blank boxes and tick options in the pop-up dialogue box, then hit "OK".
Step 4. Change settings as needed and press the "Start" button to retrieve the password. After that, copy the recovered password in the new window to unlock your PDF.
Method 4. DocHub
DocHub is a powerful and all-in-one PDF Editor which can help you edit, convert, and sign PDFs. Surely, with DocHub, you can change file content with simple clicks.
If you forget the password to your PDF files and want to unlock the PDF without a password, DocHub is one of the best tools that you should never miss.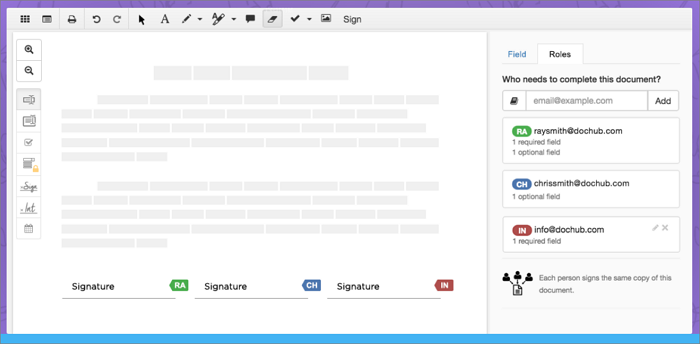 Features:
Support every file type including PDF, Doc, PPT, XLS, TXT, Docx, and PPTX
Every edit is automatically securely saved to the cloud in real-time
Support universal languages like English, Chinese, Hebrew, Russian, etc.
Allow you to remove password from PDF
The steps to unlock PDF without a password using DocHub:
Step 1. Sign up and log in to your account.
Step 2. Click on the "New Document" option above, then drag and drop the file to the upload area, import it from the cloud, or use a link.
Step 3. Make any changes needed: insert text and photos to unlock PDF without a password.
Step 4. Save the modified document on your device, export it to the cloud, print it right from the editor, or share it with all the people involved.
Method 5. iLovePDF
We'll use iLovePDF to unlock PDFs online in this method. You're free to go with any other tool – the process would remain pretty much the same, but ensure that it's safe and doesn't read your PDF file.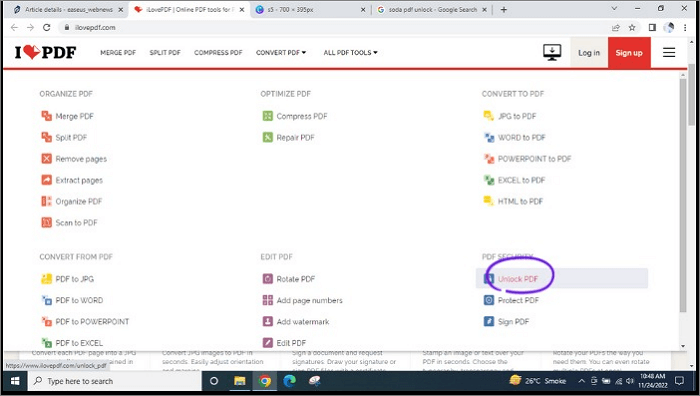 Features:
It has a user-friendly interface and easy-to-use ways.
It gives tools to users to edit and have a lot more fun with PDF documents online.
It is a web application that supports all Windows, Mac, and Linux to unlock PDF files.
The best thing about this is that the software is free to use.
Stepwise guide to unlock PDF without password using iLovePDF:
Step 1. Open the iLovePDF website and select the 'Unlock PDF' option from the "All PDF option" dropdown menu.
Step 2. Now, upload the PDF file you want to remove the password.
Step 3. Click the "Unlock PDF" button.
Step 4. Then, the password will be removed from the PDF file.
Conclusion
We have talked about six amazing PDF unlockers on this page; select any of the tools and then follow the stepwise guide to get the desired results. By trying the methods mentioned earlier, you can unlock PDFs without a password.
If you are a Windows user, we highly recommend EaseUS PDF Converter to unlock PDFs without a password quickly. It manages to update, review, and convert features and is worth trying!
FAQ on How to Unlock PDF Without Password 
Here are a few potential queries that'd be helpful for you:
1. How can I remove the master password?
Each invoice is locked behind a master password, generated as the users create new files. When the files are uninstalled, the master password is reset. So, you can find the master password by creating a new page in the pdf desk application called Master Key, where users can enter their desired master password.
The key is stored in a local database with the locked files. A user can unlock an individual file by using this master key as well as a master password.
2. How to unlock PDFs for printing?
Step 1. Open one of your PDF files and navigate to: pdf.adobe.com. Make sure your Adobe Reader version is up to date.
Step 2. You can open a PDF file in Adobe Reader and navigate to "My PDF Library - Printable Downloads". Choose "Print" and go from there.
Step 3. Once your File is printed, you can unlock it on "My PDF Library - Printable Downloads". Just select the PDF file and then scroll to "Unlock".
3. Can I edit a locked PDF?
Yes. There's one category you'll want to check to figure out whether you can edit the PDF, But only from an Adobe Reader-enabled PDF reader.
When you are locked out of the PDF, you cannot open it in a different application. That means you can't see or edit it using a separate application, and you can't reopen it using your PDF viewing or editing software.
About the Author

I'm glad you can find my post. I hope my article can help you a lot. If you have any questions, please feel free to contact me!