2022 | How to Add Margin to PDF on Windows/Mac/Online
The margin is an area between the main content and page edges. We always use right, left, top, or bottom margins to place our annotations and stamps. In that case, we need a suitable margin size in order to place something. PDF editors can help with that. Without changing any content structure, you can freely edit the PDF's margin or add margin to PDF through tools. You are probably wondering how to add or set custom margins in your PDF, and this post will guide you to add margins using effective PDF tools on Windows, Mac, and Online.
How to Add Margin to PDF on Windows
EaseUS PDF Editor is a Windows utility that helps you edit PDF pages efficiently. It allows you to add the margin easily, for instance, more space on the left, less space on the right, equal on the top and bottom. With a suitable margin size, you can freely add your notes to it. It is an awesome editing tool that makes your work much more efficient.
Not only adding margin, but this tool also supports more editing functions. Its editing functions also allow adding texts and images to PDFs. Due to its complete and effective functions, all the files edited by this tool still remain high quality as this Windows PDF editor keeps original information after the task is complete.
Main Features:
Extract images from PDF
Create hyperlinks with ease
Add watermark and sign in PDF
Before following the guide below, you need to click on the button below to download it for free.
Here is a list of steps on adding margin to PDF:
Step 1. Launch EaseUS PDF Editor on your PC. You can then import the PDF file you want to edit by clicking the "Open Files" button at the bottom left.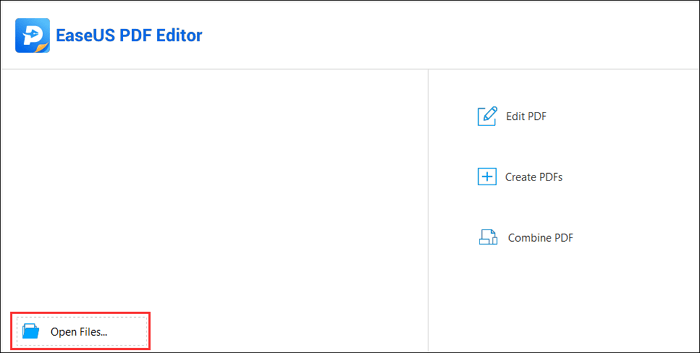 After opening your PDF, click "Pages" option.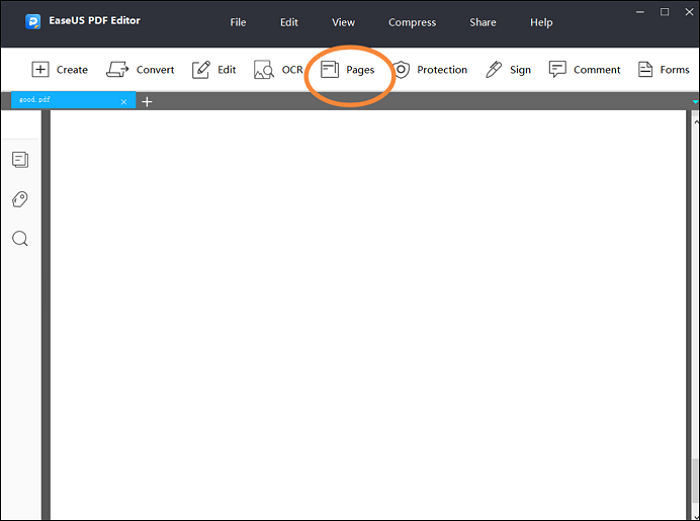 Step 2. Click "Page Design", and then select "Add" to set margin.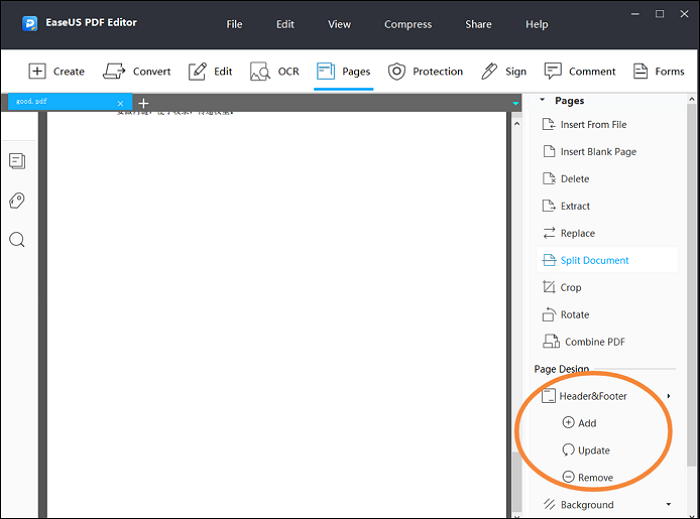 Step 3. Once you have clicked "Add" you will be given a dialog box that allows you to add and set the margin. After your settings, click "Ok" and your changes will be applied.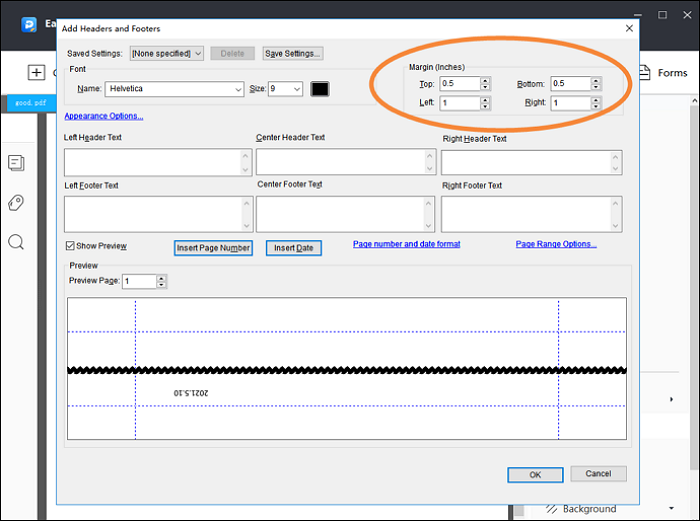 After three simple steps, you'll see your content to fit the new margin.
Do you want to know more settings on how to add footers and headers to a PDF? Check out the following article.

For everyone who wants to design text-based content, headers and footers must be created. You can use various options to add headers and footers to the PDF.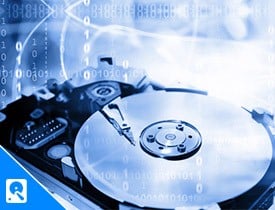 How to Add Margin to PDF on Mac
Preview is a program included in each version of macOS which allows users to edit and manage PDFs. It definitely provides you the function to add a margin on PDF pages. When you are working on a PDF document, you can set the top, bottom, left, and right margins. Adding a suitable margin makes the pages in PDFs more coordinated.
This macOS editor provides you with many other features and functions with a much better user experience as well. For example, you can use this editing tool to highlight texts or paragraphs in PDF with different colors. It proved to be an all-in-one tool that makes it quite easier for users to edit in PDFs. Simply open Preview to start performing these tasks.
To set margins for your document, look at the detail of the steps below.
Main Features:
Fill out and sign forms on your Mac
Insert a shape into your PDF document
Protect your confidential PDF
Rotate PDF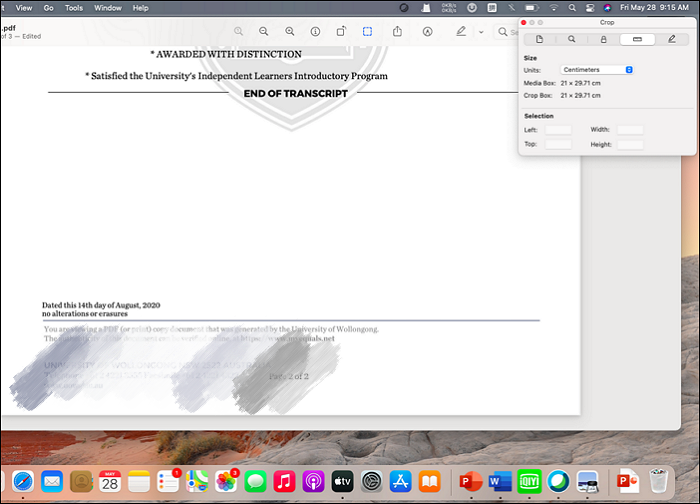 Steps to add margin:
Step 1. In the latest macOS 11.1 version, open a PDF file in Preview and click "View" to find "Customize Toolbar".
Step 2. On the top menu, select "Inspector" to find "Crop". Enter values in the fields to add bottom, top or side margin.
Step 3. Save the page with the updated margin on your computer.
How to Add Margin to PDF Online
Sejda is an online PDF editor that you can trust most. It is a web-based quick and online service that requires no installation. With this tool, you can freely add or set custom margins online. And you can even specify only a few pages that need the margin. No need to worry about your privacy, as this online editing tool promises to keep your files safe and protected.
Its features and functions are not limited to adding margin in PDFs, it also supports editing functions such as signing PDF online and so on. Below we guide you on how to add margins to PDF documents with this online tool.
Main Features:
Fill and sign PDF
Make PDF searchable
Change PDF page size
Delete unwanted pages from PDF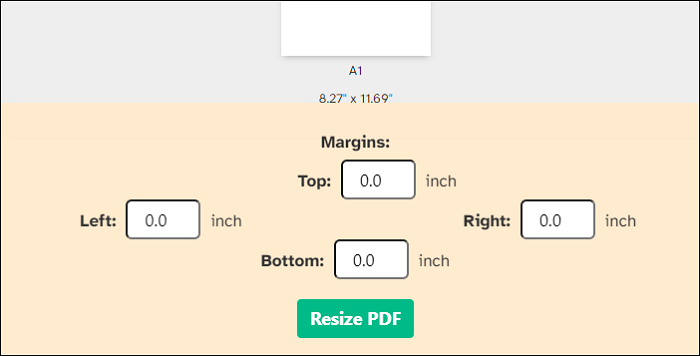 Steps to add margin:
Step 1. Go to "Resize PDF" on Sejda. Click "Upload" and select files from your local computer. Or you can just drag and drop a PDF file into the web page.
Step 2. Select the "Add margins and padding" option. Then type a value in the margin box, in inch.
Step 3. Once you have finished setting, click "Resize PDF" and then you can save it on your computer.
Conclusion
In order to put more notes or stamps on your page, it is necessary to add a suitable margin in your PDFs. Three helpful PDF editors are mentioned in this article and each of them has its own characteristics. You can choose one of them to edit your PDFs. Preview is suitable for those who use the macOS system, and Sejda online PDF is best for those who want to save time on editing. For Windows users who need easy-to-operate software, EaseUS PDF Editor is the most satisfying option.
About the Author

Crystal Chen is very interested in technology products. Experiencing many technological applications like video editors, screen recorders, and PDF editors, She is willing to solve users' issues through writing tech-related articles. Through her words, you can find various solutions to solve one problem.