How to Decrypt Encrypted PDF Files Easily and Quickly
PDF is a document commonly used by office environments, especially big corporations. The reason is that PDF is a permanent document whose content can't be removed easily, and even if it does, you will be able to see traces of editing on it. Moreover, you can also encrypt PDFs by using a password for extra security. Such a feature of PDF secures the file extension to be one of the most useful documents for important occasions.
Although users can decrypt PDF by opening it with the password, there can be unfortunate circumstances where we have to remove the password. When this happens, you can use the tricks below to decrypt the PDF and remove password from PDF.
How to Decrypt PDF Documents on Windows
If you want to decrypt your PDF, you can use several PDF editors. One of the PDF editors recommended in this article is EaseUS PDF Editor.
This program has an encryption function that allows you to lock your PDF using a password, which adds another layer of security to the said PDF. In addition, it also provides features to help you decrypt your PDF files with simple clicks.
Since the software is a PDF editor, it has plenty of features that can help you tweak your PDF. It has everything from the most superficial feature to the most complex ones. By using this software, you can rearrange PDF pages, including adding and removing new ones. You can also combine more than one PDF into one, creating a whole new PDF that has everything.
This PDF program has your back if you need to add new elements to the PDF. It allows you to easily add new text, images, and form elements. 
Now, let's check how to decrypt PDF documents on Windows:
Step 1. Download and install EaseUS PDF Editor on your computer.
Step 2. Open the software and hit "Open Files" to upload the PDF document you want to remove the password. To open the PDF successfully, you need to enter the password.

Step 3. Next, click the "Protection" option at the top toolbar and choose "Remove Security" from the right side of the interface. Then a window will pop up and click the "OK" option.

Step 4. Once done, you have removed the password from your PDF successfully, and you can export your PDF by clicking "File" > "Save".
How to Decrypt PDF Files on Mac
If you're a Mac user, don't worry because plenty of software offers the option to decrypt PDFs using their software. One of that software is PDF Password Recovery Software for Mac by Eltima.
At first glance, you might think this software has a complex feature just for unlocking the PDF. And it does, considering how it offers many methods to remove the PDF – password length, template, or exhaustive search (manual search and combining). You can also choose whether the search will include capital letters, numbers, special symbols, or unique self-made symbols. However, the different kinds of methods prove that the software does not play around when it comes to giving its best main feature to its users. 
Besides, although the features are complex, they are pretty-explanatory meaning that we can understand them when we read the explanation. Accessing the features is easy, too, as you can access them in less than a few seconds because the features are placed near each other.
Steps to decrypt PDF on Mac:
Step 1. Open the software and upload the locked PDF from your device.
Step 2. Choose your recovery method and tick the charset options applied to the PDF's password.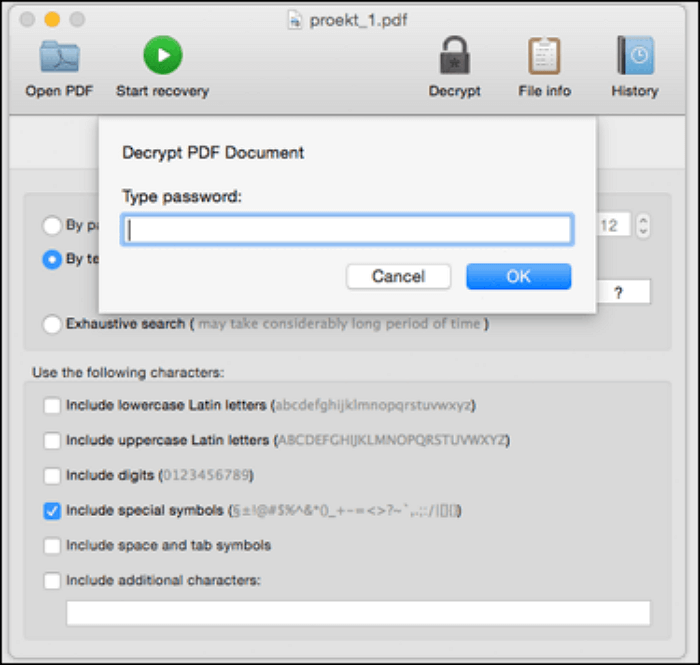 Step 3. Once the settings have been chosen, click "Decrypt" to start the process. 
Step 4. Type out the password and officially remove the encryption from the PDF!
How to Decrypt PDFs for Free Online
If you have no Mac or the device isn't yours, there's the online option to decrypt PDF easily. Many PDF unlockers are available online, but for this article, we recommend the Unlock PDF tool by pdf2go.
You will be welcomed by a plain-looking website decked in red and some advertisements everywhere when you visit the website. That doesn't mean it's bad, of course, since the simplicity allows users to focus on its main tool, which is the PDF Unlocker. Plus, the layout makes it easy for users to spot the features. The ads can appear annoying, but that's what it takes to keep the website running for free.
Besides the layout that's easy on the eyes, the PDF unlocker by pdf2go offers different methods to upload your file. You can do it either from your device or a cloud service such as Google Drive, and this makes it easier for you to get your file, especially if the device does not belong to you.
Steps to decrypt PDF files online for free:
Step 1. Go to the website and upload your locked PDF (from a device or cloud service).
Step 2. Write the password and click "Set password" to start the process.

Step 3. Once the password section is gone, click "Start" to start the process.
Step 4. After a while, a new page will appear, and the unlocked PDF will automatically be downloaded.
The Bottom Line
Removing the PDF's password is not that hard as long as you find the right tools. The tools mentioned above can be used to decrypt PDFs easily, depending on the device used. To do so, you have to ensure that the PDF is locked, and you can lock it using EaseUS PDF Editor. As a matter of fact, you can lock and edit the PDF at the same time using EaseUS PDF Editor. It's a win-win situation, isn't it?
FAQs About Decrypting PDFs
Sometimes users have a misconception about the concept of PDF decryption. This FAQ will clear up some of the misunderstandings about PDF decryption.
How do you decrypt a PDF?
You can decrypt a PDF using any tool that offers the option to remove password. However, bear in mind that you will need to know the password first to remove it for confirmation purposes. Without confirming the password first, you cannot decrypt a PDF.
How do I unencrypt an encrypted PDF?
Decryption and encryption are pretty much the same things, so you can refer to the first question and the entire one to understand the concept of decrypted PDF. Once your PDF is decrypted, you're good to go!
How do I decrypt a PDF without password?
You cannot decrypt a PDF without a password, as you will need a password for confirmation. The confirmation is to ensure that the one decrypting the PDF is someone who has proper access to the PDF.
Can encrypted PDF be opened?
If you mean that the PDF can be opened, yes, it can. However, you must open the encrypted PDF with its password.
About the Author

Jane is an experienced editor for EaseUS focused on tech blog writing. Familiar with all kinds of video/PDF editing and screen recording software on the market, she specializes in composing posts about recording and editing videos. All the topics she chooses are aimed at providing more instructive information to users.