How to Add Bates Numbering to PDF on Windows & Mac
Bates numbering involves using unique digits to organize a massive number of documents for easy labeling, accountability, and identification. And it's mostly used by businesses, legal institutions, and medical care to avoid mismanagement or misplacement of vital documents!
Likewise, if you've got lots of documents in PDF format, adding Bates number to the header or footer of the digital file will help in quick and straightforward identification of different pages in the document without hassles. But the big question is; what Bates numbering tool is best effective to add these unique numbers or characters to pages in PDF files? Did you just think uncertain? Then do not hesitate to read this article and find out the best and most effective Bates numbering software for adding unique numbers to pages in PDFs quickly and effortlessly. It's a win-win!
How to Add Bates Numbers into PDF on Windows
Adding Bates number to PDF on Windows computer is now as easy as plucking a low hanging fruit! Yes, with the availability of advanced Bates numbering PDF tools like EaseUS PDF Editor at your fingertips, you'll be able to Bates number to your PDF files without any complications.
This Windows PDF editor is a top-leading tool that supports a wide variety of editing features that enables users to edit, merge, split, create, annotate, sign, encrypt, add page numbers to PDF, and do lots more on their PDF files efficiently.
Unlike other PDF editors, the EaseUS PDF editing software, when installed, doesn't compromise any other aspect of the computer, and users require no technical knowledge before they can employ this amazing PDF editing tool.
Check out its key features below:
Support the conversion of PDF files into more than 10 formats without complications
Ability to import and remove watermark from PDF efficiently
Add Bates number to PDF for easy identification, reading, and understanding
Availability of advanced OCR technology that enables easy editing of scanned PDF files
Looking to add Bates number to your PDF file on Windows? Follow the guide below to get the job done within a few clicks!
Step 1. Import PDF File to the App
Firstly, download and install the powerful EaseUS PDF editor to your Windows PC. Afterward, launch the EaseUs app on your computer.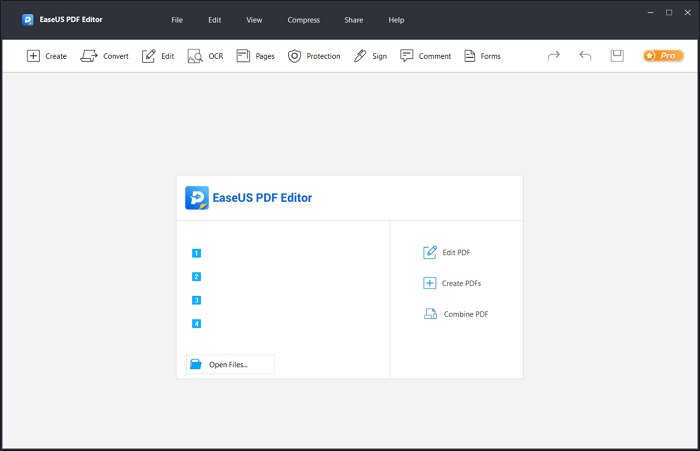 Step 2. Add PDF File
Up next, click on the "Pages" button, select "Bates numbering" from the toolbar at the right-hand side of your PC screen, and click "Add". On doing that, a pop-up window will be displayed on your PC screen, just click the "Add Files" button to select the PDF file you"d like to add Bates number to.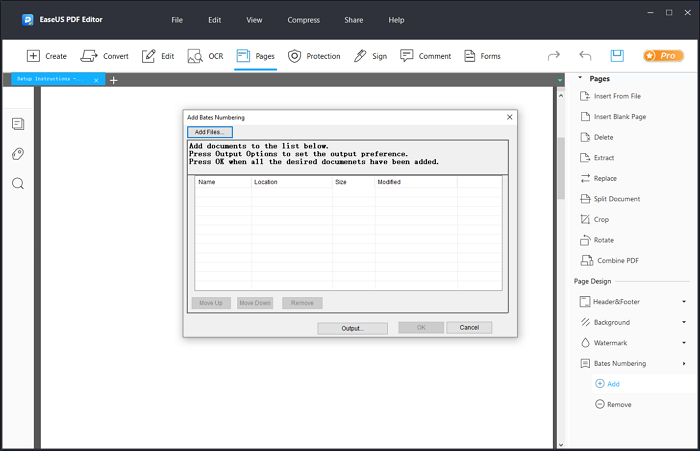 Step 3. Rearrange Document
Drag file to move up/down to rearrange the document according to your requirement. Then click on OK to proceed.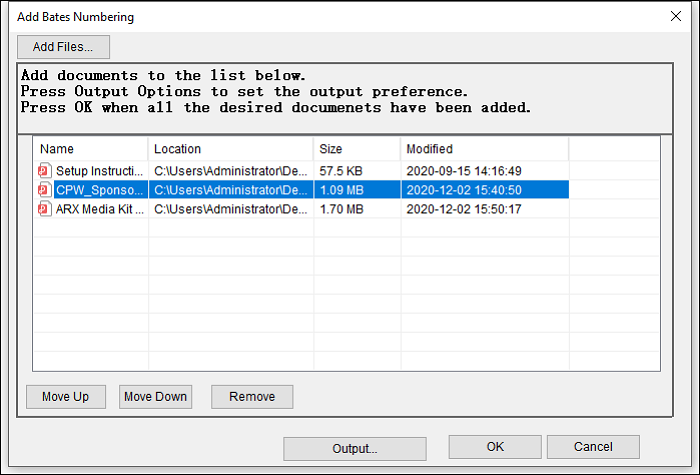 Step 4. Add Bates Numbers to PDF File
Finally, click on "Insert Bates Number" to input the Bates numbers required.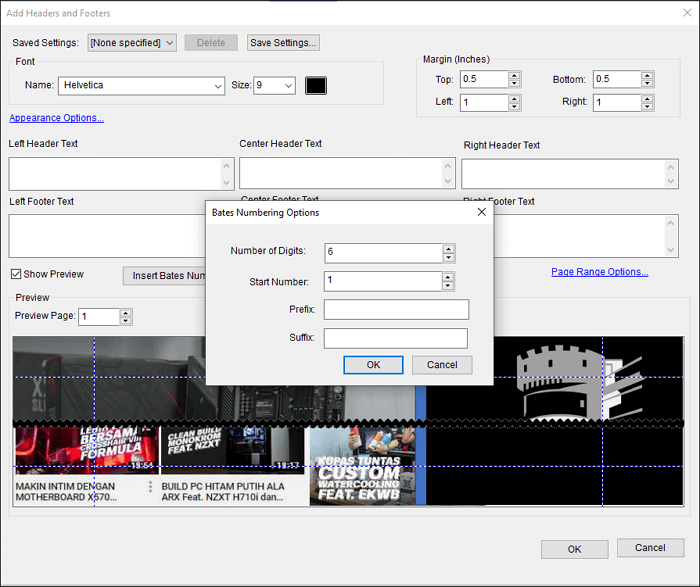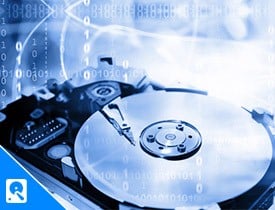 How to Insert Bate Numbers in PDF on Mac
Another robust PDF editing tool in the online realm today is Adobe Acrobat Pro DC, gold standard! This PDF editing software is a highly efficient third-party tool for Mac computers that supports Bates numbering and other features to help increase efficiency and productivity when dealing with documents in PDF format.
Yes, aside from adding Bates numbers to PDFs, Adobe Acrobat Pro DC also enables you to annotate, edit, sign, index, and do a lot more on your documents conveniently. Besides, this tool supports some unique features like simultaneous editing of more than one PDF file, effective proofreading of text in documents, and the ability to compare documents in different formats.
Follow the steps in the guide below to stamp Bates number in PDF file on Mac:
Step 1. Firstly, download and install Adobe Acrobat Pro Dc. After that, launch it, and import the PDF document to the tool.
After that, select the "Tools" option, then choose Edit PDF from the main menu.  
Step 2. Navigate to the Secondary toolbar, select More, followed by the Bates numbering option. On doing this, it will be prompted to launch the Bates numbering dialog box, where you'll be able to add Bates number to your PDF file.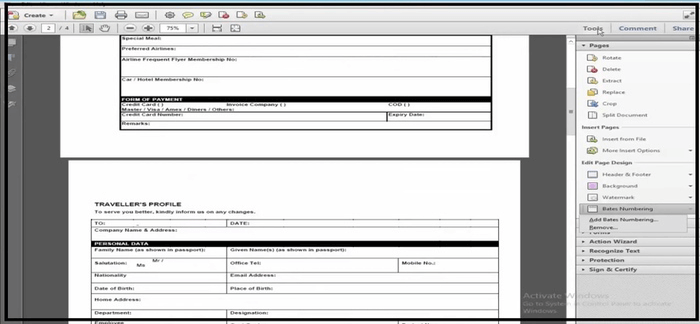 Step 3. Hit the "Add files" button from the dialog box to select the PDF file you're looking to stamp numbers on. However, adding a password-protected file will prompt the password windows to be launched.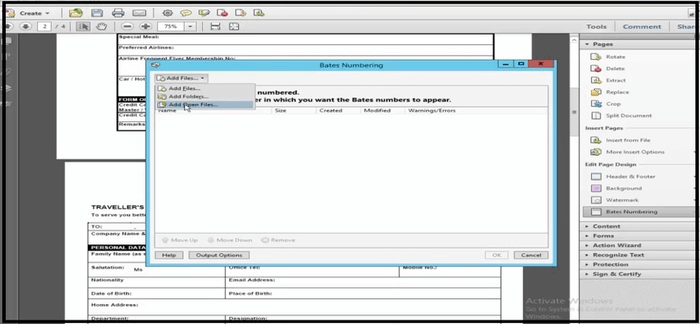 Step 4.  Lastly, click on the "Insert Bates number" button to customize your Bates stamp with different settings: Start numbers, Prefix, Suffix, and number of digits. However, it's recommended you use a high-digit number when working on a long PDF document. And after completing the process, click the OK button to add Bates numbers to your PDF file.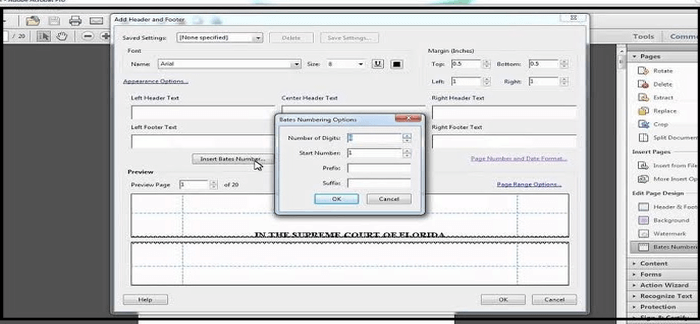 How to Add Bates Numbers to PDF Document Online
If you're looking to quickly add Bates number to your PDF file without using any third-party software, then Sejda online tool is just perfect for helping you get the job done efficiently.
This online tool is very easy to use, and the process of adding Bates numbers to PDF is as easy as taking a walk in the park. Sounds like a tool you'll like to try? Then don't think twice to follow the steps below and get your PDF file Stamped with Bates numbers within a few minutes.
Step 1. Visit the official website to upload the PDF file you're looking to add Bates numbers on.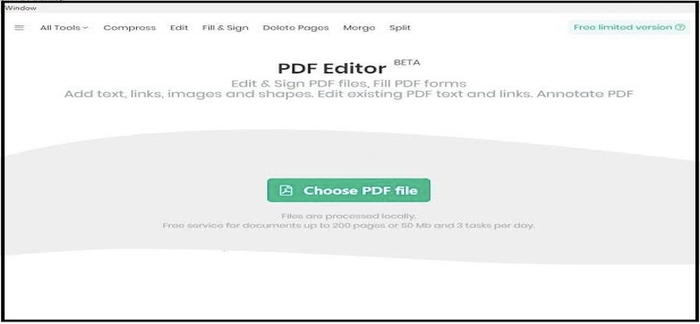 Step 2. Customize the PDF document style, numbering sequence, and margins according to your requirements.
Step 3. All you've got to do is to process the Bates numbering after editing by clicking the "Bates Stamp" button at the bottom of the screen. Then click on download to save the processed file to your device.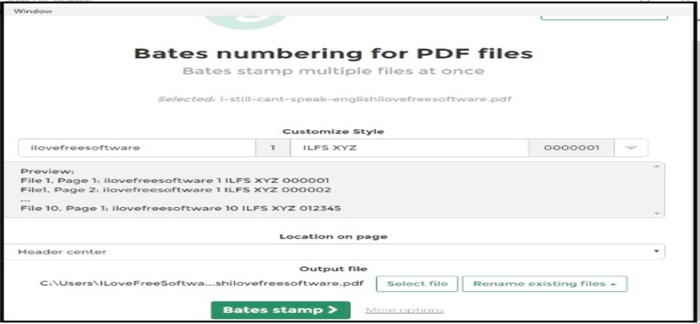 The Bottom Line
There you have it! Adding Bates number to PDF file is now like a walk in the park. All you need is an advanced tool like EaseUS PDF Editor that can help maintain a perfect balance in how you execute all kinds of PDF editing operations. Also, Adobe Acrobat is another software app that comes in handy when you're looking to add Bates numbers to PDF on Mac, and you can also employ an online PDF editing tool like Sejda if you don't want to employ any third-party software.  
All in all, the Bates numbering PDF methods introduced above are just perfect to put you through the process of stamping Bates numbers on your PDF file. Hence, don't hesitate to try them today!
FAQs About Bates Numbering PDF
1. What is Bates numbering in PDF?
As mentioned before, Bates numbering involves stamping unique numbers on PDF files, especially in businesses, legal institutions, and medical care for easy identification of documents.
2. How does Bates numbering work?
All Bates numbering does is to assign a unique character, either numeric or alphanumeric, to each page in a PDF file. Doing this will help to ease the process of identifying different documents and distinguishing them from each other.
3. How do you reference Bates numbers?
It's easy! You only have to clarify what is being referenced, such that it looks like this format; (Bates Jones000001) or (Bates d123-002).
About the Author

Jane is an experienced editor for EaseUS focused on tech blog writing. Familiar with all kinds of video/PDF editing and screen recording software on the market, she specializes in composing posts about recording and editing videos. All the topics she chooses are aimed at providing more instructive information to users.