How to Change Font Size in PDF with Best 3 Methods
 Update:

Recently, Microsoft is making a change to its Microsoft Office branding. Microsoft Office is being renamed by Microsoft 365. After the official renaming, our article content will be updated accordingly.
One of the most common problems is with the size of the font used in PDF files. Whether you are printing or want to read the files on your computer, it can be hard to read. So why do people want to change the font size in a PDF document: readability.
Two main factors determine how easy it is to read a document: font and font size. Font refers to the letters' actual style, such as serif, sans serif, or decorative. Font size refers to the size of the letters.
If you are reading a PDF document at a font size that is too small for your eyes, it isn't easy to read. Sometimes, you may need to change the font size to make the document more comfortable to read. This post will guide how to change font size in PDF using various tools.
How to Change Font Size in PDF with EaseUS PDF Editor 
This is an all-in-one Windows PDF editor that helps you add or delete the contents in PDF without much hassle. For instance, you can add text to PDF or remove unwanted words and images from PDF with simple steps. It's possible to adjust the text settings you add. For example, you can change its color, add an underline to it, and turn it to italic.
Besides that, there are more options to manage the PDF pages, such as compress, split, merge, rotate, and crop a PDF. When you need to sign an official document, it supports adding an e-signature to the PDF file and notify you if someone changed the contents. 
Key Features: 
Easy-to-use and rich-featured
Edit PDF or convert PDF effortlessly
Add watermark to PDF to protect your copyright
Add and remove the background to a PDF
This software offers you more tools we didn't mention above. If you want to find a solution to PDF editing, you can click on the following button to download this editor now.
Steps to Adjust Font Size in PDF:
Step 1. Launch EaseUS PDF Editor on PC. You can import the PDF file by clicking the "Open Files" button at the bottom left.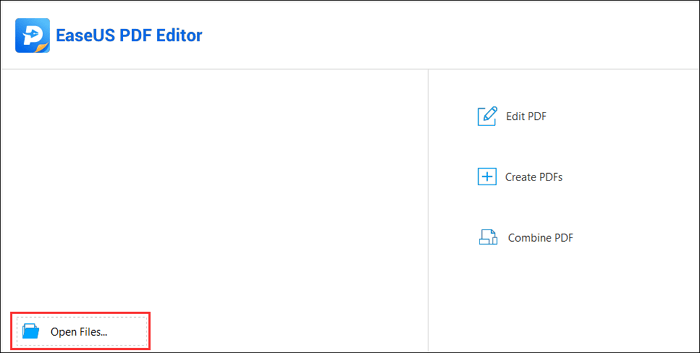 You can also click on the "File" button and select "Open" from the drop-down menu, and then import the PDF file.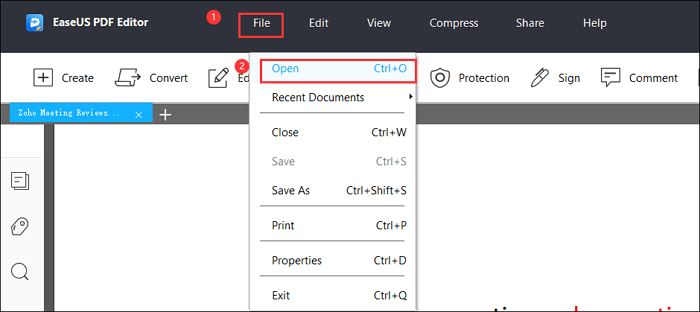 Step 2. There is an "Edit" option you need to choose. Then, select "Edit Text & Images" from the "Content Editing" tools.

Step 3. Drag your mouse to select the words that you want to adjust the font size. On the right side of the user interface, there is an option under "Format". You can click on the option and select an appropriate size from the drop-down menu.

Step 4. Click on the "File" button and choose "Save" or "Save As" to export the edited PDF to your PC.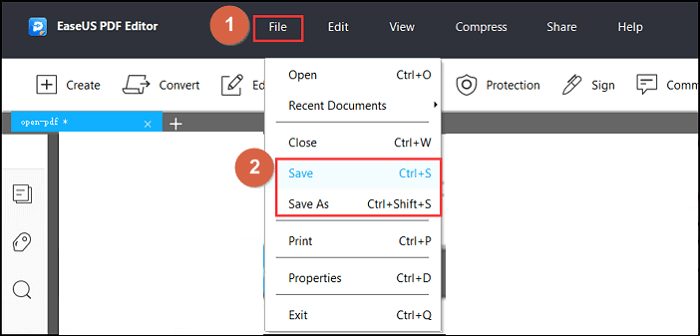 How to Change Font Size in PDF with Adobe Acrobat 
Adobe Acrobat DC is a powerful tool that offers a plethora of tools. Right from adding comments to edit PDF files to creating PDF, the software has it all. The package offers desktop software, mobile apps, cloud service integration, and more.
If you work with many PDFs every day and have a team that works together, it's a perfect tool.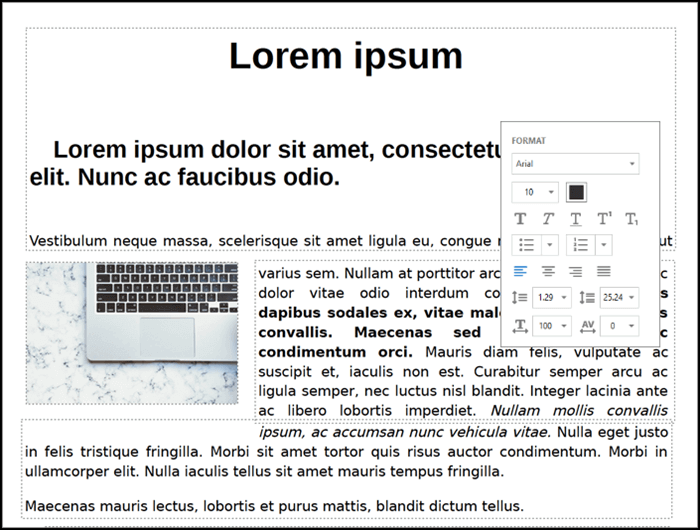 Features:
Document conversion to and from PDF
Edit, add comments, text recognition, file merge, page reordering, and deletion of pages
Share, collaborate, protect, and compare PDF files
Request signatures, fill and sign, and create forms
Steps to Change Font Size Using Adobe Acrobat:
Step 1. Open Adobe Acrobat, and then click on "Tools" > "Edit PDF" file. Browser, and select the PDF file. The software will then identify all the elements in the PDF that has text.
Step 2. Select the area in the PDF file which has text, and it will turn blue upon selection.
Step 3. Select the text inside the box, and it will open the Format tool where options such as text type, size, color, etc., will be available.
Step 4. Once the change is complete, save the PDF file and make sure it's correctly aligned in the selection area.
URL: https://acrobat.adobe.com/
How to Change Font Size in PDF with Nitro 
Nitro is one of the oldest and most popular PDF editing tools out there, which offers many PDF file features. Among its features are PDF conversion, PDF editing to delete, add, or modify the PDF file's text and elements.
If fonts are a problem, it is a great tool to handle large files easily. It can handle large and small files, and the best thing about it is that it can identify all the elements in the PDF file, such as text, images, and other media formats.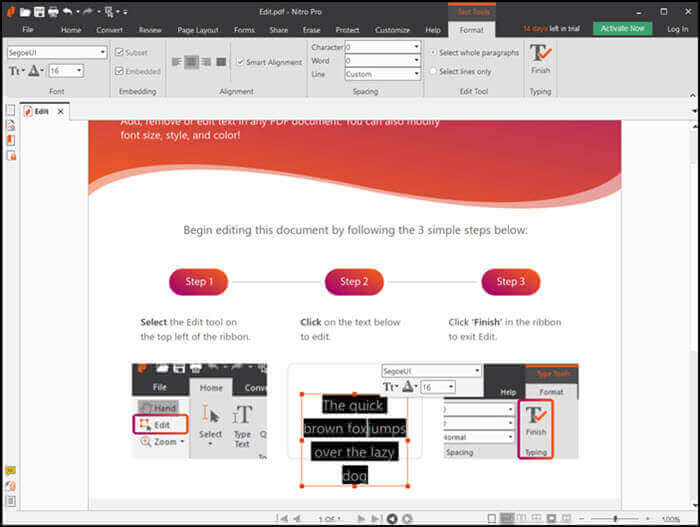 Features:
Combine, organize pages, scan, fill and build forms
Sign the PDF along with the option to review and annotate the document
Build and fill forms
Password protect documents, activity permission to secure documents
Option to directly save PDF files to Dropbox, OneDrive, and more
Steps to Change Font Size Using Nitro:
Step 1. Open the PDF file in the Nitro application. If it's a large size file, it may take a bit of time to load all the pages to identify all the elements.
Step 2. On the ribbon menu, under File, locate the Edit option and click on it. When you mouse hover, every element that you can edit will show up in a square box. Using the same method, locate the text of which you need to change the size.
Step 3. Double click on the box, and then select the text. It will instantly show a floating toolbar where you can change the size and the font type.
Be aware that increase the font size may also cause alignment issues with the rest of the objects. So, make sure to change carefully.
URL: https://www.gonitro.com/sem/nitro-pdf-software
How to Change Font Size in PDF with Online Tool 
There is no direct tool that can change the font size of a PDF File. Instead, you will have to convert the PDF file into a document such as Word and then change the font.
Later you can use the same online tool to convert it into a PDF file. ILovePDF, along with a free document editor such as Google Docs or Microsoft Office, can easily do this. ILovePDF PDF Creator is a tool that lets you convert documents to PDF and PDF to documents.
Features:
Offers PDF Merge, Split PDF, Compress PDF tools
Convert PDF to Word, PowerPoint, Excel, and JPG
Edit PDF, add page numbers, add watermark, and rotate PDF
Steps to Change the Font Size in PDF:
Step 1. Go to ILovePDF.com PDF to Word converter and upload the document. Once done, click on the convert button and let the process complete. Once it's done, you can download a copy.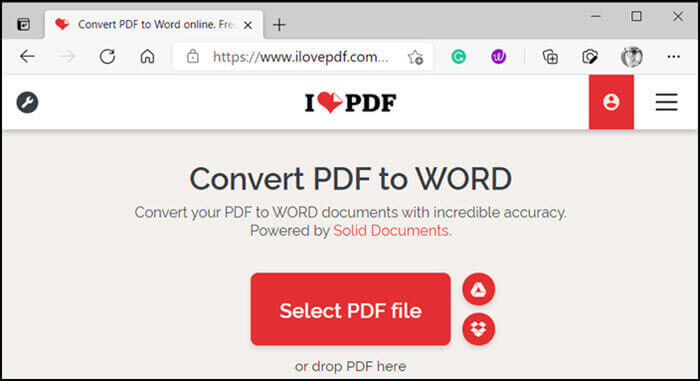 Step 2. You can either edit the document using Google Docs or Online Microsoft Word. Make sure to change the font size.
Step 3.  Next, all you need to do is use the print option on any of these online tools to save the document as a PDF file. The option is available for all types of documents.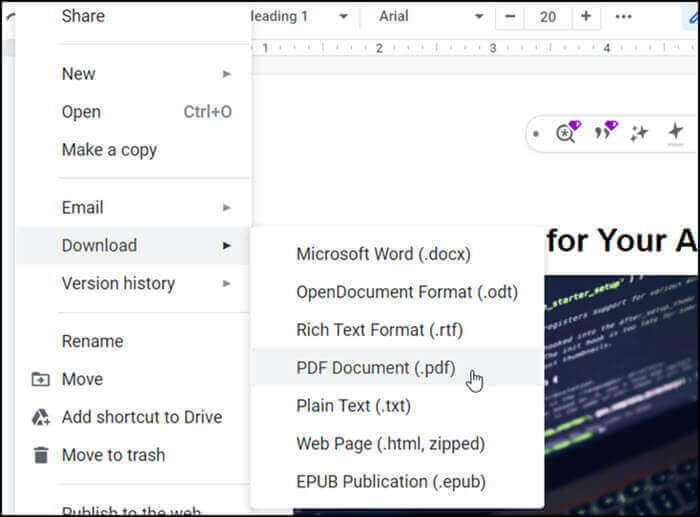 The PDF you will have now will have a font size of your preference.
URL: https://www.ilovepdf.com/
Conclusion
For most people, reading from a PDF is a simple matter of opening the file and reading it. But when it comes to important documents such as legal documents, you need to see what font and size are using in the document.
These applications allow you to change the font size so when you open it on a computer or print it, you can read them easily. Among all those editors, we recommend EaseUS PDF Editor as the most suitable one as it is helpful in both PDF editing and PDF converting.
About the Author

Crystal Chen is very interested in technology products. Experiencing many technological applications like video editors, screen recorders, and PDF editors, She is willing to solve users' issues through writing tech-related articles. Through her words, you can find various solutions to solve one problem.