Best 3 Ways to Change PDF Background Color (FREE)
Whenever you are in study or working, you may want to change PDF background color because of:
Emphasize the text in your PDF files
Some types of paper are not available for color printing
For a better viewing experience
…
Whatever your goals are, you need some PDF background editors to help you change background color of PDF. And in this article, we will show you three simple ways to get the work done. Just spend a few minutes reading the article now.
How to Change PDF Background Color on Windows
To change your PDF background color, PDF editing software is a must. However, there are lots of Windows PDF editor out on the market; some paid, some free, some for beginners, and some for professionals… While selecting the right one, you may feel confused.
Given that, we share with you an easy-to-use program – EaseUS PDF Editor, which enables you to get the work done in seconds. Apart from changing PDF background color to white or others, you also can use it to add background to PDF with a solid color or customized image, or even remove all background with one click.
As a versatile PDF editor, this program provides numerous tools to modify your files. With its help, you are able to create a PDF, add comments, and customize the color and size of the text in your PDFs. Besides, this PDF maker makes it easy to merge, split, rotate, and even convert your files with simple clicks.
More features:
Support more than 10 common file formats
Allow you to convert PDF to file formats or vice versa
Enable you to add/remove watermark and password to PDFs
Support OCR to make scanned PDFs editable
Here's how to change PDF background color in Windows:
Step 1. Launch the program and import your target PDF file by clicking "Open Files…".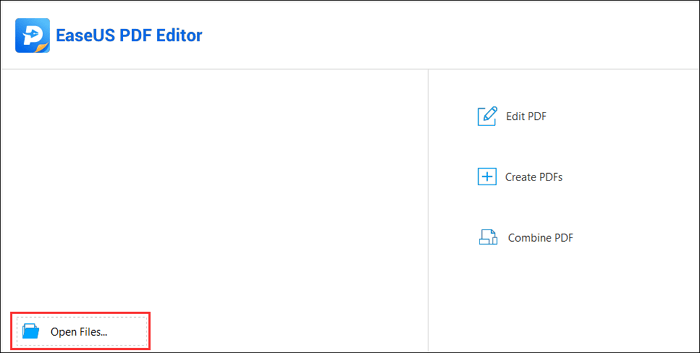 Step 2. Once loaded, click "Pages" in the top toolbar, then hit "Background" > "Add" at the right corner. If your file already contains a background, you need to click on "Update Existing" in the following window.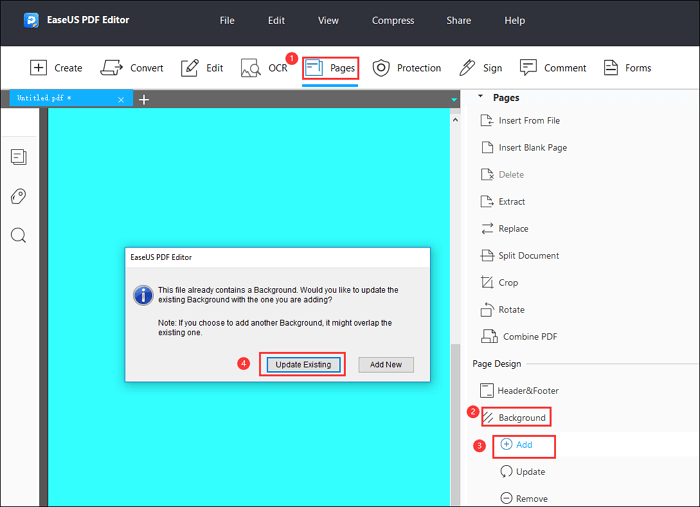 Step 3. In the Update Background window, you can tick "From color" to choose you're the new color that you want to apply, then hit the "OK" button.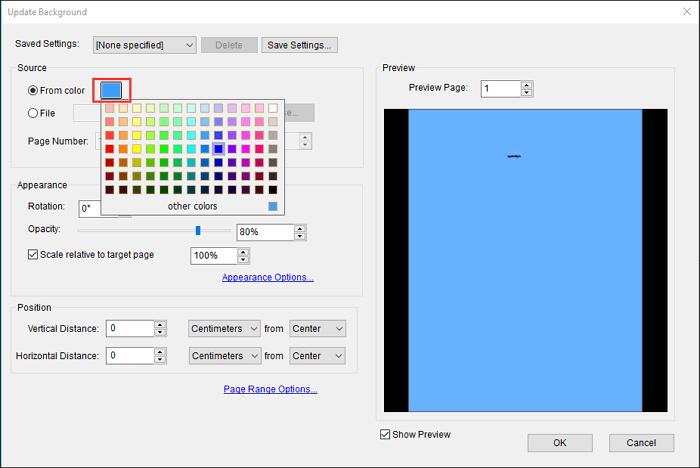 Step 4. When you are happy with your edited PDF file, you can click "File" > "Save" to export the modified PDF document.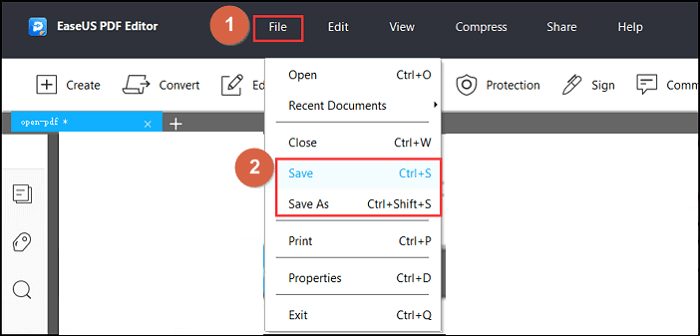 How to Change Background Color of PDF on Mac
We all know that there is a built-in PDF editor called Preview on Mac, which can help you modify your PDFs with ease. However, when it comes to changing the PDF background color, it does not have this feature. To help you complete the work successfully, we recommend you Adobe Reader – an all-in-one PDF viewer.
This program not only allows you to read your PDF documents but offers you a great many options to comment, print, and set background for your files. Next, let's take a look at how to change PDF background color in Adobe Acrobat:
Step 1. Open your PDF file with this software, then click "Edit" > "Preference" and hit "Accessibility" under Categories.
Step 2. Put a tick next to Replace Document Colours and set the right colors you want.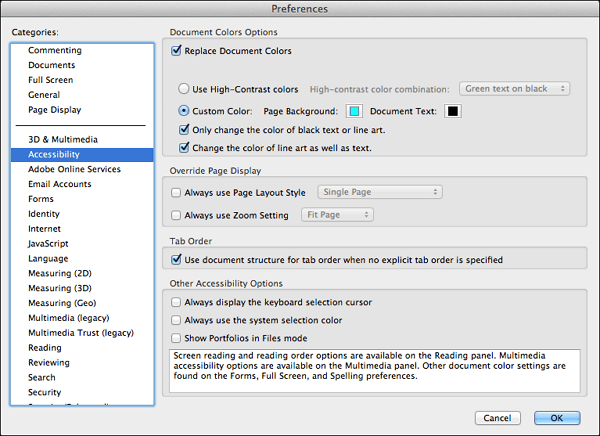 Step 3. After editing, you can click "OK" and save the file on your Mac computer.
How to Change PDF Background Color Online Free
There are many online tools that can assist you in replacing PDF background color with another, and PDF2GO is one of them.
This online PDF editor allows you to change the color of the fonts and background in your PDF from anywhere with a stable internet connection. Moreover, you also can write notes on your PDF, highlight essential text, or circle an important part of your PDF document with PDF2GO effortlessly. If you are one who does not want to install any software, the online tool is a great option for you.
Step 1. Move to the official website, and click "Choose File" to import your target PDF file. Or you can directly enter the URL or upload files from your Dropbox and Google Drive.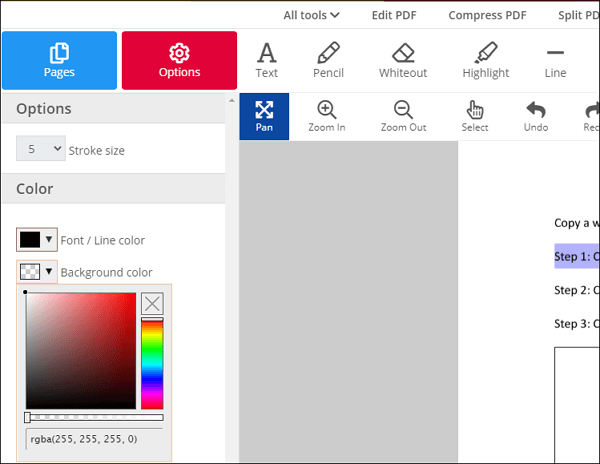 Step 2. Once uploaded, click "Options" in the left red toolbar. Then click on "Background color" to select the new color you want to use.
Step 3. When you finish your editing, you can click "Download" to save the file on your computer.
Wrap up
For changing PDF background color, this post offers you three easy and reliable solutions. Whether you are a Windows or Mac user, you can find an efficient method to complete the task.
For Windows users, you can try EaseUS PDF Editor. This program lets you change font color, and background color and even set your favorite images as the background with ease. What's more, you can view, convert, edit, and manage the PDF document in minutes.
About the Author

Jane is an experienced editor for EaseUS focused on tech blog writing. Familiar with all kinds of video/PDF editing and screen recording software on the market, she specializes in composing posts about recording and editing videos. All the topics she chooses are aimed at providing more instructive information to users.