How to Combine PDF Files Without Acrobat for Free
When working on a group project, you are required to combine the PDF documents from all members to create the final version. Combining PDFs is not an easy task since you have to make lots of adjustments to them. To avoid losing any important information when combining files, you should have reliable and effective PDF editors to help you do that.
In this post, we will guide you on how to combine PDF files without Acrobat for free, and there are step-by-step processes that you can follow. Check full information related to how to combine PDF files both on Windows and Mac.
How to Combine PDF Files Without Acrobat on Windows
Creating PDF files and combining them perfectly are never so easy. EaseUS PDF Editor is one of the leading all-in-one PDF editors that offer users the opportunity of managing PDF files easily. Without compromising the quality, users can effectively combine two or more different PDF files. Simply add the files you want to combine in this software and click "OK". Then, you will get an integrated document with all information quickly.
It is an awesome editing tool that makes your work much more efficient. Not only combining, but this tool also provides splitting functions. You can remove unwanted pages easily. It is a complete package for all those who are willing to ease up their routine official work.
Main Features:
Batch conversions
Multiple editing tools
Add watermark and sign
Before following the guide below, you need to click on the button below to download it for free.
Steps to combine PDFs without Acrobat on Windows:
Step 1. Launch EaseUS PDF Editor on your PC, and click on the "Page" button. A sidebar will appear on your right hand, and you need to select "Combine PDF" under the "Pages" tab.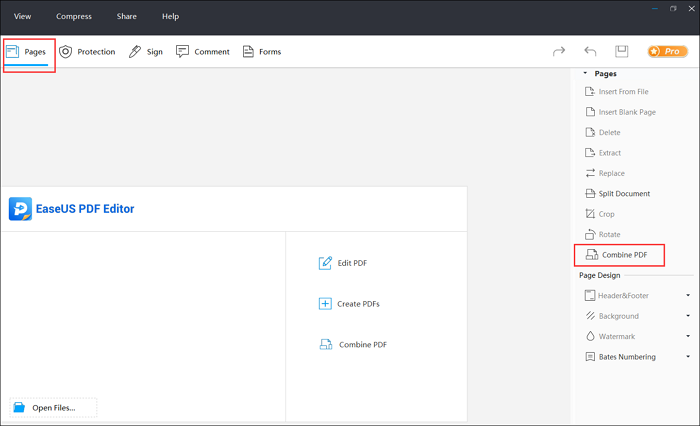 Step 2. There will be a pop-up window that asks you to add the PDFs you want to merge. You need to click on "Add Files..." to import the two or more PDF files you want to combine. Then, click on "OK" to merge those files into one.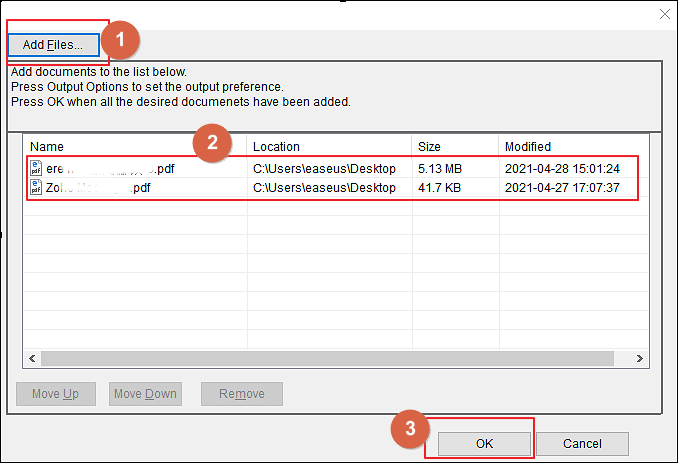 Step 3. Check the combined PDF, and if there is nothing that needs to be corrected, you can click on the "File" button and choose "Save" or "Save" to export the combined PDF file to your computer.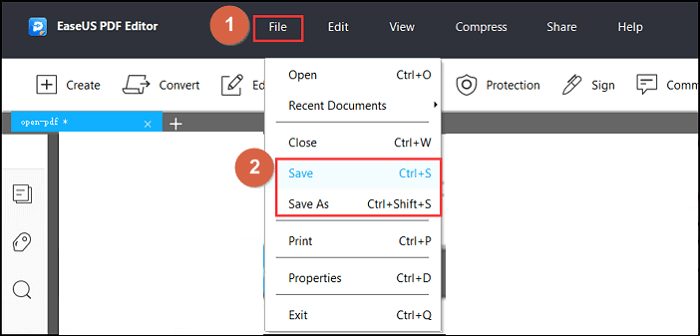 After three simple steps, an integrated document is saved on your computer.
Do you want to split your PDFs? This post gives you guides on how to split PDFs fastly.

How to Split PDF into Separate Pages
Use EaseUS PDF Editor to split files. You can remove the unwanted pages and keep what you want in your file.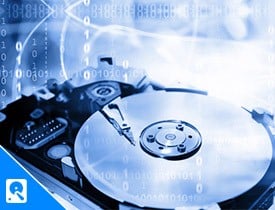 How to Combine PDF Files Without Acrobat on Mac
Finding up the best PDF editors is a great task. For macOS users, the two best alternatives of Acrobat for Mac will be introduced to you. Without any installation on your Mac, you can use Smallpdf and PDF2Go for combining PDF files respectively.
Tool 1. Smallpdf
It is an all-in-one tool that makes it quite easier for users to manage files. No need to download it on your Mac, users can use this online tool to easily combine multiple PDF files. You won't see any dislocation while merging multiple PDFs.
Smallpdf provides you with many other features with high accuracy as well. For example, it efficiently compresses your PDFs without losing quality. It is one of the effective tools that have a low error rate or do not have any errors at all.
Main Features:
Convert PDF to different formats
Compress PDF
Enable PDF encryption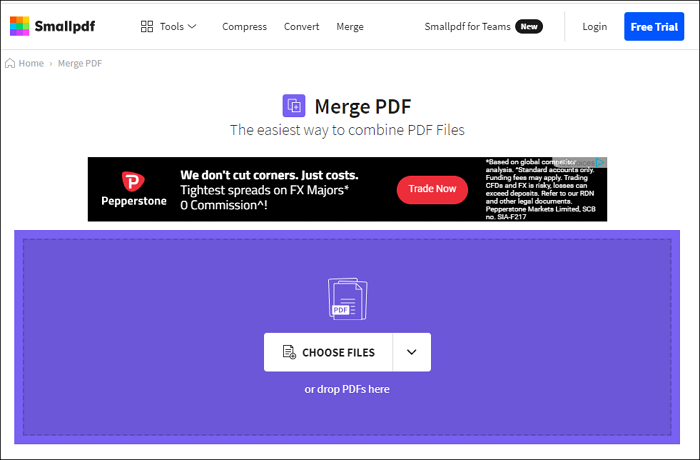 Steps to combine PDFs without Acrobat on Mac with Smallpdf:
Step 1. Go to Smallpdf online, and click "Choose Files" to select the files you want to merge. Or you can just drag or drop files in the box.
Step 2. Select "Merge files" to combine the entire PDFs. Meanwhile, you can choose "ADD MORE" to add more files to merge.
Step 3. Once you have selected files that need to be merged, click "Merge PDF". Save the integrated one on your computer.
Tool 2. PDF2Go
This is another wonderful and versatile free PDF editor that allows users to combine PDF files easily. PDF2Go is a very quick solution for those who want their documents to be combined in one. With guaranteed safety, you can trust this tool more.
This tool is proven to be an easy-to-use PDF editor that offers users great ease of access. Instead of installing a program that allows you to combine PDFs, just do it online in your browser.
Main Features:
Sort and delete PDF pages
Make PDF searchable
Repair PDF
Steps to combine PDFs without Acrobat on Mac with PDF2Go:
Step 1. Go to PDF2Go online, click "Choose File" to upload the PDF files you need to merge. Or sort your files by dragging or dropping them into the box.
Step 2. Click "Save as" to choose options. Meanwhile, you can rearrange your files in order.
Step 3. Once you have finished your settings, click "Save" to get your merged document.
Conclusion
Hopefully, you have found a good way to combine the PDF files without Acrobat for free. If you are going to use the PDF tool for the very first time, we would recommend EaseUS PDF Editor as the most preferable option for you. Right from creating, editing, and managing the PDF files, there are a lot more things that you can do with this tool effortlessly.
About the Author

Crystal Chen is very interested in technology products. Experiencing many technological applications like video editors, screen recorders, and PDF editors, She is willing to solve users' issues through writing tech-related articles. Through her words, you can find various solutions to solve one problem.