[Free] How to Zip a PDF File Online/Offline
PDF is popular in the workplace. What usually happens in our workplace is that we have a huge amount of PDFs that occupy our computer storage. The challenge we face is that large PDF files can lead to inconvenience in email sharing and so on. It's necessary to compress them into smaller sizes. Zipping files can help save storage. You can get only one folder to have all these documents. This post provides information on how to zip a PDF file in easy ways.
Are you looking for a method to reduce PDF size? Read the below tutorial!
Related Article: >> How to Reduce PDF Size on Windows/Mac/Online
How to Create a Zipped File on Windows
If you want to save your computer storage, it's better for you to use the powerful default function on Windows to help you manage multiple files into a single folder. Instead of having other tools to help you with that, just quickly use "Windows Explorer" to manage your files. A number of files will be finally saved on a single document. Here are instructions for managing your files which can help you quickly operate documents on your computer.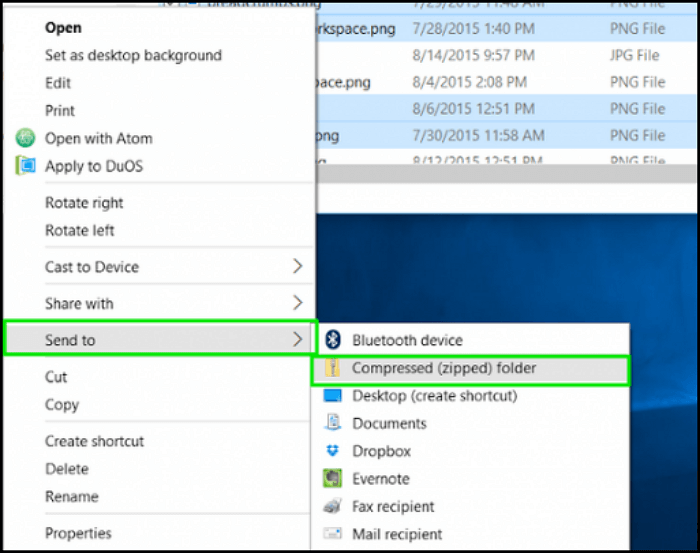 Steps to create a zipped PDF in Windows:
Step 1. Select PDF files you want to manage on your computer. 
Step 2. Choose "Send to" and then click on the "Compressed folder" to operate the function. Finally, you will get the compressed version of all your files in a folder.
Step 3. Once you have reduced the size of files, you can save and share them with others quickly.
How to Create a Zipped File Online
Actually, there are more efficient ways for you to create a compressed PDF file quickly. Here, two online tools will be given to you to do that. The powerful abilities make them become efficient tools to put all your PDFs into one single file.
Tool 1. ezyZip  
It is an online free tool that provides functional features to manage your files. It supports converting your PDFs into a ZIP form. The obvious advantage of this tool is that it does not have file size restrictions.
This tool is famous for its managing function as its best free PDF compressor allows you to effectively manage files into an archive. It also allows the function of unzipping files to help you convert a folder to a PDF form.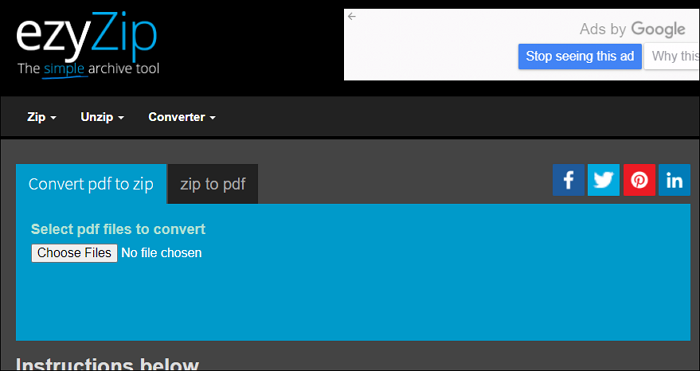 Steps to create a zipped PDF Online:
Step 1. Open this online tool, and select the file you want to manage. 
Step 2. Now you see "Select pdf file to convert", and put the PDF file that you want to manage.  
Step 3. Click "Convert to ZIP" to operate. Once done, you click "Save File" to save it on your computer.
Tool 2. Online Converter
It gives you the best way to make your files easily store information and data. It's proven to be an easy-to-use tool as you just need to click some buttons, and then the tool will give you an efficient result. Apart from that, this tool also helps convert PDF to Word. For example, you can convert all your PDF files to Word format with keeping their original information.
Steps to create a zipped PDF Online:
Step 1. Open this tool, and you can choose the file that you want. And then select the target format you want to convert.
Step 2. Click "Upload" to bring your targeted file. Or you have the choice to drag your files into the box. And your file is prepared to be operated in this tool.
Step 3. After the file is converted into a new folder, you need to save the new file on your computer.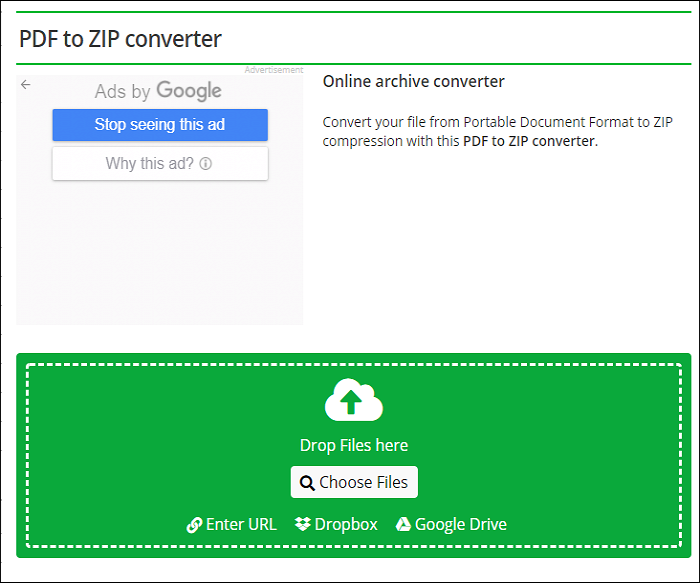 Bonus Tips: How to Compress PDF File on Windows
ZIP file does help a lot. However, the process of managing may reduce the quality of files. In this matter, you need a good editor to help you compress your files without changing quality. What they need are good PDF editors. Here, EaseUS PDF Editor is considered to be the most efficient editing software which supports many features and functions.
Of course, you can use this tool to manage a PDF. This tool allows advanced settings and functions to help reduce the size of files in better results. In its compress function, not only changing file size, but you can also use the optimizer within this tool to set more settings like image size, and so on. For example, you can remove useless items, invalid links, bookmarks, and so on. Actually, you can do a lot in this Windows PDF Editor. 
Now, let's look at the way to reduce the size of your PDF files. Before that, you can download it for free.
 Tip

You need to notice that this tool doesn't allow the function of converting PDF to ZIP format.
Steps to reduce the size of PDFs in EaseUS PDF Editor:
Step 1. Launch EaseUS PDF Editor and click on the "Open Files..." button to import the PDF document.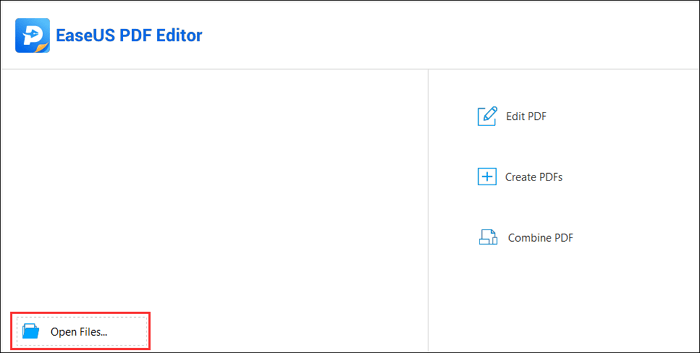 Step 2. Choose the "Compress" option in the top toolbar, then select "Reduce File Size..." from the drop-down menu.

Step 3. A window will pop up and ask you to set the output folder and file name for the compressed PDF. Then, click on the "Save" button to start the compressing process.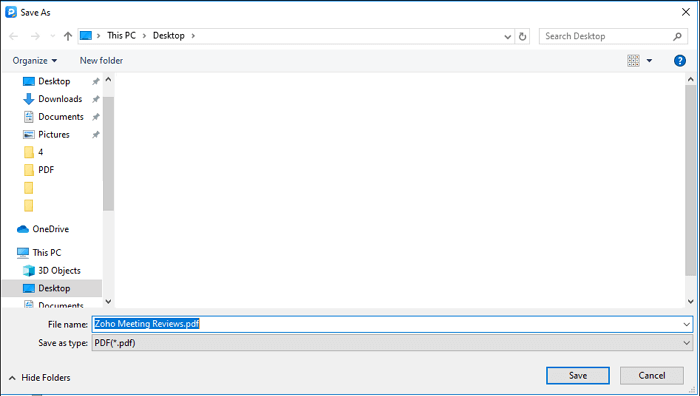 Conclusion
ZIP files have various benefits. Firstly, you can use only one file to store a lot of information. Secondly, it is able to include different file types such as Word, Excel, and PDF. Making a small-size file is very easy since we already provide you with a lot of ways and tools to help with that.
Among them, choose the one you like the most. Using the Windows default function is relatively easy. Meanwhile, you can use EaseUS PDF Editor to help you compress PDFs without losing quality. Now, why not have a try on this free editor.
About the Author

Crystal Chen is very interested in technology products. Experiencing many technological applications like video editors, screen recorders, and PDF editors, She is willing to solve users' issues through writing tech-related articles. Through her words, you can find various solutions to solve one problem.