How to View a PDF in Full Screen
"While attending the online session, a student receives a PDF containing educational content. She is struggling to get PDF full screen for a comfortable view. She could not follow up the session optimally due to this problem".
To overcome the above problem, you can go for the best PDF software available on your device and use it to get a full view of the PDFs. In this article, you will learn how to get a full-screen PDF on various platforms. You can witness the discussion that bases on Windows, Mac, and online. Those PDF editors in this post are excellent and perform well in all complex situations. Get ready for the informative journey on this topic. 
How to View a PDF Full Screen on Windows 10
Here comes an insightful tool exclusively for editing and converting PDFs on Windows. The EaseUS PDF Editor is an outstanding program with various features to establish complete control of the PDFs. You can perform a wide range of operations to manage PDFs easily and efficiently.
This program works on every detail on the PDF and assists you in carrying out the desired tasks hassle-free. You can not only view the PDF files with this tool, but its PDF editing mode also enables you to add or delete the PDF content with simple clicks. For instance, you can change font size in PDF to make it easy to read and add an underline to emphasize some words in the PDF file. 
These are the mind-blowing functionalities of this incredible software. 
Key Features:
Create PDFs and quickly view them in the full-screen mode
Compress the PDFs to reduce PDF size 
Sign the PDF documents with e-signature
Add password to protect PDF files
Moreover, it has a simple interface, and you can swiftly reach out for the essential controls in no time. If you want to try this powerful PDF editor, click on this button to download it.
Now, it is time to look at the steps to view the PDFs on full screen. Follow the below instructions carefully for successful outcomes. 
Step 1. Download EaseUS PDF Editor, install it, and launch the program. 
Step 2. Open any PDF file from your local drive by tapping the "Open Files..." option.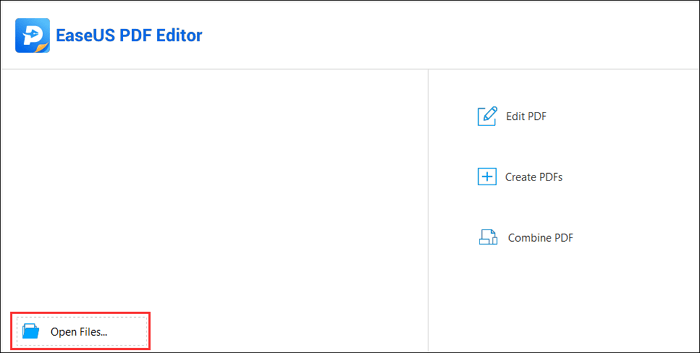 Step 3. Go to "View" > "Full-Screen Mode" to witness the PDF in full screen.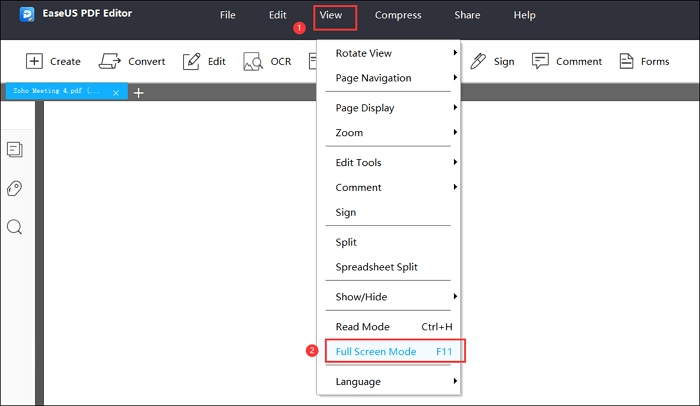 How to View a PDF Full Screen on Mac
on the Mac systems, you can opt for Adobe Acrobat PDF editor to view the PDF file in full screen. It is an efficient tool that handles large-sized files professionally.
You can open multiple files on this platform and perform desired activities based on your needs. It is the perfect program for macOS to deal with PDFs. In this section, you will learn how to open PDF full-screen mode for a comfortable view.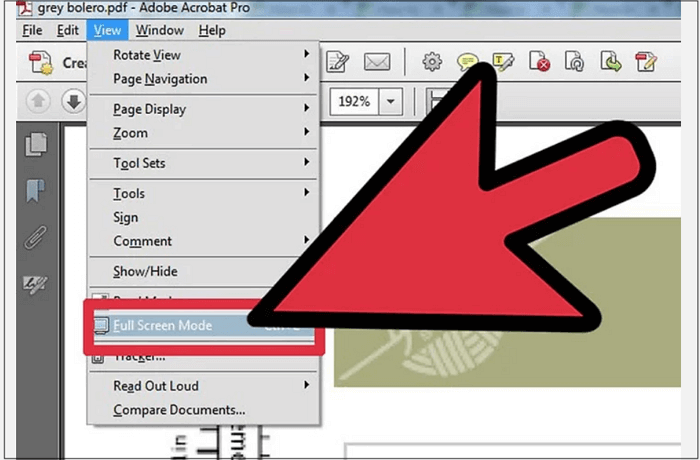 Features:
Convert PDFs to other file formats
Edit PDF with this tool easily
Share the PDFs effortlessly on any platform
Sign in and annotate the PDFs for official use
These are the remarkable features of Adobe Acrobat, and now you can learn to view PDFs on full screen for optimum use. 
Step 1. Download the app from its official webpage and launch it. 
Step 2. Open the desired PDF file at its timeline.
Step 3. Go to "View" > "Full-Screen Mode" to view the PDFs as full screen. 
How to View a PDF Full Screen Online
You can visit the PDFescape's website to use this online tool. You can work with more options for PDF on this online platform. It is compatible with Windows, and you can perform various actions on PDF, such as adding or deleting text. This can be considered a competent online tool to work optimally with PDFs.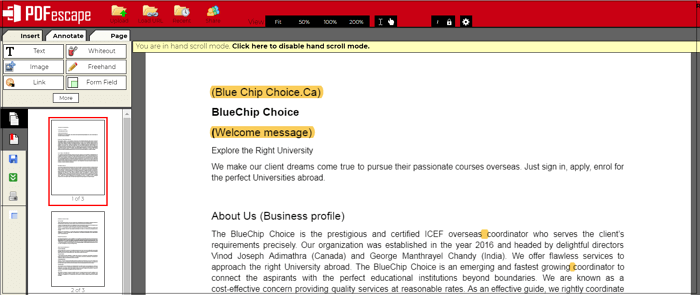 Features:
Create PDF forms using the built-in tools
Build fillable PDFs effortlessly 
Protect PDFs by encrypting with the password
Share the PDFs in the online mode
There is a stepwise tutorial for viewing PDF in the full-screen mode on this online platform.
Step 1. Go to its webpage and tap the "Free Online" button on its home screen. 
Step 2. Next, upload the PDF from your system's local drive.
Step 3. Use the "View" option to set the desired screen limit to view the PDFs. Tap the "Fit" mode to get the full-screen view of the PDF. 
Conclusion
You learned how to view PDF full screen for comfortable use on three different platforms like Windows, Mac, and Online from the above content. You can opt for any method from those three options per your needs.
EaseUS PDF Editor is a perfect choice in Windows, and it offers a comfortable ambiance to work with PDFs. It allows you to carry out a wide range of operations on PDFs flawlessly. Make the best use of this tool and explore the efficient way of handling PDFs. 
About the Author
Melissa is a sophisticated editor for EaseUS in tech blog writing. She is proficient in writing articles related to screen recording, video editing, and PDF file converting.