[Free Download] Top 7 PDF Annotator for Mac in 2022
PDF annotation is about editing and highlighting the important text in the document. It also includes the addition of comments without compromising the PDF layout. However, the purpose is to make the document easy to view and understand by readers.
If you have ever tried to annotate a PDF, you must know that the struggle behind is real. It takes an efficient PDF editor to complete your task that offers unique features for annotation purposes, especially on Mac. In case you don't know which software will prove to be the best, you can find the answer in this article.
It offers the top 7 PDF annotator, including offline and online. Even you can get a bonus tip for Windows users in the end.
Top 7 PDF Annotator:
Top 7 PDF Annotator Mac Offline & Online
If you want to get the PDF annotation done efficiently, let's take a plunge into the details of the seven best PDF annotators!
Tool 1. Preview
Preview is a default Mac application that offers a simple but valuable list of annotation tools. Though it does not possess advanced options, basic annotation is easier than ever. The tools to make notes, highlight, redact text, and add comments to PDF files are available at your fingertips.
Furthermore, you must not forget to click the pencil icon present on the main toolbar and near the search bar to start annotating. Even it is possible to store a signature and use it on any document opened in an application.

Compatibility: Mac
Features:
Add signature using the Preview signature tool
Insert image, text, link, and more
Crop, replace, or delete the images if necessary
Let you scan the PDF using the iSight camera
Tool 2. Adobe Acrobat
Adobe Acrobat is considered a universal PDF annotation program for its extensive set of annotation tools. So not many tools can come up to the working level of this program. You can do anything from rotating pages and redacting text/images to adding notes.
Moreover, it is feasible to add signs and stamps to your PDFs. You can save those files in the system easily. Along with that, it is all at your fingertips to either change the document format or print the PDF files.

Compatibility: Mac
Features:
Flatten a PDF in Adobe in a few simple clicks
Works as a PDF creator, reader, manager, and editor
Add rich media, watermarks, bookmarks, and more
Support live collaboration for annotating and editing
Offer the text-to-speech feature to read the text aloud
Tool 3. Foxit PDF Reader
If you are looking for an easy-going PDF annotator on Mac, Foxit PDF Reader must be your choice. It offers you multiple annotation tools, including the notes highlighter, typewriter, strikethrough, underlines, double strikethrough, pencil, and more. Area highlighters and digital stamps are other tools that Foxit PDF Reader offers.
Besides annotation, you can go for format conversion if necessary. Even if you don't know how to annotate PDF on Mac, its straightforward interface will quickly guide you to complete the task.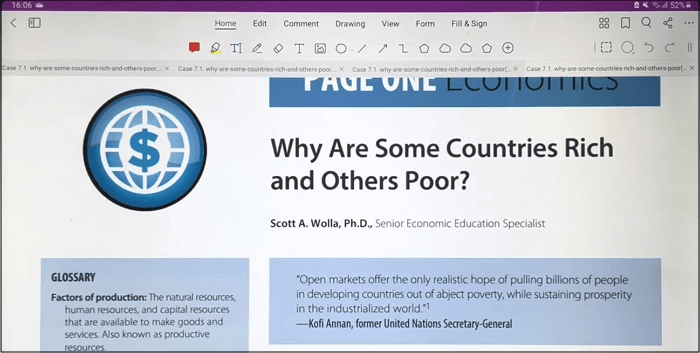 Compatibility: Mac
Features:
User-friendly interface and the toolbar design
Support advanced features for text editing
Availability of social media sharing option
Offer the night mode feature for easy viewing at night
Tool 4. Nitro Reader
Nitro Reader is a comprehensive PDF annotator for Mac that works equally well on Windows and Mac. You can utilize the text selection, highlight, underline, and quick sign tools for the desired results. Though it is not a pack of advanced annotating options, it's still helpful software for standard annotation.
Despite annotating features, it brings about a wide variety of editing functions. Even you can't only edit but also convert the PDF to another format as per your requirements.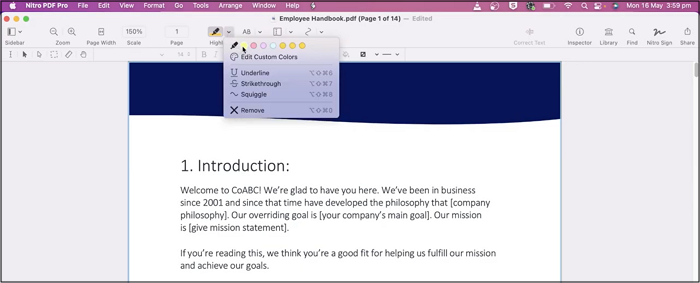 Compatibility: Mac
Features:
Clean and light-in-weight software
Offer the customized main toolbar settings
Support the batch security function
Let you share the documents on social media sharing
Tool 5. PDF Expert
PDF Expert should be your way to go when it comes to popular annotating software. It allows you to access a long list of tools with which you can either perform PDF annotation or editing. The markup options include adding/highlighting text, underliner, stamp, strikethrough, etc.
Keeping the annotation aside, you can quickly add/replace/remove images and text from files. Even you can add forms to PDFs for data collection purposes. The zoom and scroll function is for a better reading experience.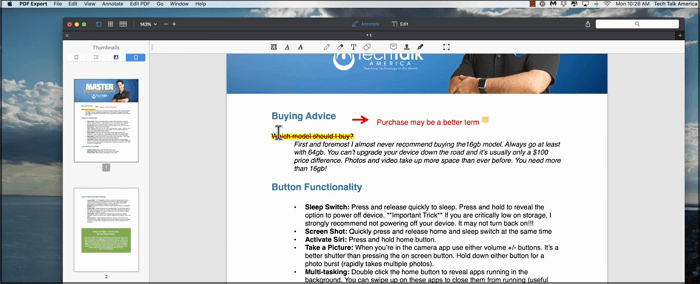 Compatibility: Mac
Features:
Offer an iPhone application
Support the text selection to read it aloud
Let you show/hide the editing/markup features on the interface
Google Cloud integration for easy access to PDFs
Tool 6. Microsoft OneNote
Microsoft OneNote is a fantastic and best PDF annotator that works on Android, iOS, macOS, and Windows. Thanks to this digital notebook, you can utilize several excellent and flexible annotating tools. You can go for adding images, tables, clippings, lists, sketches, etc.
Moreover, the highlighting tools are available in different sizes and colors. The thing is, you are required to attach the PDF and click the draw button to move toward annotation operations.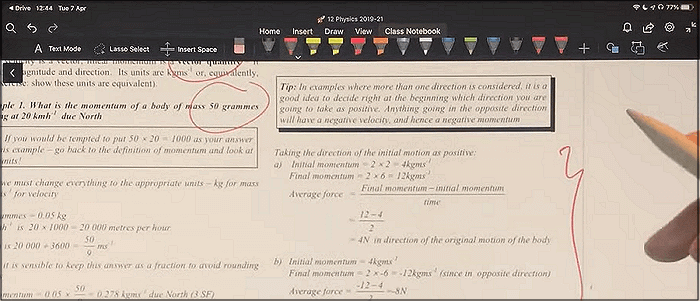 Compatibility: Mac
Features:
Add squares, arrows, directions, etc.
Let you choose the opacity level of the highlighter
Offer data synchronization on all devices
Easy sharing on social media platforms like Facebook
Tool 7. Soda PDF Online
Soda PDF Online Editor is an all-in-one solution for carrying out various PDF annotation functions. It allows you to utilize the features, including pencil, strikethrough, highlighting, etc. Even it is possible to change the color of the highlighter/pencil to get the desired results.
You can quickly add comments, sticker notes, stamps, text, and more using this browser-based tool. Also, it lets you create the custom stamp at ease. Finally, adding shapes like rectangles, arrows, stars, and lines is all your control.

Compatibility: Online
Features:
Intuitive navigation menu
Offer the whiteout feature to remove the text
Add or hide comments as desired
Support business, custom, and dynamic stamps
Bonus Tips: Best PDF Annotator on Windows
If you are looking for an excellent PDF annotator for Windows users, EaseUS PDF Editor stands at the top of the list. Since it offers a complete set of annotation features, you can quickly annotate PDFs in the way you want. You can use the highlight, underline, and strikethrough tools at ease. Even it is possible to add shapes, arrows, text boxes, and even bookmarks to make the PDF document easy-going.
Besides annotating, editing is also at your fingertips. To get the desired results, you can add text, images, links, watermarks, bates numbering, and much more. It allows you to edit at three levels, i.e., content editing, page editing, and protection. You can encrypt the PDF with a password if it is confidential or contains sensitive information. Last but not least, the intuitive interface and smooth functioning lets even naive users annotate PDFs.
Features:
Print PDF without margins in a few simple clicks
Support viewing, editing, and securing PDF easily
Convert PDF to BMP, JPG, Word, TIFF, PPT, etc.
Offer PDF compression at an optimized level
Share the PDF files directly via email
About the Author

Crystal Chen is very interested in technology products. Experiencing many technological applications like video editors, screen recorders, and PDF editors, She is willing to solve users' issues through writing tech-related articles. Through her words, you can find various solutions to solve one problem.