3 Ways | How to Edit Secured PDF on Windows/Mac
Protecting a PDF file with a password and restricting access to only a few users is always a professional way of working. But sometimes, you or other people may need to edit a secured PDF document, but do not know how to get it done. 
If you are in need of trustworthy software that can assist you in editing a secured file without cyber issues, this is your stop. Here you will come across some efficient software that can enable you to access, edit, and print secured PDF. Also, there is a step-by-step guide on how to edit secured PDF for demonstrating each software. Let's get started!
How to Edit Locked PDFs with EaseUS PDF Editor
The digital market overflowing with software can help you edit a locked file, but only a few can fulfill their claims. The best software that can let you edit a locked file easily and speedily is EaseUS PDF Editor. 
There are also many other functions that this software can undertake. Such as, it lets you write comments and notes, sign document, and add shapes to PDF file with ease. Moreover, you can design forms from scratch or using already available temples, fill them in, and securely share them with others. 
What's more, if you have files in other formats, you can convert them into PDF and vice versa. Its security and conversion are much-needed features that are worth trusting. 
Features:
Print PDF without margins on Windows PC
Protect PDF from unwanted access with a password
Add digital signatures to PDF files
Manage your PDF files clutter easily
Perform image compression and OCR Scanning
Demonstrated below is a step-by-step guide on how to edit a locked PDF using this software.
Step 1. Download and install EaseUS PDF Editor on your computer.
Step 2. Open the software and hit "Open Files" to upload the PDF document you want to remove the password. To open the PDF successfully, you need to enter the password.

Step 3. Next, click the "Protection" option at the top toolbar and choose "Remove Security" from the right side of the interface. Then a window will pop up and click the "OK" option.

Step 4. Once done, you have removed the password from your PDF successfully, and you can export your PDF by clicking "File" > "Save".
How to Edit Secured PDF with Adobe Acrobat
Adobe Acrobat is a great software when it comes to editing secured PDF files or any PDF operations. It has practically won the claim of being the only software that can work with all types of PDF content, including forms and multimedia. 
Having this software, you can add comments, notes, digital signatures, and markups to a PDF document. Moreover, you also can make forms, sign documents, redact, or do other editing to the PDFs.
Most importantly, Adobe can allow you to edit a secured PDF easily and quickly. Let's find out how!
Step 1. Open this program on your device. Open the secured PDF you want to edit in Adobe.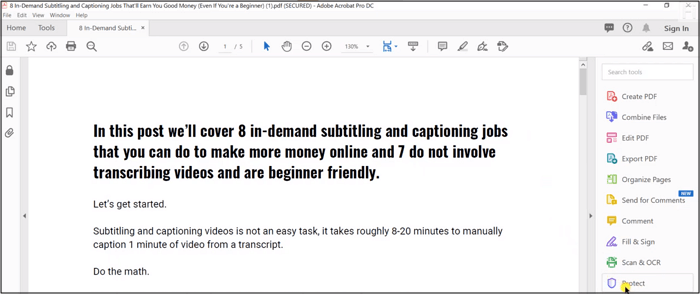 Step 2. After having access to the file's password, the secured files type the password in the Enter Password box. Click Tools > Protect > Encrypt > Remove Security.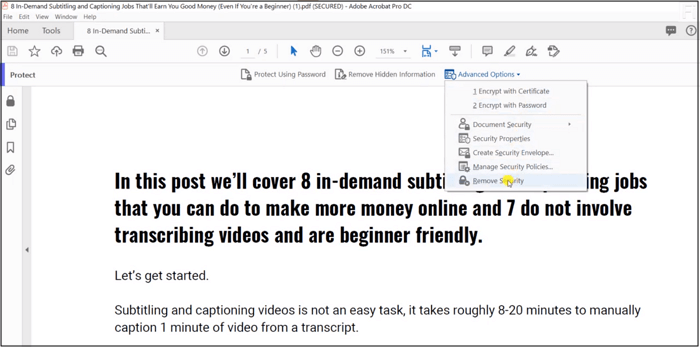 Step 3. Now Click on file > Save As and choose PDF from the Menu to save it on your device.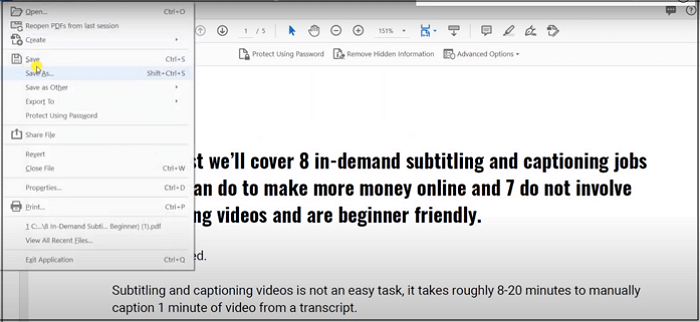 How to Edit a Secured PDF File Online
Small PDF is a dedicated PDF software that works both online and offline. It comprises 21 tools for compressing, editing, and converting PDFs. Using this software, you can transform file formats to and from PDF. You can merge PDF files into one unified document. Moreover, it enables you to E-sign PDF files, fill in online forms, and request people to sign. If your PDF's size is not befitting, you can compress it without compromising on the quality. 
Also, it allows you to change image format between JPG, PNG, BMP, GIF, and TIFF.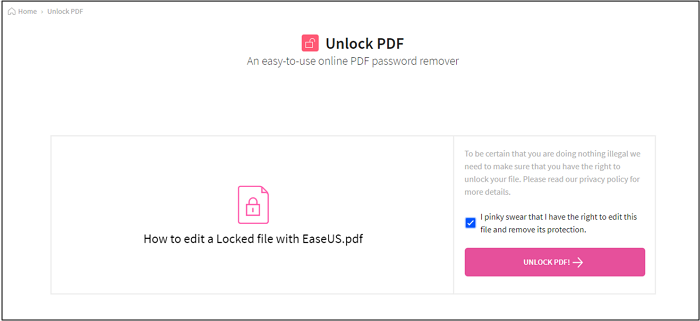 Let's move to the step-by-step tutorial on how to edit a secured PDF online using Small PDF:
Step 1. Go to Small PDF Website. Click Unlock PDF Now and select the file you want to edit. 
Step 2. You have to Checkmark the box to start the process. The process will take few seconds to complete if your file has no encryption. If your file has encryption, type in the password in the "Enter the Password" option. This will unlock your file. 
Step 3. Click the Edit icon once the file is ready to be downloaded. Edit the content.
Step 4. After you are done editing, click Download and get it saved on your device.
The Bottom Line
The need for how to edit secured PDF can arise multiple times a month, especially if your work includes PDFs. But editing your important content with any online tool you come across is not intelligent. You must trust only that software proven to be good. The ones mentioned above are globally trusted and long acclaimed. 
To be specific, Adobe Acrobat can edit secured PDF files offline. At the same time, Small PDF can do it either online or offline. If you deal with PDFs during the major work time, go for EaseUS PDF Editor. This software has a wide range of tools for PDF operation. Just try it now!
About the Author

Crystal Chen is very interested in technology products. Experiencing many technological applications like video editors, screen recorders, and PDF editors, She is willing to solve users' issues through writing tech-related articles. Through her words, you can find various solutions to solve one problem.