How to Make PDF Transparent Background Easily (3 Easy Ways)
How to tell if your PDF is in a white background or a transparent one? The best method is to import the PDF into Adobe Acrobat and activate the "Show transparency grid". If the background of your PDF shows in a checkerboard pattern, that means the file has a transparent background. Besides this, other ways are also available.
Nevertheless, the most advantageous part of a PDF with a transparent background is that it can be compatible with many printers. And it can help you print out the artworks in high quality. But as some elementary PDF editing tools don't offer you the function to make PDF transparent background, a powerful PDF transparent maker is necessary. This post will show you three ways to convert PDF to transparent background online and offline. Keep reading to know more.
How to Make PDF Background Transparent using EaseUS PDF Editor Offline 
If you are looking for a PDF background transparent maker, you can opt for EaseUS PDF Editor, a versatile PDF editing software for Windows users. With its help, you can easily convert PDF to transparent background. Also, it enables you to darken a PDF for viewing it better within simple steps.
Moreover, this program offers lots of tools that let you edit and manage your PDF documents. When it comes to managing the PDF pages, there are many available tools you can use. For page design, you can add various types of elements to your PDF. For example, you can insert the footer or header into PDF, customize the background freely, or add the bates number to manage multiple PDFs easily. Of course, it also allows you to delete or remove what you added to the PDF with ease.
Last but not least, this lightweight PDF editing program would take only a fraction of the storage space of your Windows PC!
EaseUS PDF Editor
Run smoothly on Windows 11/10/8/7
Offer OCR tool to make a scanned PDF editable
Set PDF background as an image
Add or remove background from PDF
Compress PDF and reduce its file size
Steps to make PDF background transparent on Windows:
Step 1. Launch EaseUS PDF Editor. Click on the "File" > "Open " to import the PDF you want to edit.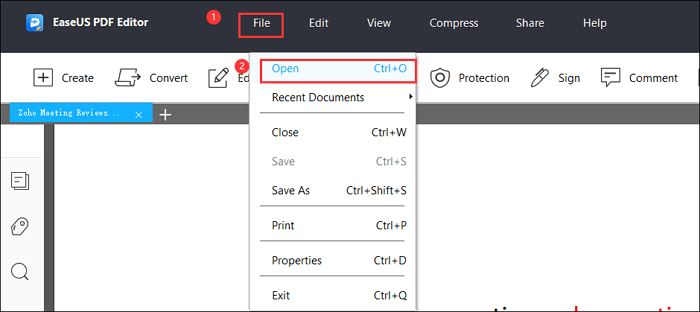 Step 2. Click on the "Page" button on the top toolbar, and you will enter the page editing mode. On your right side, there are some tools you can use to edit the PDF pages.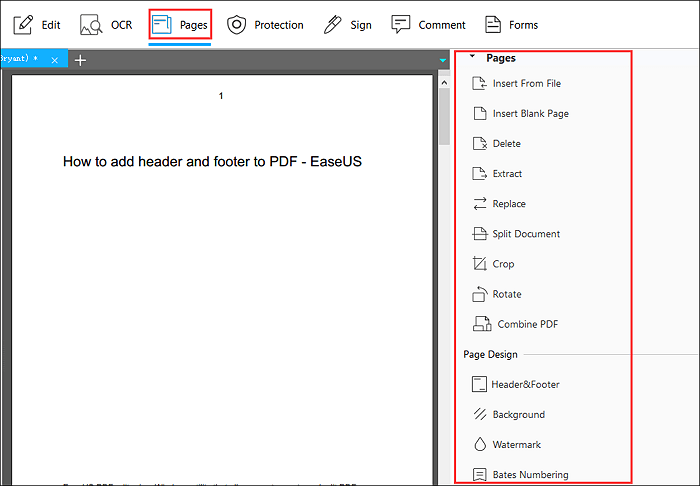 Step 3. In the "Page Design" section, you can click on "Background" and select the "Add" option. If there is already a background, you can choose to update the existing one.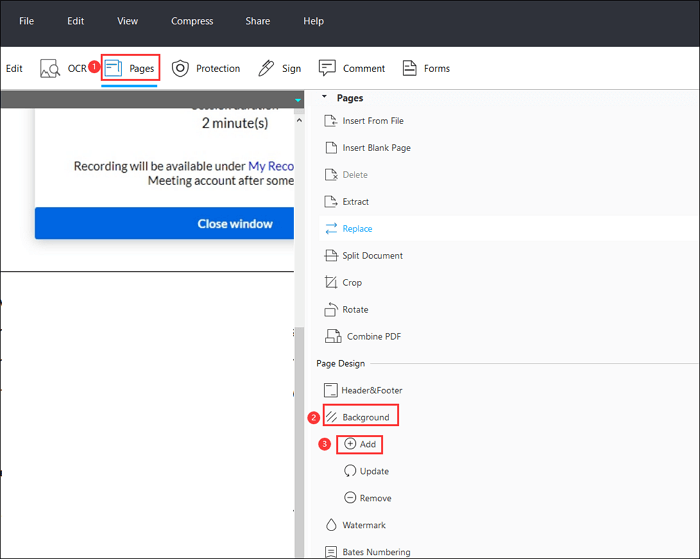 Step 4. Under "Appearance", you can adjust the opacity of the PDF background. It's also available to input a number to the box and move the slider to set the opacity. To make the background transparent, input 0% into the box.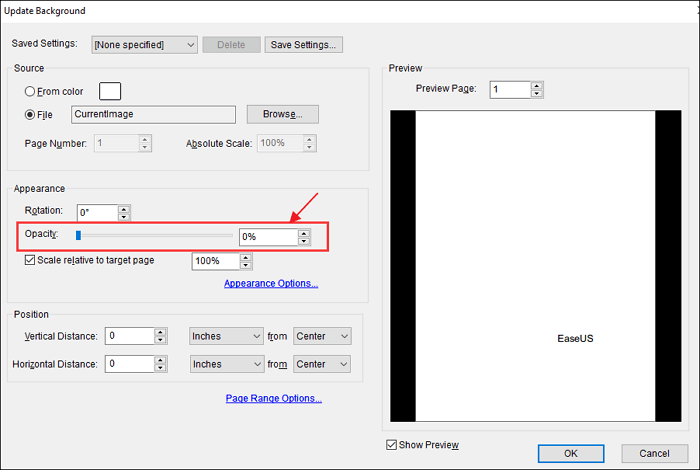 Don't forget to save the PDF after editing it. Now, you get a PDF with a transparent background.
How to Convert PDF to Transparent Background with Adobe Acrobat
Another PDF transparent maker is Adobe Acrobat, which is regarded as one of the most professional PDF tools worldwide. With its assistance, you can create a PDF with transparent background, make a PDF darker, or even light a PDF document within 3 simple steps. 
Acrobat actually can do a lot more than making PDF transparent. Here, you can also enjoy a wide range of editing features, including adding or deleting images, creating forms, inserting passwords, etc. Last but not least, the PDF conversion feature is available, as well.
Here's how to transparentize PDF background in Adobe Acrobat:
Step 1. Open your PDF file with Adobe Acrobat, then click "Acrobat Pro DC" > "Preferences".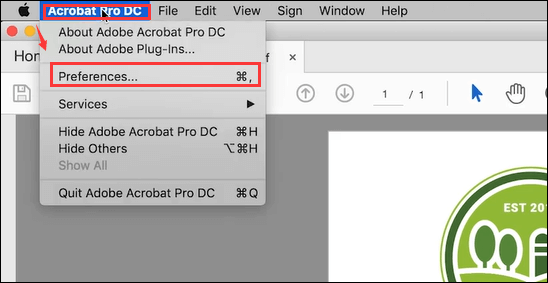 Step 2. Next, select the "Page Display" on the left sidebar, and activate the option (Shows transparency grid).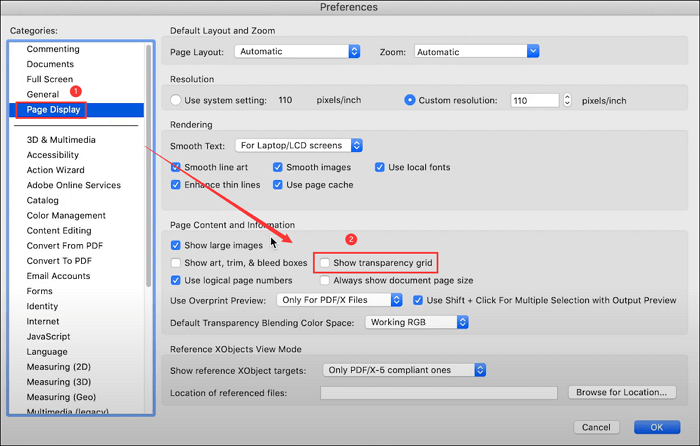 Step 3. Then click "OK" at the lower right corner. Once done, you will find your PDF with transparent background.
How to Make Transparent PDF Background Online
If you are a one-time user who wants to create a PDF with transparent background, then the online tools may be your first choice. Although there are lots of online services that provide options for transparent PDF, we still want to share with you the top 1 online PDF background transparent maker, and that is Soda PDF.
It is an excellent online PDF editor, which assists you in creating PDF with transparent background. Apart from that, this online service also offers you options to view, convert, and edit PDFs as you like.
How to transparentize PDF background online for free:
Step 1. Open a website that can remove the background of an image and turn that part into transparent. Save the edited PNG image to your device.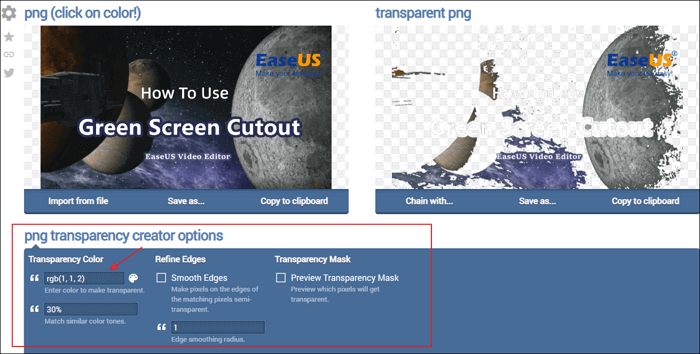 Step 2. Then, you need to find an online PDF editing tool that supports inserting a picture into a PDF as the background, such as Soda PDF. Open Soda PDF online version and upload the PDF you want to edit. Then, click on "PAGE" > "Background". Under "Select Contents", there are two options that you select for the background. 

Step 3. When the PNG image with a transparent background is added to the tool, click on "APPLY" to set it as the background of your PDF.
Step 4. Now, click on the "Download" button in the upper left corner to save the PDF to your device.
Although this method is complex for many people, it enables you to do all the operations without downloading any software to your computer.
Conclusion
All the three methods are practical in making the PDF background transparent. Obviously, the offline method is more convenient since all the operations can be done in one desktop program. In contrast, people who choose to do that with online tools have to find two websites to get the work done, which will waste a lot of time and energy.
EaseUS PDF Editor is the indispensable software for the offline solution. If you want to try it, you can click on the following button to download it now.
About the Author

Jane is an experienced editor for EaseUS focused on tech blog writing. Familiar with all kinds of video/PDF editing and screen recording software on the market, she specializes in composing posts about recording and editing videos. All the topics she chooses are aimed at providing more instructive information to users.