Easy Ways to Fill and Sign PDF Forms Online or Offline
In today's time, PDF is one of the most popular types of file formats. Almost every professional business is using PDF to get their things done. But what if you get stuck in between for the failure of signing and filling a document. 
No matter what type of business or study you are involved in, you will need to sign the documents at one point in time. However, if you ever need to fill and sign PDF, don't be worried because several PDF editors are available in the market. On this page, we will share with you 3 professional yet easy PDF editing programs to help you achieve your goals.
How to Fill and Sign PDF Form on Windows
EaseUS PDF Editor is one of the best PDF editors you can use on Windows to sign and fill PDFs without any hassle. Apart from signing, it also offers many other functions to edit your PDFs like adding watermark, inserting number pages, etc. Moreover, you can also benefit from the compression feature to reduce PDF size for later sharing. It comes with several optimizing functions that users can utilize to optimize images, fonts, user data, etc.
If you need to email PDF documents you edited, you can easily get the work done within this program in one simple click. 
Key features:
Convert PDF into more than ten file formats, and vice versa
Protect a PDF with password encryption
Add bates to multiple PDFs
Manage PDF pages as you like
The processes for signing and filling the PDF form include the following:
Step 1. Launch the EaseUS PDF editor tool on your Windows PC. Next, click on "File" > "Open", and select the PDF form you want to fill and sign.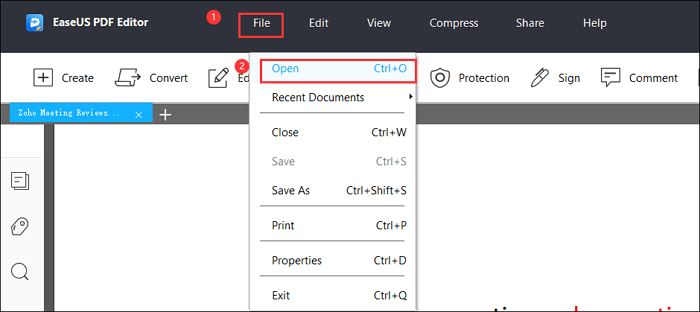 Step 2. Once the form opens, click on a form field and type to fill it up.
Step 3. To sign the document, click on Sign on the bottom toolbar. Then, from the right pane of the software window, choose Sign > Sign document. A pop-up window will appear with the prompt "Drag New Signature Rectangle". Click on it.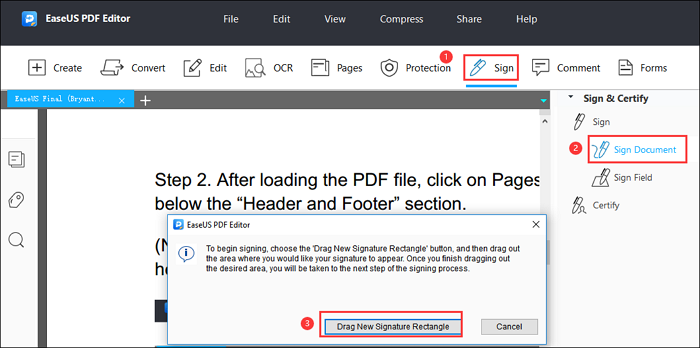 Step 4. Now, select the area where you want to add your signature, and as soon as you select it, another pop-up window will appear. On the new pop-up window, from the dropdown beside Sign, choose New ID.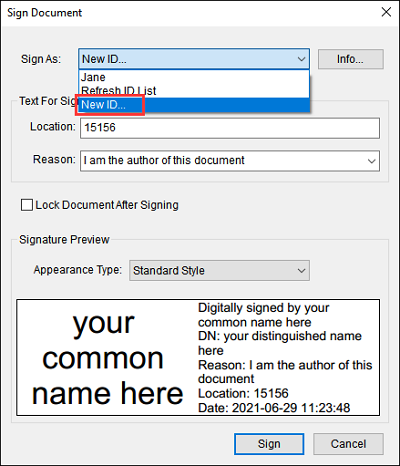 Step 5. Now, follow the prompts appearing on your PC to complete the process of digital signature.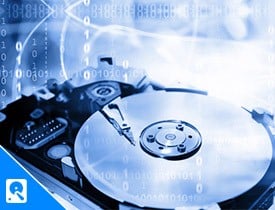 How to Fill and Sign a PDF Form on Mac
For Mac users, Adobe Acrobat is an excellent program for you to sign and fill PDF documents. As the most popular PDF editing software, it enables you to calculate, sign fields, and convert file formats. Speaking of signing the document, you can receive high-end print quality. Now let's take a look at the tutorial to fill and sign PDF documents: 
Step 1. Open the PDF on Adobe Acrobat Reader on your Mac, then go to the right pane and click on "Fill & Sign". The Fill & Sign options will be displayed.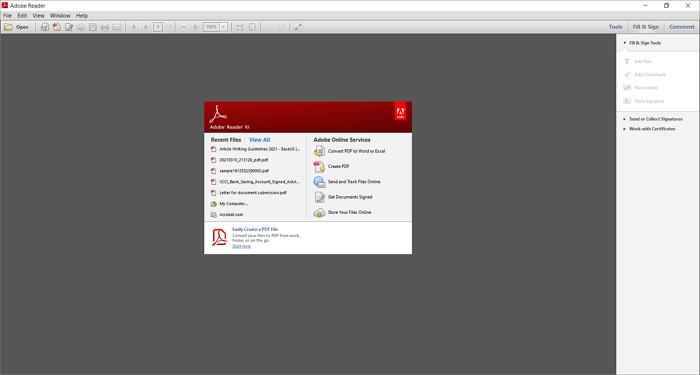 Step 2. Click on the "Fill & Sign" button. The tools specific to filing and signing will come up in the toolbar.
Step 3. Hover your mouse to a form field and check if it turns blue. If it does, just click on it and fill it up. 
Step 4. If the form field doesn't turn blue, it means you have to fill it manually. Click on "Add Text" in the toolbar, click on the form where you want to add text and type what you want to add.
Step 5. To sign the PDF form, click the Sign icon and choose if you want to add a signature or initials. You'll have two options. 
If you have already added your signature or initials, they will be displayed as options. You can simply click on it and then click at the place in the form where you want to add your signature.
If you have to add a signature, you'll have to use the signature or initials panel, where you can type, draw, or choose from a saved image of your signature. 
Step 6. Click on "Apply" and then click at the place on the PDF where you want to add the signature.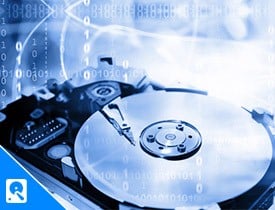 How to Fill and Sign PDF File Online
If you don't want to download any software, then you can try online PDF editing tools. Here we take SmallPDF as an example.  
SmallPDF is one of the most prominent online platforms to fill and sign PDF forms. One of the best features of this platform is that it is compatible with all devices, which means you can edit your PDF files anywhere and anytime!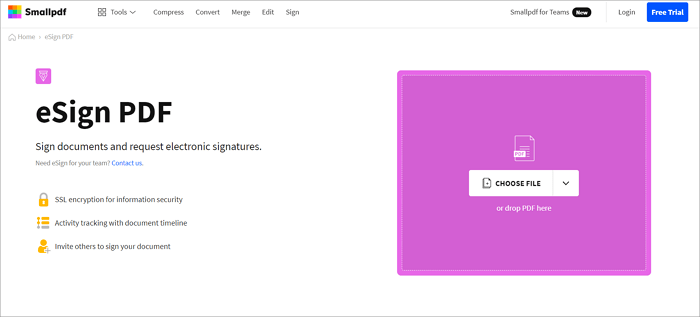 Step 1. Go to the Smallpdf online eSign tool, upload your PDF document, and choose if you are the sole signee or request others to fill and sign the document.
Step 2. To Fill a form, click on "Add Text", type the text in the box that comes up, and then drag and drop your text in the form field you want to add it to.
Step 3. To sign the document, click on "Place Signature". If you haven't created a signature, first create it. Or, simply select the e-signature you want to use. Drag and drop the signature at the right place on the document. Click Apply. 
Step 4. Download and save the document on your computer.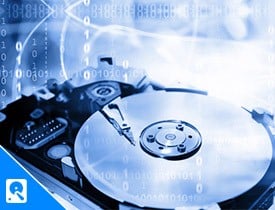 Final Thoughts
Thanks to these PDF editing platforms, no student or business needs to be worried about filling and signing PDF forms. Now you can pick anyone you like to start signing and filling your PDF documents based on your needs! We hope that this post can help you!
About the Author

Jane is an experienced editor for EaseUS focused on tech blog writing. Familiar with all kinds of video/PDF editing and screen recording software on the market, she specializes in composing posts about recording and editing videos. All the topics she chooses are aimed at providing more instructive information to users.