Best 5 PDF Metadata Viewer to Help Read PDF Metadata
"I have been trying hard to view the PDF metadata from some of my important PDF files. I had no luck in doing so. Can anyone help me find the right tool to do this?"
If you want to know the details of a PDF file, then a PDF metadata viewing software can help you. PDF metadata consists of the data for a PDF document. If you need to know the details about a PDF document, then PDF metadata can offer you the name of the document/file, the creation date, who is the author, any kind of copyright information, what software was used to create the document, the restriction type of the document, document resolution, etc. and more.
In this article, we are going to talk about the best 5 PDF metadata viewers that can help you to view PDF metadata without any hassle. So let's get into the details to know more about them.
Part 1. Top 5 Best 5 PDF Metadata Viewer to Help Read PDF Metadata
Here we are going to share with you the top 5 PDF metadata reader for both Windows and Mac. Now, let's dive in!
1. EaseUS PDF Editor
The best way to view PDF metadata on your Windows computer is by using EaseUS PDF Editor. It's a one-stop solution as a PDF maker, reader, editor, and converter. There are so many advanced features available in this software that you can do almost everything with a PDF file anytime you want. From converting PDF files to different file formats to editing PDF documents as you want, it can give you full control of a PDF file for editing, creating, or viewing.
Features:
You can easily view PDF metadata and any other details about a PDF file
Read a PDF file with various options, including zooming, rotating, etc.
Easily merge PDF files into a single PDF effortlessly or extract pages from a PDF file
You can add digital e-signatures into PDF files
Password protect PDF file so that your data stays secure all the time
Now we will show you how to view the metadata information of your PDF in Windows:
First, you need to launch the program to open the home page of EaseUS PDF Editor.
Step 1. Next click on the "Open Files" button from the homepage window. A pop up window will open for you to select and import the PDF file into the software. Choose the PDF file and open it on the program.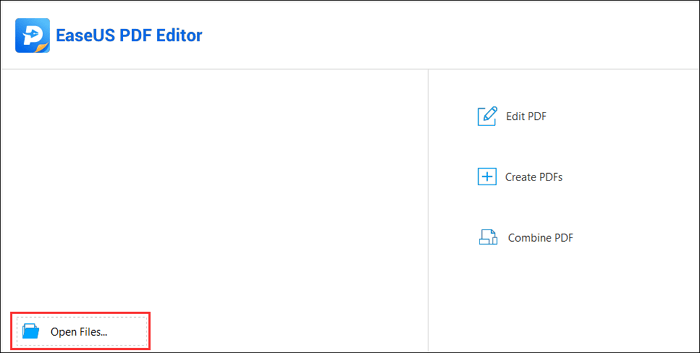 Step 2. Now click on the "File" option from the upper menu bar and select "Properties" or directly press the "CTRL + D" button.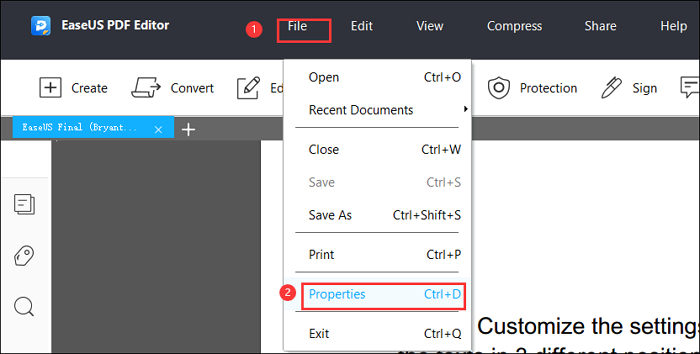 Step 3. Finally, you will get the PDF metadata window to view PDF metadata easily from the software.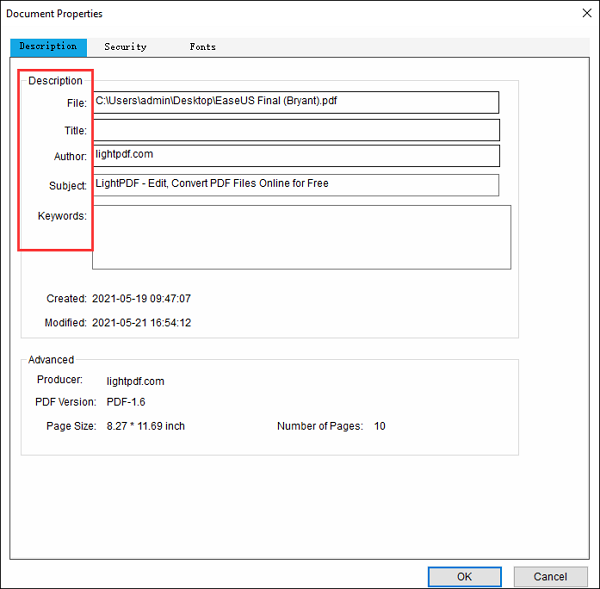 Read also: best PDF accessibility checker
2. Adobe Acrobat Reader DC
Undoubtedly one of the most popular PDF metadata viewers or editors is Adobe Acrobat Reader DC. This powerful PDF reader has various features and it also has a feature to view PDF Metadata.
It can show both basic and advanced metadata information of a PDF file. For basic metadata, you can view PDF title, author, keywords, date of creation and modifying date, also the software that is used to create a PDF file.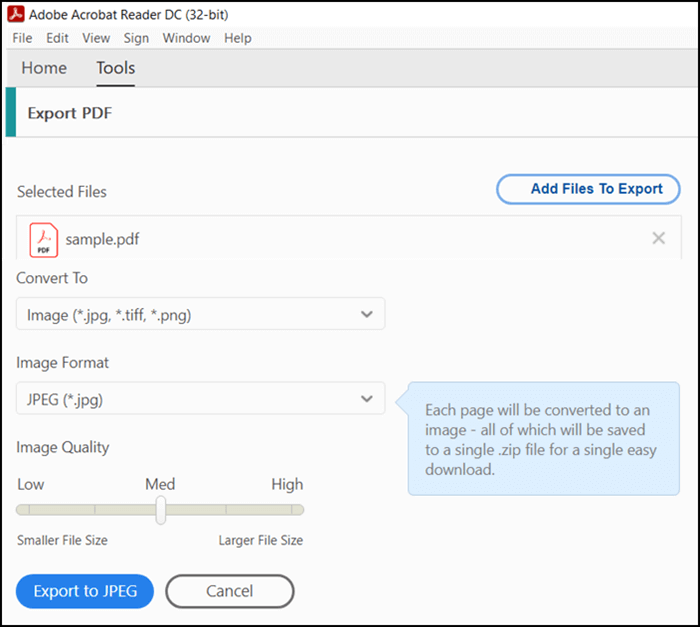 Features:
It supports various file types, and it can convert files from PDF to other types
Allow users to edit, annotate and inspect PDF files
It can export data from a PDF file
Step by step to read PDF's metadata:
Step 1. First, you need to launch the software, open a PDF file, and then click on the "File" menu.
Step 2. Then select the "Properties" option.
Step 3. Now the "Document Properties" window will open, where you can view all the information related to the PDF file.
3. PDF Metadata Viewer
This is one of the best tools to view PDF metadata information without any problem. It has many interesting features like the other competitors of the same genre.
You can easily view multiple files metadata together and also view the PDF file name, creator's name, subject, producer, keywords, and date of creation. If there has been any modification made in the PDF file, you can easily access this information and see who is the author of this file.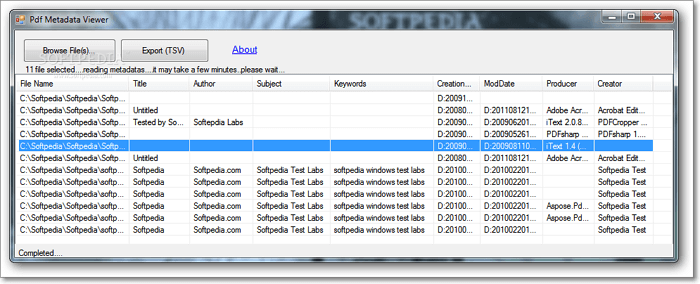 Features:
Allow users to view metadata of multiple PDF files together
All kinds of basic and some advanced PDF information can be made available to see via this program
It allows users to export PDF metadata in .txt file.
How to view metadata information with PDF Metadata Viewer:
Step 1. Launch software and open PDF files via the program.
Step 2. Click on the "View" button from the menu bar.
Step 3. Go to "Properties," and you'll find all kinds of metadata of the PDF file.
4. FileTagSleuth
FileTagSleuth is another powerful PDF metadata viewer that is famous among a lot of people. It can give you easy access to view PDF metadata in any PDF file document. It has many useful features that include viewing PDF name, creation and modification date, language, PDF version, the size, page count, author name, and more important metadata info.
Also, it has a very easy-to-use interface that any newbie or advanced user can handle. You can simply install it and start using it any time you want.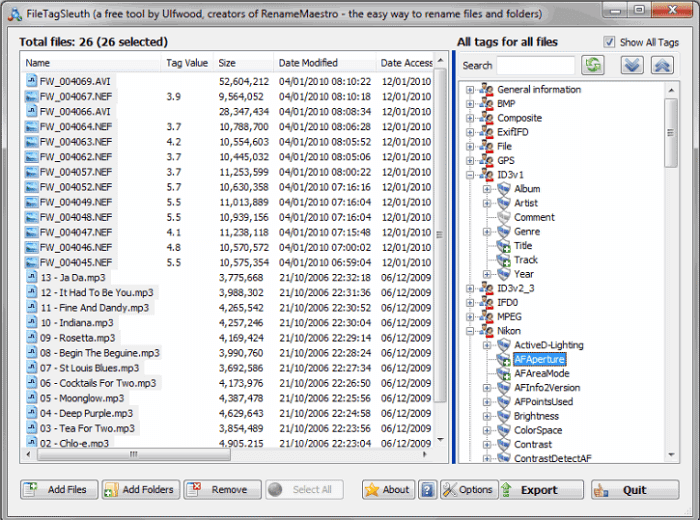 Features:
Easily read all kinds of tags on your PDF file
Find all the common tag names from thousands of files
Read many file types, including PDF, JPG, MP3, PNG, RAW, AAC, etc.
Allows users to view metadata and other information about a file and export them
Here's how to use this program to read more information about the PDFs:
Step 1. Download and start the software and import your PDF file into it.
Step 2. Click on the PDF file that is needed. You'll see all the metadata information of that PDF file on the right side of the program window.
5. ExifTool
ExifTool is not so popular in this list of tools to view PDF metadata, but it has powerful features that help a lot. It not only supports PDF files but also other formats as well. You can view all kinds of important metadata information and other information about a PDF document without breaking a sweat. As a command-line software, ExifTool makes it technical but easy to handle PDF files.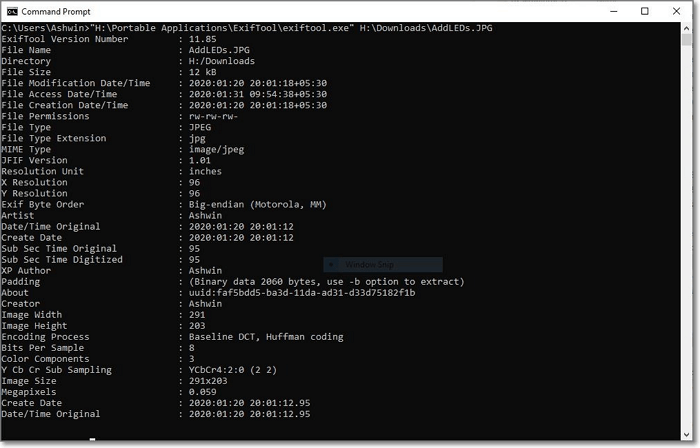 Features:
It allows users to view important metadata information in a PDF file
It can read/write metadata information in various types of files
People can rename/organize files by using metadata information in this tool
Step-by-step tutorial:
Step 1. Open the "Command Prompt" window, then drag and drop exiftool(-k) file on the "Command Prompt" window.
Step 2. Now drag and drop the PDF file into the window.
Step 3. It will make a command, and you need to press "Enter" on your keyboard. Finally, you can view the metadata information of that PDF file.
Bonus: How to Edit PDF Metadata Easily
In this part, we are going to talk about how to edit PDF metadata easily by using an online PDF editor named Sejda. There is no doubt that it has many amazing features that can help you control your PDF file and edit the metadata of any PDF file without any problem. So here is how you can edit a PDF file by using Sejda.
Step 1. First, you need to upload the file by clicking on the "Upload" button directly, drag, and drop it into the interface.

Step 2. Next, when the file is opened into the web interface, all the existing metadata of that PDF file will be displayed. You just need to update any metadata of your choice such as Title, Keywords, Creator/Author etc.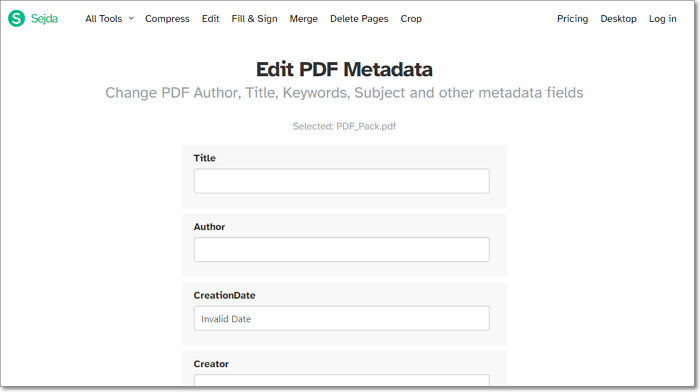 Step 3. Finally, when you are done editing, click on the "Update PDF Metadata" button to save the updates and then click on "Download" to save the PDF file to your computer.
Conclusion
To conclude this whole review of the best 5 PDF metadata viewers, we don't want to impose any decision to choose a tool. You can select any tools from here that are suitable for your work, but we must say that all of these tools have specialties of their own.
If you want our opinion on selecting the best one among all 5 of them, we would definitely suggest you start using EaseUS PDF Editor. There is no other PDF editor on the market that has so many powerful PDF editing features and an intuitive user interface like this one. It has all that you need for handling a PDF file on your own.
About the Author

Crystal Chen is very interested in technology products. Experiencing many technological applications like video editors, screen recorders, and PDF editors, She is willing to solve users' issues through writing tech-related articles. Through her words, you can find various solutions to solve one problem.