2022 | How to Unhighlight in PDF with 6 PDF Editors
Did you know that you can unhighlight text in PDFs? This process works without changing the formatting of the original document. While highlighting text helps to mark important points, there comes a time when you want a clean display.
These are 6 tools you can use to remove any highlighting that is available in the PDF file. The highlighted content is a part of the PDF elements, so any PDF editor can remove it. This post tells you how to unhighlight in PDF, like the text and so on.

A quick solution to unhighlight text in PDF:
Step 1. Download EaseUS PDF Editor on Windows. Then, import the PDF with highlight text. 
Step 2. Click the "Comment" option from the top toolbar. Find and click the first button under the Annotations. 
Step 3. Choose and left-click the highlighted text you want to unhighlight. Then, press the Delete button... More details
Choose one of the six methods from the below part. 
How to Remove Highlight from PDF with EaseUS PDF Editor
To delete the highlighted text in your PDF, a powerful PDF Editor for Windows is helpful. 
Its concise user interface makes it straightforward to edit the PDF contents, no matter you are a beginner or a skilled user. All you need is to import the PDF and select the highlighted words, and there is a button that you can click to remove the unwanted part. At the same time, you can apply other features for editing PDFs as well. 
Besides removing the highlight from PDF, you may also want to emphasize some words or sentences, and it can highlight PDF. You can also effortlessly add PDF contents, including blank pages, page numbers, and comments, to PDF files.
EaseUS PDF Editor
Powerful and helpful Windows PDF Editor
Edit PDF and convert PDF without a hassle
Support image and documents for conversion
No registration is required. 
How to Unhighlight Text in PDF with EaseUS PDF Editor:
Step 1. Launch EaseUS PDF Editor and import the PDF you want to edit by clicking the "Open Files..." button.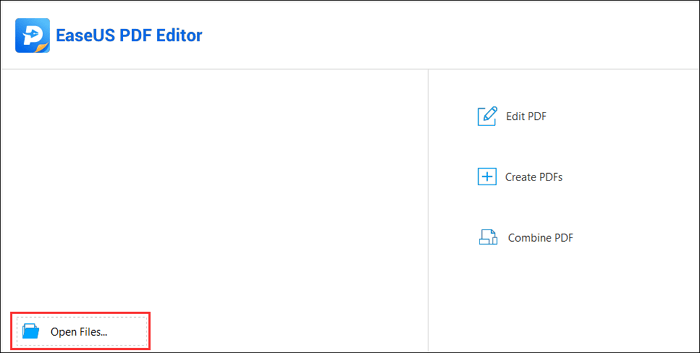 Step 2. Click on the "Comment" button from the top toolbar and hit the first button under "Annotations".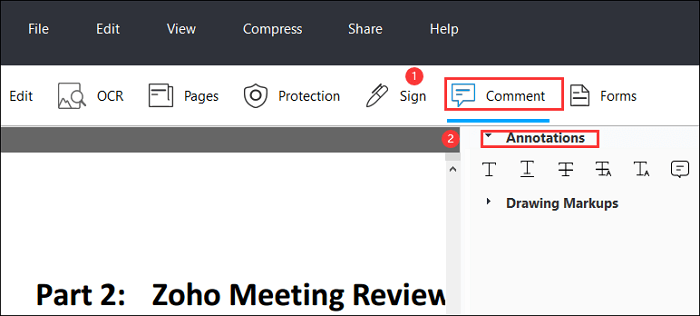 Step 3. Now, select the highlighted text you want to remove. Left-click the highlight until it turns purple.

Step 4. Press "Delete" on your keyboard, and the unwanted highlight will be removed. Then, click "File" > "Save" or "Save As" to export the edited PDF to your computer.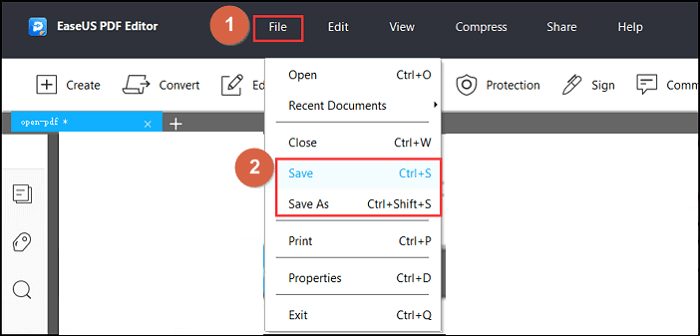 Tips: Only the delete button on the top side of your keyboard can be useful.
Related Article >> How to Erase Text in PDF
How to Unhighlight in PDF with Adobe Acrobat DC
Adobe is a free program that allows you to view, create, and print PDF files. Besides, this free software lets you save a copy of a PDF file you're editing without losing your work. It is great for people who don't want to worry about permanently losing their work if a computer glitch occurs. 
This program lets add comments, highlights, notes annotations, and digital signatures to a PDF file. Adobe is the most widely used software for viewing PDFs. You can easily use the toolset to remove highlighted text and save it as a new file.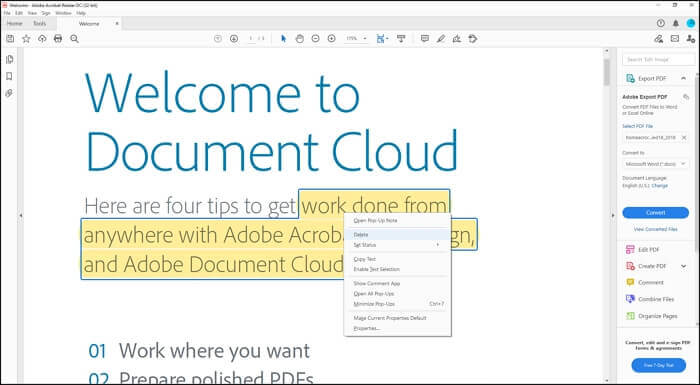 Features:
Create and edit PDF files with complete document control
Insert, delete, and replace PDF pages
Full set of drawing tools, allowing for complex vector-based drawings and text
Add multimedia content such as video, audio, and animation
How to Remove Highlighted Text in PDF with Adobe Acrobat:
Step 1. Open the PDF with Adobe, and open the side panel where all comments and highlights are listed.
Step 2. Select the highlighted content you want to remove, and then delete it. You can go to "View" > "Comments" > "Annotations" and see all the highlighted text. Select the one you want to unhighlight and delete.
Step 3. Once you finish removing all the highlights, save the PDF file.
Download: get.adobe.com/reader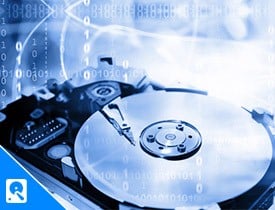 How to Unhighlight Text in PDF with Foxit PDF Reader
Foxit PDF Reader is a lightweight program that allows users to view, create, edit, and print PDF documents on any computer with minimal system requirements. This software can view PDF files, but it also creates new PDFs and edits existing ones.
Many options in PDF are designed to make it easier to annotate PDF documents, which is important for teachers and students. This program can split and merge PDFs, convert PDFs to different file types, and more.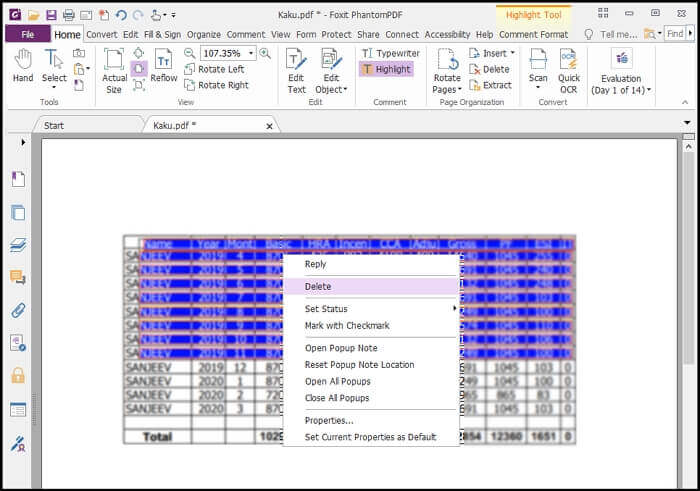 Features:
Copy pages, merge, print, and share PDF files
Offers OCR feature to make searchable PDF files
Edit text, images, highlights, annotations, objects
Convert PDF files into other formats
How to remove highlight in PDF via Foxit:
Step 1. Open the PDF files where you need to remove the highlights with the Foxit PDF editor. Open the comments panel on the left corner in the Foxit Phantom PDF reader, and sort the comments by type.
Step 2. Click the plus symbol to expand all the highlight comments in the comments panel. You can select one or all of them using the Shift key on the keyboard.
Step 3. Right-click the selected highlight comments and choose to delete them. So, you can either delete one or delete all the highlights in the PDF file.
Read also: How to highlight PDF on Mac
How to Remove Highlight from PDF with Nitro PDF
Several PDF apps for Windows 10 let open, view, and edit PDF files. One such app is Nitro PDF. There are several features to make your PDF files easier to read and edit, including allowing you to view PDF files on PC.
With Nitro PDF, you can easily create PDFs from any of the documents. And it does not matter what type of document you want to convert, either.  What's more, the way Nitro PDF works makes it easy to come up with a PDF that is guaranteed to look exactly like the original document.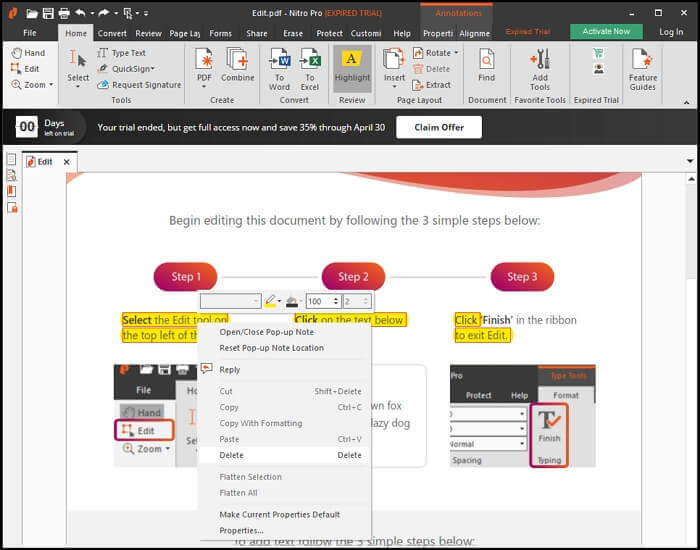 Features:
Add, delete, and edit text, images, annotations
Insert, extract, and rotate pages
Add bookmarks, watermarks, and page numbers
Effectively add hyperlinks and attachments
How to remove highlight in PDF Nitro PDF:
Step 1. Install the software and open the PDF file that needs to delete the highlights.
Step 2. You can instantly see all the highlighted parts of the PDF. Select any of them and choose to delete them. You can right-click on it and delete it.
Step 3. Once done deleting the highlights, save the file to your computer.
Download: www.gonitro.com
How to Unhighlight in PDF with PDFEscape
PDFEscape by Foxit is an all-in-one PDF toolbox specially designed for PDF documents. It combines a PDF reader, an editor, a converter into one. It is a smart solution for reading, editing, and converting PDF files. However, many PDF manipulation features will allow you to make copies, merge documents, and extract pages.
It is a free online tool for opening and editing PDF documents. Also, it can convert PDF files to HTML, DOC, PPT, TXT, JPEG, PNG, GIF, or TIFF. You can use this online service without registration.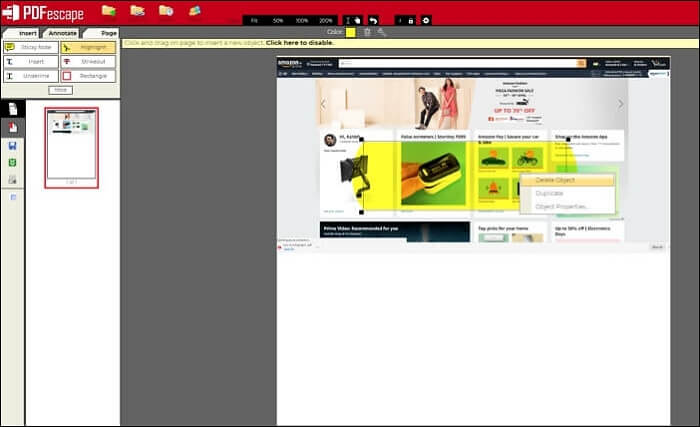 Features:
Edit and annotate PDF files
Fill out PDF form and create new forms
Secure PDF files with password
Share documents online
Remove Highlighted Text Using PDFEscape:
Step 1. Install the software, and open the file with PDFEscape.
Step 2. Once the file is opened, click "Edit" and then select the highlighted text. Right-click on it and select Remove.
Step 3. Once you are done removing the highlights, save the file, and all the highlights will be removed.
Try: www.pdfescape.com/windows
How to Remove Highlight from PDF with PDF2GO
It's an online PDF editor which offers almost all features any software-based PDF editor can offer. Once uploaded, it offers all the markup tools such as text, pencil, whiteout, highlight, line, arrow, etc. You can use it to unhighlight in PDF on Mac. 
Apart from that, this online tool also improves PDF files in various ways, including the options to compress, protect, unlock, change pdf page size, repair, and optimize PDF for the web.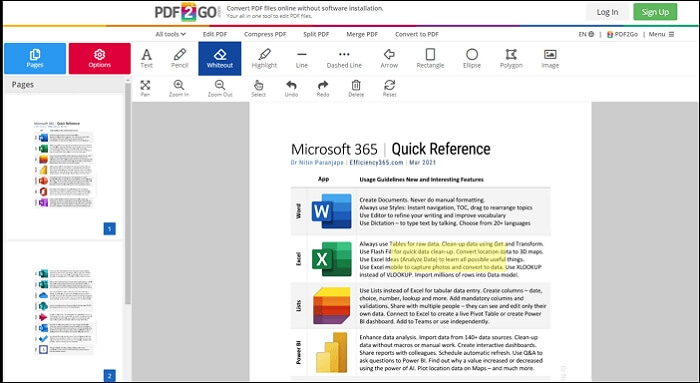 Features:
Edit, merge, split, sort, and delete PDF pages
Convert PDF into Word, JPG, PowerPoint, Excel, etc. 
Password protect PDF files
Remove Highlighted Text via PDF2Go:
Step 1. Open the website and upload the PDF that you want to remove the highlight.
Step 2. It will open the online version of the PDF editor. Select the highlight tool and click the delete button.
Step 3. Once done, click Save and then download this file to your computer. 
Try: www.pdf2go.com/edit-pdf/editor
Conclusion
Highlighting text in PDFs is an important feature that helps mark the important part of the text. It helps anyone who receives the PDF to catch the essential content easily. However, at times you want to remove them. These tools mentioned above can remove the text highlighting in PDFs. For Windows users, EaseUS PDF Editor is the best choice to unhighlight PDFs. 
About the Author

Crystal Chen is very interested in technology products. Experiencing many technological applications like video editors, screen recorders, and PDF editors, She is willing to solve users' issues through writing tech-related articles. Through her words, you can find various solutions to solve one problem.