How to Zoom PDF Online & Offline for Better Viewing
Viewing a PDF is an everyday task; however, what if the font is too small. It will be hard to maintain your focus. This way, reading E-Books and longer documents becomes very difficult. Moreover, you may need to zoom PDF to fit some parts in a specific area. These days, most web browsers have an inbuilt PDF reader, which is convenient but to a specific limit. They do not offer advanced functions like zooming in on files.
So, that's what we are going to talk about in this post. Here, you will learn some great PDF zoomer software, which helps you zoom in or zoom out PDFs without any hassle. Let us get to know them better below!
How to Zoom in PDF on Windows 10 with EaseUS PDF Editor
EaseUS PDF Editor is one of the best free PDF reader for Windows 10, 8, and 7 users. No matter how long your digital books are, it will make sure you read them without getting sore eyes. The significant benefits of downloading this software are zoom in, OCR, adding comments/notes to a PDF, and many others.
Having it, the safety of your PDF tasks is ensured since you can work on a smooth interface with optimized performance. It can give you a superb reading experience with fast performance and necessary features. In addition, advanced abilities such as digital singing, annotations, and form filling are also available.
EaseUS PDF Editor and Reader
Edit PDF files by the split and merge tools
Make forms and get them filled securely
Support OCR technology
Add various shapes to PDFs
Here is how to zoom in on PDF using EaseUS PDF Editor:
Step 1. Download and launch the software on your PC. Now, click File > Open to upload the document you want to zoom in and read.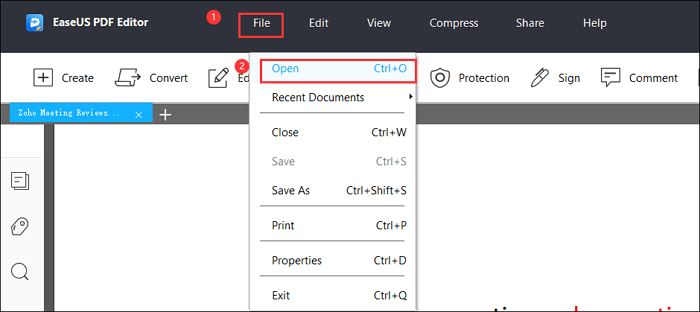 Step 2. Click View > Zoom > Zoom to, then, type in the magnification percentage you want to set. It is available from 8% to 6400%.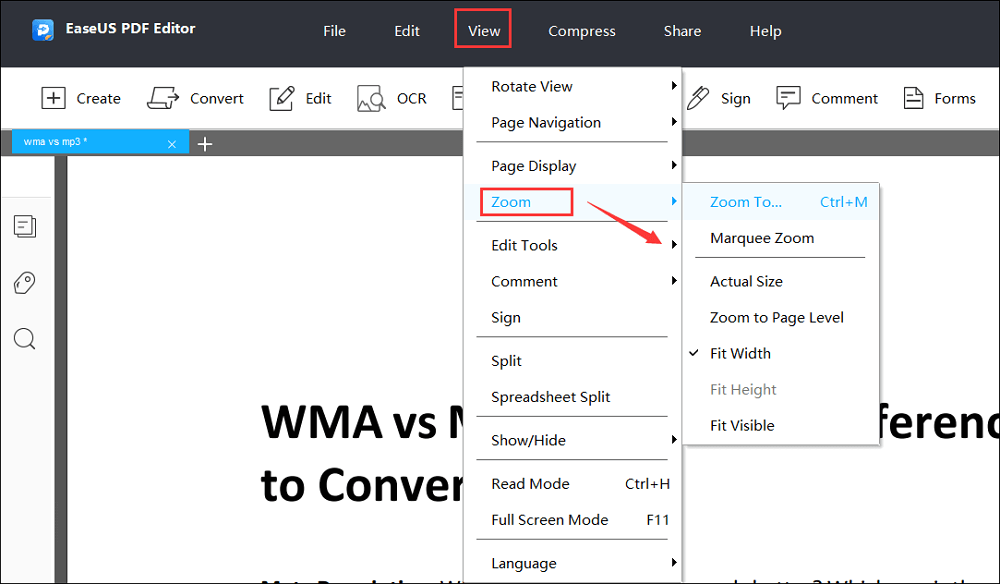 Step 3. In the final step, click File > Save As. Now click "Save As," browse the destination folder, and you are all done!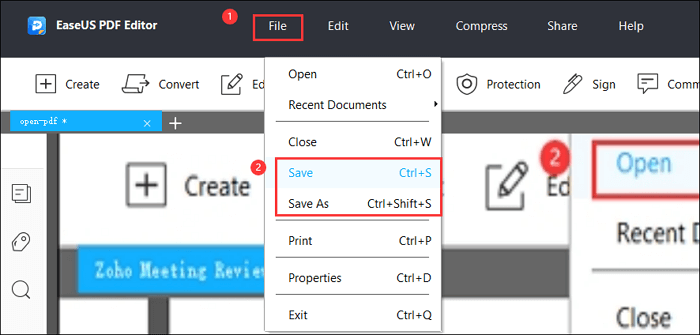 How to Zoom PDF in Adobe Acrobat on Mac
Adobe Acrobat Reader is the software for you if you are seeking a powerful app to read PDF documents. PDF file that necessitates a more capable PDF reader is not unusual. Here, this software presents the function to zoom in on a file. Adobe Acrobat has many features for you to view, access, and edit PDF files easily.
It allows you to adjust the magnification of PDFs using the Select & Zoom toolbar. The default view of the toolbar does not show all the features but, you can access them by right-clicking the toolbar. There, you will come across many tools and options to enjoy. Moreover, zoom in/out, and zoom by value are available on the same Page Control section. 
Here is the complete procedure to zoom in PDF with Adobe Acrobat:
Step 1. After downloading and launching, open the software. Now, upload the PDF file by clicking File > Open in the program.
Step 2. Go to Edit > Preferences and press Page display from the drop-down menu. There will be a Default Layout and Zoom option; click it to open the drop-down menu.
Step 3. Customize the zoom drop-down menu, and you are good to go.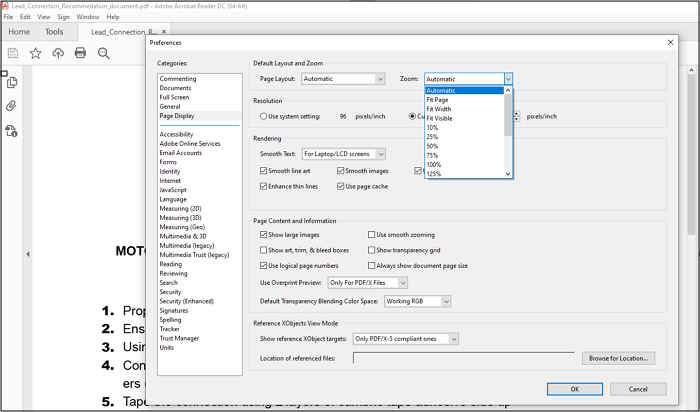 How to Zoom PDF Online for Free
Online Soda PDF is a great all-in-one native PDF editor. It is the ultimate solution allowing you to handle all your documents easily. You can edit and share any PDF using the many tools and features that this online service offers. Despite all the good features, it is best at reading documents easily. Its fascinating reader makes flicking through your digital pages feel like you are flipping through an actual book.
The tool even enables you to grab the edge of the page while turning it in using the 3D view feature. The smaller fonts are also not a problem if you open the PDF in the SodaPDF tool because it allows you to zoom in text and zoom back out.
Here's the step-by-step guide to zoom PDF document online for free:
Step 1. Open the website of Soda PDF in your browser. 
Step 2. Click "Open" and import the file you want to view.
Step 3. Then click the zoom panel option and set it as per your requirements. You are done!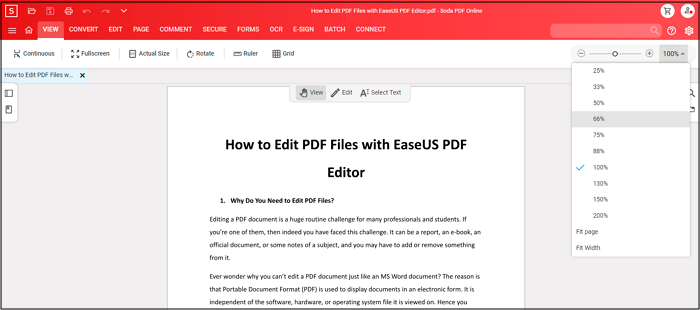 The Bottom Line
Many PDF files have small fonts irritating eyes or graphics that make them difficult to read. Thus, the readers are concerned about how to zoom in on a PDF. Having the correct tools can make reading files fun for you. The best one is EaseUS PDF Editor for Windows because of its easy-to-use interface and fast functioning. Even a naive/first-time user can perform the function easily. 
FAQs About Zoom on PDF
1. Can you zoom in on a PDF?
Yes, you can only zoom in on a PDF if you have good PDF editing software. We recommend using EaseUS PDF Editor for Windows users. It will assist you with better reading, viewing, and editing PDF files experience. 
2. How do you show a PDF on Zoom?
First of all, open the Zoom application on your device. Start a meeting and select Share Content > Screen from the toolbar. Lastly, open the PDF Reader software where the document is ready to be read. That is all!
3. How do I zoom a PDF and save it?
You need to have PDF Editor software with the feature of zoom-in. EaseUS PDF Editor is the best one available for Windows. Open the software, click Add Files, and open the PDF file. Then, click View > Zoom and adjust the magnification percentage.
4. How do I zoom a PDF full screen?
You can use ctrl + mousewheel to zoom in and out until it fits the full screen.
About the Author

Jane is an experienced editor for EaseUS focused on tech blog writing. Familiar with all kinds of video/PDF editing and screen recording software on the market, she specializes in composing posts about recording and editing videos. All the topics she chooses are aimed at providing more instructive information to users.