Free Download | Top 5 PDF Form Designer in 2022
Adding a form in PDF is one of the easiest ways to maintain the originality of a form, while adding forms in DOC files will change its structure. PDF allows forms to retain their original layout without being changed whatsoever. And you can send the PDF with forms to others, invite them to fill out the forms, and collect data in this way.
However, that does not mean that we cannot customize the form we have added in PDF and add other necessary elements, as PDF editor software allows us to do so. Less hassle, less work!
1. EaseUS PDF Editor
Compatibility: Windows 10/8.1/8/7
EaseUS PDF Editor is software that offers "Forms" as one of its main functions. What makes the "Forms" option unique is that users can customize their form in PDF. You can add new elements to the added forms. For example, you can type in the "Text Field" to add text to the PDF.
Examples of the elements offered in "Forms" are "Push Button", "Radio Button", "Check Box", "List Box", and many more. If you would like to use your data, you can convert them to the format this software supports and import them into this software with simple clicks. All these steps can be done effortlessly.
Of course, EaseUS PDF Editor has other features besides customizing forms in PDF. Here are some of its highlighted features:
Edit PDF files by rearranging, splitting, and merging
Add signature to PDF files
Offers accurate OCR scanning
Those features can nearly meet all your needs for creating a PDF with forms and editing PDFs. If you want to use this software to process your PDFs, click on the button below to download it now.
Steps to Add Forms Using EaseUS PDF Editor:
In this tutorial, we will take one type of PDF form, "Text Form," as an example to show you how to add a PDF form and how to fill it out.
Step 1. Launch EaseUS PDF Editor, then open the PDF file you want to edit in this program.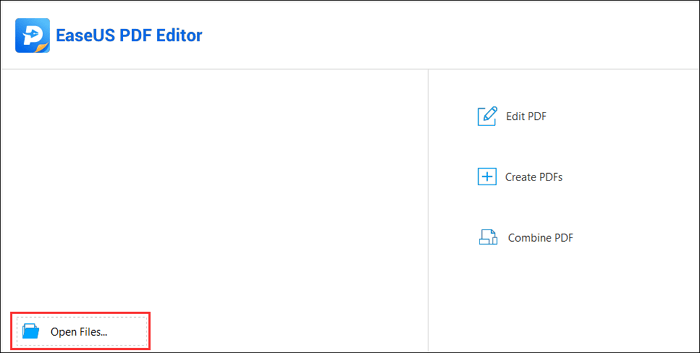 Step 2. Click on the "Forms" button, and you can see various types of forms under the "Forms" tab. Select the suitable one.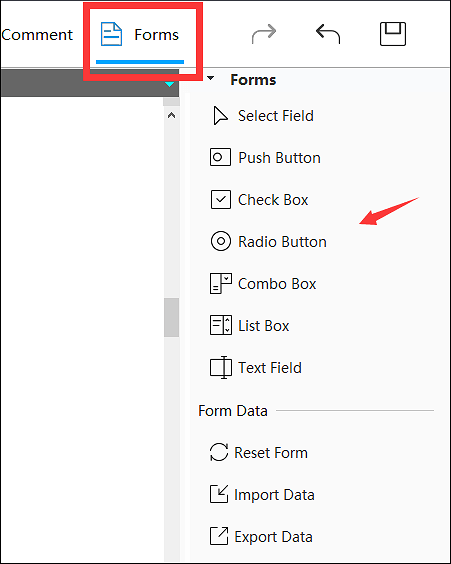 Step 3. Choose the form you want to add and select the suitable potion on the PDF where you want to place the form. You can also drag the form to adjust it.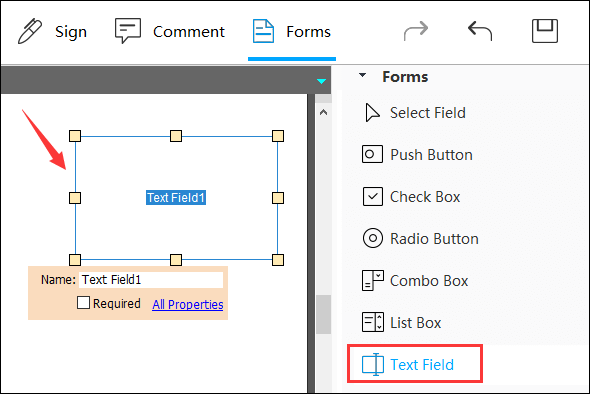 Step 4. Now, you need to click on the "File" button and select "Save". Then open the PDF in this software again. Click on the "Forms" button again, and make sure that you click on the "Highlight Fields", and you will see the highlighted text field.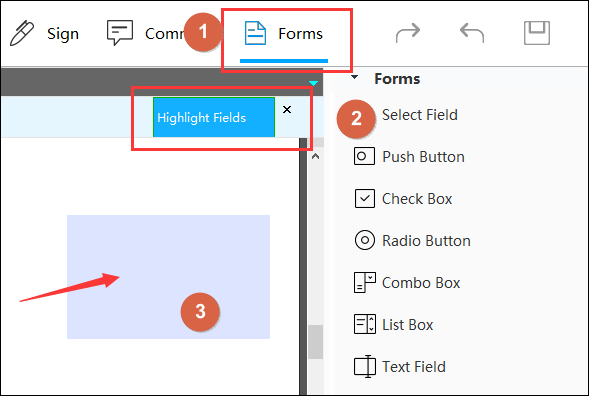 You can click on the text field to type in the text that you want to add.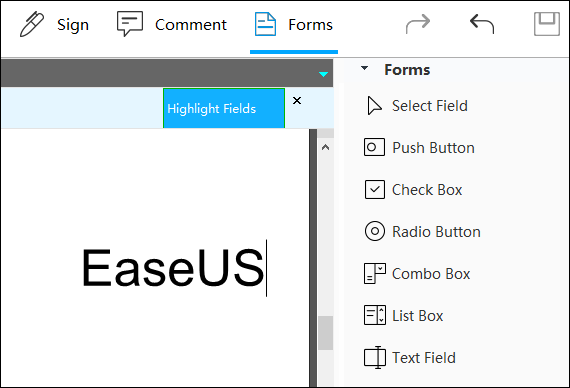 2. Adobe Acrobat Pro DC
Compatibility: Windows, Mac
Adobe Acrobat Pro DC is the ultimate PDF form designer tool. It stands out not only because of its form-filling feature but also the other options that allow its users to edit PDF in many different ways. Conversion, editing, online storage ‒ all can be done using Adobe Acrobat Pro DC.
The amount of features offered by Adobe Acrobat Pro DC makes it a favorite among expert users. However, those who are not accustomed to the software's layout and features might have difficulty using it initially.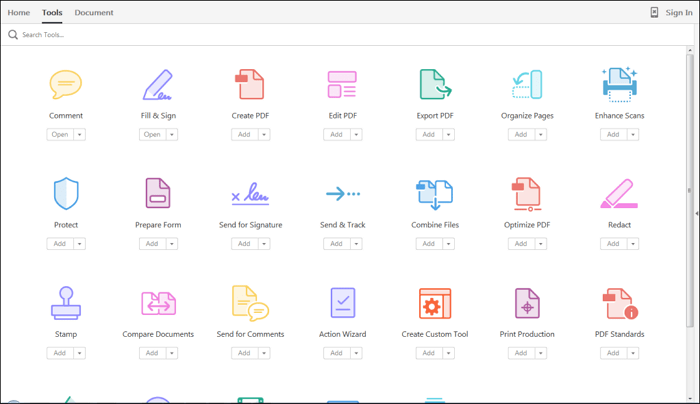 Pros:
Scans the PDF to find fillable sections of the form
Add stamp, comment, and other elements to PDF
Cloud sharing allows online storage and collaboration with others
Cons:
Full features are only accessible by purchasing the software
Large files might load slower
3. JotForm PDF Editor
Compatibility: Windows, Mac, online
JotForm PDF Editor has everything you need to edit the PDF for people who are constantly on the go. Online editing allows you to do the process anywhere, anytime, on any device, as long as there is internet access. Thanks to its flexible online feature, the software allows users to access the tool using a browser. JotForm PDF Editor is perfect for those who have to edit PDF documents usually.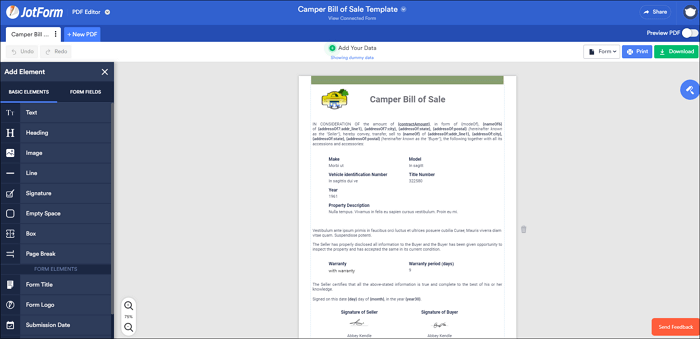 Pros:
The PDF form designers offer the most fundamental features needed on every PDF editor software
The straightforward interface allows people to master it in a matter of seconds
The application is accessible on any device
Cons:
It heavily depends on the internet connection
They only offer basic editing features
4. Icecream PDF Editor
Compatibility: Windows
Icecream PDF Editor is an alternative for Adobe Acrobat. The PDF form designer has different kinds of features for managing and editing PDF. Its four main elements ‒ editing, annotating, filling in forms, and managing pages ‒ will help users perfect their PDFs. The tool categorization of this software allows users to easily understand the features, making it perfect for those who want to use PDF editors without any hassle.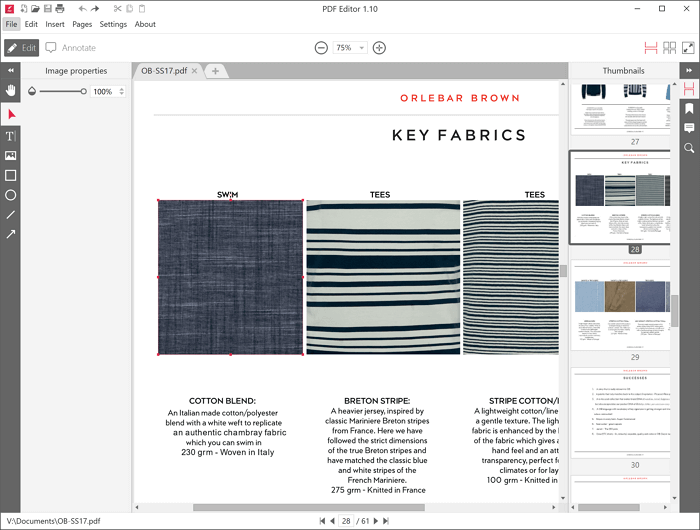 Pros:
Protect and unlock PDF files
Change file's format easily
Make a PDF from scratch
Cons:
The interface might be hard to master
More formats are needed
5. PDFpenPro for Mac
Compatibility: Mac
Apple's "Preview" allows its users to do simple activities on PDF, but PDFpenPro for Mac offers you more features. Merging documents, rearranging or splitting the pages ‒ these are only a few of the many things you can do with the software. The software has plenty of features to make it even better, giving users many ways to tweak their PDF files. With this software, editing PDFs easily on Mac is no longer a dream!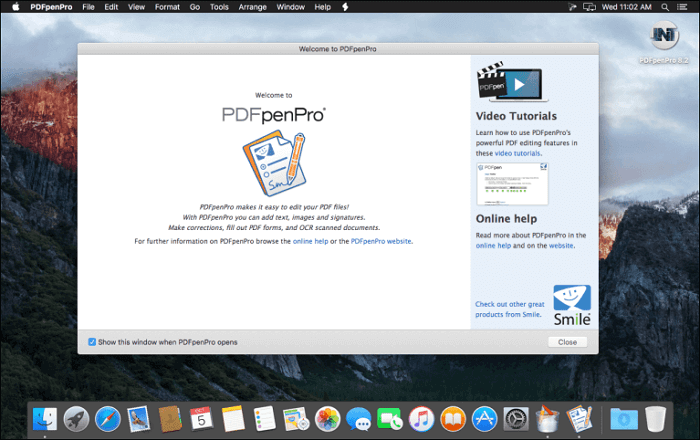 Pros:
Lots of hidden features
The software is quick and responsive
It can handle large files quickly
Cons:
The software has too many updates
Conclusion
PDF forms are becoming more and more popular in people's life and work. Thanks to PDF form designer software, we can modify and tweak PDF forms quickly without having to print and rescan them.
There are lots of software for editing PDF form, but EaseUS PDF Editor stands out the most. Its easy interface, variety of features, and easy load make it one of the most convenient PDF editors on the internet. If you would like to add a form to PDF and fill it out, why don't you check out EaseUS PDF Editor?
About the Author
Melissa is a sophisticated editor for EaseUS in tech blog writing. She is proficient in writing articles related to screen recording, video editing, and PDF file converting.