[2022] Top 9 Document Signing App to E-sign PDF
Electronic signing applications, or as known by their acronym e-sign apps, enable you to sign different paperwork digitally. Perhaps you need to sign a digital contract on the spot with an employer that happens to be in another country. Or maybe there are official documents that require your signature for different purposes.
In times like these, e-sign apps come in handy. Of course, there are many options for you to choose from. Let's dive into the e-sign apps world and decide the best one for your purposes. And we will mention 9 of those document signing apps that will help you satisfy your PDF needs.
1. EaseUS PDF Editor
Compatibility: Windows 10/8.1/8/7
EaseUS PDF Editor is an all-in-one PDF maker, editor, and converter, which offers pretty much all the tools you need when you need to process a PDF document. You can definitely sign your documents with ease as it offers you a specific "Sign" mode. You can sign different files with your digital ID, which contains location, date & time of signature. You can also add the reason for signing the signature.
Besides signing the documents, you can convert PDF files to Excel, Word, PowerPoint, and vice versa. EaseUS PDF Editor does all this while keeping the same properties of your work's font, pictures, or layout. 
Key Features:
Validate the PDF using digital signature
Convert Word document to PDF and convert PDF to Word
Compress PDF to save the storage space
Protect the PDF with a password
This powerful but user-friendly software helps you sign your PDF documents easily while also ensuring your PDF's safety. If you want to download it, you can click on the button below.
How to Sign a PDF on Windows:
Step 1. Launch EaseUS PDF Editor and open the PDF to which you want to add a signature. Click on "Sign" > "Sign Document" to move on to the next steps.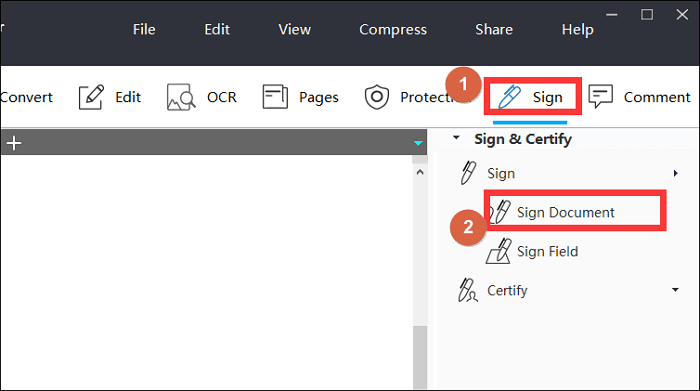 Step 2. A pop-up window will appear and asks that if you want to begin signing. If you decide to sign it, click on the "Drag New Signature Rectangle" button.

Step 3. Drag your mouse and select where you want to add the signature. Then, a window will appear, and you need to fill out the necessary information. Click on the "Sign" button to e-sign your PDF file.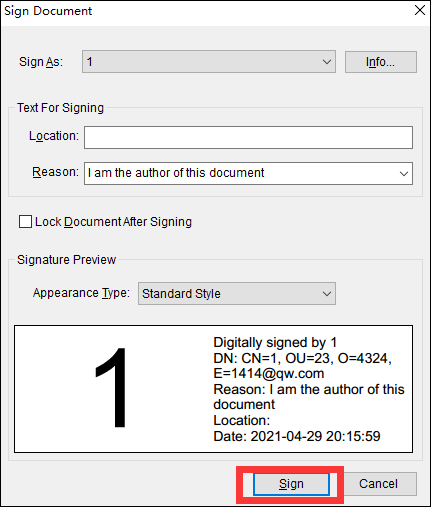 Step 4. Select the target folder to save the signed PDF.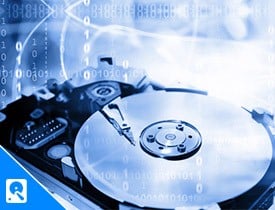 2. DocuSign
Compatibility: iOS, Android, Windows
DocuSign is an E-sign service that helps you sign your documents digitally. It supports various kinds of documents. You can either use it to sign a document, create a template or edit your drafts to more it more satisfying.
Also, this tool is cloud-based, and it has a clean interface that makes it easy to use for both novice and professional users.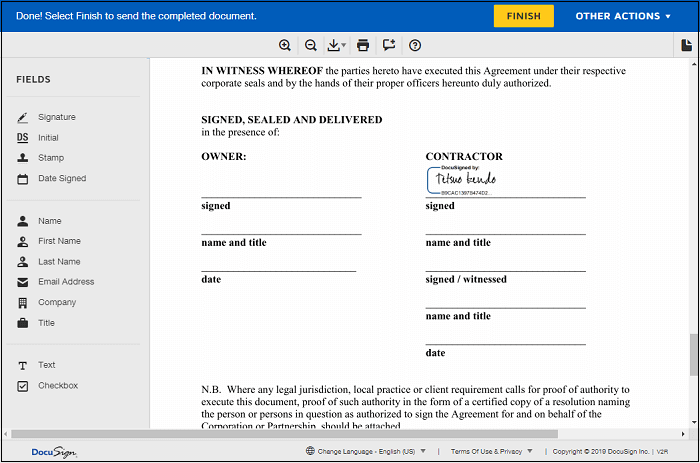 Pros: 
Target multiple recipients at once
Support extensive file types
Support the add-on service
Cons:
3. Soda PDF
Compatibility: Windows, Mac, online
Soda PDF is an online PDF editor that converts PDFs to Excel, Word, EPUB, PPT, HTML, and Text formats. It is usually mentioned for being very user-friendly with its simple interface. Plus, it comes in handy when you're looking forward to signing PDFs without any hassle digitally.
All in all, this tool has successfully made it into our list because of its high efficiency and clean interface that makes the app easy to use.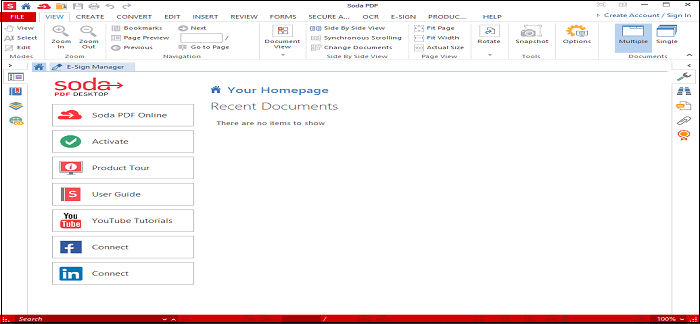 Pros: 
Simple interface
Documents can be stored in the cloud
Support OCR scanning in different languages
Cons: 
The watermark comes with the free trial period
Licenses for the pro version are costly
4. PDF Candy
Compatibility: online
When thinking about a robust online PDF that can manage, edit and annotate different PDF files while also offering the OCR option, PFF Candy is a tool that should come to mind. Despite being an online tool, PDF Candy has proven to be a reliable and quality PDF editing tool that eases the process of managing all kinds of issues on a PDF document.
In addition, this tool supports different methods to upload documents. Some of the methods include uploading PDF files from Dropbox and Google Drive.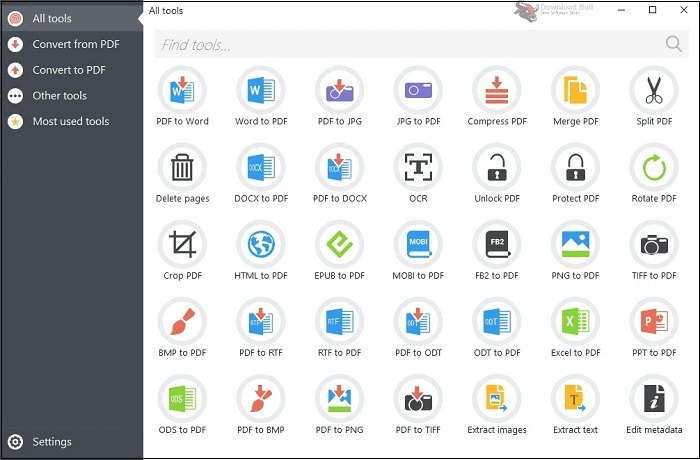 Pros: 
Free OCR option
Solid layout tools
Easy-to-use website interface
Cons:
Limited text features
The OCR function is not standard
5. Sejda
Compatibility: macOS, Windows, online
Another popular online PDF signing tool on the list is the Sejda PDF editor. Yes, Sejda is one of the top-leading powerful PDF tools that come in both the online and desktop versions, and this tool allows you to add annotations, create forms, and do lots of more on your PDF files conveniently. Besides, you can even add bates numbers and convert PDF into different formats with this tool.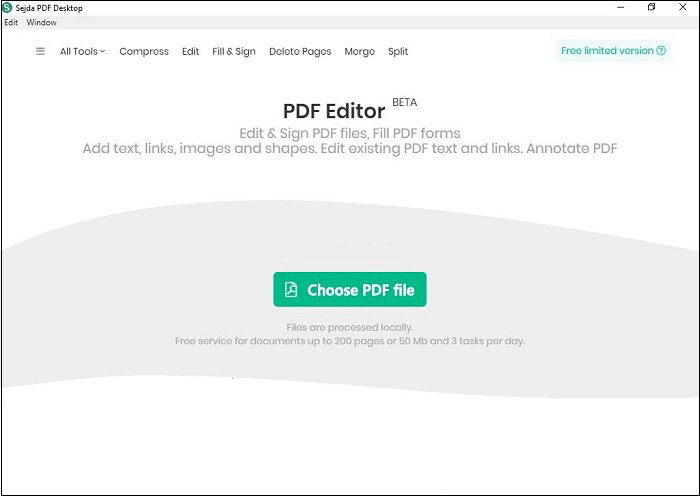 Pros:
Easy to use
Integrates with cloud storage
Limited times to edit for the free version
Cons: 
Text editing is not very decent
Not support editing current images
6. PDF-Xchange Editor
Compatibility: Windows
PDF-Xchange is another PDF editor on this list that can create, view, edit, annotate, OCR, and digitally sign PDF files. It has a clear design, and its usability is top-notch, making it much easier to employ in the course of signing or editing bunches of PDF documents.
Another amazing thing about the PDF Xchange editor is it allows easy extraction and deletion of pages from PDF documents. Plus, the availability of the stamping and commenting function allows efficient tracking of all activities carried out on a PDF file.
Pros: 
User-friendly interface
No lags
Cons:
Limited editing capabilities
Not support exporting individual pages as PDFs
7. PDFescape
Compatibility: Windows, Mac
This PDF editor is packed with PDF editor/viewer, and it also supports PDF password protection, PDF annotating PDF converting PDF form creation, and lots more. Plus, it supports both online and desktop versions that allow users to efficiently execute all kinds of operations on a PDF file without hassles. However, these versions are only available on a subscription-based service. Thus, you must purchase a plan before you can utilize the tool.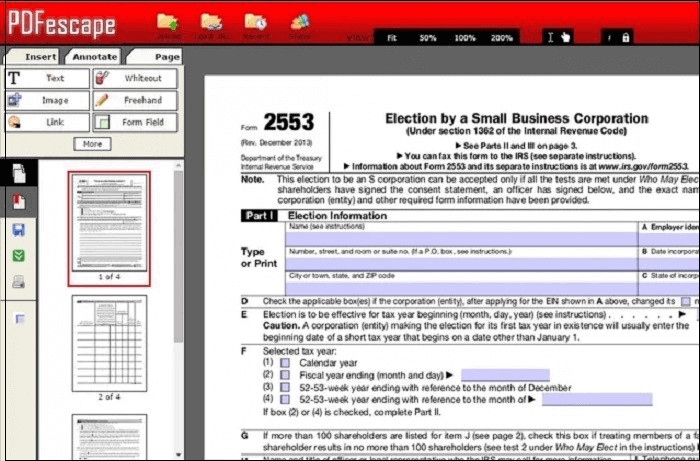 Pros: 
No need to open an account 
Merge documents easily
Cons:
You need to pay for the desktop version
There is a size limit you can upload
8. PDFSam Basic
Compatibility: Windows, iOS
This is a much more simple PDF editor for everyday use than some professional ones mentioned above. It allows you to split a PDF into multiple documents, merge several pages, etc. Over the years, this tool has played a vital role for folks who want to edit, sign and do lots more on their PDF document fast and conveniently without any complication. 
It also supports OCR, and it has advanced tools that facilitate the conversion of PDF documents into different formats.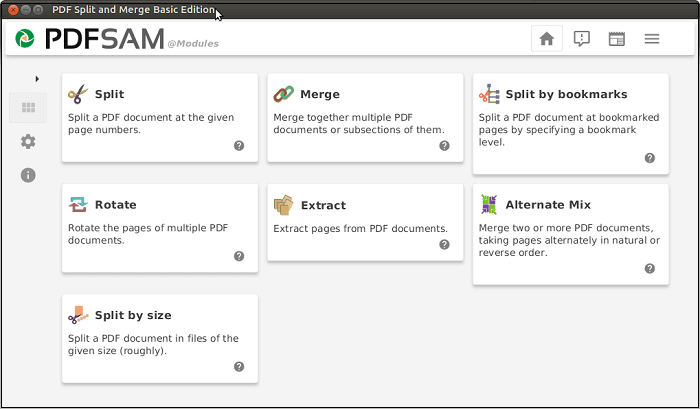 Pros: 
Very simple to use
No need to upload files
Cons: 
You can only have other features if you pay for it
Pretty basic 
9. Smallpdf
Compatibility: online
Last but not least is the Smallpdf PDF editing tool. This tool claims to be a super-basic PDF editor that does only minimal editing to PDFs. From signing PDF documents to converting files, compressing, and lots more, Smallpdf can do those tasks easily while keeping the PDF quality. 
If you want to protect your PDF files, it also allows you to set a password. And if you want to remove the restriction, this online tool also helps you do that.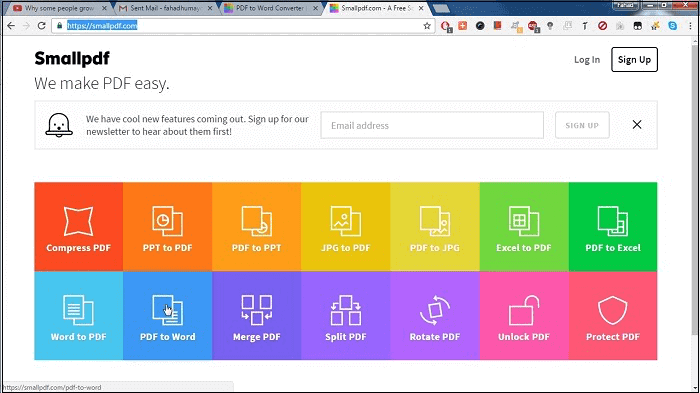 Pros: 
Include tools to convert files
No file-size limitations
Cons:
Limited font options
Limited documents per day 
Conclusion
Although there might be a lot of options to choose from when it comes to PDF editing apps that allow you to sign your documents digitally, the best option from the above mentioned is EaseUS PDF Editor, since it enables you to profit from all editing capabilities that a PDF can ever need.
In the end, it ensures the security of your files when you sign important paperwork. That's why it is the best option when it comes to an all-in-one PDF editor. 
About the Author
Melissa is a sophisticated editor for EaseUS in tech blog writing. She is proficient in writing articles related to screen recording, video editing, and PDF file converting.