How to Create a Fillable PDF in 3 Ways
To keep the layout of a document, you may usually convert the files into PDF. However, the disadvantage of this method comes along with its advantage. When you send the PDF to people who need to fill out a form in the PDF, they can not fill it if it's not editable. 
The best solution to this problem is to create a fillable PDF, i.e., add a fillable form into a PDF file. Many useful tools can help, but which is the best one? How to create a fillable PDF easily and quickly? Don't worry. This post will guide you through creating fillable PDF forms in 3 ways.
How to Create a Fillable PDF with EaseUS PDF Editor
As an all-in-one PDF editor for Windows, you can find various PDF editing tools you need in this program. When you launch the software, you will find a specialized part named "Forms". You can find many categories of forms here, such as "Push Button", "Check Box", "List Box", and "Text Field". 
You can choose any type of form here and add it to your PDF. For instance, if you want to allow others to check the box to make a confirmation, you can easily add a check box to your PDF. All you need to do is click on several buttons and save the edited PDF to your computer. 
If you need this PDF editor to help you add a fillable form, you can click on this button to download it for free. In addition to adding forms, this software also allows you to edit the PDF contents effortlessly, such as add text to PDF or delete the text.
How to Add a Fillable Form to PDF:
Step 1. Launch EaseUS PDF Editor, then open the PDF file you want to edit in this program.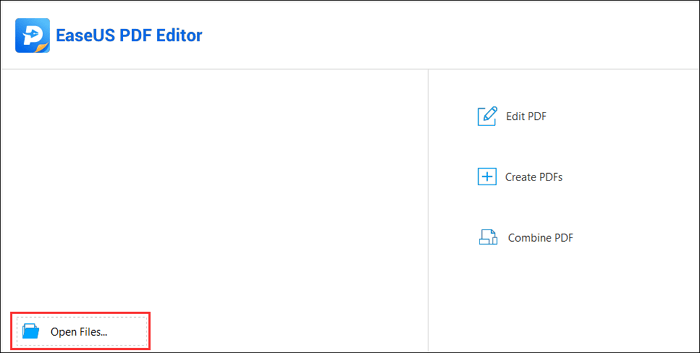 Step 2. Click on the "Forms" button, and you can see various types of forms under the "Forms" tab. Select the suitable one.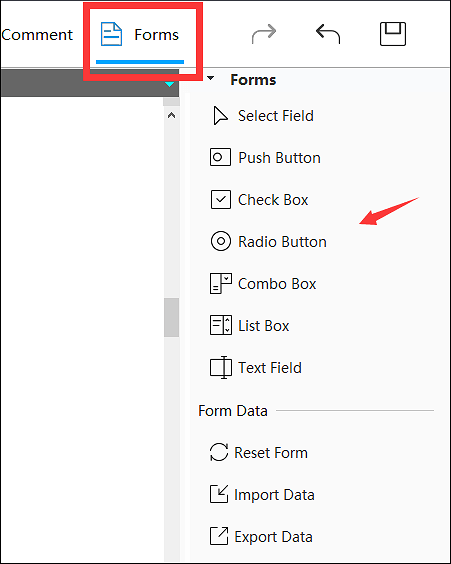 Step 3. Choose the form you want to add and select the suitable potion on the PDF where you want to place the form. You can also drag the form to adjust it.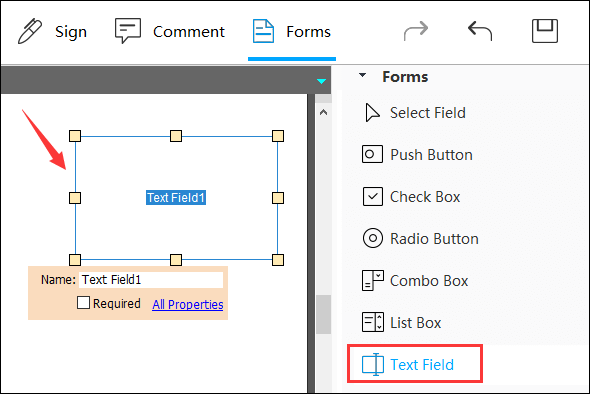 Step 4. Now, you need to click on the "File" button and select "Save". Then open the PDF in this software again. Click on the "Forms" button again, and make sure that you click on the "Highlight Fields", and you will see the highlighted text field.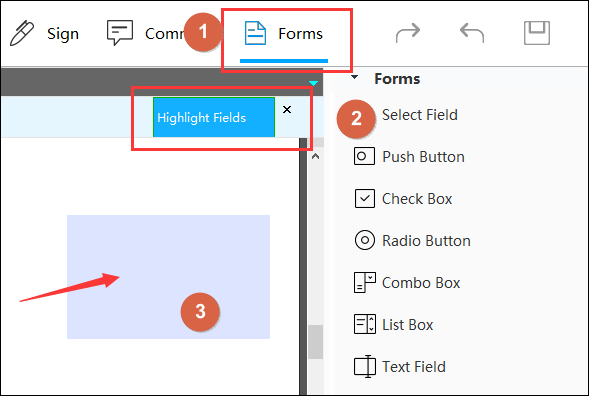 You can click on the text field to type in the text that you want to add.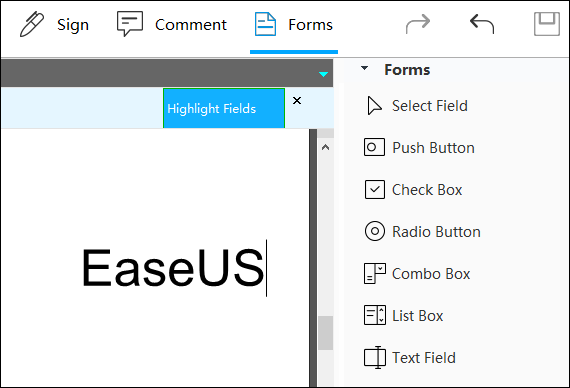 How to Make a PDF Fillable with Adobe Acrobat
Adobe Acrobat is the most famous PDF editing software on Windows. This tool allows you to convert, edit, share and sign PDF files without much effort. It also offers you many options of the PDF form, and you can add "Date field", "Digital signature field", "List boxes", etc. to your PDF according to your needs.
Besides that, if there is anything you want to modify in the PDF, this powerful software can enable you to edit the contents. For example, you can remove the unnecessary words or add a comment to the PDF. And it's also possible for you to add image to PDF or extract image from PDF and save the pictures to your computer.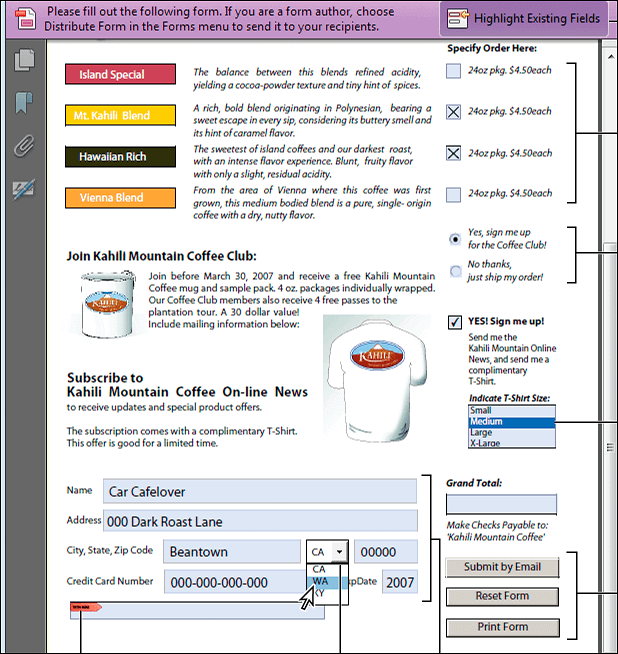 Method of Making a PDF Fillable with Adobe Acrobat:
Step 1. Choose "Tools" and select "Prepare Form".
Step 2. Select "Single file" to convert a document to an interactive PDF form.
Step 3. Click on the "Start", and Adobe Acrobat will create the form and opens it in the Form Editing mode. You can choose a suitable form from the toolbox.
Step 4. Save your fillable PDF.
How to Create Fillable PDF Forms Free Online
You can also use many online tools if you don't want to waste time downloading and installing the software. Sejda is a very easy-to-use online PDF editor that helps you add a fillable form to a PDF file easily. All you need to do is drag and drop an existing PDF and upload it, and then you can choose the items from the toolbar and add them to a suitable position.
If you want the PDF recipients to type text in it, you can add the "Text Field" or "Textarea". The difference between those two options is that "Text Field" is for a single text line while the "Textarea" is for multiple text lines.

How to Create PDF Forms Free Online:
Step 1. Select an existing PDF document and click on the "Upload PDF file" button to upload it.
Step 2. Choose the fillable form you need from the toolbox, and place it on your PDF.
Step 3. Click on the "Apply changes" button, then click on "Download" to save the fillable form to your computer. 
Conclusion
This post talked about 3 wonderful editors that can help you add fillable to PDF. Whether you want to make a PDF fillable using desktop software or directly online, there is an appropriate option for you. Among all those tools, EaseUS PDF Editor is the one you can't miss since it is versatile and user-friendly.
If you want to have a try, click on the button to download it now.
About the Author
Melissa is a sophisticated editor for EaseUS in tech blog writing. She is proficient in writing articles related to screen recording, video editing, and PDF file converting.