How to Darken A PDF File Free (Only 3 Steps)
 Update:

Recently, Microsoft is making a change to its Microsoft Office branding. Microsoft Office is being renamed by Microsoft 365. After the official renaming, our article content will be updated accordingly.
The PDF format is typically used to create and distribute read-only documents that preserve the layout of a page. They are meant to be non-editable. However, more often than not, you come across situations when you scan a document, and it comes out very light, almost unreadable. Or, you may come across important PDFs such as a contract with text and images that are too faint to be cognized. In these situations, knowing how to darken a PDF is important for printing or being more readable.
Given that, this post will walk you through the steps to darken PDF online or offline. Just stick here to learn more information.
How to darken a PDF quickly: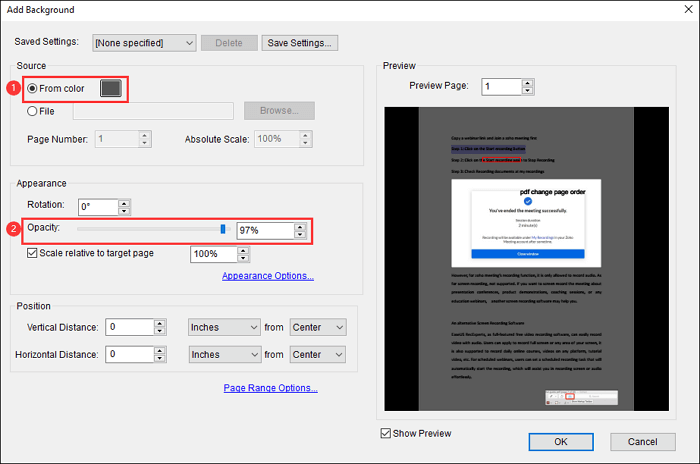 Step 1. Launch EaseUS PDF Editor, and click "File" to import PDFs.
Step 2. Click "Pages" > "Background" > "Add" to open Background window.
Step 3. In the From color field, select a dark color and make the opacity 100%. Once done, click "File" > "Save" to save the edited files. Check the detailed steps >>
How to Make PDF Darker with EaseUS PDF Editor
The first PDF editing software we introduce is EaseUS PDF Editor, which offers many PDF editing and managing functions, including darkening PDF documents. With its help, you can adjust PDF contrast and also darken the text in PDF files with just a few clicks.
Moreover, this Windows PDF editor provides various editing tools to modify and enrich your PDF files, such as changing text fonts and color, inserting images, cropping and merging pages, etc. Plus, if there is some confidential data in your PDF, you can even password protect PDF documents quickly, or decrypt PDF free..
Last but not least, it also comes with features that can be used to interconvert PDF and other editable file formats such as Microsoft Word, Excel, Powerpoint, and several image formats, including JPEG, PNG, GIF, and TIFF. 
EaseUS PDF Editor
Simple and intuitive user interface
Add or remove password from PDF files
Sign PDF documents within a few steps
Print PDF files as you want
Step by step tutorial about darkening a light PDF document on Windows:
Step 1. Open this program on your Windows PC. Click on "File" > "Open" and select the document you want to darken.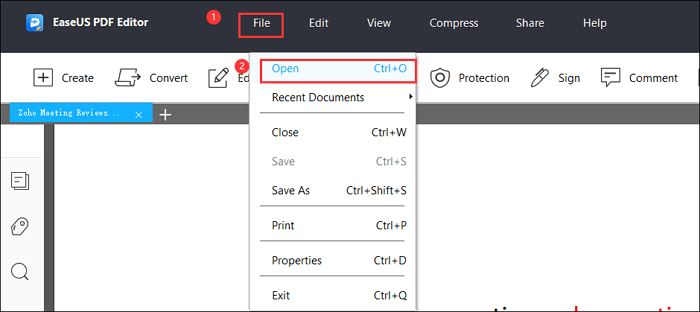 Step 2. Once the document opens, click on Pages on the secondary toolbar, and choose the "Add" option in the sidebar.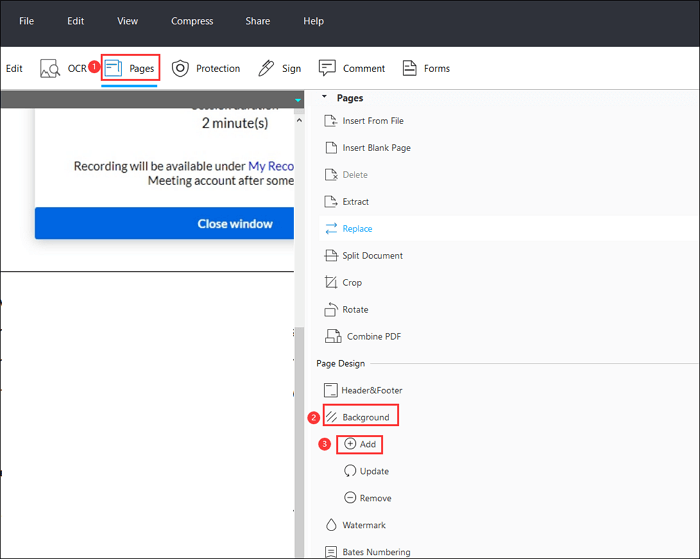 Step 3. Now, in the From color field, select a dark color from the color palette. Finally, slide the bar next to Opacity to make it 100% and save the file.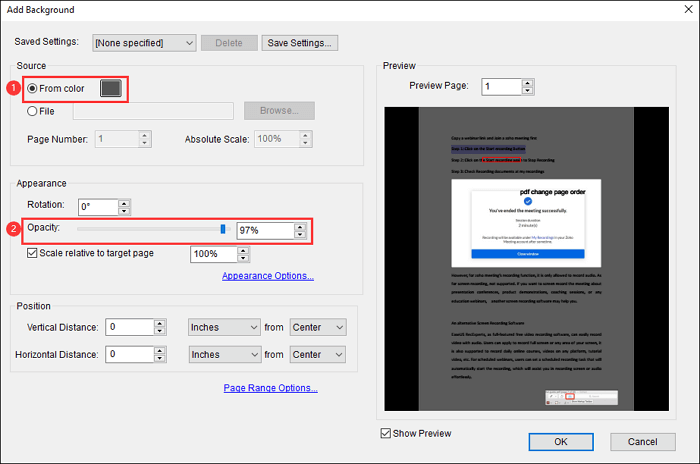 Step 4. Once done, click "File" > "Save" to save your darkened PDF file locally.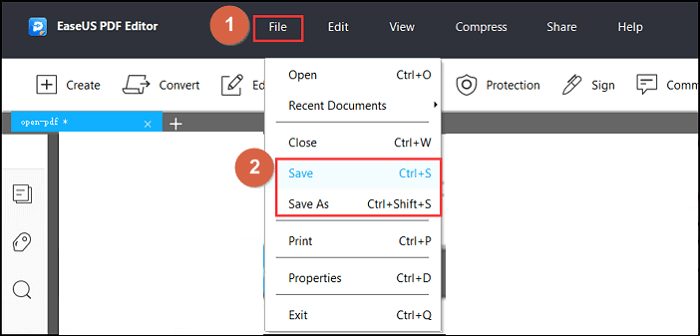 How to Darken PDF Online
If you don't want to download or install any third-party software, try some online tools like Turn Off the Lights browser extension. It will help you to make your PDF document darken for a better viewing experience on the web page. Now let's take a look at the tutorial:
How to darken text in PDF online for free:
Step 1. Search and add Turn Off the Lights browser extension to your web browsers, like Google Chrome, Firefox, Safari, etc.
Step 2. Choose the gray lamp and right-click on it, then hit "Options". Next, choose the "Night Mode" button from the Options page.
Step 3. At last, enable here the Night switch to active the night mode on the current web page. Once done, you will find your PDF files become darker.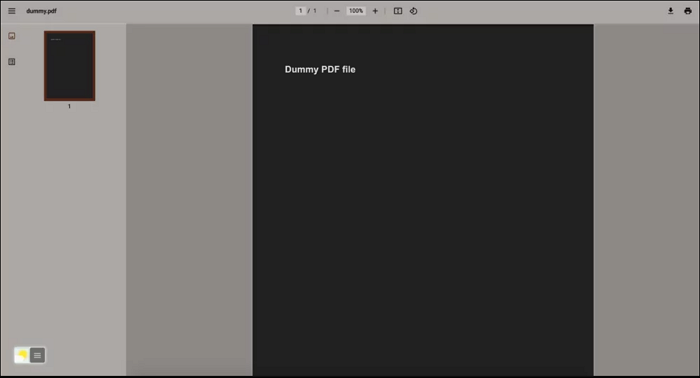 How to Darken A PDF File in Adobe Acrobat Pro
Adobe Acrobat Pro is another PDF editing tool you can use to make your light PDF files darker on both Windows and Mac. Using this program, you can lighten PDFs and increase or lower contrast in PDF with ease. 
More than that, it can also be used to perform several other PDF editing functions such as converting among PDF and several other editable formats such as MS Word, Excel, Powerpoint, and some image formats including JPG, PNG, etc. If needed, you can even snapshot PDF for sharing quickly.
How to darken light PDF files in Adobe Acrobat Pro:
Step 1. Open the PDF you want to darken in Adobe Acrobat. Go to the top menu, click on Edit> Preferences.
Step 2. Go to the Categories section, select Touch Up followed by Choose Image Editor. Now, a prompt asking you to choose an image editor will open. If you have Photoshop installed, it will be selected automatically. 
Step 3. Now, click on Tools > Pages. Choose Add Background from the Background options.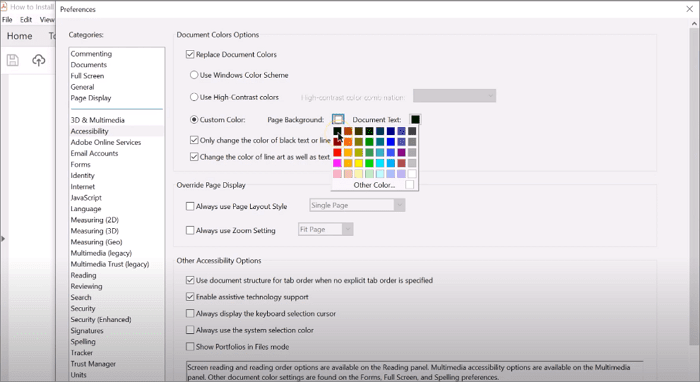 Step 4. Once a prompt asking you to choose a background color appears, select a dark color and click OK. Next, click on Edit Text, select the part of the PDF you want to darken, and then click on Edit Object. 
Step 5. You have to edit the object with image editing tools like Photoshop, GIMP, or any other image editing tool. To get there, click on Tools > Content Editing > Edit Text and Images, and then right-click on the page and edit it with your image editor. 
Step 6. Save the file and close the image editor. The PDF should now be darkened. 
How to Darken a PDF in Preview
Preview is the default PDF and image viewer on macOS and comes with a range of PDF editing features. So, you can rely on this freeware to increase contrast in your PDF documents effortlessly.
Actually, you can do a lot more beyond darkening your PDF files. For instance, you can make changes to PDFs like annotate, combine, crop, rotate, add effects or password protect PDF files, or find text, display PDFs as a slideshow, and print or lock a PDF easily using Preview on Mac.
How to darken PDF file for printing with Preview:
Step 1. Open the PDF you want to darken with Preview.
Step 2. Go to "File" > "Export".
Step 3. Go to the Quartz Filter section and select Lightness Decrease.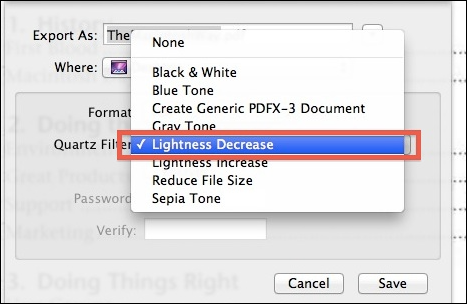 Step 4. Save the file. When you reopen it, it should be darkened.
The Bottom Line
Knowing how to darken PDF is often needed for easy comprehension and clearer readability. For that, you can use any of the four tools mentioned above. On a Windows PC, you can use EaseUS PDF Editor for several editing tasks, including darkening a PDF document. 
If you are using a Mac, you can use its default built-in app Preview to darken the document. Or, you can use Adobe Acrobat Pro on both Windows and Mac to perform several PDF editing tasks, including darkening it. 
About the Author

Jane is an experienced editor for EaseUS focused on tech blog writing. Familiar with all kinds of video/PDF editing and screen recording software on the market, she specializes in composing posts about recording and editing videos. All the topics she chooses are aimed at providing more instructive information to users.