[3 Ways] How to Make a Fillable PDF Form Without Acrobat [2022]
Fillable PDF forms have gained plenty of popularity for the past few years because of their ease of use. You may not remember, but the chances are that you've already filled out dozens of fillable PDF forms at work and at home to complete business and governmental transactions. 
However, for many years, the only way to do this was with Adobe Acrobat, and it can be extremely tedious. Hence, learning how to make a fillable pdf form without Acrobat can be a great perk. Once you know how to create fillable PDFs forms, you will save a lot of paper and time to scan and submit necessary documents. So, wouldn't it be great if you or your company could create PDF files with fillable forms? Keep reading to learn much more about this.
How to Make Fillable PDF Form Without Acrobat on Windows - EaseUS PDF Editor
EaseUS PDF Editor is a well-established PDF editing tool that has gained considerable popularity because of its friendly user interface and innovative editing features. With its help, you can open and edit any PDF document. Plus, nothing will ever be restricted when it comes to PDF files. As long as you learn how to use it, you can change every aspect of your PDF file.
For example, you will be able to edit PDF layouts, change font size in PDF, create text fields, remove watermark from PDF, put a password on a PDF, and so much more. With this program, you won't struggle to create and edit PDF to your liking. Once you try it, you will understand that dealing with complicated PDF files has never been easier. If you haven't tried it, install it on your computer and give it a try!
Main features:
Add watermark to PDF with ease
Copy text from a PDF in seconds
Reduce PDF size with one simple click
Electronically sign a PDF document
How to make a fillable pdf form with EaseUS PDF Editor:
Step 1. Launch EaseUS PDF Editor and click on the "Open Files" in the lower-left corner to import the PDF file that you want to lock.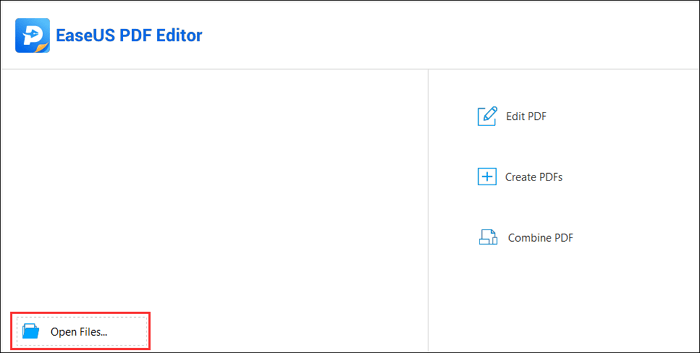 Step 2. On the top menu, click on "Form."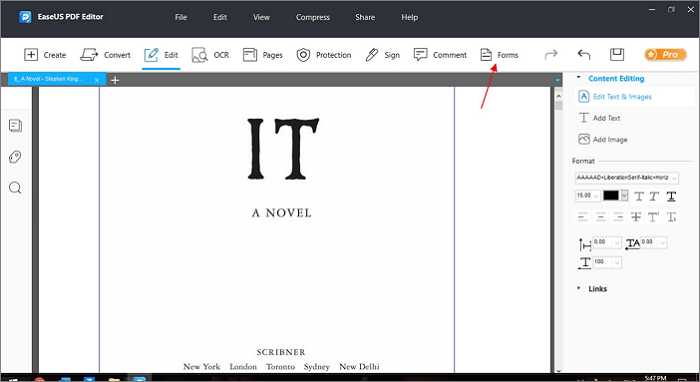 Step 3. In the right menu, click on "Text Field" to introduce a new fillable text field. Write the name of the Text Field on the Page.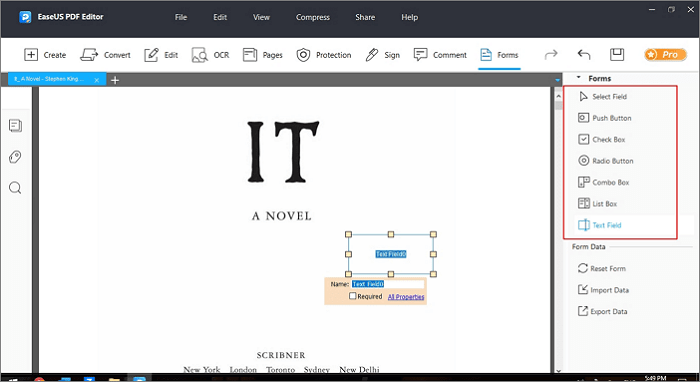 Step 4. Edit the properties of the text field by clicking on "All Properties". A new menu called "Edit Text Field Properties" will emerge. Select the options according to your needs.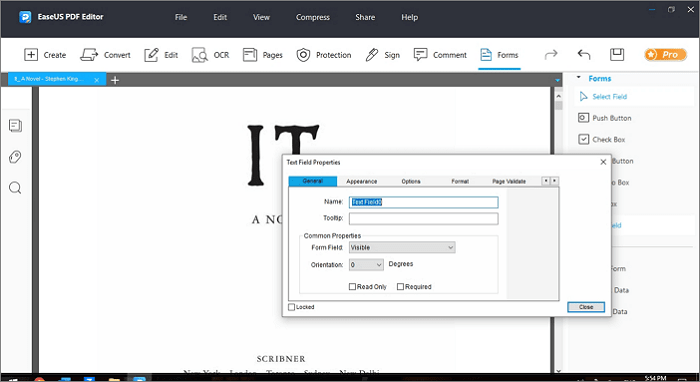 Read also: how to uncheck a box in PDF form
How to Create Fillable PDF Form Without Acrobat on Mac - PDF Expert
A good software used in macOS for editing PDF documents is PDF Expert. For several years now, this has been one of the best free Adobe Acrobat alternative for creating fillable PDF forms in macOS.
With this program, you can fill out forms and edit PDF form data using its editing tools. Nevertheless, you can do so much more with this tool like insert watermarks, photographs, texts, links, backgrounds, etc. You can also annotate PDFs to exchange information, and you can edit text. There is also a drawing feature for highlighting text.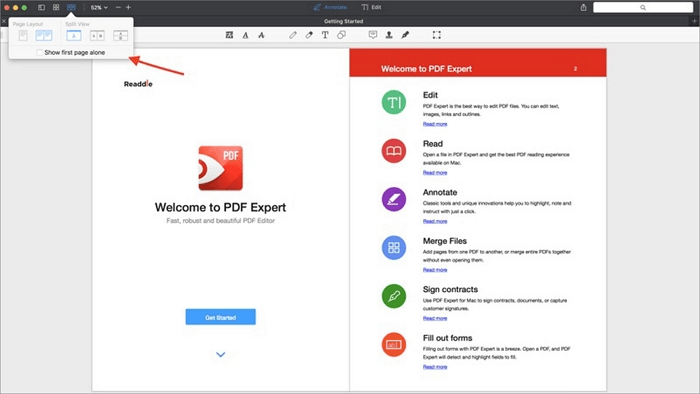 How to create a fillable PDF form with PDF Expert:
Step 1. If you don't have PDFe Expert, start by downloading it and installing it on your Mac computer.
Step 2. Open PDF Expert, and open a blank document or choose a template.
Step 3. Use the "Add Text" feature in the program to add a fillable text field. 
Step 4. After you have created the text box, you are ready to introduce any information.
How to Make a Fillable PDF Form Without Acrobat Online - JotForm
If you don't want to spend time downloading and installing new apps or programs to make fillable PDF forms, you can try an online website to get it done. Many online sites can help you do this, but one of the most reliable sites that can help you create and edit PDFs from scratch is called JotForm.
One of the best perks of JotForm is its simple interface. Any user can learn how to move around JotForm in a couple of minutes. Also, when creating fillable PDF forms, you don't necessarily have to start from zero since you can use JotForm's models. This site can help you to generate professional PDFs quickly.
How to make a fillable PDF form with JotForm:
Step 1. Visit the website and create an account to start editing a PDF.
Step 2. After you enter your account, select "Create Form."
Step 3. Then, you can choose between three options as "Blank Form", "Use Template", and "Import Form". If you want to start from scratch, you should click on "Blank Form."
Step 4. Click on "Add Form Elements" to begin creating your personalized PDF.
The Bottom Line
Forgotten are the days of endless problems when using Adobe Acrobat. Fortunately, now you can either use a program alternative or an online free website to do it. It is essential to learn how to make a fillable pdf form without Acrobat since many businesses and government agencies use it.
If you want to make great fillable PDF forms, use EaseUS to create a document that others can fill out without much effort. Use this program's new features and advanced interface to design and edit fillable forms like never before.
About the Author
Melissa is a sophisticated editor for EaseUS in tech blog writing. She is proficient in writing articles related to screen recording, video editing, and PDF file converting.