How to Add Bookmarks to PDF on Window/Mac/Online
PDF files are often used by businesses to send invoices, contracts, specifications, and other documents. PDF is also a good format for distributing documents. It preserves a document's formatting, text, and graphics so that the recipient can view it as it was intended without losing any of the detail. 
As you may know, PDF documents can get quite long, and having a good bookmarks system is key to using them to their full potential. The best solution is to have a system to easily add and remove bookmarks and show up in the most relevant place, the toolbar.
The second-best solution is to have one that shows up in the UI a lot so that you do not have to dig for it. That is where a powerful PDF editor is required, which allows you to bookmark, organize them, and do more. This article will look at different methods to help users who want to know how to add bookmarks to PDF.
How to Bookmark a PDF on Windows with EaseUS PDF Editor 
When you are reading a PDF document, there are usually things that interrupt the process, and you have to stop reading for a while. In that situation, you need to remember the page number. Otherwise, it will be difficult to back to the page later. Although some PDF reader allows you to restart reading from the latest viewed page, adding a bookmark is the most secured method.
EaseUS PDF Editor helps users to add and remove bookmark effortlessly. Moreover, you can create outline in PDF, add page numbers to PDF and name your bookmark with the page number or the main content of that page so that you can find the target location as soon as possible.
Main Features:
Best PDF reader for adding annotations
Change the paper size of PDF easily
Adjust the PDF font size freely
Besides working as a PDF excellent reader, it's also a powerful PDF creator and editor. If you want to get a full-featured tool that is able to handle PDF files comprehensively, you can click on the button to download this software.
How to Create Bookmarks in PDF on Windows:
Step 1. Launch EaseUS PDF Editor and click on the "Open Files..." button to open your PDF file.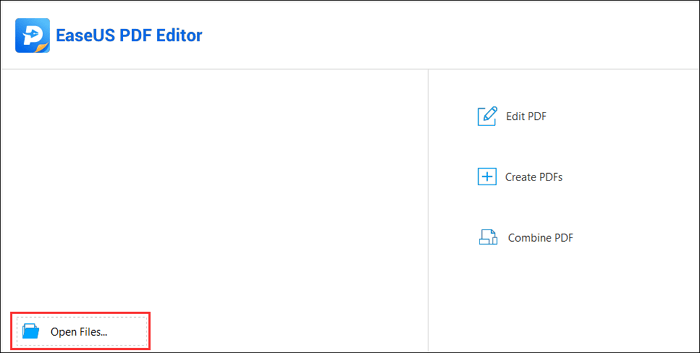 Step 2. Navigate to the page to which you want to add a bookmark. There are three options in the left sidebar. Select the second one, "Bookmark".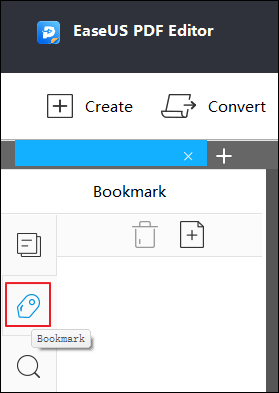 Step 3. There is a "+" icon you can click to add a bookmark to the PDF or build a bookmark tree. Whenever you want to go back to a target page, it's convenient to turn to the page by clicking on the bookmark of that page.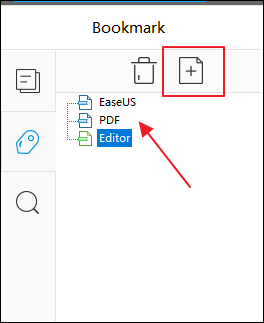 Step 4. If you need to save the changes you made to the PDF, click on the "File" button and select "Save" or "Save As".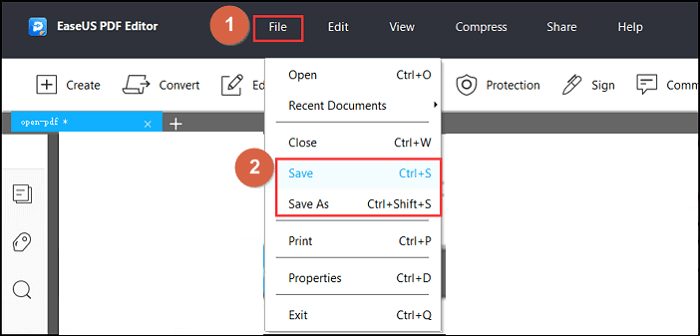 How to Bookmark PDF on Windows with Adobe Acrobat 
Adobe Acrobat is popular software that serves many different purposes. You can use it to create PDFs that advertise your business, track employee time, or as a simple way to keep your recipes. There are premium features in Acrobat that can help you in your business, but there are also plenty of free features that are great for anyone.
Acrobat is a multifunction utility that allows users to create, edit, sign, encrypt, convert, and publish PDF files. Many of these functions are adapted for enterprise applications and mobile devices. The software is useful if you want to do more than read a PDF file or want to make sure you can manage all the PDF files from a central location.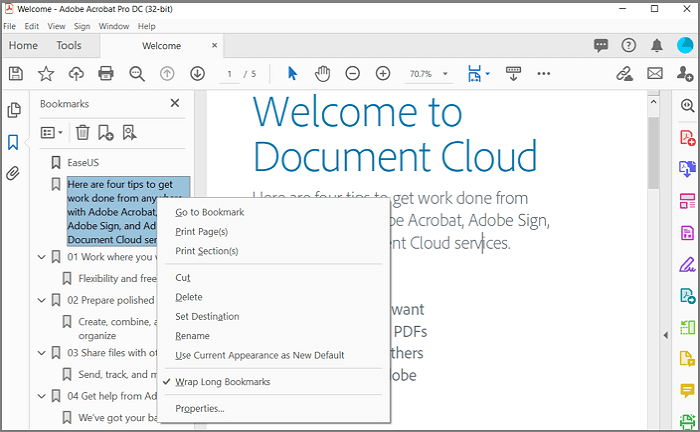 Features:
Secure PDF document with a password
Create, annotate, review, sign, and track changes
Cloud integration
How to Add Bookmarks in PDF with Adobe Acrobat:
Step 1. Open a PDF file with a considerable number of pages with Acrobat Reader.
Step 2. Then click on the bookmark icon under the page preview icon.
Step 3. Scroll to the page you want to add to the bookmark, and then click on the bookmark icon with a plus sign on the toolbar. It will then add it to the list.
Step 4. You can right-click on any bookmarks and rename them to what works best for you. It is also possible to delete them if needed.
Download: https://get.adobe.com/reader
How to Add Bookmarks to PDF on Mac with Preview 
Preview is a PDF viewer that comes with macOS. It is one of the features that make OS X so powerful. Preview can edit PDF files, fill out PDF forms automatically, and save your data back into a form-filling PDF file (making it easy to share information between different programs).
The app has a simple, albeit limited, user interface. You can only view one file at a time, and the only way to scroll through a document is to use the scroll bar on the right side of the app. If you need to merge PDF files into one, this is the app you need to use while on macOS. A feature for which you either end up paying for software or through privacy.
Apart from PDF reading, the app can also manage images and documents. If you need to customize or edit your image quickly, you don't need anything apart from this tool. It is a versatile app that delivers an excellent experience for Macbook users.
Features:
Best PDF reader on Mac
Manage PDF pages, bookmarks, and filling forms
Handle images for color correction
Convert PDF files to image and vice-versa
How to Add a Bookmark on Mac with Preview:
Step 1. Right-click on the PDF file and select open with. Next, select the Preview app from the list of apps.
Step 2. Click on the View menu and then select bookmarks. This will add a sidebar on the left where you can manage all existing and new bookmarks.
Step 3. Go to the page you want to add to bookmark, and press CMD + D to add that page to bookmark.
Step 4. (Optional) To delete the bookmark, you can right-click on it and then delete it.
How to Bookmark in PDF Online Without Adobe Acrobat 
PDFOnline Reader is a free website that allows you to manage and convert documents into PDF files. The interface is clean, and it offers easy bookmark management. Once you are done, it will still carry all the bookmarks. It can also display a list of previous bookmarks you made on the PDF file using any other software.
Apart from reading and bookmarking, the online tool also offers a helpful tool for users who want to know how to highlight in PDF. If you want, you can upload documents and keep a tab on all the files.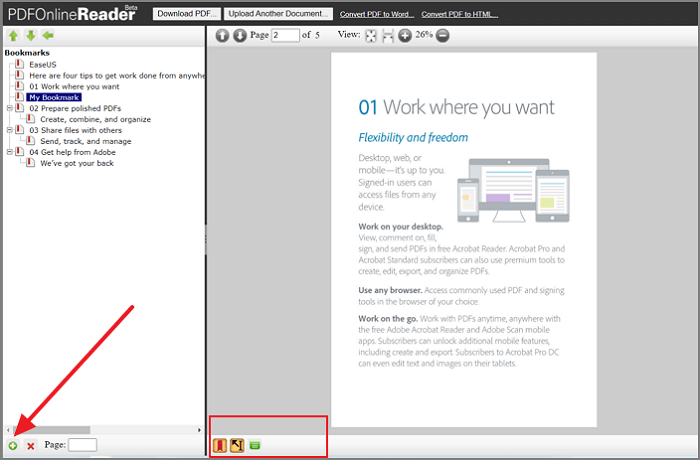 Features:
Convert documents to PDF format
PDF reader with page management
API to integrate into the software
How to Add Bookmark to PDF Using PDFReader Online:
Step 1. Open the PDFReaderOnline website and upload the PDF file. Once done, click in the reader mode.
Step 2. Once you can read the file's content, click on the bookmark icon at the bottom of the online reader. This will reveal the bookmark manager.
Step 3. You can then scroll to a new page and then click on the plus icon at the bottom left to add to the bookmark list.
Step 4. You can choose to delete an existing bookmark by first selecting it and then clicking on the delete icon.
Download: http://www.pdfonlinereader.com/WebPdf2
Conclusion
PDF is a popular format for storing and sharing documents across multiple platforms. It is a convenient way to track changes in a document and ensure it is printed exactly as intended. It is also a secure way to share files that looks professional.
While PDF files can be opened and read on virtually any computer, it is sometimes difficult to find a specific page in a PDF document. One way to deal with this is to bookmark the pages you want to return to a PDF file. This is particularly useful if your PDF file is several hundred pages long.
However, the problem is how to add bookmarks to PDF. This post gives you many optional tools, and you can choose the most suitable one from them.
About the Author
Melissa is a sophisticated editor for EaseUS in tech blog writing. She is proficient in writing articles related to screen recording, video editing, and PDF file converting.