How to Convert JPG to PDF on Windows 10/Mac/Mobile
A PDF file is an electronic file that stores images, text, or any other digital data type. It can retain the original formatting of the data it is storing, especially when duplicated and shared over the internet. The PDF file is also much easier to email than a JPG image, so you do not have to worry about distorting the image in any form.
The major problem with the conversion is that this feature is not natively built into the platform. The only way out is third-party applications, and choosing from them can be tricky. This post helps you choose applications for Windows 10, Mac, and Mobile.
How to Convert JPG to PDF on Windows 10
There are several available PDF converters on Windows 10, and two of them are worth noting. This part will give you detailed tutorials about converting JPG to PDF using them two.
1. EaseUS PDF Editor
For users who need to convert an image to a PDF image, EaseUS PDF Editor is one of the most helpful converting tools. This software allows you to import pictures in various formats, including the most commonly used ones like JPG, PNG, BMP, TIFF, and so on.
As long as you can open an image in this software, you can turn it into PDF format. For instance, it's possible to convert BMP to PDF quickly and effortlessly. Similarly, you can also use it to convert JPG to PDF. And this post will guide you to do that step by step. 
Besides its converting functions, this tool is also capable of work as a versatile Windows PDF editor that helps you manage PDF pages and edit their contents. If you want to enrich a PDF file, it enables you to add text to PDF and add hyperlink to PDF. Moreover, you can set a password to protect the PDF file from being modifying.
Key Features:
Create a PDF from scratch or other formats
Convert PDF to PNG and vice versa
Merge PDF or split PDF with a few steps
Add a watermark to protect your copyright
If you want to add or delete things in the PDF file before converting, this tool is exactly what you want to find. Click on the below button to download it now.
Method of Converting JPG to PDF:
Step 1. Download and launch EaseUS PDF Editor. Click "Create" > "From File…" to select your pictures.

Or you can directly select the "Create PDFs" button to import your images.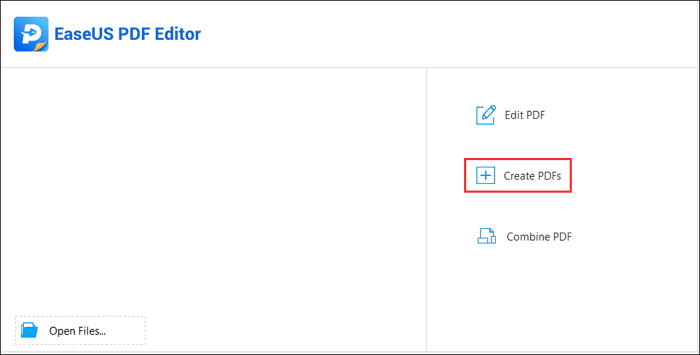 Step 2. Choose your image on your computer, then click "Open" to begin the conversion.
Step 3. When the conversion completes, you can click "File" > "Save" to keep the PDF on your computer.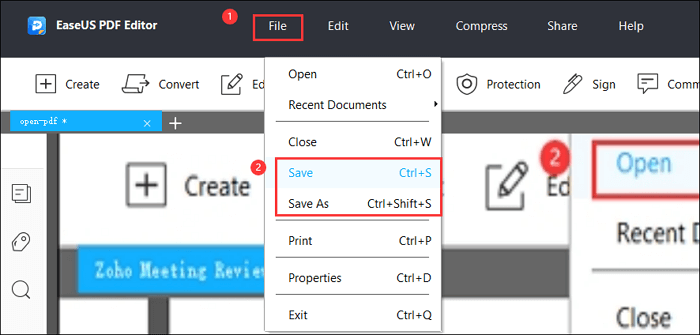 2. Adobe Acrobat
Adobe Acrobat is the most popular Windows PDF editor available for free on desktops globally. This software lets you view, convert, OCR, and share PDF files. It is also a popular software for converting images to pdf.
It's an excellent tool for making and preserving accurate electronic copies of documents in a PDF file format. PDF is a universal format that can be opened and read on any computer.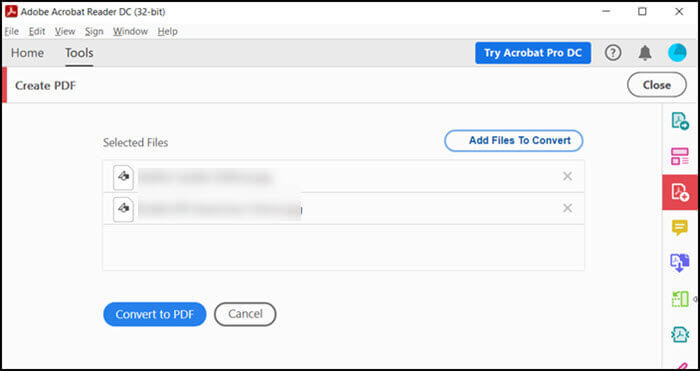 Features:
Highlight text in the PDF tool
Add stamp, digital sign documents
Convert to PDF from Word, PowerPoint, or JPG
How to Convert JPG to PDF on Windows 10:
Step 1. Launch the software, and switch to the "Tools" section. Select "Create PDF".
Step 2. Select the JPG file using the browse button to open the converter. You can add multiple JPG files if you need to convert them into a batch.
Step 3. Click on "Convert to PDF", and choose where you need to save the PDF file. Once the conversion is complete, you will have the PDF file.
Adobe Acrobat offers all the tools that you can use with the documents and image to PDF conversion. Right from scanning to reading to make it a searchable PDF using its OCR technology. And this desktop tool is lightweight but versatile.
How to Convert JPG to PDF on Mac
macOS offers a Preview app which is a universal tool to view images, pdf, and almost any document. The tool offers to view, but it also helps edit, convert, and many things that other platforms don't have at all. You can use the same tool to convert single or multiple images to PDF files.
The Preview app is not just a PDF reader, but it is a one-stop tool for many things, including color correction, PDF management, and a tool that allows reading documents. You don't need any other application to read and do minor changes as long as you get this pre-installed one on Macbook.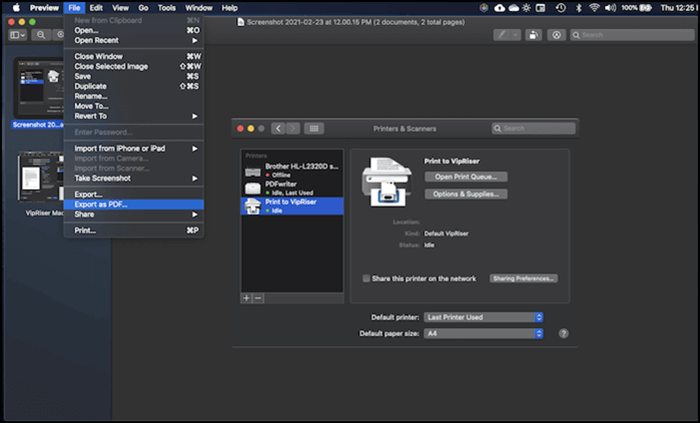 Features:
Fill the form and add a signature
Secure documents with a password
Combine images or multiple PDFs into one
Highlight part of the PDF file
Color correction for images
How to Convert JPG to PDF on Mac:
Step 1. Select an image, and then choose to open in preview. Then choose "File" > "Export".
Step 2. Click the Format pop-up menu, then choose a file type which here will be JPG. When you choose PDF, you can use the Quartz filter to apply to the image.
Step 3. Lastly, type the name of the file, select a location, and save the file.
How to Convert JPG to PDF on iOS/Android
Smartphones are daily drivers for many, and converting an image to PDF can be a necessity. The good thing is that JPG to PDF converters are available on mobile platforms. Using these, you don't any complex application installed on your phone, and nor you need to pay for premium features.
How to Convert JPG to PDF on iPhone/iPad
PDF Expert is a wonderful PDF editor and converter that allows you to convert JPG to PDF on iOS. All you need to do is share the image file to the app, and you are done.
The app supports quick PDF highlighting, annotating PDF, and everything you want to do with a PDF file. Using the continuous scroll mode, you can scan long documents which may not fit in one frame. The app is available for both iPhone and iPad.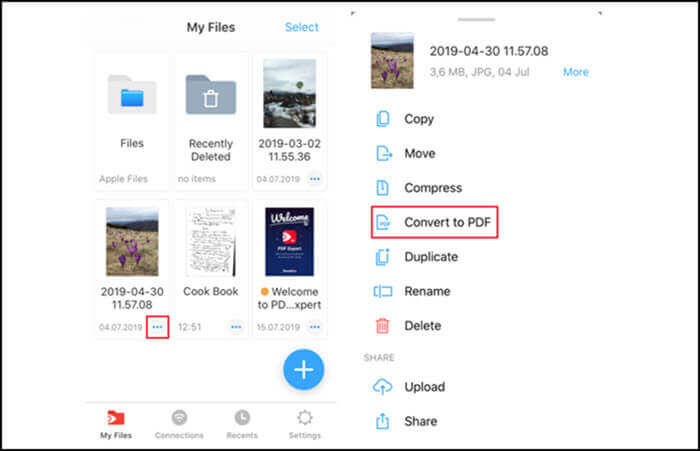 Features:
Convert web pages, photos, and documents to PDF
Erase or hide data from a PDF file
Fill forms and sign documents
Add and edit images in the PDF file
Steps to Turn a Picture into a PDF on iPhone:
Step 1. Download and launch PDF Expert.
Step 2. You can import a picture from the "Photos and Documents" app by tapping the bottom's blue plus sign.
Step 3. Tap "… More" on the file and select "Convert to PDF".
How to Convert JPG to PDF on Android Phones
Image to PDF Converter offers a convenient JPG to PDF converting tool, and it works without the internet. All you need to do is select a set of images and then choose to convert to PDF. You get to see a preview for each image, the option to crop, rotate, and edit if needed.
The app is simple to use, lightweight, and does the conversion beautifully. The app is swift, thanks to multi-threading. It can improve conversion speed and takes a few seconds to convert hundreds of image files.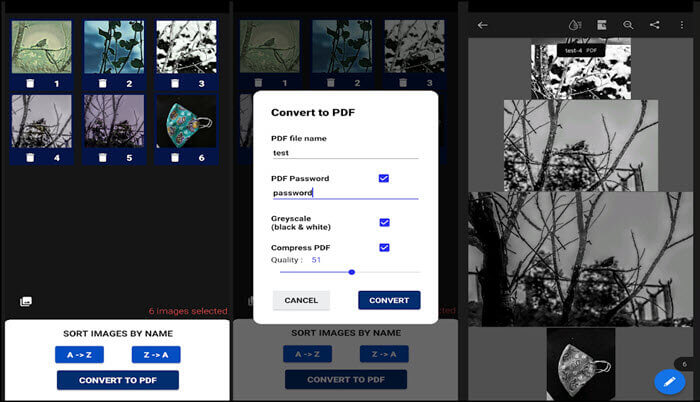 Features:
High-speed conversion without internet
Converts all image formats to PDF
High-quality conversion
Convert multiple images into a single PDF
Steps to Convert JPG to PDF on Android:
Step 1. Launch the application and choose an image on your smartphone. You can add multiple images.
Step 2. Edit and rearrange the images.
Step 3. Finally, click the "Convert to PDF" button to begin the conversion.
Conclusion
Conversion between formats is easier these days. Many free tools can easily serve the purpose of most consumers. When there is a business need, you may need professional software that offers tailored business options.
However, it is best to evaluate these tools first and then choose what works for you if there is a need for more professional software. And EaseUS PDF Editor is a rich-featured tool that is worth trying. If you want to convert images to PDF easily, click on the following button to download it now.
About the Author
Melissa is a sophisticated editor for EaseUS in tech blog writing. She is proficient in writing articles related to screen recording, video editing, and PDF file converting.