ASPX to PDF Converter: How to Convert ASPX to PDF
 Update:

Recently, Microsoft is making a change to its Microsoft Office branding. Microsoft Office is being renamed by Microsoft 365. After the official renaming, our article content will be updated accordingly.
What is an ASPX file? Have you ever felt curious about this question? ASPX is also known as the Active Server Page Extended file designed for running on Microsoft's ASP.NET framework. Web servers generate this type of file, and it contains some scripts and source codes that can help a browser understand the way to open and display a web page.
If you download an ASPX file from the Internet and no file viewer can help you read it, what should you do? Converting ASPX to a more common format, such as PDF, is definitely the most efficient way to solve that problem since you can find a competent PDF reader effortlessly. Keep reading this post, and we will give you more details about how to convert ASPX to PDF with the most useful ASPX to PDF converter.
How to Convert ASPX to PDF on Mac 
Although ASPX is specially designed to run on Microsoft's framework, you can still use some methods to convert ASPX files to PDF in only a few clicks on Mac. Moreover, you don't even need to download any third-party application on your Mac, and the pre-installed tools on Mac operating system can perfectly deal with this issue.     
You can open the ASPX file with a web browser on Mac, such as Firefox or Safari, and convert it during the printing process. Next, we will show you the detailed steps to convert the ASPX file to PDF in this way.
Step 1. First of all, you need to open the ASPX file you want to convert to PDF using a web browser on Mac, and we will take Safari as an example. As you should manually open it in Safari, you can right-click the file and choose Safari under the "Open With" menu option. 

Step 2. When the ASPX file is opened in the web browser,  click on the "File" tab on the top menu bar and choose the "Print..." command under it.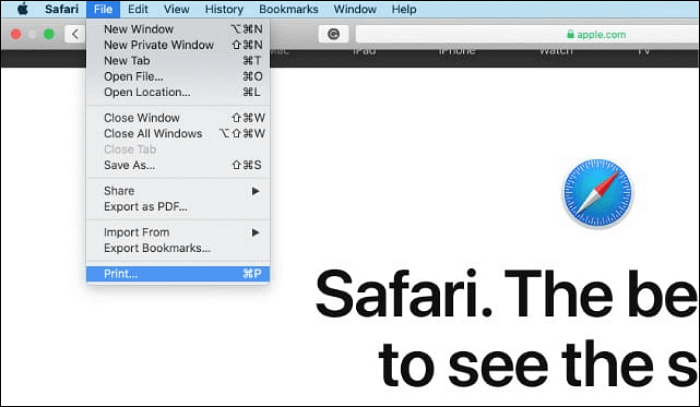 Step 3. Click on the "PDF" button on the bottom left-hand corner, then choose "Save as PDF" from the pop-up menu.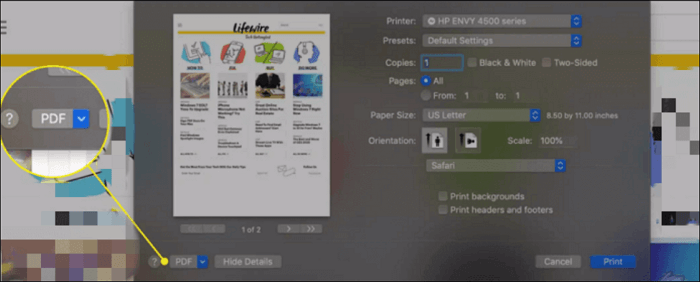 Step 4. Select the target folder in which you want to save the PDF file. And fill in other information, like the title, author name, or keywords. After that, you can click on the "Save" button to download the PDF to your Mac.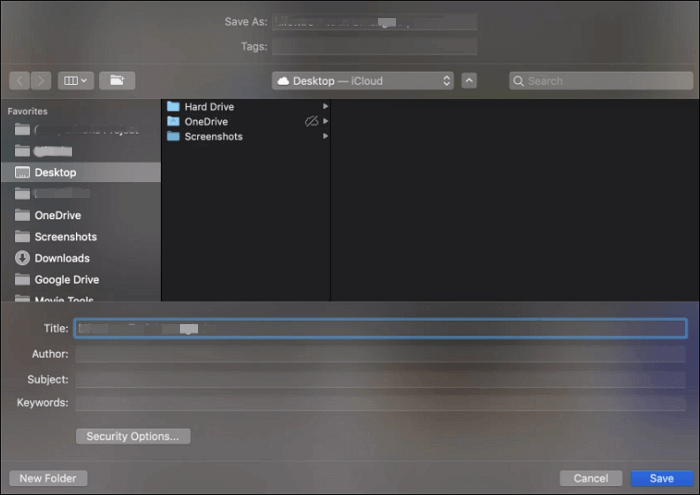 How to Convert ASPX File into PDF on Windows 
Like on the Mac operating system, there is also an available built-in tool on the Windows operating system that gives you the ability to convert ASPX to PDF directly. Likewise, the first step is to ensure that you have installed a practical web browser on your PC—the optional web browsers including Google Chrome, Internet Explorer, Firefox, and so on.
Then, open the ASPX file you want to convert and try to print it. In the preparation stage of the printing, there is a button you can click to change the ASPX file to PDF. Now, we will walk you through the step-by-step tutorial to do that.
Step 1. Right-click the ASPX file, choose the "Open with" option, and then select the browser you plan to use.
Step 2. Press the keyboard shortcuts "Ctrl+P", and there will be a pop-up window of the Print page.
Step 3. On the right side of "Destination", there is a "Change" button you can click. Press on that button and select "Save as PDF".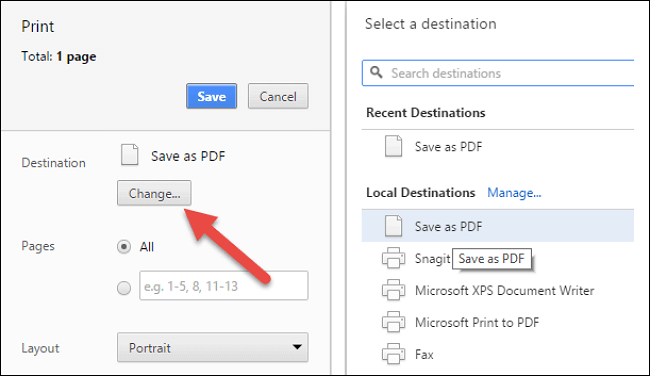 Step 4. Now, press the "Save" button to change ASPX to PDF and save the converted PDF file to your computer.
How to Use ASPX to PDF Converter Online 
Sometimes, you may find some web pages which are ended with the ".aspx" or "/aspx" suffix. What should you do if you want to convert the page into PDF and save the PDF file on a computer? Don't worry. There are several useful ASPX files to PDF converter online tools that you can resort to. In this part, we will talk about the guide to save ASPX pages as PDF.
Web2pdfconvert is a full-featured online converting tool that can turn web pages into PDF files. With its simple and clean main interface, you can find its main functions and operating steps at first glance. 
Besides converting web to PDF, you can also click on the drop-down button that looks like an inverted triangular arrow, and you can see its second function: convert web to the image. With those two tools, you can nearly turn any web page into a PDF. And we will offer you a detailed tutorial on how to do that.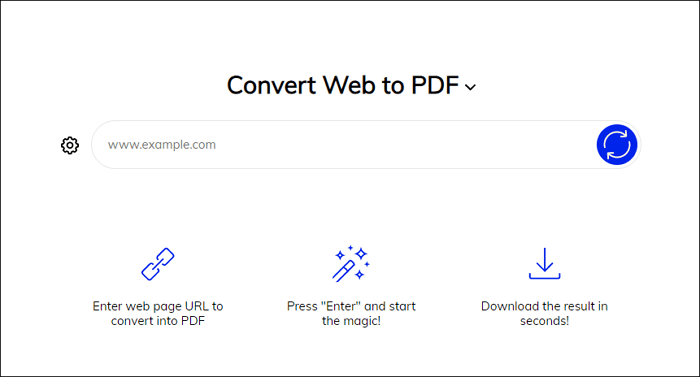 Step 1. Open the .aspx page you want to convert. Copy its URL and paste it into the input box of this online converting tool.
Step 2. Then, you can click on the button behind the input box to start the converting process.
Step 3. If you can see "Converting..." on the screen, wait for a few seconds. Then, there will be a button that says "Download the converted file". Now, you can press it to save the PDF file to your device.
Try: https://www.web2pdfconvert.com
Recommend: A Powerful PDF Converter on Windows 
Besides those converters above, Windows users have many more optional PDF converters, and most of them support the frequently-used formats and allow you to convert files. 
Although EaseUS PDF Editor is named an editor, it can work as the best PDF converter on Windows. For instance, you can import BMP, JPG, PNG pictures and convert them into PDF with a few clicks. And you can also effortlessly turn Word, Excel, and PowerPoint documents into PDF so that you can protect the data and layout of them from being changed.
As this software helps you create a PDF straightforward, you can also convert the PDF you created into many other formats, including HTML, JPG, PNG, etc.
Notice: EaseUS PDF Editor does not support ASPX to PDF converting for the time being. Please look forward to the updates.
EaseUS PDF Editor
Convert Excel to PDF without a hassle
Convert PDF to PNG, JPG, and BMP
Merge multiple converted PDF files into one
Edit PDF by adding or removing the contents
Create bookmarks in PDF to make it easier to read
Conclusion
As a format that can pass on the messages to a web browser, ASPX is of great importance. But we usually cannot read files in this format successfully. Therefore, converting them into PDF is one of the best choices since you can effortlessly find a wonderful PDF reader on any platform.
This post discussed the best ways to convert ASPX to PDF on Mac and Windows and use online tools. You can choose the most appropriate method and use it to solve your problem.
About the Author
Melissa is a sophisticated editor for EaseUS in tech blog writing. She is proficient in writing articles related to screen recording, video editing, and PDF file converting.