How to Convert PNG to PDF on Windows 10/Mac/Online
PNG images are the best for web graphics, but sending them over mail is not convenient. Moreover, if PNG is used for business purposes, you may face more inconvenience. It is advisable to use PNG in PDF file format as they can support printing. PDF files have better quality than PNG, and that is why one can use them for graphic design, posters, and flyers. 
If you are involved in business or completing any school project, you'd better convert PNG to PDF. However, if you don't know how, just take a look at this post. Here you can through the steps to convert PNG to PDF with some best PDF converter.
How to Convert PNG to PDF on Windows 10
If you've downloaded a PNG file and now want to convert PNG to PDF on Windows PC, you will need to analyze what is important. If you are looking for reliable software to convert PNG to PDF, you should consider using EaseUS PDF Editor. 
It is one of the most prominent software that allows converting images to PDF offline without losing formatting. With this program, you can easily create a PDF from PNG, JPG, TIFF, or other files. Apart from converting images to PDF, it also enables you to change your Word or Excel into PDF or vice versa in one click.
Key Features:
Convert PDF to PNG or vice versa
Able to print PDF without margins
Edit the text, images, and forms in PDF
Make PDF editable, searchable, and convertible
Once the conversion is done, you can access a variety of editing tools to modify PDFs as you want. For this versatile PDF program, don't you give it a try? No registration is needed here. 
Step 1. Download and launch EaseUS PDF Editor. Click "Create" > "From File…" to select your pictures.

Or you can directly select the "Create PDFs" button to import your images.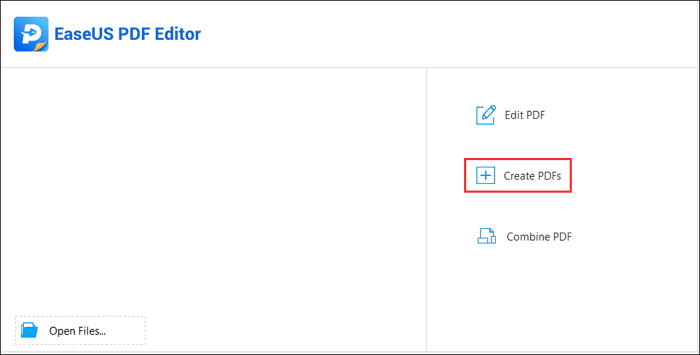 Step 2. Choose your image on your computer, then click "Open" to begin the conversion.
Step 3. When the conversion completes, you can click "File" > "Save" to keep the PDF on your computer.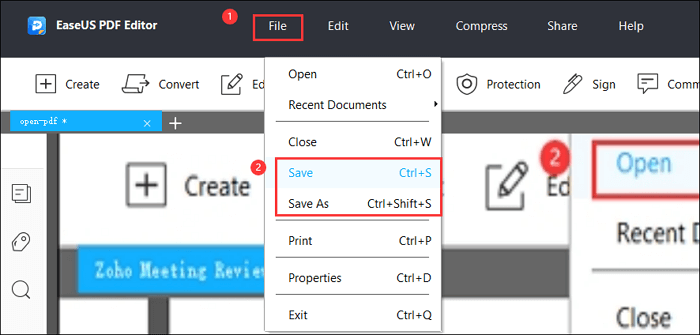 How to Convert PNG File to PDF on Mac
If you work on a Mac computer, you don't need to download any software as there is an inbuilt program called Preview, which can help you change the .png file to a .pdf document.
Unlike other PDF editors, one of the greatest benefits of using Mac Preview is that it allows easy conversion of multiple images at one time. You can upload all the images in one file and convert them to PDF on a single page or individually, depending on the requirements. Moreover, it provides some basic editing features that help you add annotation, change font size in PDF, highlight PDF, etc., to satisfy your editing needs.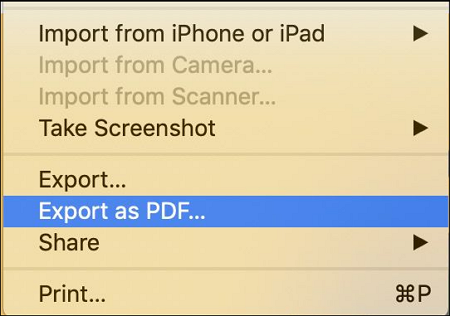 Convert PNG to PDF on Mac, using Preview:
Step 1. Open Preview and import the PNG that you want to convert.
Step 2. Click "File" > "Export as PDF..." in the top left menu.
Step3. Enter the name of the file, and where you want to save the file. At last, click on Save. 
How to Change PNG into PDF Online for Free
The online world is filled with several websites and tools to convert PNG to PDF. PNG2PDF is one of the most prominent websites with various regulations that easily convert PNG files to PDF files. PNG2PDF follows an extensive algorithm that allows easy conversion of PNG files to PDF. Furthermore, you don't need to register, and there's no file size limit.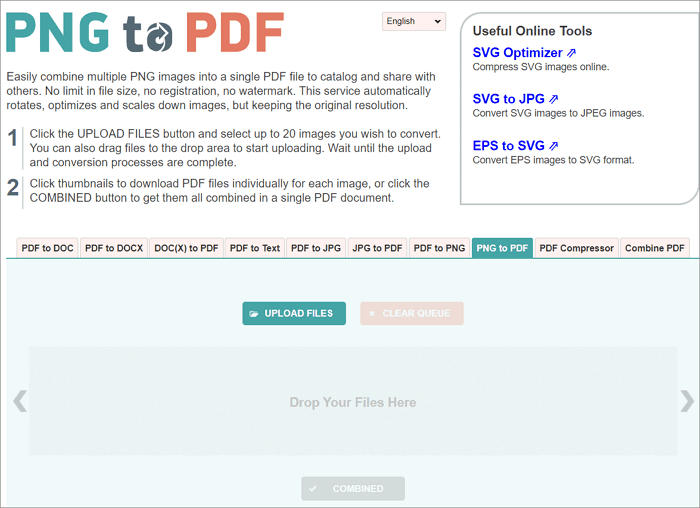 Convert PNG to PDF online using PNG2PDF:
Step 1. Visit PNG2PDF.com, and drag and drop the PNG images to be converted into PDF files. 
Step 2. After the files are uploaded, wait for the conversion process. 
Step 3. If you want to combine the images, click on the Combined option. All the images will appear in a single PDF. 
The Bottom Line
On this page, we have talked about three simple ways for converting PNG to PDF. If you don't want to install any software, online converters like PNG2PDF are better for you. If you work on a Mac computer, then you can try the inbuilt program - Preview. For those working on Windows PC, we highly recommend EaseUS PDF Editor, because this software can not only convert file formats but also offers lots of editing tools to make the PDFs better!
About the Author

Crystal Chen is very interested in technology products. Experiencing many technological applications like video editors, screen recorders, and PDF editors, She is willing to solve users' issues through writing tech-related articles. Through her words, you can find various solutions to solve one problem.