PDF vs Word | Which File Format is Better?
PDF stands for Adobe's Portable Document Format (PDF). Microsoft's Word refers to Microsoft's Word document format containing DOC and DOCX formats. Both of these documents are widely accepted in our workplace. Each format has its benefits and disadvantages. In different places, you can use Word or PDF as your requirement. 
Here, this post introduces a detailed comparison between PDF and Word. You can know the differences between these two formats in many aspects, including compatibility, usage, file quality, etc. You can check the details below (PDF vs Word) and pick the most relevant document for your workplace. Each file has its core functionalities. 
   Concluded Comparison for these Two Formats
Comparison
PDF Format
Word Format
Compatibility

Laptop, computer, phone, and the Cloud
Can be shared or uploaded on social media platforms

Laptop, computer, phone, and the Cloud
Most media platforms don't accept it

Usage

Presentations, Print Documents, E-books, Product Descriptions, Industry Announcements, Online Materials, Mails

Create qualified documents, reports, letters, and resumes

File Quality

Created by Adobe, the file quality is good

Made by Microsoft, the Word file quality is guaranteed 
PDF vs Word | Which File Format is Better?
The file format should be chosen in different situations. For example, the PDF file can be used for making presentations. If you want an editable and searchable file, then the Word file could be your best choice. In a word, in different situations, the file is chosen differently. Here, this part shows different scenarios for choosing a file format. 
E-books, Print Documents, and Presentations
These situations make you get a PDF file that can is not edited. Therefore, you need to choose Adobe's Portable Document Format (PDF). Meanwhile, you need a PDF reader like EaseUS PDF Editor for viewing PDF pages in a smart way. 
Also, PDF is suitable for you to make e-books and print documents. It is especially suitable for printing PDF pages, as you can show the pages in PDF format. If you use Word in such situations, the content can be modified easily. 
Essay, Letters, Reports, and Resumes
For these documents, you may need to edit the text size or text color in Word files. Also, in most cases, people require you to upload files in Word format. However, you can also use a resume in PDF file format. 
The benefit of using a Word document is to be shared and edited by others. 
Following your requirement from the workplace, you can look at this guide to select the target file format. Most business report requires you to use the PPT format for showing the business information, data, etc. 
Based on the above situations, believe that you can find the required format to meet your needs. In most cases, PDF and Word are enough. However, if you need files for analyzing data, then you can choose formats like Excel.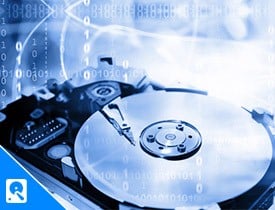 How to Convert PDF to Word or Vice Versa
Now, you know which file can be used in different situations. PDF and Word are the most common formats in our workplace. For example, if you want to have a presentation, then the PDF format can be your best choice. For that, you can convert your Word, Excel, or other files like images to PDF using the PDF converting software, EaseUS PDF Editor. 
On the other side, if you want a file that can be edited easily, then choose the Word file. Here, EaseUS PDF Editor can also help you convert PDF to Word. Meanwhile, it can convert PDF, Excel, and images to Word files as well. 
Besides being a PDF converter, EaseUS PDF Editor is also an editor that is able to edit the text, images, and forms. You can edit PDF, manage PDF pages, compress PDF, sign the PDF digitally, and even print the PDF pages with/without margins. Overall, it is an all-in-one PDF converter and editor on Windows PC. 
Key Features:
Now, download this PDF editor without registration! You can explore more features of this PDF editor. 
Also, follow the below guide to learn how to convert PDF to Word via EaseUS PDF Editor:
Step 1. Download and launch EaseUS PDF converter, then click "Open" followed by "File" to import the file that you want to turn into Word.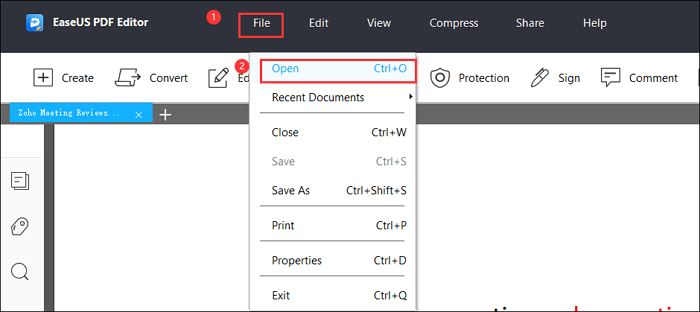 Step 2. Next, click on "Convert" in the top left toolbar, and choose "To Word" in the drop-down menu.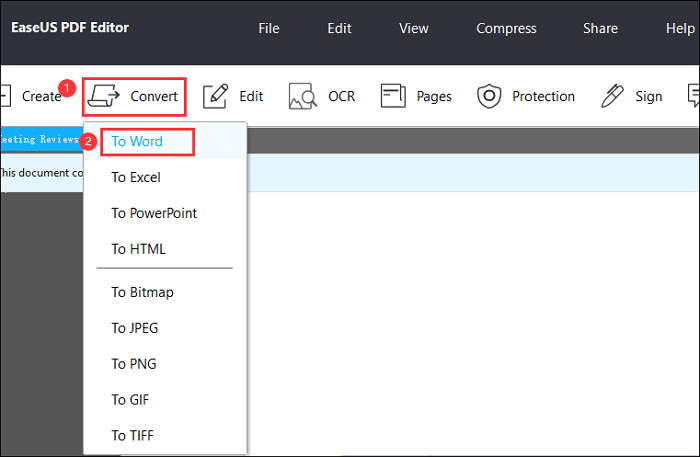 Step 3. Wait for the end of the process. Once done, the converted file will be saved automatically on your computer.
Also, if you want to know the difference between PDF and image formats, look at the below part. Select one format from PDF or JPEG. Each of them has its advantages and disadvantages. 

JPEG is an image format, while PDF is a documental format. Both of them can be used for making presentations. You can choose one file as you like.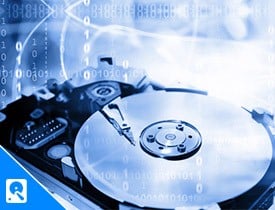 FAQs About PDF vs Word
Some related issues about PDF and Word comparison gathered from the public are listed here. 
1. Is Word better than PDF?
For making files editable, the Word file format is better than PDF as the PDF file is hard to be edited. For showing the content or preventing PDF from editing, PDF is better than Word as you cannot edit the PDF file easily. 
2. What is the difference between PDF and Word?
Both PDF and Word are commonly used in our daily work. There are some differences between these two formats, including the usage, file quality, and compatibility. You can look at the above part to know more details about these two formats. 
The obvious difference between these two formats is that PDF can not be edited easily, while the Word format can be edited in a good way. Therefore, you can choose one of them as you like. 
3. What is the point of PDFs?
PDF is used for making presentations, printing PDF documents, publishing e-books, writing product descriptions, showing industry announcements, making online materials, inserting emails, making CVs, etc. 
The point of PDF is to show your content in the desired file format. 
Because of the PDF file specialties, no one can edit the PDF file easily. 
4. Why is PDF safer than Word?
PDF is safer than Word because of its file specialties. Without using a PDF editor like EaseUS PDF Editor, it's not easy to edit PDF files as Adobe makes it not editable. PDF is only readable in most cases. Compared to PDF, the content in Word files is editable, readable, and searchable. You can easily modify the text size, color, and space in a Word document. 
About the Author

Crystal Chen is very interested in technology products. Experiencing many technological applications like video editors, screen recorders, and PDF editors, She is willing to solve users' issues through writing tech-related articles. Through her words, you can find various solutions to solve one problem.